Kyrie Irving Injured Again, Makes Yet Another Foolish Comment
What's more surprising: that Kyrie Irving got hurt again or that he made another bizarre comment?
Both happened late Monday night when Portland Trail Blazers forward Nassir Little tried harder than the Brooklyn Nets point guard. With his team holding a five-point lead midway through the fourth quarter, Nassir went all-out to dive for a loose ball, sliding into Irving, who stayed down clutching his ankle. While Irving isn't expected to miss any time, it didn't stop him from making a foolish statement after the game.
Kyrie Irving played in just his second NBA game this year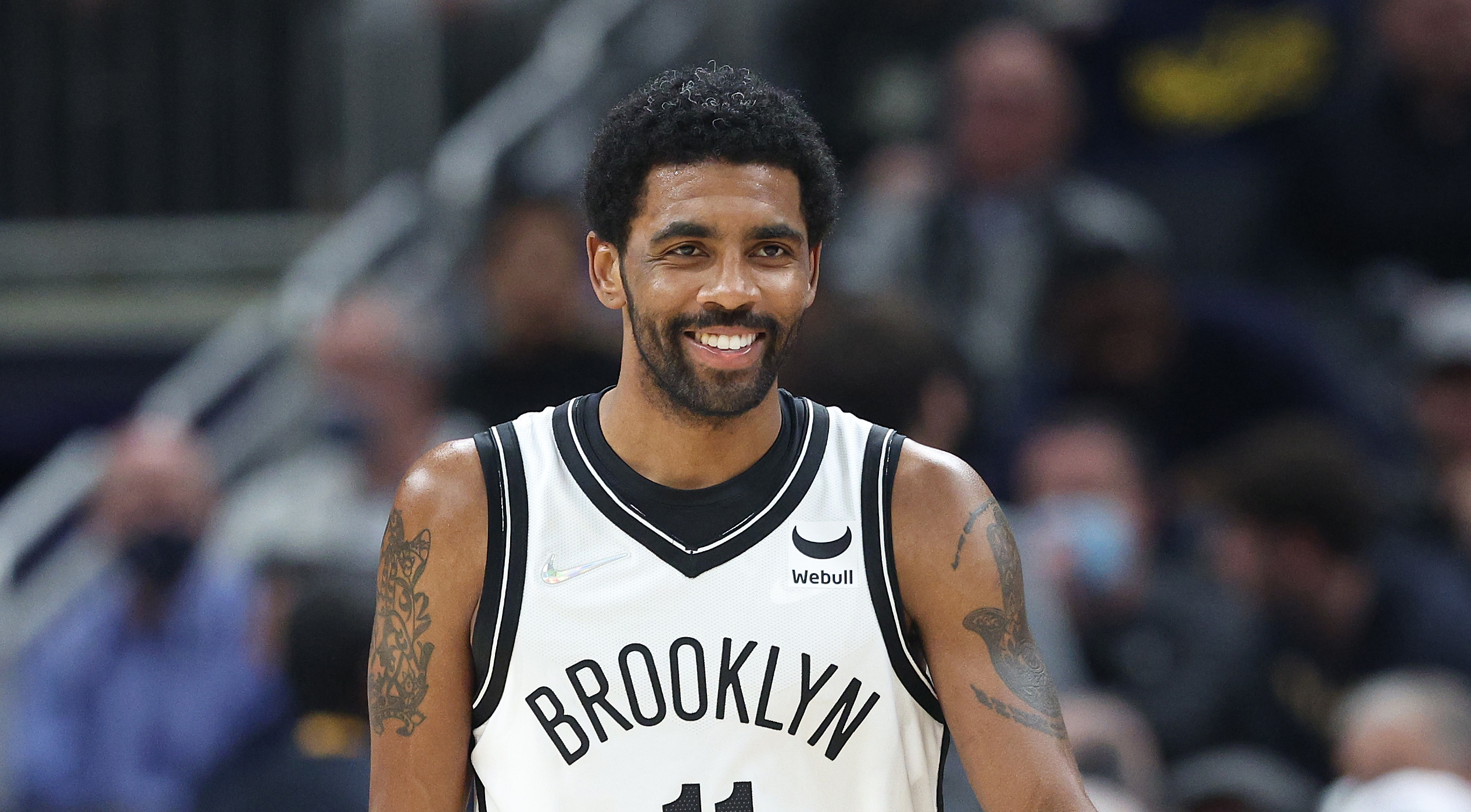 Irving took part in his second NBA game this year on Monday as the Nets visited Portland. The seven-time NBA All-Star is unvaccinated against COVID-19 and unable to play home games in Brooklyn due to the city's vaccine mandate. The Nets recently allowed him to become a part-time player on the road, and he played 40 minutes in a 114-108 loss to the Blazers.
The oft-injured Irving scored 22 points for the Nets, who played without James Harden (hyperextended knee). Brooklyn played an overtime game in San Antonio on Sunday and flew to Portland immediately after for Monday's game.
"Guys were gassed, really," Brooklyn Nets coach Steve Nash said, per The New York Post. "There were some good stretches, but overall I don't think we had the juice to follow through and finish the job. I don't know if anyone's ever had a six-hour flight between games, so I get it. I understand. They're trying to dig deep late. 
"I know our guys were tired after (Sunday's) overtime game, so to get on a six-hour flight and get here. They had a good effort. We had the lead at some point in the second half and just couldn't sustain the effort, couldn't close out possessions. They made big shots and we didn't." 
Irving made nine of 21 shots and also pulled down eight rebounds.
Kyrie Irving injured late in the game and makes foolish comment afterward
Irving has said his share of dumb things, even beyond his flat-earth statement. At one point, he said he didn't believe the Nets had a head coach, although Nash is running the show.
"I don't really see us having a head coach," Irving said, per ESPN. "KD could be a head coach, I could be a head coach (some days)."
He once referred to the media as "pawns" and refused to speak before and after games, drawing a fine from the NBA. "I do not talk to Pawns. My attention is worth more," Irving detailed in an Instagram Story last year, according to The New York Post.
He added to his list of foolish statements after Monday's game. He spoke about Little's all-out hustle for the loose ball that resulted in Irving hurting his ankle, saying, "There's no place in our game for it."
"It was a bad play," Irving said after the game, per Bleacher Report's Sean Highkin. "It was unnecessary for him to dive that far away from the ball. … There's no place in our game for it. I get the intent from Nassir, it's nothing against him. But it was unnecessary."
No, Kyrie, it's actually what the NBA needs more of. The league needs more Nassir Littles. It needs more hustle, more diving, and more passion. You didn't hustle after the ball. You made a tiny effort, while Little went all-out in a close game. It's everything the game needs.
Little responds to Irving's absurd comment
Irving is a part-time NBA player who's made a ton of money in the league. Little is a late first-round pick from 2019 who is trying to carve out a career in a demanding profession.
Irving doesn't have to go all-out to prove he belongs. Little does.
Little did nothing that shows he had any intent to injure Irving. Irving had quite the head start in the race for the loose ball. Had he given half the effort Little did, he'd have possession of the ball and two good ankles.
The Blazers forward took to Twitter and responded to Irving's comment.
"I would never hurt someone on purpose," Little wrote. "I have the utmost respect for Kyrie! But y'all are delusional if you think this is a bad play, and id do it again. Idgaf what y'all talkin about."
Little is right. Just chalk this one up to another delusional Irving comment.