Kyrie Irving's Father Makes Bold Claim About His Son
Kyrie Irving is one of the NBA's best – when he plays. He's been known to take some unannounced time off and has been ripped for it. As Irving and the Brooklyn Nets gear for their playoff opener Saturday against the Boston Celtics, Irving's father made a rare, but bold, announcement regarding his son.
Kyrie Irving just admitted basketball wasn't the most important thing on his mind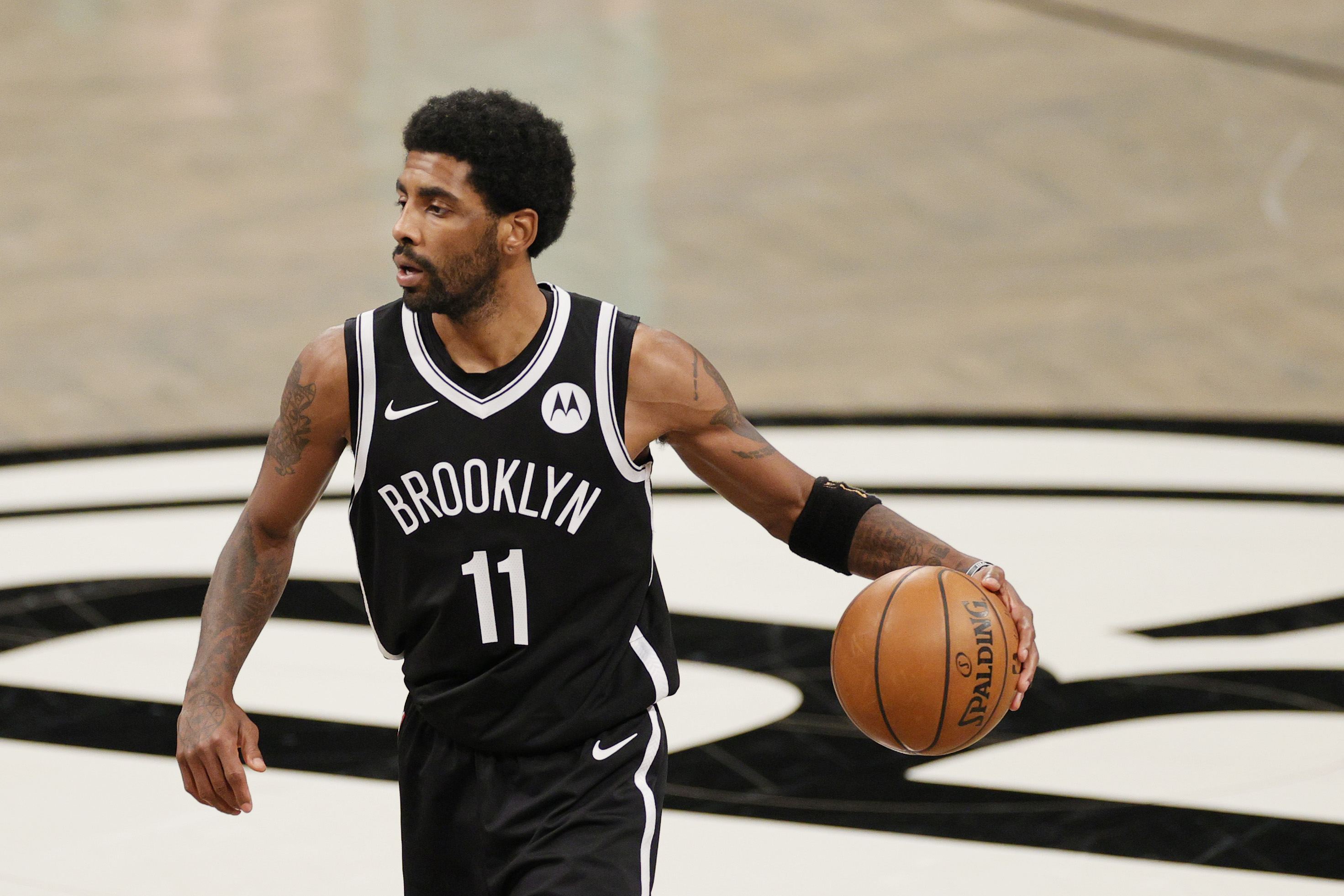 As the regular season came to an end, Irving turned his attention away from basketball. The biggest part of the 2020-21 season for the Nets was approaching, and Brooklyn's point guard didn't want to think about basketball. He made his feelings known after the Nets defeated the Chicago Bulls 105-91 last Saturday.
It was the first time since mid-February that Irving, Kevin Durant, and James Harden all played together. It was a big deal that their version of the Big Three was on the court together as the postseason drew near. Irving was asked about playing with those two other All-Stars and how it felt playing together for the first time in three months. He said it was "nice" but "basketball is just not the most important thing to me right now." 
His focus turned to the outside world. There's a lot of stuff going on overseas," he said in his postgame press conference. "All my people are still in bondage all across the world, and there's a lot of dehumanization going on, so I apologize if I'm not going to be focused on y'all questions.
"It's just too much going on in the world for me just to be talking about basketball. I've got to focus on this sh*t 24/7 most of the time, but it's just too much going on in this world not to address. It's sad to see this sh*t going on. And it's not just in Palestine, it's not just in Israel, it's all over the world, man. I feel it."
Irving hasn't been the greatest leader in the NBA
When Irving began his NBA career, he played in the shadow of LeBron James. The two formed a dynamic one-two punch that resulted in an NBA title. Irving then expressed his desire to leave Cleveland and was traded to the Boston Celtics. In Boston, he was supposed to lead a team loaded with young stars in Jayson Tatum and Jaylen Brown. That never happened.
He appeared to get off to a good start with the Celtics. During a gathering for season ticket holders at the TD Garden, he addressed the crowd and said if the fans wanted him to re-sign with the team, he would. Two seasons later, he walked away. Many Celtics fans were happy to see him go, especially after Boston was quickly bounced from the playoff by the Milwaukee Bucks. Irving had one horrible series.
After Game 4 with his team down 3-1, Irving was asked about his poor shooting in the series. In his last three games, he had been 19-for-62 from the floor. They lost all three games. When asked about his shooting woes, he quipped, "who cares," according to CBS Sports. This year, Irving missed two weeks for "personal stuff" and was fined $50,000 for violating health and safety protocols during that time, attending what appeared to be a family birthday party.
Drederick Irving makes a rare public statement about Kyrie
Irving is a tough guy to figure out. On one hand, he's concerned about ugly world events, but he is also letting it affect the job he's handsomely paid to do. Some have called him a whiner. Others say he's selfish. Drederick Irving has said he didn't want to get into any back-and-forth conversation about his son, stating he didn't want to sway how the public perceives him.
In a rare statement made to The New York Post regarding his son, Irving's father tried to clear things up in a quick sentence. "Kyrie is probably the most misunderstood person in sports," his father said. Drederick said Kyrie never looks for publicity when he helps charities. He purchased a home for George Floyd's family. "I didn't even know he did it," Drederick said.
He may be misunderstood with his behind-the-scenes effort. When he's in public, he gives off a different vibe. He didn't appear to get off to a great start with the Nets this year. Right after the team signed head coach Steve Nash, Irving, during an appearance of Durant's podcast, said, "I don't really see us having a head coach." Irving still has a long way to go.