Kyrie Irving's Stepmom Is Playing a Huge Role in the Drama With the Brooklyn Nets
Brooklyn Nets star Kyrie Irving is in a major dispute with his team, and the fact that his stepmother is his agent is complicating matters.
It's not officially a new NBA year unless there is new Kyrie Irving drama. In that case, welcome to the 2022-23 season, where Kyrie Irving wants to leave the Brooklyn Nets. The perpetually unhappy star and the Nets are at odds over a contract extension. He's even handed in a list of teams he'd accept a trade to. NBA insider Frank Isola recently revealed that Irving's agent during these contentious negotiations is Shetellia Riley Irving, the point guard's stepmom, which could be leading to some of this trouble.
Kyrie Irving and the Brooklyn Nets aren't seeing eye-to-eye on a new contract extension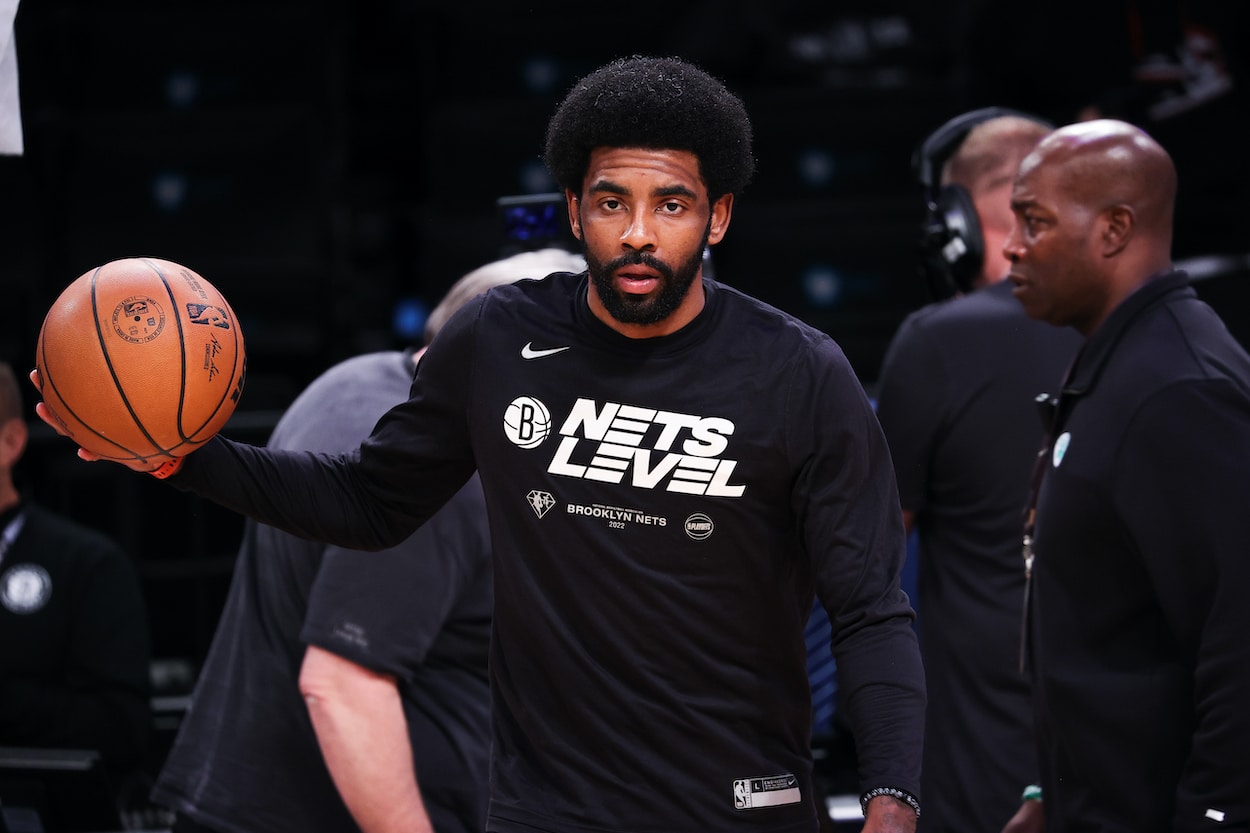 Mercurial Brooklyn Nets star Kyrie Irving has a one-year Player Option for $36.5 million left on his current contract. The player and team were working on a long-term deal to keep the star in New York City, but the negotiations have seemingly fallen apart.
During his tenure in Brooklyn, Irving basically sat out his first season with Kevin Durant hurt. The following season he opted out of the bubble and tried to get the entire league to do the same. This season, Irving played just 29 games. He missed the first half-plus of the season sitting out in protest of New York City's COVID-19 vaccine mandate.
All told, Irving's played 103 or a possible 226 games with the Nets. He, Durant, and James Harden played just 16 games together in the year-plus they were all on the Nets.
With this as the backdrop, Brooklyn is understandably hesitant to give Irving a massive, fully-guaranteed, long-term deal. The organization wants to put incentives in any extension making sure Irving plays a reasonable amount of games to get max money. Brooklyn's front office is also reportedly balking at making the deal truly "long term."
With negotiations at an impasse, Irving and his camp have submitted "a sign-and-trade wish list" if the deal doesn't get done, per ESPN's Tim Bontemps. That list includes the Los Angeles Lakers, LA Clippers, New York Knicks, Miami Heat, Dallas Mavericks, and Philadelphia 76ers.
Irving's representation could be hampering the negotiations
An agent's job is to negotiate on behalf of a player with management so that the player and management don't have to go head-to-head in contract talks, jeopardizing their relationship. Sometimes, professionally hurtful things are said in negotiations. It's an agent's job is to be a buffer during these times.
When a player represents themselves or has a close friend or family member do it for them, the discussions often get back to the player, complicating the deal and the player's relationship with their club.
This seems to be what's happening in the Kyrie Irving situation, according to NBA insider Frank Isola on The Dan Patrick Show. He revealed to Patrick that Irving's stepmother, Shetellia Riley Irving, is acting as his agent. The NBA star hired his father's wife in March, according to Sports Illustrated.
Isola related this situation to NHL star Mark Messier renegotiating a contract with the New York Rangers in the 1990s. Messier's father and brother handled the negotiations. Things got contentious as the club tried to explain its position that the six-time Stanley Cup winner was getting old and, as such, was less deserving of big money.
The Messier's took this personally, complicating the contract situation.
To muck up the Irving situation even further, the New York Post's Brian Lewis recently tweeted that Kanye West is tangentially involved as well.
This situation is far from over, and more drama is sure to come. Welcome to the Kyrie Irving drama for the 2022-23 NBA season.
Like Sportscasting on Facebook. Follow us on Twitter @sportscasting19 and subscribe to our YouTube channel.