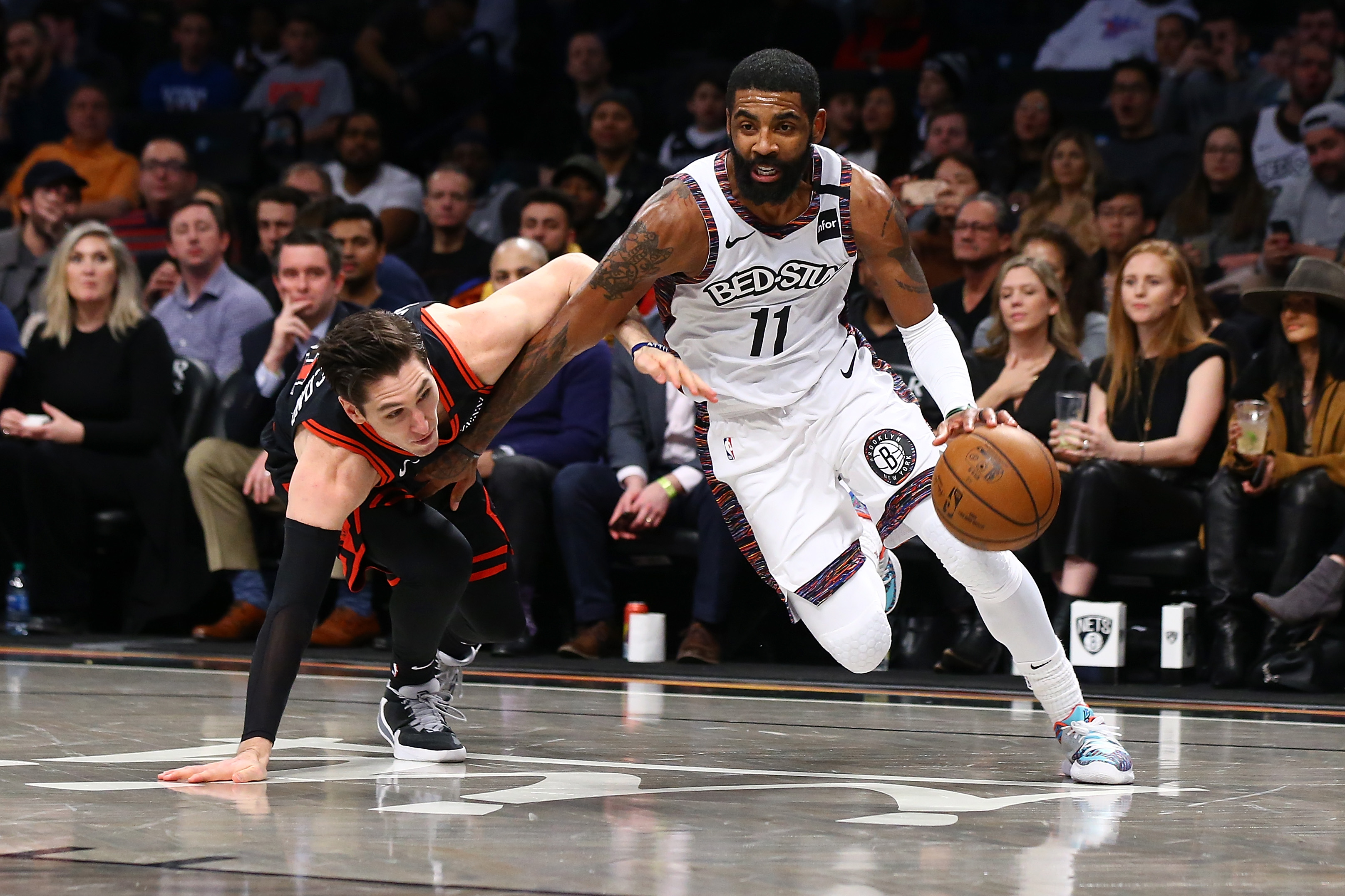 Kyrie Irving's New Nickname is Hilarious
Brooklyn Nets point guard Kyrie Irving apparently has a new nickname and it's a pretty funny one.
Kyrie Irving developed the nickname "Uncle Drew" for the part he played in the 2018 movie with the same name. Irving, ready to embark on his second season with the Brooklyn Nets, has probably been called a lot of other names during his NBA career. Recently, a very popular statistics site gave Irving a new nickname and it's pure gold.
Kyrie Irving's NBA career
After playing just one season – 11 games to be exact – at Duke, Kyrie Irving was the No. 1 overall pick in the 2011 NBA draft. The Cleveland Cavaliers selected the 6-foot-2 point guard, teaming him with LeBron James. Irving played the first six years of his career with the Cavaliers, helping them win the NBA title in 2016.
Irving was traded to the Boston Celtics in August of 2017. He played two seasons with the Celtics, making the NBA All-Star Game twice but not winning the hearts of Celtics fans. Irving was brought in to be the leader of a young Celtics club and it just didn't work out that way. He missed parts of both seasons with various injuries and locker-room chemistry was questionable at best.
Irving left Boston via free agency after two seasons. He signed with the Brooklyn Nets and his first season with the team was marred by a shoulder injury. He was limited to 20 games. For his career, Irving has averaged 22.4 points and 5.7 assists per game.
Irving drew attention with his 'Earth is flat' comment
Back in 2017, Kyrie Irving raised a few eyebrows. During a podcast right before NBA All-Star Weekend, Irving questioned whether the world was flat. Initially, Irving said he made the comment to promote conversation, but later told the New York Times that he wasn't sure if it was really flat or round.
Speaking in Boston in 2018, Irving said he didn't realize the stir his comment would wind up making. "To all the science teachers, everybody coming up to me like, `You know I've got to reteach my whole curriculum?' I'm sorry," Irving said, according to NBA.com. "I apologize. I apologize."
Even NBA Commissioner Adam Silver weighed in on Irving's comment. Silver and Irving both attended Duke University. "Kyrie and I went to the same college," Silver said then. "He may have taken some different courses."
Irving's new nickname is a classic
Kyrie Irving has been called a few things in his soon-to-be 10 seasons in the NBA. Basketball Reference, a very popular stats site, apparently has given Irving a new nickname. Playing on the name of former high-scoring, 13-year veteran guard World B. Free, Basketball Reference has added 'World B. Flat' to the list of Irving's nicknames in his bio.
The site listed 'World B. Flat' right next to 'Uncle Drew' and 'Ankletaker' as the nicknames in Irving's bio. The site even went to social media to address the latest nickname. "Late yesterday evening, we convened the secret council that determines which nicknames are eligible to appear on player pages," the site wrote on Twitter. "The council approved this addition to the website."