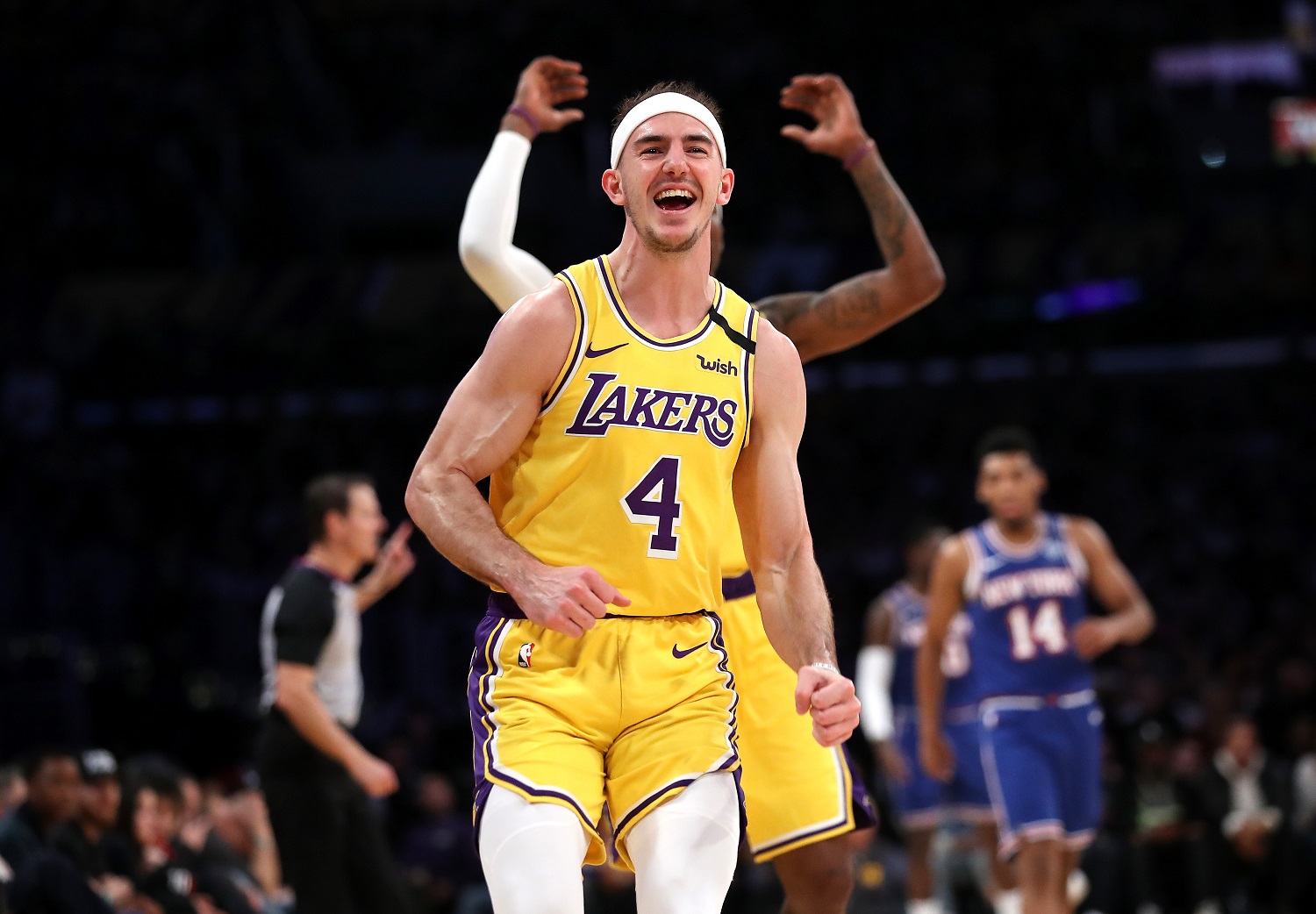 LA Lakers Cult Hero Alex Caruso Gives the Perfect Reason For Wearing 'Black Lives Matter' On His Jersey When the NBA Season Resumes
Los Angeles Lakers guard Alex Caruso has revealed why he's choosing to put "Black Lives Matter" on his jersey when the NBA season resumes.
Alex Caruso has developed quite the cult following with the Los Angeles Lakers. While he'll never be one of the league's elite players, the 26-year-old Texan has an amazing work ethic that has endeared him to basketball fans all around the globe. He's one of those gritty types of players, which is the polite way to say that he's white, and should see plenty of playing time when the Lakers resume their season on July 30, especially with Avery Bradley choosing to stay home and Rajon Rondo out with a busted thumb.
When Alex Caruso does hit the floor when the season resumes, he'll be one of a handful of Lakers with a social justice message on his jersey, opting to go with the "Black Lives Matter" option. Caruso has been one of numerous white players in the NBA who've been outspoken in the fight for racial equality and his decision to wear "Black Lives Matter" on his jersey is a step he's proud to take.
Alex Caruso has worked extremely hard to earn his spot with the Lakers
It certainly wasn't a surprise when Alex Caruso went undrafted following his senior season at Texas A&M in 2016. Sure, he was a Second-Team All-SEC selection that year, also earning All-Defensive honors, but his career numbers certainly didn't have NBA teams overly excited. In four years with the Aggies, Caruso averaged 8.0 points, 4.7 assists, 3.7 rebounds, and 2.0 steals per game, certainly admirable but obviously not on par with the top prospects.
But Caruso was determined to keep playing. The Philadelphia 76ers gave him a chance in the Summer League but didn't keep him around after that. He signed with the Oklahoma City Thunder in September 2016 but was waived less than a month later. A few weeks later, OKC did give him the chance to join their D-League (now the G League) club and Caruso enjoyed a solid 2016-2017 season with the Oklahoma City Blue, averaging 11.9 points and 5.2 assists in 50 games.
The Los Angeles Lakers invited Alex Caruso to join their Summer League club in 2017 and he made the most of that opportunity. He stepped in for an injured Lonzo Ball and helped the team to a number of big victories, which earned him a two-way contract with the franchise. He split time between the NBA and the G League for the next two seasons and earned Second Team All-G League honors in 2018, averaging 19.0 points and 7.7 assists per game while dazzling crowds with a number of amazing highlights.
Caruso finally signed his first guaranteed NBA contract last summer, a two-year deal worth $5.5 million.
He feels he has the following he does because of his work ethic and the fact he looks like a 'common person'
As Alex Caruso began to show up on more and more highlight reels, he began to develop quite the following. Fans have made countless fake videos of him, plugging him into classic NBA situations, and there's even one of him dunking on Michael Jordan.
He's become an unlikely phenomenon in Hollywood despite the fact that he's not Hollywood at all. Caruso himself has said that he fits a more low-key market and finds it funny that he's become a star in LA as he certainly doesn't see himself as the flashy type usually associated with Tinseltown. The Caruso craze is something that nobody expected but he once told Bleacher Report that he understands why some people might look up to him.
"I think it's the way I play—every game I go out there and play as hard as I can, and I think people appreciate that. Then it's the fact I look like I could be a common person walking on the street. They all want to hold onto like, 'Hey, that's one of us out there doing it,' which is funny because I feel like I'm a normal person. I walk around and I don't feel like I'm 6'5″, I don't feel like I'm this guy that plays for the Lakers. But it's the reality of it."

Alex Caruso
While the fame might have been unexpected, Alex Caruso wants to take advantage of the situation, which is why he's chosen to put one of the social justice messages allowed by the NBA on the back of his jersey when the season resumes.
Why Alex Caruso is choosing to wear 'Black Lives Matter' on his jersey
Alex Caruso knows he's got a lot of eyes on him each and every day, which is why he's chosen to put "Black Lives Matter" on the back of his jersey in the bubble. As mentioned, he's been very outspoken on the matter of social justice and he wants to use his platform in a positive way, which he recently explained in an appearance on Yahoo Sports' "Dunk Bait" program (video above).
"As a white player in the NBA, I feel like showing the support and voicing that as a figure that a lot of white kids growing up around the country idolize or fans of, whatever you want to call it, I think it's important for me to show that that's the right thing and the message is equality and the message is justice. It's making sure that their voices are heard and that everybody treats everybody how they should be treated."

Alex Caruso
It's no wonder everybody loves Alex Caruso. The Lakers resume their season on July 30 in a highly-anticipated matchup with the LA Clippers on TNT.