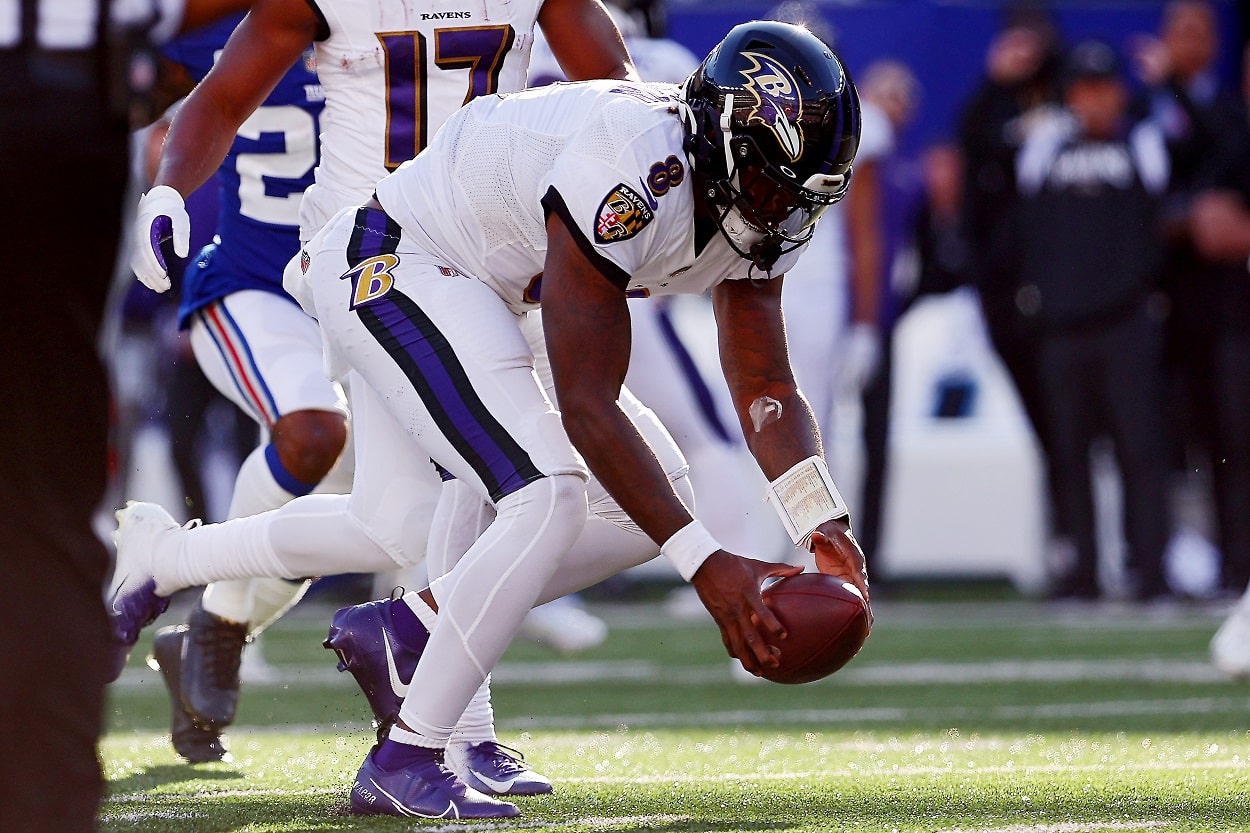 Lamar Jackson and the Ravens Made Some Bad NFL History in Their Week 6 Loss to the Giants
The Baltimore Ravens made some unfortunate NFL history in their Week 6 loss to the New York Giants.
At times during this wild 2022 NFL season, the Baltimore Ravens have looked like one of the strongest teams in the league. By the same token, Lamar Jackson has, at times, looked like an NFL MVP candidate. And yet, John Harbaugh's group finds themselves with a disappointing 3-3 record after six games following a crushing 24-20 loss to the New York Giants on Sunday.
Through three-plus quarters at MetLife Stadium, the Ravens were seemingly on their way to a second consecutive victory, taking a 20-10 lead with 12:54 remaining in the game following a 12-yard touchdown pass from Jackson to Pro Bowl tight end Mark Andrews.
But just as it's gone twice before this season, the Ravens couldn't hold onto a double-digit lead and snatched defeat from the jaws of victory.
The Giants cut the Ravens' lead to 20-17 with six minutes remaining as Daniel Jones hit Daniel Bellinger with an eight-yard touchdown pass. Jackson ran close to three minutes off the clock on its ensuing possession, but with 3:01 remaining, he was intercepted by Julian Love, which led to a Saquon Barkley touchdown with 1:43 to go, giving the Giants a 24-20 lead.
Baltimore got one last shot on offense, but on the second play of their final drive, Kayvon Thibodeaux forced a Jackson fumble. The Giants recovered, and that was that.
But not only did the Ravens lose, they made some bad NFL history in the process.
The Ravens made some bad NFL history with their loss to the Giants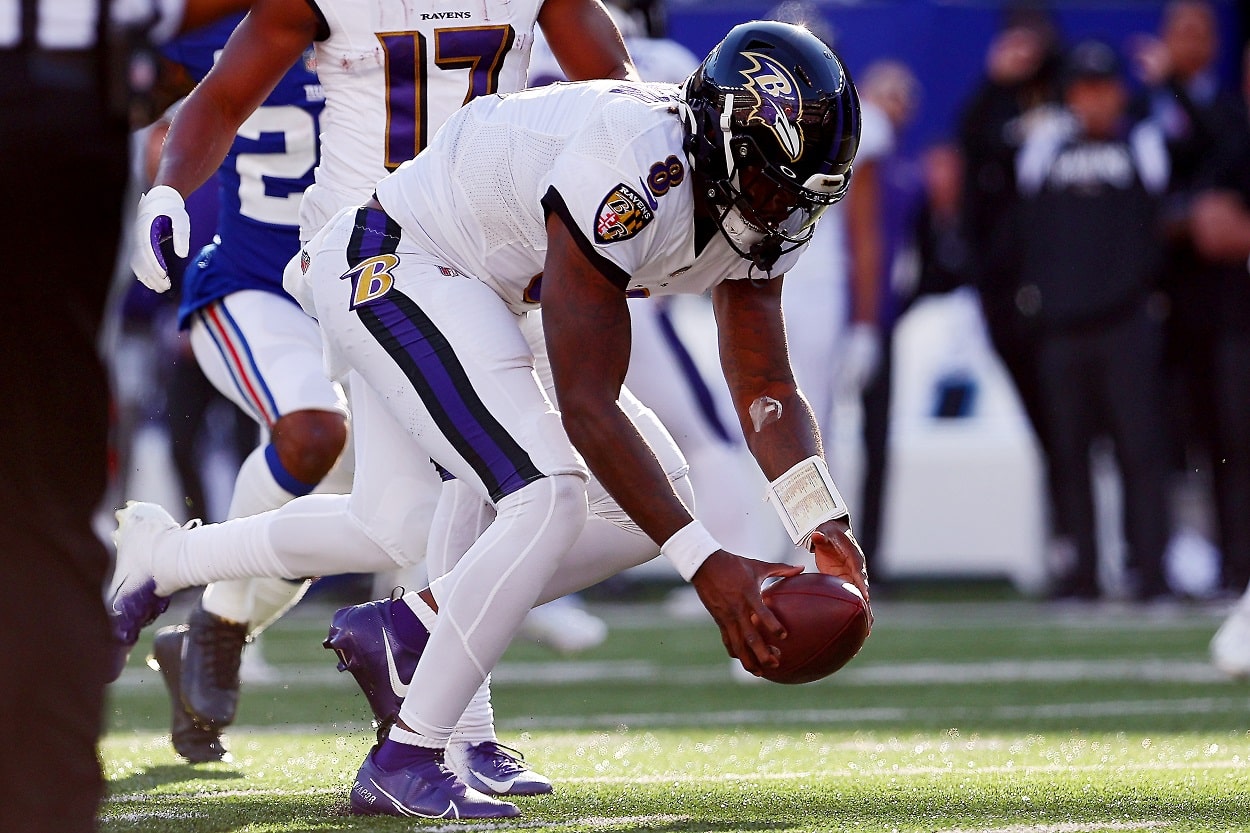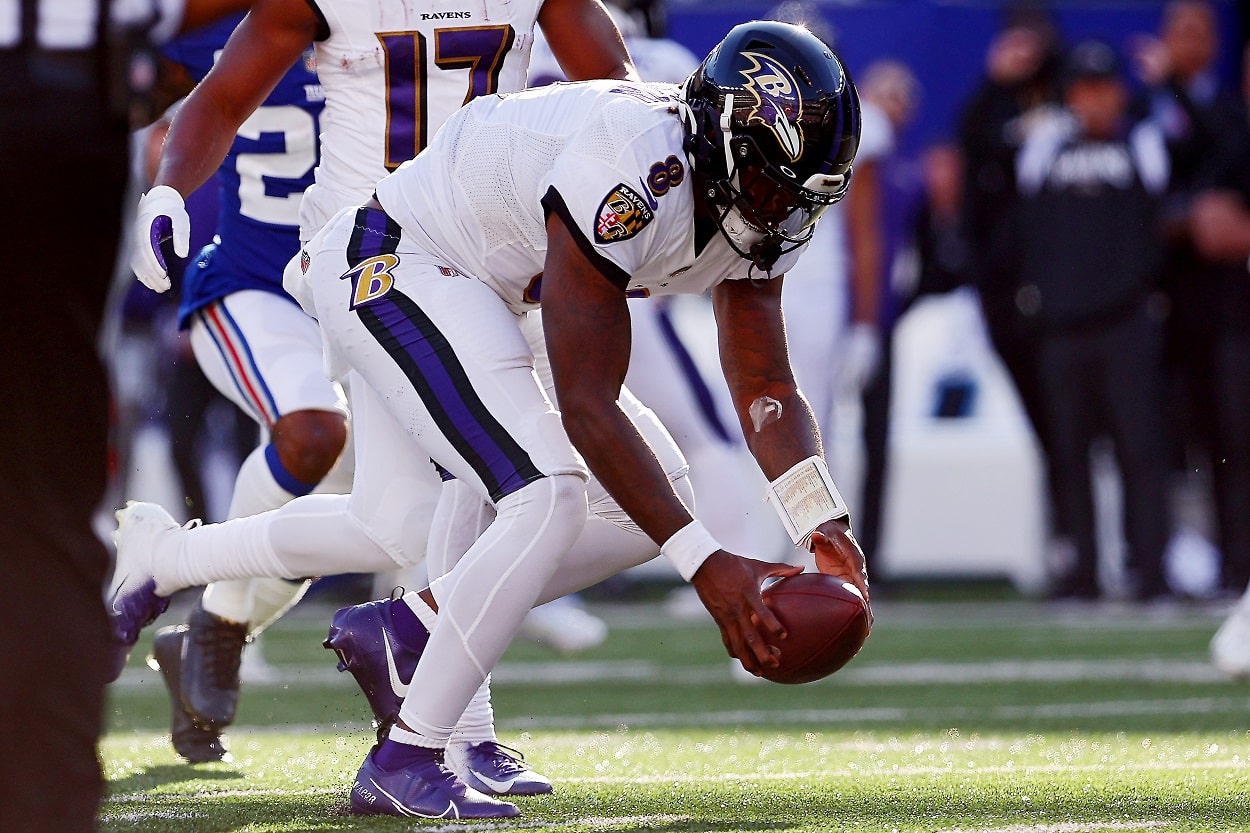 When the Ravens took the aforementioned 10-point lead over the Giants on Sunday, they became just the 40th team in the NFL's 103-season history to hold a double-digit advantage in each of their first six games, which is impressive.
But here's where Baltimore made the bad NFL history mentioned in the headline. Of those 40 teams, the Ravens are the only one not to have a winning record. Pretty wild, right?
In Week 2, Baltimore held a 35-14 lead on Miami with less than 13 minutes to play, only to watch Tua Tagovailoa throw four touchdown passes to lead the Dolphins to an improbable 42-38 victory.
In Week 4, Baltimore held a 20-3 lead on Buffalo late in the second quarter, only to watch Josh Allen lead the Bills to their biggest comeback in 11 years, winning 23-20 on a 21-yard field goal from Tyler Bass as time expired. As occurred Sunday against the Giants, a late Lamar Jackson interception set up the game-winning drive.
The Ravens are a good football team. But their inability to close games is a problem, one that could easily keep them out of the postseason for a second straight year if they're not careful. One would think Jackson & Co. will hold a double-digit lead at some point in Week 7 against the Cleveland Browns. But if so, will they be able to hold it?
Have thoughts on this topic? Keep the conversation rolling in our comments section below.