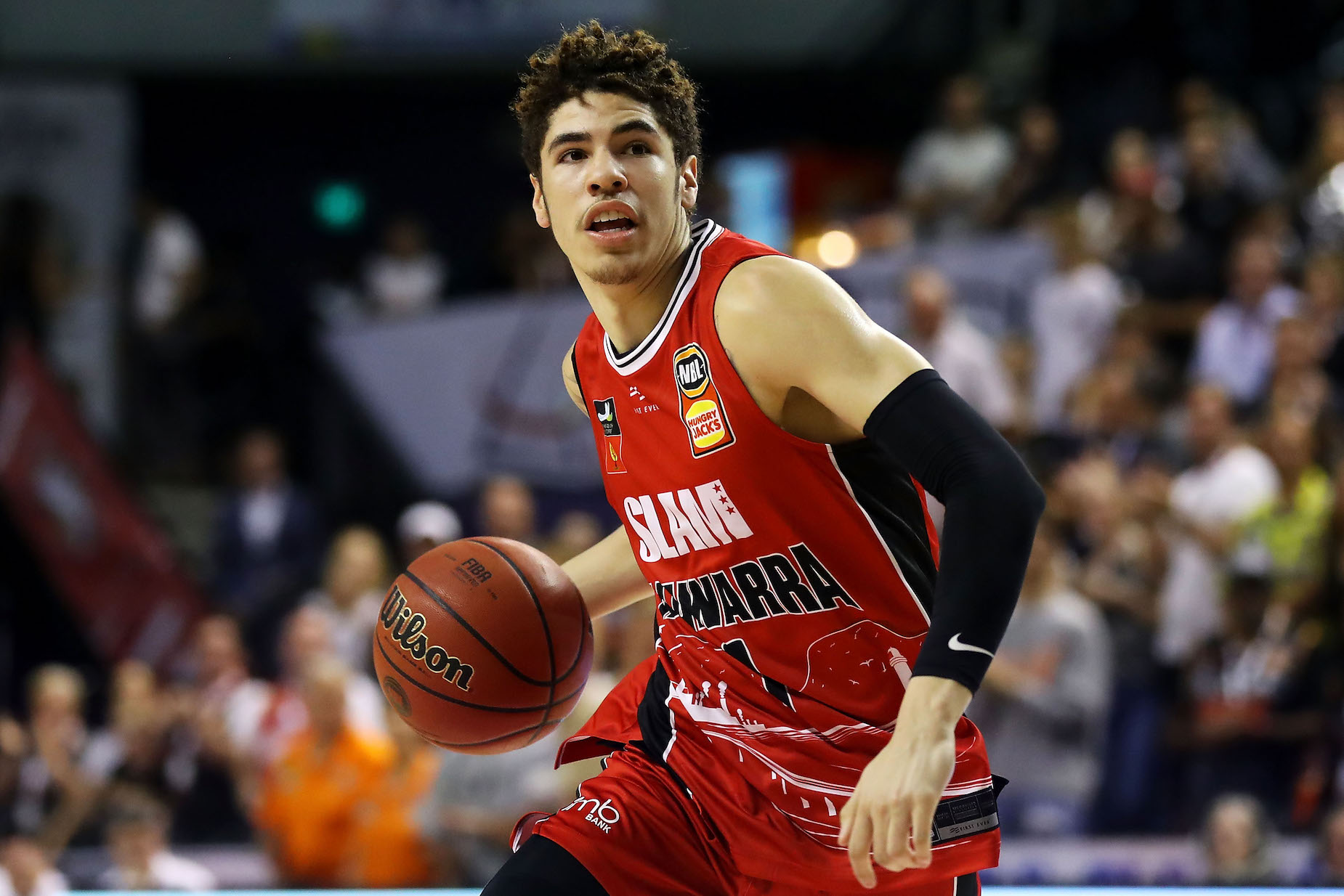 LaMelo Ball Isn't in the NBA Yet, but He's Already Made Basketball History
While LaMelo Ball's NBA career is still yet to begin, the teenage guard has already made sports history with his own signature sneaker.
If you're a basketball fan, you've heard of the Ball family. While Lavar gets most of the headlines with his Big Baller Brand and outlandish statements, his sons are actually pretty talented players. LaMelo Ball, for example, has a legitimate shot at becoming the first-overall pick of the 2020 NBA draft.
While the teenager athlete's NBA career is yet to begin, LaMelo is already in the basketball record books. In fact, Ball has accomplished something that no one in sports history has ever done.
LaMelo Ball's young basketball career
Normally, basketball players progress from high school to college and eventually make their way to the NBA. LaMelo Ball, however, did things a bit differently.
Ball started out at Chino Hills High School, playing with his two brothers. After two strong seasons, however, LaMelo left the program; Lavar, ever wanting to do things his own way, clashed with the school.
The teenager made his way to Lithuania, where he joined the Prienai organization. That spell didn't end happily either, though, as Lavar felt his son wasn't receiving enough playing time. LaMelo then suited up for the Los Angeles Ballers of his dad's Junior Basketball Association, played his senior high school season with SPIRE Institute, and spent a season with the Illawarra Hawks of Australia's National Basketball League.
While that's far from the most conventional basketball career, LaMelo has shown potential at each stop along the way. He left Australia after the 2019-20 season, aiming to enter the 2020 NBA draft; he's projected to be a lottery pick with a decent chance of going first overall.
Setting records with a historic shoe deal
In the world of basketball, only the biggest stars land signature shoe deals. While LaMelo Ball hasn't officially entered the NBA, the teenager already has his own sneaker.
As Zac Glover noted for Forbes, the Big Baller Brand revealed the Melo Ball 1 on August 31, 2007. That announcement came "just one week after LaMelo turned 16, [making him] the youngest athlete ever with a signature shoe."
While that record comes with an obvious caveat—the Big Baller Brand was founded by Lavar Ball, giving LaMelo an inside track to his own signature shoe—history is still history. Similar to a dribbler up the middle becoming 'a line drive in the box score,' most records don't come with asterisks, even if they deserve it.
LaMelo Ball seems poised to keep making history
Even though the Big Baller Brand gave LaMelo Ball an inside track toward making sneaker history, the teenager is still in the sports history books. While we won't know if he'll keep setting records, the teenager seems to have a bright future ahead of him.
Although it's easy to tune everything Lavar Ball-related out, LaMelo does seem to have legitimate skills. In his recent mock draft, Gary Parrish of CBS Sports had the teenager joining the Golden State Warriors as the first-overall pick of the 2020 NBA draft.

"The first time I saw LaMelo Ball, he was just 13 years old, playing with his older brothers against 17-year-olds—and actually producing," Parrish explained. "He was little. And he seemed a little out of place. But he was still a creative-shot maker, and brilliant passer, and he forever looked, at least to me, like a possible future NBA player. Fast-forward five years—and Lonzo's little brother isn't so little anymore. He's now a 6-foot-6 point guard. Super-skilled. Super-smart. And if you're looking for the prospect with the highest upside in the 2020 NBA Draft, the former California high school star is your guy."
"I know some folks focus on the less-than-great shooting percentages and questionable shot-selection," Parrish continued. "And when I do that, sure, I also see what they see. But those things can, and will, be improved. And when you combine that likelihood with the fact that Ball can already see things offensively, and do things offensively, that 99.9% of prospects his age cannot do, it's reasonable to conclude the good far outweighs any bad and predict that LaVar's youngest son has the talent to develop into an All-Star many times over."
Without being able to predict the future, it seems like LaMelo Ball has a decent shot at setting some more sports records once he hits the NBA hardwood. At this point, though, we'll just have to wait and see what happens.
Like Sportscasting on Facebook. Follow us on Twitter @sportscasting19.