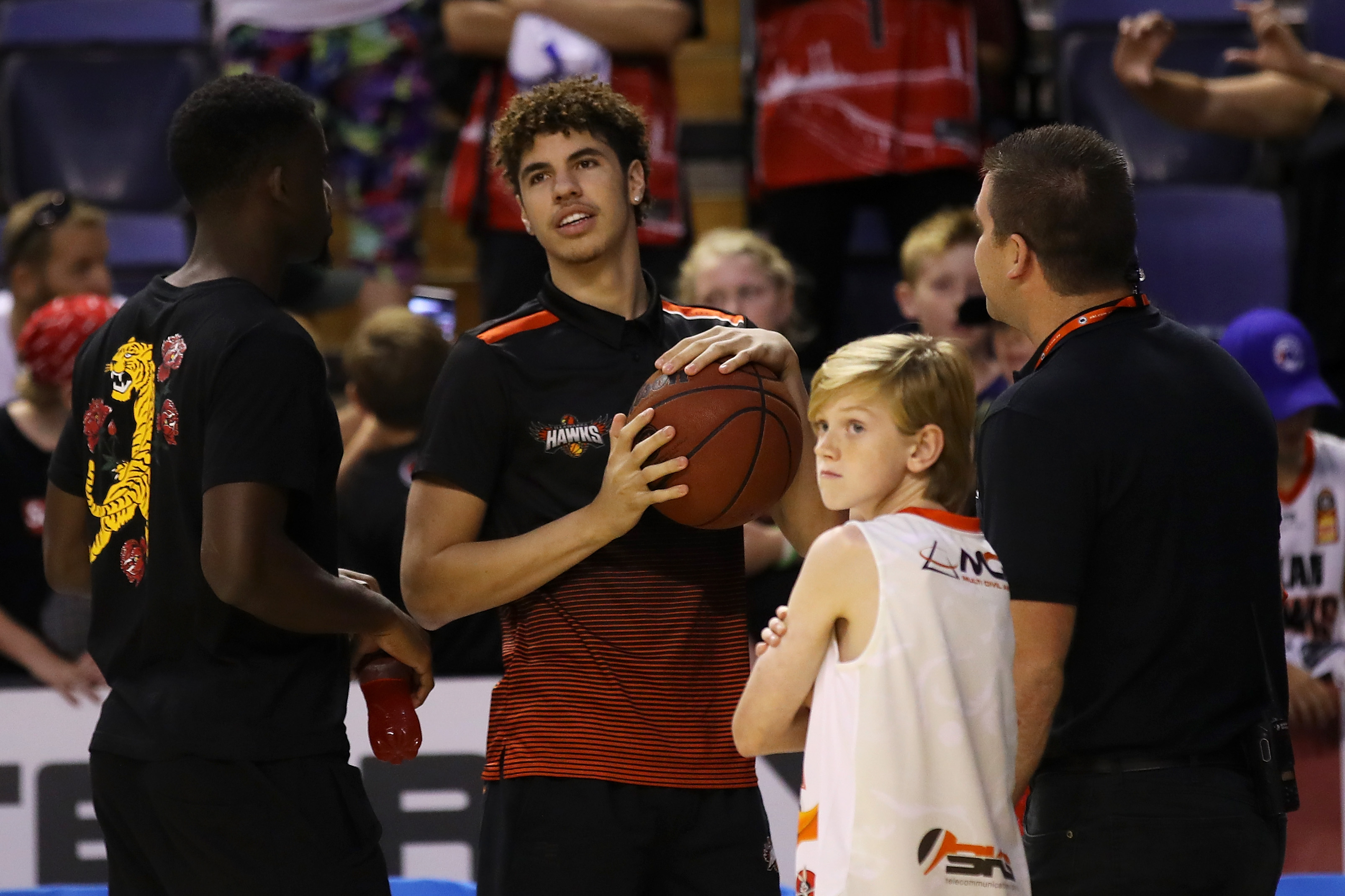 LaVar Ball Laughingly Likens His Son LaMelo to Michael Jordan
LaVar Ball laughingly compares his son LaMelo to Michael Jordan when talking about the upcoming 2020 NBA draft.
LaVar Ball doesn't know when to quit. He's a talker and a promoter. His takes usually borderline on the absurd. Such was the case when he recently made comments about his son LaMelo Ball. LaMelo is expected to be a high draft pick in the 2020 NBA draft pick, but nobody is comparing him to Michael Jordan. Nobody, except LaVar Ball.
LaMelo Ball expected to be a top pick
LaMelo Ball is a 6-foot-7, 181-pound point guard who is expected to be a top pick in the 2020 NBA draft. Ball is coming off a professional season in Australia, where he played for the Illawara Hawks of the Australian-based National Basketball League.
Ball played a little more than 31 minutes per game over 12 games for the Hawks. He averaged 17 points, 7.6 rebounds and 6.8 points per game. Despite Ball's scoring average, he isn't considered a great shooter. In his 12 games with the Hawks, he shot slightly better than 37 percent from the floor.
Many mock drafts have him as a top-five pick in this year's draft. His brother, Lonzo, was the second overall pick in the 2017 NBA draft by the Los Angeles Lakers. Lonzo Ball was part of a blockbuster deal that sent Anthony Davis from the New Orleans Pelicans to the Lakers. Lonzo Ball averaged 12.4 points and seven assists last year.
LaVar Ball has always been a talker
When Lonzo Ball became the No. 2 draft pick in 2017, LaVar ball talked up his son. Even after three mediocre-at-best seasons in the NBA, the elder Ball continues to build up Lonzo. Lavar recently said that New Orleans Pelicians standout rookie Zion Williamson wouldn't have the hype if not for his son.
"Take my boy out the situation and see how much buzz you get," Ball said in a May episode of 'Load Management' podcast. "He'd probably still be out for the season. I don't care how fast you can run and jump, if you ain't got nobody to get you that ball, guess what you going to be doing? Running and jumping out there for nothing."
LaVar Ball went on to say that Lakers' young star, Kyle Kuzma, struggled when Lonzo was traded. Kuzma averaged 12.5 points per game in 2019-20, while he scored 18.7 the previous year. LaVar Ball insisted those decline in numbers were because Lonzo had been traded.
LaVar Ball likens LaMelo to Michael Jordan
With LaMelo Ball looking like a top-five pick in the 2020 NBA draft, it's likely he would become an immediate starter in the league. One scenario that could change that is if Ball happened to get selected by the Golden State Warriors. The Warriors already have NBA All-Stars Steph Curry and Klay Thompson, and would probably use any guard they draft to come off the bench.
The idea of LaMelo coming off the bench didn't sit well with LaVar Ball. Lavar went on to work Michael Jordan into the conversation about his son. "Just like people was trying to tell me when Golden State was saying 'Is it ok if Melo comes off the bench and learns?' and all this stuff and I was 'Nah,' LaVar Ball said in USA Today. "People was telling me Well 'Kawhi, he came off the bench. Giannis came off the bench.' Ok. Michael Jordan didn't come off the bench."
It's one thing to have confidence in your son. Comparing him, however, to arguably the greatest player in NBA history is absurd.