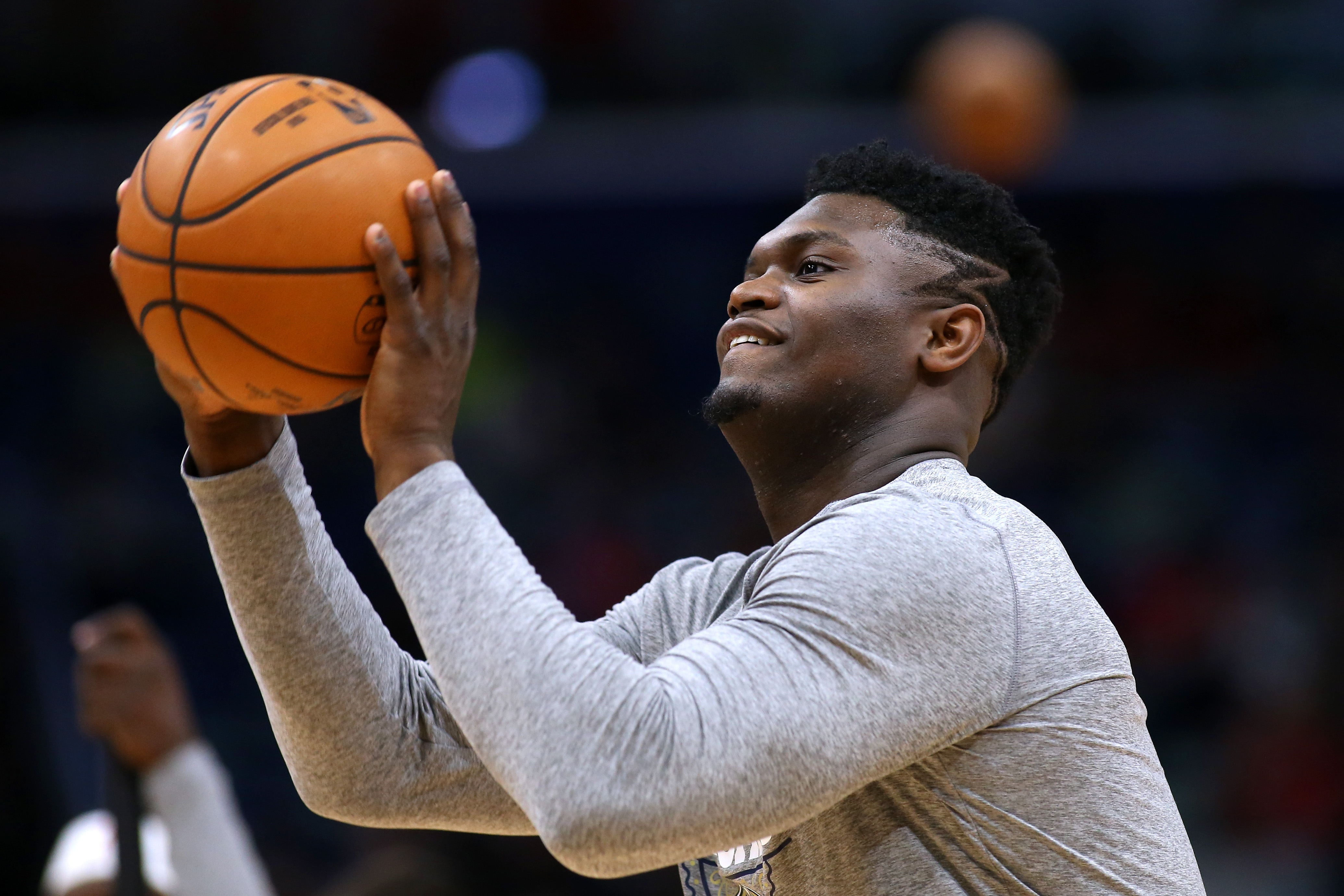 Zion Williamson Added a New Wrinkle to His Game That Should Terrify the Rest of the NBA
We all know Zion Williamson can dunk on whoever he pleases, but he's been working hard on improving another skill ahead of the NBA restart.
Zion Williamson has lit the NBA on fire in just 19 professional games as a rookie. Williamson's unique blend of athleticism and natural scoring ability makes him a force to be reckoned with in the NBA for years to come. The star rookie is averaging 23.6 points per game in his young career, and that's without much of an outside presence at all.
In the three months away from the league, though, Williamson worked extensively on improving his jump shot. When the NBA finally returns later this month, Williamson might have a new wrinkle to his already dominant game.
Zion Williamson is having a stellar rookie season without much of a jumper
In today's NBA, it's all about the jump shot. The 3-pointer has taken precedence as the most important skill to master in the league, so much so that even the 7-foot centers are stretching out to shoot threes.
The 3-point revolution wasn't exactly a welcome sight for Williamson, who thrives on offensive rebounds and out-jumping his opponents to score. His jumper is still very much a work in progress, but that didn't stop him from tearing up the league as a rookie.
Williamson is averaging 23.6 points and 6.8 rebounds per game this season, all while playing less than 30 minutes per game. He's done so essentially without any sort of jump shot, too. Williamson attempts less than one 3-pointer per game.
In 19 NBA games, Williamson has attempted just 13 threes and made six of them. Barely any NBA players — let alone rookies — are putting up the scoring numbers that Williamson is without a jumper. He's proven to be a transcendent talent without a 3-point threat, but that might change soon.
Williamson is bringing an improved jump shot to Orlando
Over the last three months, NBA basketball has been completely put on hold. Players haven't had much time to do anything but work on their games, and Williamson evidently used the time off to improve his jumper.
He even has New Orleans Pelicans head coach Alvin Gentry impressed.
"He's made a lot of strides in his shooting, I think. Although we weren't together, he did a lot to improve his game," Gentry told ESPN.
Williamson is bringing a version of himself to Orlando that we haven't seen yet, which should terrify every other Western Conference foe.
"Yeah, I think there are going to be parts of my game that you didn't see before that you'll see when we start playing," Williamson told ESPN.
Can the Pelicans make a playoff push in the NBA bubble?
The Pelicans are currently 3.5 games behind the Memphis Grizzlies for the No. 8 seed in the Western Conference. With just eight games in the bubble to make up that ground, it might seem like an impossibility to make the playoffs.
Digging deeper, though, New Orleans might have a better chance then you'd think. The Pelicans play the Grizzlies, the Wizards, the Spurs, and the Kings two times in their new schedule. If they can handle business in those five games, New Orleans might just need to win one more game to jump Memphis in the standings.
Unlikely? Yes. Impossible? Definitely not. With a new and improved Zion Williamson running the show in Orlando, Pelicans fans have to like their chances.
All stats courtesy of Basketball-Reference