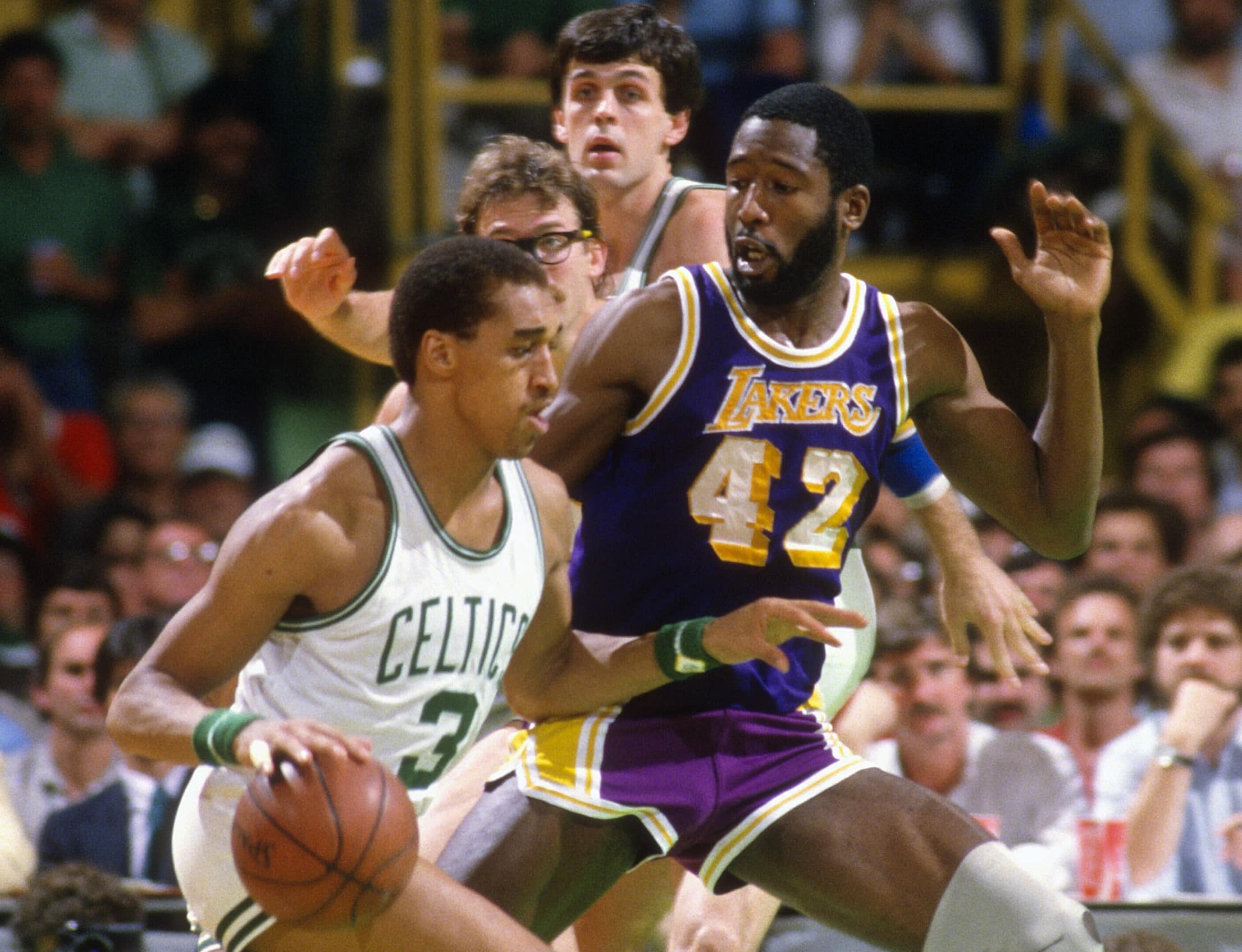 Larry Bird and the Boston Celtics Continued Their Mental Dominance Over the Lakers in the 1984 Finals During a Sauna-Like Game 5
It took a lot, but the Boston Celtics battled back to stun the Los Angeles Lakers in the 1984 NBA Finals.
The 1984 NBA Finals featuring the Boston Celtics and the Los Angeles Lakers was one of the most exciting and interesting championship series in NBA history. It was the first professional championship meeting between Boston's Larry Bird and LA's Magic Johnson, and NBA fans were in for a treat.
The Lakers dominated the early part of the series but had very little to show for it. The series shifted back to Boston for Game 5 tied at two games apiece, yet the Lakers felt they had let Game 2 and Game 4 get away from them. The Celtics were in LA's head, and that became evident during a Game 5 that took place in a sweltering Boston Garden.
Larry Bird and the Boston Celtics were lucky through four games of the 1984 NBA Finals
Larry Bird had to chew out his Boston Celtics teammates after a miserable Game 3 performance, and that may have been what helped his team turn things around. Or was it Gerald Henderson's steal in Game 2? What about Kevin McHale clotheslining Kurt Rambis in Game 4? The 1984 NBA Finals had it all, and the Celtics had some serious luck on their side in the first half of the series.
The Lakers came into Boston and immediately stole homecourt advantage from the Celtics with a 115-109 win in Game 1. LA appeared to be on its way to taking a 2-0 series lead. The visitors had the ball and a two-point lead in the waning seconds. That's when Gerald Henderson picked off a lazy cross-court pass by James Worthy and converted it into a game-tying layup. Boston won in overtime.
The Lakers roughed up the Celtics in the first game at home, posting a 137-104 victory in Game 3. When it was over, Bird laid into his teammates in the locker room, calling them out for their soft play.
"I wanted to fight every teammate I had after Game 3," said Bird, quoted in Jackie MacMullan's book When the Game Was Ours. "I did everything I could in the papers to get them fired up, and I knew if something didn't change, we were going to lose. So I called them sissies, told them they played like girls. I didn't know if there would be some backlash, but I didn't care."
In Game 4, McHale leveled Rambis, who was on his way in for a layup. At that point, Boston trailed 76-70. That play changed the momentum of the game, and Boston pulled out another overtime win. Boston was fortunate to be tied at two games apiece heading back home for Game 5.
"Before McHale hit Rambis, the Lakers were just running across the street whenever they wanted," former Celtics forward Cedric Maxwell said, per MacMullan. "Now they stop at the corner, push the button, wait for the light, and look both ways."
Mentally, the Celtics were tougher than the Lakers
While Henderson's steal and McHale's hard foul were physical plays, they both made the Lakers think. Mentally, the Lakers were taken out of their game.
"We had lost our edge," Magic Johnson admitted. "That takedown of Rambis had totally changed the complexion of that series."
Game 5 took place in Boston during a heat wave. CBS announced the game-time temperature was 97 degrees. There was no air conditioning in the outdated Boston Garden. The Lakers were beaten before the game started.
"It was miserable in there," Johnson said. "I had already sweated through my uniform before we even had our pregame talk."
Lakers coach Pat Riley was paranoid that the Celtics were doing anything they could to gain an unfair advantage.
"That place was always a nightmare," said Riley to Sports Illustrated. "As soon as we'd start our off-day practices, the chainsaws would come out. The workers were all around, and the security guys would show up. I'm not sure anybody was doing anything except watching us.
"It was so hot we could barely breathe in our locker room, while they had these big machines that blew cool air. It got to the point that we brought our own beverages to the Garden because we couldn't trust their water, and we covered all the cameras during practices because we didn't know who was watching."
Meanwhile, Bird was hotter than any heat wave, lighting it up for 34 points and 17 rebounds in a 121-103 victory.
"I was hitting everything," Bird said, per MacMullan. "I had that rhythm you dream of. It was a tremendous feeling, and our crowd was fantastic. I felt after Game 5 we had it."
He was right. The Celtics went on to win in seven games.