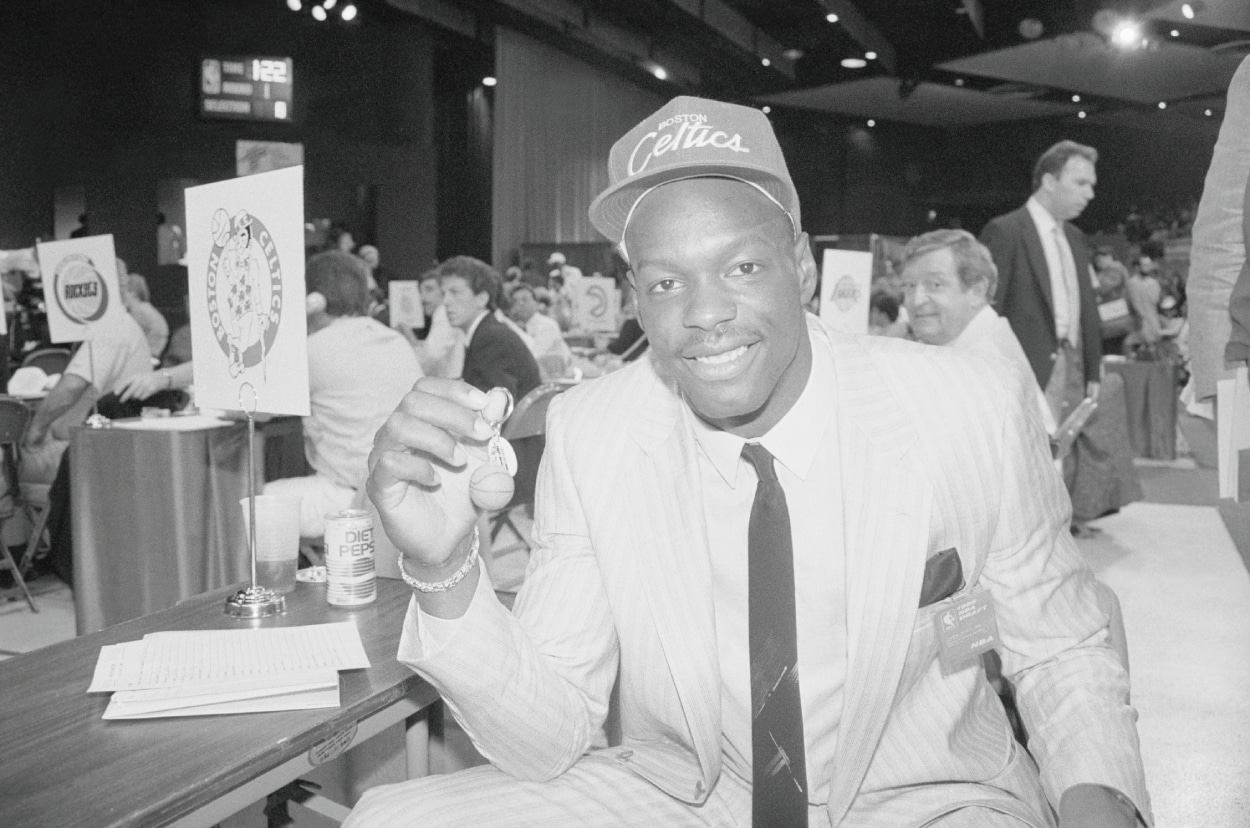 Larry Bird Called the Death of Len Bias 'the Cruelest Thing I Had Ever Heard'
Len Bias was supposed to lead the next wave of Boston Celtics stars. He never got the chance.
Things were going so well for the Boston Celtics. Larry Bird just captured his third consecutive MVP. The team won its third championship of the decade. And because of a previous trade involving Gerald Henderson, the Celtics owned the second pick in the 1986 NBA Draft.
With that second pick, the Celtics drafted Maryland star Len Bias, a player many compared to Michael Jordan. Two days after hearing his name called at the draft, Bias died. Bias' death shocked the world, leaving Bird to say it was "the cruelest thing I ever heard."
Len Bias would have been the perfect player to take over for Larry Bird
Larry Bird was coming off three straight years of being the best player in the NBA, but injuries were starting to take their toll. Although Bird played in all 82 games during the 1985-86 season, he wasn't always completely healthy.
"After that opening-game loss to the Nets, we won 17 of our next 18," Bird wrote in his book, Drive: The Story of My Life. "Once Bill (Walton) kicked in, we were really in a groove, except for one person — me. My back was giving me severe problems, and I wasn't shooting well at all."
Bird clearly toughed it out and finished as the MVP after averaging 25.8 points and 9.8 rebounds and guiding the Celtics to an NBA-best 67 wins. After another strong year in the 1986-87 season, where he finished third in the MVP voting, Bird began to see a decline.
He played just six games during the 1988-89 season after undergoing surgery on both heels. That's when Bias would've been expected to step up and begin to make this team his own. Bird was in his ninth season. Kevin McHale was an eight-year pro, and Robert Parish has been in the NBA for 12 seasons, just like starting guard Dennis Johnson. The Celtics were growing old together, and Bias would have added a nice blend of youth to the veteran team.
John Salley, a four-time NBA champion drafted the same year as Bias, believed the Maryland star was going to be Boston's savior.
"Every time he got the ball, you knew he was going to score," said Salley on The Rich Eisen Show. "He was a beast. He was literally going to save the Celtics."
Bird called Bias' death 'the cruelest thing I had ever heard'
In his book, Bird recalled the Celtics wanting to get his input on Bias. He remembered Red Auerbach and K.C. Jones asking him during the 1986 NBA Finals to watch a little film of Bias and give his thoughts.
"Len could obviously jump and run, and he also had a tough streak in him," Bird wrote. "He looked like he really wanted to win, and I thought he'd be a great addition to our team. Red even asked me if I would be willing to come to rookie camp in August to work with him if we drafted him. I told him yes, that I would look forward to it.
"We drafted him. The next morning I was in the shower when Dinah came in and said, 'I don't know whether or not to believe this, but someone just called and said Lenny Bias died of a heart attack.'"
Like most, Bird was stunned.
"I called the Celtics office, and they told me he had collapsed and had been rushed to the hospital but hadn't made it. I issued a statement through (agent) Mr. (Bob) Woolf's office, saying it was the cruelest thing I ever heard.
"There's no question Len's death was a tragic loss to everyone and a sadness we will all carry with us."