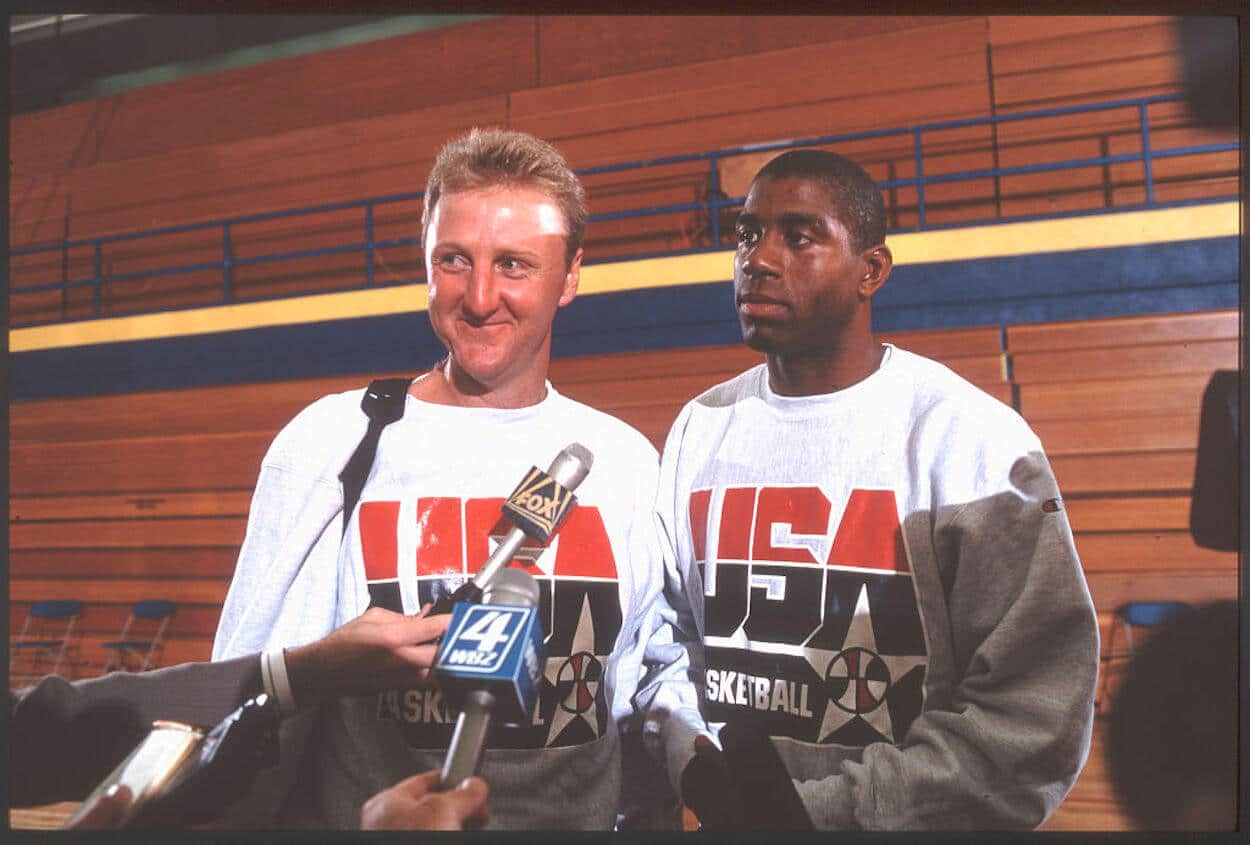 Larry Bird Didn't See Anything Special About the 'Greatest Game Nobody Ever Saw'
Think that the Dream Team's Monaco scrimmage was a peak basketball moment? Allow Larry Bird to explain why that's not the case.
Over the years, Larry Bird hit the hardwood in basketball's biggest spots. From NBA Finals to All-Star Games and, ultimately, the 1992 Olympics, No. 33 was no stranger to the spotlight. One of his most famous outings, however, took place behind closed doors without a single fan in the stands.
During their lead-up to the Olympics, the Dream Team played a legendary scrimmage in Monaco. Sports Illustrated dubbed that contest the "greatest game nobody ever saw." Michael Jordan made a similar comment, calling it "the greatest game [he] ever played in."
Bird, however, had a different memory of that day. He didn't see anything special about it.
Sound unbelievable? Let's check it out.
History remembers the Dream Team's scrimmage fondly, but Larry Bird doesn't share the same nostalgia
While the Dream Team rightfully earned a place in history with their incredible on-court performance, that unit is collectively remembered as a basketball fan's Platonic ideal of a roster. And if you love the game, a single practice in Monaco would probably be your idea of must-see TV.
As alluded to above, that practice has become the stuff of legends.
In a 2017 ESPN post, Micah Adams laid out the details. John Stockton and Clyde Drexler were injured, leaving head coach Chuck Daly with exactly 10 players. He, naturally, broke the squad into two five-man units. The white team consisted of Michael Jordan, Scottie Pippen, Larry Bird, Karl Malone, and Patrick Ewing; Magic Johnson, Charles Barkley, Chris Mullin, David Robinson, and Christian Laettner donned blue jerseys.
The two teams then hit the court in an empty gym and went at it. No box scores emerged, but we do have some details from Jack McCallum's book. Jordan, unsurprisingly, paced the scoring with 17 points, and his team secured a 40-36 comeback victory.
And while only a handful of people saw that contest, it's still remembered fondly.
In the same ESPN piece, Adams cited a conversation between Jordan and Michael Wilbon. When asked about that legendary game, MJ spoke in no uncertain terms.
Greatest game I've ever played in. All the beautiful things about the game of basketball were illustrated in that one particular game. If you culminate everybody in the Hall of Fame and every game they played in, and you envision a game being played, that's how that game was played.

Michael Jordan
That sentiment extended beyond the players, though. As recounted in an Olympics.com piece, Sports Illustrated called the scrimmage the "greatest game nobody ever saw."
Enter Larry Bird. As we established in the first lines of the story, the famous forward took part in plenty of legendary games over the years. And, in his mind, the Monaco scrimmage wasn't one of them.
"I didn't think it was much at all, to tell you the truth. If you asked three-quarters of the guys who were there that day, they wouldn't have thought much of it. It was just a normal practice with guys talking; everybody was talking more than playing," Bird remembered in the Olympics.com piece. "When they came up with it [the title of the Sports Illustrated article'], I was like, 'Well, when was that?' I think it's nostalgia talking."
While that sentiment might sound unbelievable — how could Bird feel so differently than at least Michael Jordan, if not the rest of the squad? — it's not completely out of character. No. 33 wasn't especially cynical, but he did things his own way and never wavered from those convictions. If, for whatever reason, he didn't think the scrimmage was that special, then no amount of public sentiment is going to change his position.
And ultimately, Bird managed to overcome some serious back pain in order to win an Olympic gold medal before retiring from pro basketball. That success, not an ultimately meaningless practice, is probably the memory he held onto.