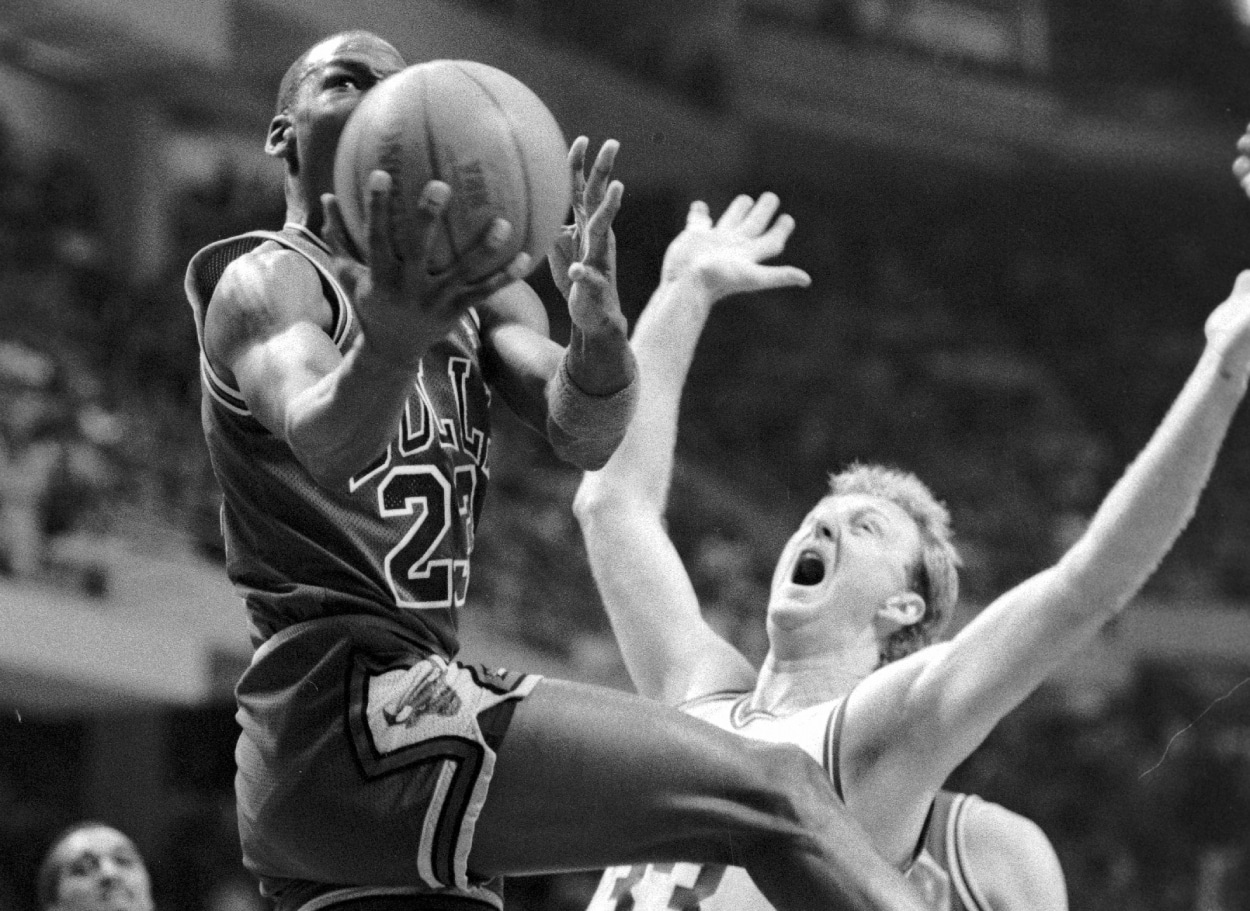 Larry Bird Explained Why Michael Jordan Didn't Have a 'Team Mentality' Early in His Career
Larry Bird had a pretty good explanation for why Michael Jordan didn't appear to have a "team mentality" early in his career.
While Larry Bird and Magic Johnson were busy taking over the NBA, a young Michael Jordan was making a name for himself. The third overall pick in the 1984 NBA Draft, Jordan didn't waste any time showing off his hoops skills.
Jordan wowed the NBA by averaging 28.2 points as a rookie. After missing most of the 1985-86 season with a foot injury, he returned for the playoffs and wowed Bird and the Celtics by scoring 49 points in the postseason opener. He racked up 63 in Game 2. The Bulls lost both, and the Celtics swept the best-of-five series. Nobody scored like Jordan, and Bird went on to explain why the young Bulls star didn't have that "team mentality" in the early part of his career.
Michael Jordan Wowed Larry Bird in the 1986 Playoffs
The Boston Celtics put together what might arguably be their best team in franchise history during the 1985-86 season. They beefed up their bench with the addition of veteran center Bill Walton and won 67 games in the regular season. The team remained relatively healthy all season and lost one game at home all year.
The Bulls and Celtics met in the opening round of the 1986 playoffs, and Chicago gave Boston all it could handle, despite the sweep. Jordan's 49 points in Game 1 led all scorers. Jordan and Orlando Woolridge accounted for 74 of Chicago's 104 points as Boston won 123-104.
In Game 2, Jordan singlehandedly kept the Bulls in the game. He finished with 63 points and made the Celtics sweat out a 135-131 victory in double overtime. It was the game where Larry Bird famously said No. 23 for Chicago was "God disguised as Michael Jordan."
Bird had plenty of praise for the young player out of North Carolina.
"He was hitting outside shots, driving to the hole," said Bird, according to NBA.com. "We had about everyone on the team guarding him. He obviously was in a zone.
"He kept them in the game with big basket after big basket. We couldn't stop him. We tried to shade him to help, everything. You were talking about a different type of talent."
Bird had a simple explanation why Jordan didn't initially have a 'team mentality'
Jordan could score with the best of them. Sure, he took plenty of shots, but he also shot 50% from the floor in his career.
Beginning in his third NBA season, Jordan led the NBA in scoring seven straight seasons. In the 1986-87 season, he averaged 37.1 points. For his career, he put up 30.1 points per game.
Early in his career, some believed Jordan was all about himself. Bird didn't think that way. In fact, he explained why he took many of those shots.
"Early on, people were saying Michael didn't have a team mentality," Bird said, according to Jackie MacMullan's book When the Game Was Ours. "That was because he didn't have a team."
Things were much different in the 1990s. Bird and Magic passed the torch to Jordan, who took full advantage. He guided the Bulls to six championships in the decade. Jordan looked up to the two stars and w anted to be just like them.
"They had what I wanted — the respect of the entire league," Jordan said, per MacMullan.