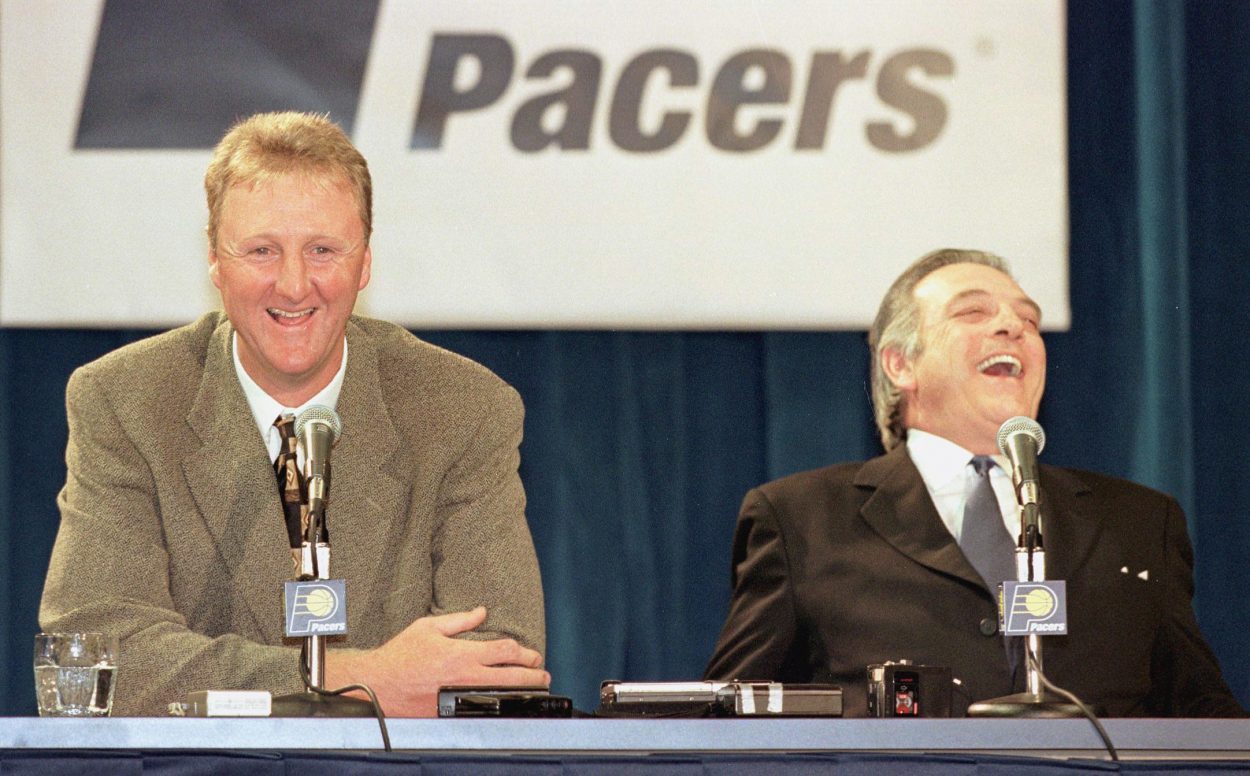 Larry Bird Stunned His Indiana Pacers Players by Retiring as Head Coach After a Trip to the NBA Finals: 'He's a Different Breed'
Larry Bird's career as a head coach ended after just three seasons. Bird's decision to leave the Indiana Pacers and make good on his three-season rule baffled his former players.
Larry Bird had a legendary playing career, and a time existed when it seemed as though his coaching career could be every bit as outstanding.
Bird took over as head coach of the Indiana Pacers ahead of the 1997-98 season. He immediately led Indiana to the Eastern Conference Finals, where the Pacers nearly dethroned Michael Jordan and the Chicago Bulls. Just two years later, Indiana made it to the NBA Finals.
With Bird on the bench, the Pacers looked destined to make another run at a championship. However, Bird's coaching career ended almost as soon as it began. His decision to retire bewildered his players.
Larry Bird promised he would only coach three seasons in the NBA
Typically, head coaches prefer to do their jobs without being on a leash. For example, working under the guise of an expiring contract can be a rather uncomfortable situation for coaches across all sports.
Larry Bird gave himself an ultimatum right from the start.
Bird explained after he took the Pacers job in 1997 that he only planned to stay on the bench for three seasons. However, that declaration seemed meaningless when he brought Indiana to the brink of the Finals in 1998.
The three-year rule aged worse when Bird again led the Pacers to the Eastern Conference Finals in 1999, and it sounded downright foolish when Indiana made the Finals in 2000. Although Bird and Co. would lose to the Los Angeles Lakers, players like Jalen Rose underwent seismic growth in Larry Legend's tenure as head coach.
Surely the Pacers could win a title if he elected to keep coaching. Why give up on a good thing? Bird's players could not make sense of the hard and fast retirement rule.
Pacers players did not understand Bird's adherence to the three-year rule
Almost nobody on the Pacers roster could grasp the idea that Bird would move on from coaching after such a terrific (albeit brief) run in Indiana.
Reggie Miller said during the 2000 NBA Finals that Bird had only just started to become more vocal and really feel comfortable. Point guard Mark Jackson's remarks were even more pointed.
Jackson said (via Deseret News) he respected Bird's desire to adhere to his pledge, but he remained baffled by the promise itself.
"I really can't (explain it). I don't think anybody can. I respect the fact that he made a decision from Day 1 and then stuck to it, where a lot of people probably wouldn't have, especially after they get a taste of what has been accomplished this year. So I respect that. But, you know, he's a different breed."

–Mark Jackson (2000), via Deseret News
It's entirely possible some Pacers players felt Bird would reconsider. However, the Hick from French Lick stuck to his guns.
Bird retired following Indiana's Finals loss to the Lakers. Interestingly enough, he handed the reins to former rival Isiah Thomas. The Pacers organization has not been the same since.
Bird had success in Indiana's front office, but the Pacers have yet to return to the NBA Finals
Bird had tremendous success in the Pacers front office after transitioning from his coaching role. Nevertheless, Indiana's on-court product has been somewhat lacking in results ever since he left the bench.
The Pacers have not made it back to the Finals since 2000, though that's hardly Bird's fault. Indiana made it to the Eastern Conference Finals in 2004, Bird's first season as a head executive. While the Malice at the Palace ultimately threw a wrench in that team's future, Larry Legend again built a winner in the Frank Vogel era, drafting the likes of Paul George and Roy Hibbert. The Pacers reached the conference finals in back-to-back seasons in 2013 and 2014.
Still, for all the highs, there are just as many lows. Chief among the lows is the fact that the Pacers have not been back to the NBA finals since Bird retired as head coach. That move shocked his players then, and it likely remains every bit as befuddling to this day.