Shaquille O'Neal Knew He Had to Dominate Old Foe Rik Smits Before the 2000 NBA Finals: 'I Got to Kill Him Immediately so He Understands This is a Different Shaq.'
Former Indiana Pacers big man Rik Smits used to give Shaquille O'Neal nightmares. But the Lakers star was determined to show Smits who was boss during the 2000 NBA Finals.
Smits was in the twilight of his career when the Pacers and Lakers met for the Larry O'Brien Trophy at the turn of the century. Still, past encounters with the Dunking Dutchman haunted O'Neal, who was desperate to win the first championship of his career.
Shaquille O'Neal wanted to send a message Rik Smits at the start of the 2000 NBA Finals
Shaquille O'Neal and the Lakers scratched and clawed to make the NBA Finals in 2000. They battled the Portland Trail Blazers for seven games in a mentally draining series that could have gone either way. Having conquered the Blazers, Shaq now found himself facing an old foe.
The 1999-2000 version of Rik Smits was a shell of the guy who dominated in the paint during the mid- and late-90s. Still, even at the end of his career, he had tricks up his sleeve.
Smits boasted an excellent midrange game and brilliant footwork on the low block. Injuries brought his career to a close after his age-33 campaign, but he still averaged close to 13 points and shot over 48% from the field during his final season with the Pacers.
Shaq didn't want to take any chances with Smits. He wanted to prove he was a totally different player right from the outset. O'Neal told former Sports Illustrated writer Jack McCallum back in 2017 that he intended to take command of the series and go at Smits and the Pacers early.
The Big Diesel did more than send a message to Smits. He totally annihilated the Pacers.
O'Neal averaged 38.0 points, 16.7 rebounds, and 2.7 steals in six games. He poured in 40-plus in the first two contests, both Laker wins. Indiana rallied to win two of the next three games, but Shaq responded by scoring 41 points in Game 6 to capture his first NBA title. It was the perfect capper for one of the finest individual seasons in NBA history.
Superman's respect for Smits served as motivation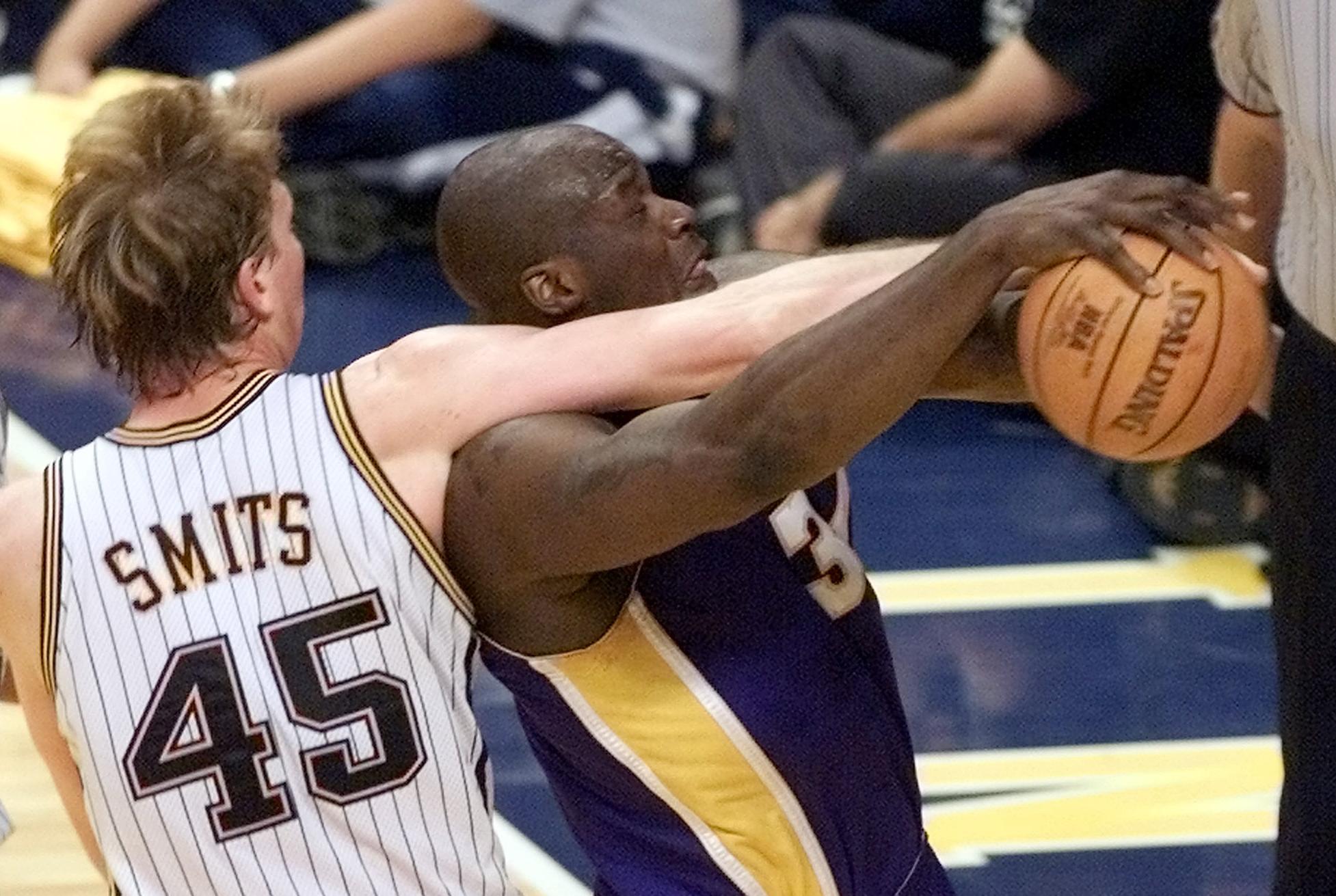 Why was O'Neal so determined to dominate Smits and the Pacers? Well, mostly because there was a time when he couldn't stop the Dutch big man.
Shaq included Smits as one of the four centers who gave him the most trouble during his NBA career. The other three — Patrick Ewing, Hakeem Olajuwon, and David Robinson — are all Hall of Famers. That's high praise for the Pacers lifer, who made just one All-Star team during the course of his career.
Yet, despite not having the same renown as Ewing, Olajuwon, or Robinson, Smits was every bit as much of kryptonite for O'Neal. In fact, Shaq said he never would have figured out how to defend Smits if not for injuries.
"Rik destroyed me every time," O'Neal told McCallum. "Oh, my God. Pick-and-pop, jump hook in the post, I couldn't stop that kid. If it wasn't for his foot problems, I probably [never would] have been able to stop him."
In some ways, it makes sense for Smits to be included on that list. The other three guys all had similarities in terms of their ability to shoot from the midrange and use their savvy to put the ball in the hoop. Smits wasn't a power center, but rather a crafty big who relied on skill, smarts, and positioning.
Although Shaq remained wary of his former nemesis ahead of the 2000 NBA Finals, Smits and the Pacers were ultimately no match for the Lakers and The Diesel, who was putting the final touches on an MVP season.
Shaquille O'Neal's 1999-2000 season with the Lakers is one of the best in league history
Shaquille O'Neal was a handful for opponents to deal with throughout his 19-year NBA career and especially during his time with the Lakers. But he was practically invincible during the 1999-2000 season.
The Lakers star dominated the league that year. O'Neal won his second scoring title at 29.7 points per contest, also averaging 13.6 rebounds, 3.8 assists, and 3.0 blocks.
A deeper dive really highlights the historical excellence of Shaq's lone MVP campaign. His 30.65 player efficiency rating ranks 18th all-time. A 9.04 value over replacement (VORP) mark is good for 27th all-time. That's only the tip of the iceberg, though.
The Hall of Fame center romped through opponents during the playoffs. He averaged 30.7 points, 15.4 rebounds, 3.1 assists, and 2.4 blocks in 23 playoff games, shooting 56.6% from the field and playing 43.5 minutes per night.
O'Neal had numerous MVP-worthy seasons during his career, but the 1999-2000 campaign was his best. He closed it in style, thanks in part to some motivation from past demons.
Stats courtesy of Basketball Reference.