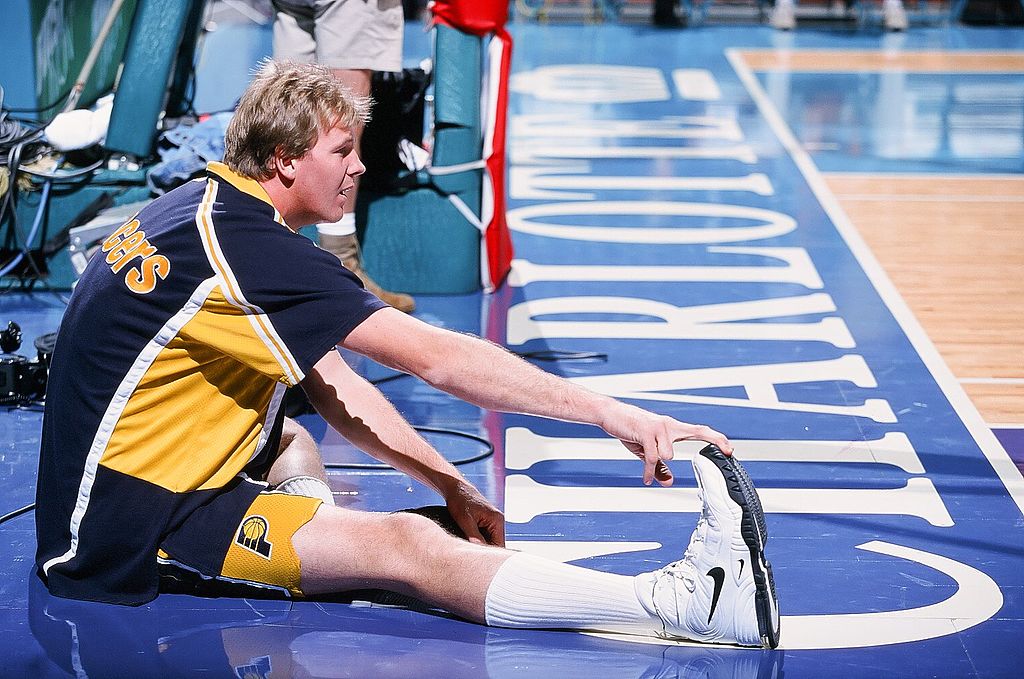 Former Indiana Pacers Star Rik Smits Was the Most Underrated Center of the 1990s
A look back at the career of former Indiana Pacers star Rik Smits, who was one of the most underrated players of his generation.
Ask just about anyone to name the best NBA centers of the 1990s and you're likely to hear the usual list. Hakeem Olajuwon. Shaquille O'Neal. Patrick Ewing. David Robinson. Those are the big four, right? You'd usually hear that followed up with Alonzo Mourning and Dikembe Mutombo. But a name you're not likely to hear as often is former Indiana Pacers center Rik Smits, which is truly a shame as the "Dunking Dutchman" was an underrated and underappreciated player for the majority of his stellar career, outside of the state of Indiana anyway.
Hey, I get it. If you're putting a team together, you're not going to take Rik Smits over guys like Olajuwon or Shaq or Ewing or The Admiral. Nor should you. But that doesn't mean that Smits wasn't an elite center. It's just that he played in a decade featuring some of the all-time greats.
Rik Smits led Marist College to their only two NCAA Tournament appearances in history
A native of the Netherlands, Rik Smits came to the U.S. in 1984 to play for little-known Marist College in Poughkeepsie, New York. At 7'4″, Smits was a dominating presence in the ECAC Metro Conference, now known as the Northeast Conference. Following a solid freshman campaign in which he averaged 11.2 points and 5.6 rebounds per game, Smits really came into his own in his sophomore season, upping his scoring to 17.7 points per game and his rebounds to 8.1 and led the Red Foxes to their first NCAA Tournament appearance in history, losing to a Georgia Tech team that sent five players to the NBA, including Mark Price and John Salley.
In his junior year in 1986-1987, Rik Smits averaged 20.1 points and 8.1 rebounds and helped Marist to the first 20-win season in school history, again appearing in the Big Dance. The Red Foxes haven't appeared in the NCAA Tournament since. Smits had another fantastic season his senior year and ended his college career with averages of 18.2 points and 7.6 rebounds, shooting an incredible 60.9% from the floor.
The "Dunking Dutchman" made just one All-Star appearance but was a great number two for the Indiana Pacers his entire career
Rik Smits was taken with the second overall pick in the 1988 NBA draft by the Indiana Pacers, with whom he would spend his entire career. Originally slated to be the backup center, Smith was thrust into the staring role when Steve Stipanovich went down with a career-ending injury. Smits started 71 games in 1988-1989 and was a First Team All-Rookie Selection, averaging 11.7 points and 6.1 rebounds.
Although Smits was constantly dealing with foot pain, he had a stellar NBA career and was a great number two alongside Pacers sharpshooter Reggie Miller. Despite offers to go elsewhere, Smits remained loyal to Indiana, which made him a fan favorite. Hitting a big buzzer-beater against Shaq and the Orlando Magic in the 1995 Eastern Conference Finals certainly didn't hurt.
In a league full of big-time centers, Smits was right there. No, he wasn't going to be the offensive force that Shaq was. He didn't win titles as Olajuwon and Robinson did. He wasn't the focal point of an offense like Patrick Ewing was. He didn't have the same defensive skills that Mutombo or Mourning had. But he did a lot of things well and simply never got the attention he deserved as a good all-around player. He wasn't great at anything but was so good at so many things. But when looking at the Eastern Conference, he wasn't getting All-Star nods over Shaq or Ewing or Zo. He finally did make one All-Star appearance in 1998, the year the Pacers gave Michael Jordan and the Chicago Bulls all they could handle in the Eastern Conference Finals. Smits played very well in that series, averaging 16.7 points and 6.9 rebounds per game.
Following his lone appearance in the NBA Finals in 2000, a loss to Shaq and Kobe's LA Lakers, Rik Smits quietly retired from the NBA. Over the course of his 12-year career, he averaged 14.8 points per game while shooting 50.7% from the floor. His 77.3% average from the free-throw line is better than anyone else from the other centers named so at least there's that, right? While his 6.1 rebounds per game might seem a little low for a guy that's 7'4″, you have to remember that he had Antonio and Dale Davis doing a lot of that work for the majority of his career. And just think if Smits hadn't had to deal with so many foot injuries. He could have been even better than he was, which was still very good.
Where is Rik Smits today?
With his basketball career behind him, Rik Smits remained competitive, just in a very different way. He turned his attention to collecting and racing vintage motocross motorcycles and actually won some races. He even built a track at his home in Zionsville, Indiana, where he lived until 2017.
Despite moving to Arizona, Smits remained a constant visitor to the Hoosier State as his 7'1″ son, Derrik, played for Valparaiso for three seasons, averaging 12.2 points per game for the Crusaders in 2018-2019. The younger Smits, who redshirted his first year at Valpo, transferred to Butler ahead of the 2019-2020 season for his final year of eligibility and averaged 3.1 points per game for the Bulldogs before the season was shut down due to the COVID-19 outbreak.
While he may have never gotten the attention that the others did, never forget that Rik Smits was one of the best centers of the 1990s. But just like he was back then, he'll probably be overlooked when the Indiana Pacers take center stage in tonight's episode of The Last Dance on ESPN.
*All stats courtesy of Basketball Reference.