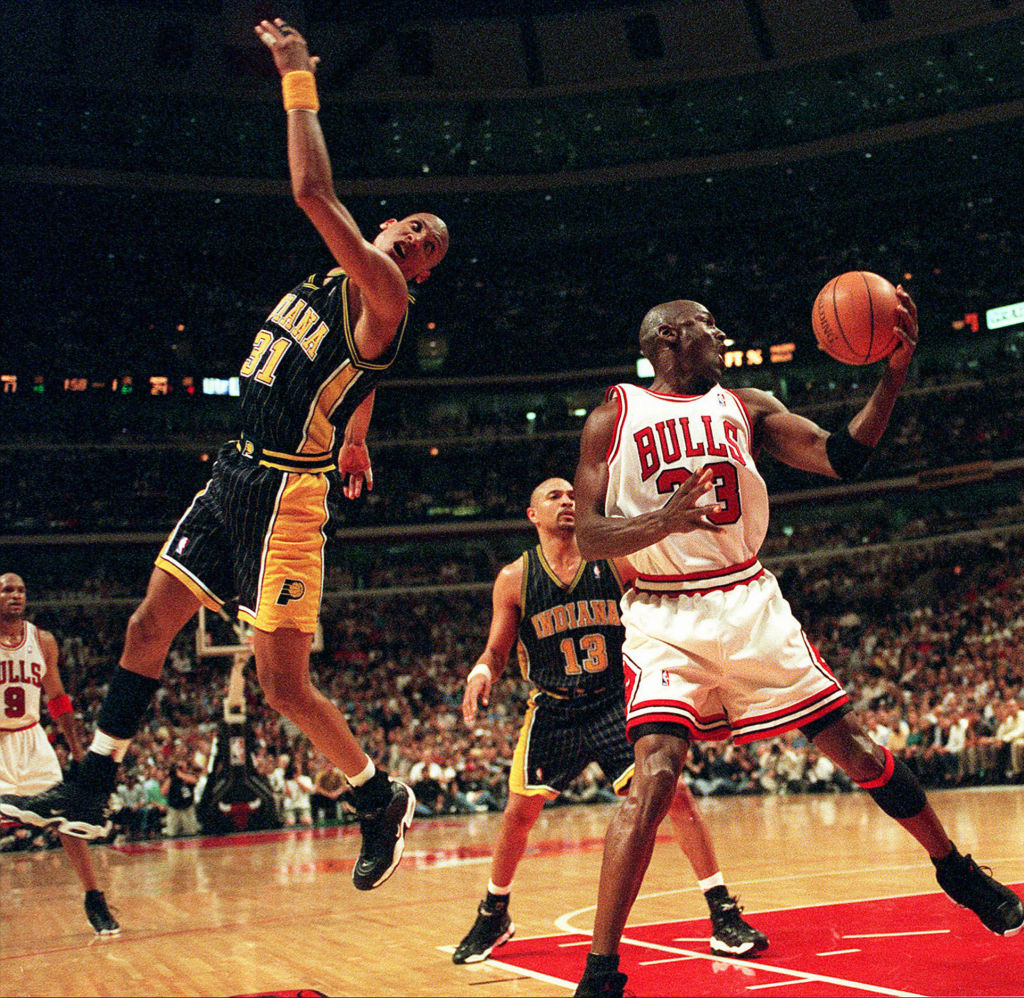 Reggie Miller Had Every Right to Believe His 1997-1998 Pacers Would Be the Ones to 'Retire Michael Jordan'
As we'll see in "The Last Dance," Reggie Miller truly convinced himself that he was going to retire Michael Jordan in the 1998 NBA playoffs.
The Last Dance is sadly winding down as the final two episodes are set to air Sunday night on ESPN. The 10-part Michael Jordan docuseries has been absolutely captivating and the final two installments are sure to follow that pattern. Viewers got a little tease of what's to come at the end of episode eight as Reggie Miller finally made his long-awaited appearance in discussing the 1998 Eastern Conference Finals matchup between the Chicago Bulls and Indiana Pacers that was as good a seven-game series as you'll ever see.
Miller and his teammates came as close as anyone ever did to dethroning the Bulls and the sharpshooter was convinced it was his destiny to be the one to retire Michael Jordan.
Reggie Miller's 1997-1998 Indiana Pacers were stacked
The 1997-1998 Indiana Pacers were a phenomenal team. Reggie Miller was obviously the focal point of the offense and averaged 19.5 points per game that season. But the Pacers had so many players that could do so many things on both ends of the floor. It didn't hurt that first-year head coach Larry Bird, who won Coach of the Year that season, brought a ton of experience to this group.
If the Pacers needed scoring, they could look not just to Miller, but to underrated center Rik Smits as well. Hall of Famer Chris Mullin was nearing the end of his career but could still put up points when necessary. They had two solid point guards in Mark Jackson and Travis Best. The Davis duo, Antonio and Dale, provided size and toughness and Jalen Rose was a great option off the bench. They finished the season with a 58-24 record, second in the Eastern Conference to only Michael Jordan and the Chicago Bulls' 62-20 mark.
Reggie Miller convinced himself the Pacers were the better team and that he was going to 'retire Michael Jordan'
By the time the 1998 Eastern Conference Finals rolled around, it was pretty evident that Michael Jordan was in his final season in the NBA. As we've all seen during The Last Dance, he made it clear that he wouldn't play for anyone else besides Phil Jackson and Bulls GM Jerry Krause had already said that Jackson would not be returning to Chicago, no matter what happened in the '98 playoffs. Throw in the fact that Scottie Pippen was unhappy with his situation in Chicago and the Bulls seemed as vulnerable as ever. And Reggie Miller was ready to pounce.
With arguably the strongest team he's ever had around him, Miller truly convinced himself that the Pacers were the better team, something he's said on numerous occasions in the years since. The teaser at the end of episode eight of The Last Dance was just a little more intense.
"We all looked at the Bulls as the standard model of success. They were considered the best at that time. But we felt, and I feel to this day, we were the better team. The whole thing is, there was whispers that this was going to be Mike's last year. So I think a perfect storm was brewing. In my mind, I was thinking … 'this is it. You're going to retire Michael Jordan.'" 

Reggie Miller
That was easily the best quote of episode eight and perfectly set up the ninth installment. But, unfortunately for Reggie Miller and that great Pacers roster, we all know what happened.
The Pacers gave Michael Jordan and the Bulls all they could handle but just came up short
As I said before, the 1998 Eastern Conference Finals between Reggie Miller's Pacers and Michael Jordan's Bulls was as good of a seven-game series that you'll ever see. While we all know that Chicago came out on top, it was a fierce battle. Only one game, Game 5, was decided by double digits with the Bulls clobbering the Pacers, 106-87. But every other game in the series was decided by six points or less and three of those were one-possession victories.
So even though Reggie Miller and the Pacers came up just short, they can always look back on that series and say that they came as close as anyone to knocking off Michael Jordan in his prime.