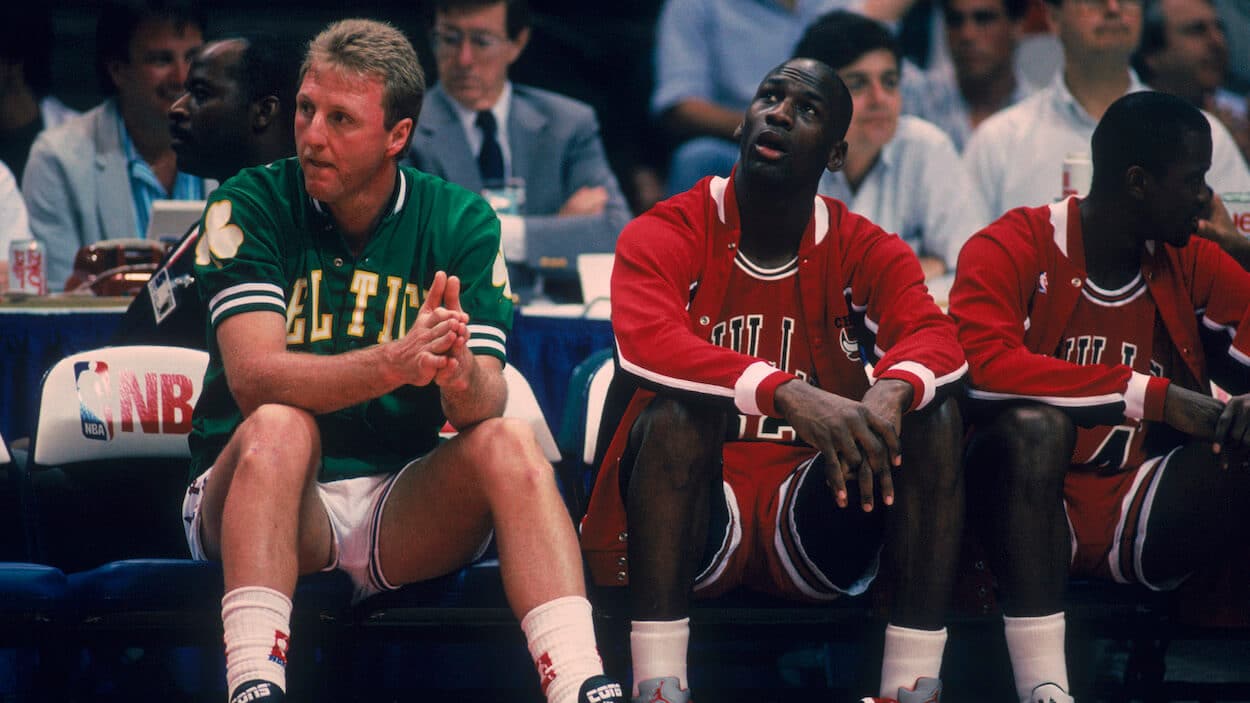 Larry Bird Took Michael Jordan's Side in Argument With Magic Johnson
During a Dream Team argument about who was the best, Magic Johnson tried to drag Larry Bird into it but Larry Legend couldn't help but agree with Michael Jordan.
Larry Bird and Magic Johnson aren't just inextricably linked in basketball history. They are also close friends. Despite that fact, when Michael Jordan and Magic Johnson got into arguments as to who the greatest in the game was back in 1992 with the Dream Team, even Larry Legend had to take MJ's side.
The Dream Team was competitive off the court
The 1992 Olympic Basketball tournament was historic but not that competitive. The U.S. Men's Basketball Dream Team crushed the competition by over 40 points per game and cruised to a gold medal.
This meant the Dream Team had to get its competitive juices out elsewhere, and that is what they did on the golf course, at the card tables, and most of all, on the practice court. In the legendary battles that went on during Dream Team practices, it was often Magic Johnson leading one side and Michael Jordan on the other.
Johnson was a 12-time All-Star and five-time NBA champ. In the summer of 1992, he was returning to the basketball court after his HIV diagnosis and trying to prove he still had "it."
Jordan, on the other hand, was stepping into the peak of his powers. At the '92 Olympics in Barcelona, MJ was coming off his second NBA championship and third NBA MVP Award.
With Jordan still a half-decade away from besting Magic in championships and officially becoming the GOAT, the two would argue about who the best in the game was.
However, as much as Magic could back up his argument, even his partner in NBA greatness, Larry Bird, couldn't disagree with Jordan.
Magic Johnson and Michael Jordan argued about who was the greatest, and Larry Bird took sides
Longtime NBA insider Jackie MacMullan shares an interesting behind-the-scenes tidbit about Magic Johnson and Michael Jordan arguing about who the best in the game was during their time with the Dream Team on her Icons Club podcast.
MacMullan sets the scene where the argument took place, saying it was during a late-night game on "Tonk," a card game the players enjoyed. The players at the table were likely Jordan, Magic, Scottie Pippen, Patrick Ewing, and Charles Barkley. Bird often watched while "sipping his suds and adding his own sly commentary."
When the greatest in the game conversation finally came up, Jordan was ready.
"Bird was over there drinking beers, and we was totally relaxing, and we started talking about how we went back-to-back in the '90s. And Magic wouldn't let go," Jordan shared. "He got five championships. 'Me and Bird, we were the '80s,' and blah, blah, blah. Pip was there to co-sign with me that these are the 90s, and there's a new kid on the block."
And while Scottie Pippen was backing up his teammate in the argument, Magic looked to his fellow 80s legend to back him up. However, Bird had to side with Jordan.
"Magic wouldn't let it go," Jordan continued. "And Bird looked at him and said, 'Magic, our time is over and done with. We just gotta step aside and let them take over.'"
Despite Bird disagreeing with his friend, Magic wouldn't let it go. He argued with Jordan and the younger stars until "about one, two o'clock in the morning." However, with Bird's words on the subject, the torch was passed.
Michael Jordan vs. Magic Johnson vs. Larry Bird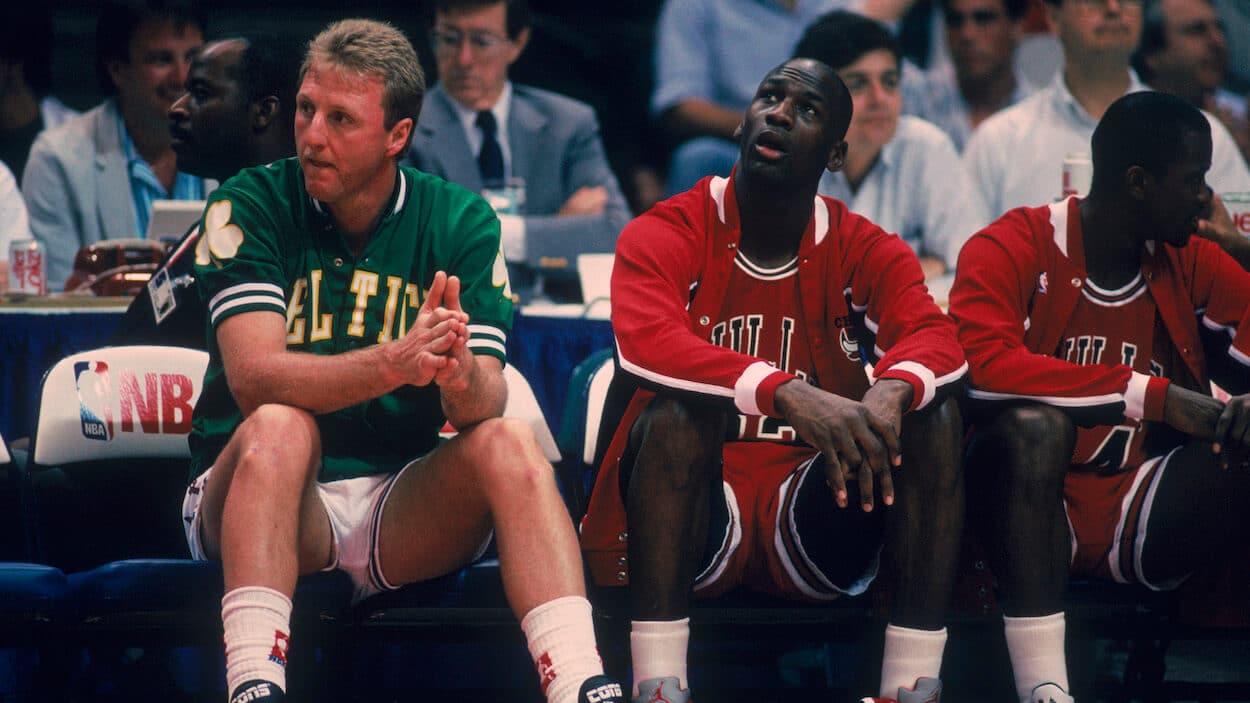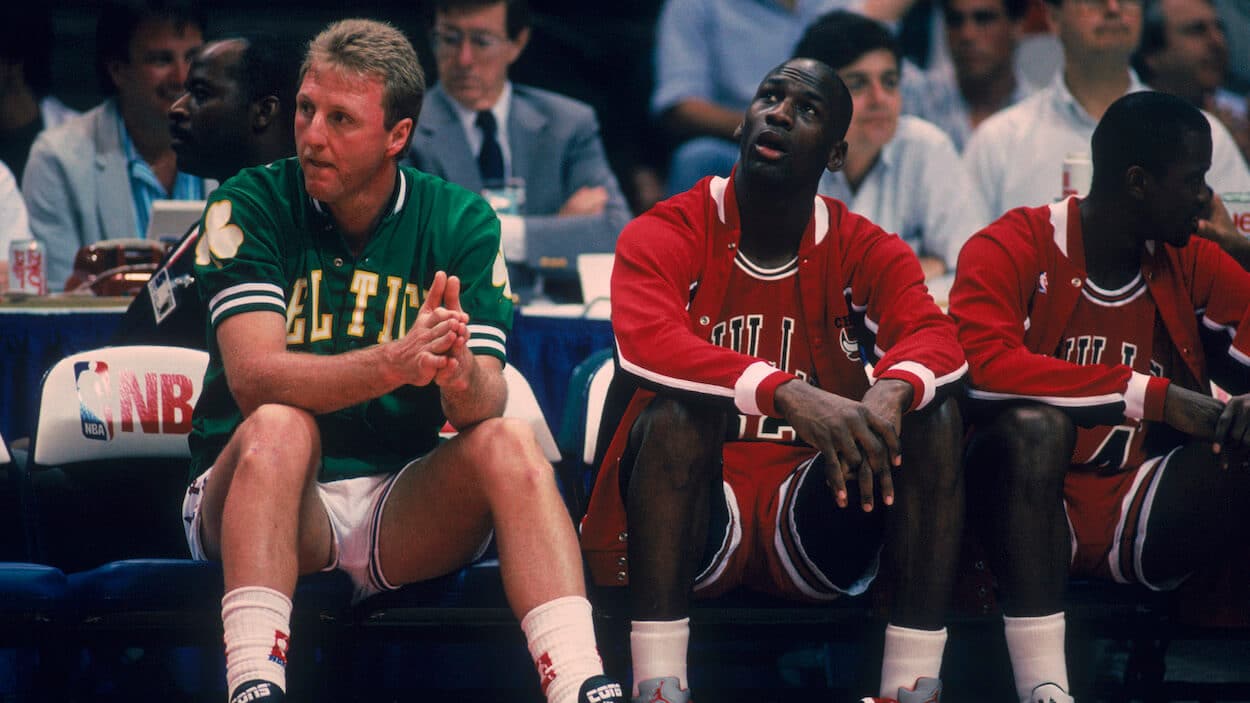 In the NBA season following the Dream Team winning gold, Michael Jordan and the Chicago Bulls would win their third-consecutive NBA title, tying Jordan with Larry Bird for championships.
MJ would get his fourth three seasons later, after a season-and-a-half hiatus for baseball. And by 1998, "His Airness" would win No. 6, overtaking Magic Johnson.
It's not all that fair to compare Larry Bird, Magic Johnson, and Michael Jordan. Bird and Magic played in a different era and battled each other in a way Jordan never did with a rival. They also took the game from a novelty professional sport to one of the biggest leagues in the world.
Jordan played in an NBA that Bird and Magic built but dominated singularly in a way neither of them ever did. Some of that was greatness, and some of it was that the league was bigger and the talent more spread out.
But while the comparisons may not be fair, they are fun. Here is the tale of the tape between Jordan, Magic, and Bird: