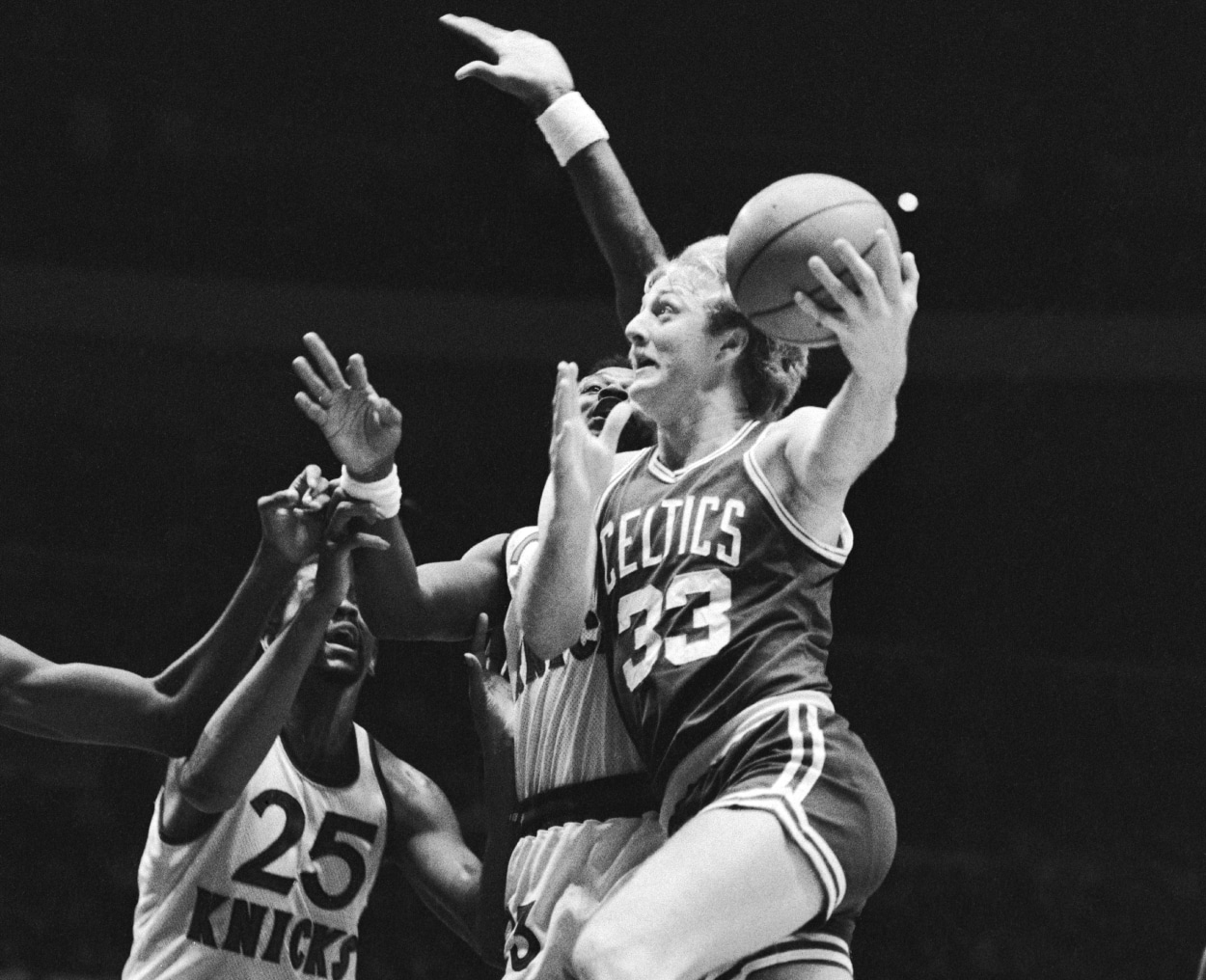 Larry Bird Turned Into a Christmas Day Bartender, and It Led to One of the Ugliest Boston Celtics Practices
On Dec. 25, 1981, Larry Bird went from basketball player to bartender, and things got a little ugly.
The Boston Celtics were coming off the first of three NBA championships of the 1980s. With a second-year star in Larry Bird leading the way, the Celtics defeated the Houston Rockets in six games to capture the 1981 NBA Finals.
Under the direction of head coach Bill Fitch, the Celtics grew tired of his strict coaching method. During the 1981-82 season, the Celtics had a game on Dec. 26 at the Kansas City Kings. According to former Celtics forward Cedric Maxwell, Fitch made the team fly out on Christmas Day. That didn't sit too well with the players. That's when Bird went from basketball star to bartender, and things got a bit chaotic.
Larry Bird played bartender on the Boston Celtics Christmas flight in 1981
In Maxwell's book, If These Walls Could Talk, the former Celtics forward and current radio broadcaster for the team recalled how unhappy the team was when Fitch made the decision to fly to Kansas City on the holiday.
"We had a game in Kansas City on December 26," Maxwell wrote. "You'd think as defending champions, we'd play on Christmas, but for some reason, that wasn't the case. Much to our chagrin, Bill Fitch decided that we needed to fly out on Christmas Day. Suffice to say, we were not happy.
"On the flight — remember, we were flying commercial back in those days — Bird, (Kevin) McHale, and a couple of other guys got the flight attendant to get all the alcohol that was supposed to be reserved for first class.
"From there, Bird turned into a bartender and mixed everything together, creating a concoction they call jungle juice. It was potent, and guys were feeling it pretty hard. Hey, it was Christmas."
According to former Celtics guard Danny Ainge, who doesn't drink, Fitch got a little upset with how things were going on the plane.
"The team was rebelling," Ainge said, according to Maxwell. "So they were playing cards in the first-class section and getting all of those mixed drinks you get in those little bottles and pouring them into this pitcher. Fitch was so furious from what he saw happening that he called for a late-night practice."
That Celtics practice turned into an ugly one
Ainge recalled the plane landing, and the Celtics going right to work at practice.
"We landed and went straight to the gym," he said. "We get our practice gear on and start doing our three-man weave down the court. If you drop the ball, then you have to run again. I'm in the same group with Kevin and Larry. I'd throw it to Kevin, and he'd drop it. Everyone started laughing, and Fitch is getting livid — and he's yelling at me. And I'm like the only sober guy that hasn't had one drink on the plane."
Maxwell said the practice was horrible.
"It was one of the worst practices I've ever seen," he said. Bird and McHale didn't know which way they were running. They were throwing the ball all over the place. After about 10 minutes, Fitch finally said f*** it.
"We went back to the hotel and played the next night. The drinking clearly had no impact on Bird. He played 49 minutes, dropped 23 points, and grabbed 15 rebounds as we won in overtime. McHale had a big hoop late.
"That was kind of the DNA of the guys," McHale said, via Maxwell's book. "A lot of teams would have just boycotted practice. We all went there and practiced, and you thought we're not going to play good but won the next day. I think we all laughed about that."