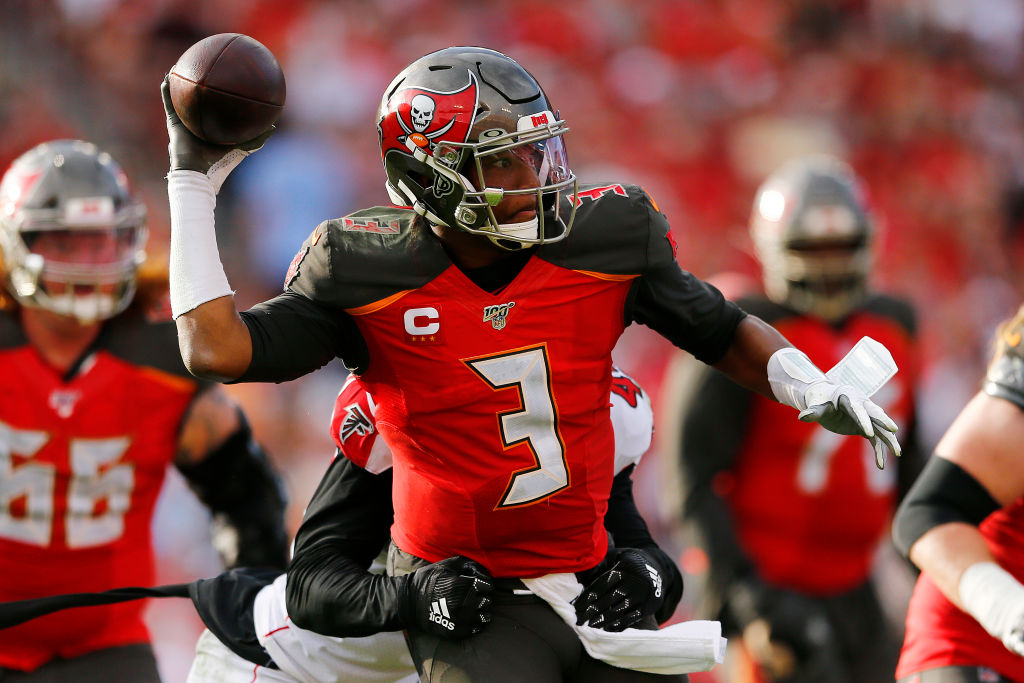 LASIK Eye Surgery Wasn't Jameis Winston's Only Offseason Medical Procedure
Tampa Bay Buccaneers quarterback Jameis Winston had LASIK eye surgery earlier this offseason, but that wasn't his only medical procedure.
After the slog of the regular season and, ideally, a playoff push, professional athletes use the offseason to get some much-needed rest and relaxation. There's also a recovery component, too; many players will also spend their time off dealing with various medical issues. Tampa Bay Buccaneers quarterback Jameis Winston is currently experiencing the reality firsthand.
Earlier in the calendar year, Winston made news by undergoing LASIK eye surgery. The quarterback, however, has apparently had some additional medical work done.
Jameis Winston's all or nothing 2020 campaign
Ever since his time at Florida State, Jameis Winston has had all the tools to be an elite quarterback. On the field, however, he struggles to put it all together.
Winston's 2019 NFL season optimized that duality. With Byron Leftwich joining the Tampa Bay Buccanneers coaching staff, the quarterback was supposed to take his game to the next level. While Winston excelled in some areas, he fell completely flat in others.
During his 16 starts in 2019, Winston threw for 5,109 yards and 33 touchdowns. While those numbers are great in a vacuum, they were unfortunately accompanied by a 60.7% completion rate, 12 fumbles, and 30 interceptions. That reality was reflected in the Buccaneers 7-9 record; while Winston could win any game with his arm, he was more than capable of throwing a victory away.
An offseason of surgeries
Earlier this offseason, Jameis Winston underwent LASIK eye surgery. The quarterback, however, also had some additional work done.
According to Ian Rapoport, Winston had his meniscus trimmed. While the exact details aren't known, the quarterback tore the cartridge at some point during the season and played through the pain. In the modern NFL, standing tall in the pocket is becoming a thing of the past; although we can't know how Winston's injury impacted his performance, it had to impact his mobility.
Winston was also wearing a cast on his hand earlier in the offseason, as he was recovering from a broken thumb. Similar to his torn meniscus, the quarterback played through the pain; at the tail end of the regular season, the quarterback wore a brace on his throwing hand.
What will offseason surgery mean for Jameis Winston's future?
Once NFL free agency officially starts, Jameis Winston will hit the open market. It remains to be seen, however, if the offseason surgeries will affect teams' perception of the quarterback.
While Winston is far from the perfect quarterback, his strengths are obvious; he has a strong arm, plenty of athleticism, and a knack for finding the end zone. At the same time, though, his flaws are equally apparent.
It's not beyond the realm of possibility, however, that a team will view Winston's injuries as somewhat of a mitigating factor. While the quarterback has never been secure with the ball, his 2019 campaign was unprecedented in terms of turnovers; we might know the exact details, but it's hard to imagine a torn meniscus, broken thumb, and less than perfect vision didn't drag down his performances.
Whether Jameis Winston stays in Tampa Bay—head coach Bruce Arians doesn't sound thrilled about the prospect—or hits the open market, we'll have to see how the quarterback performs next season. Wherever he lands, there will be a general manager hoping that offseason surgery will make all the difference.