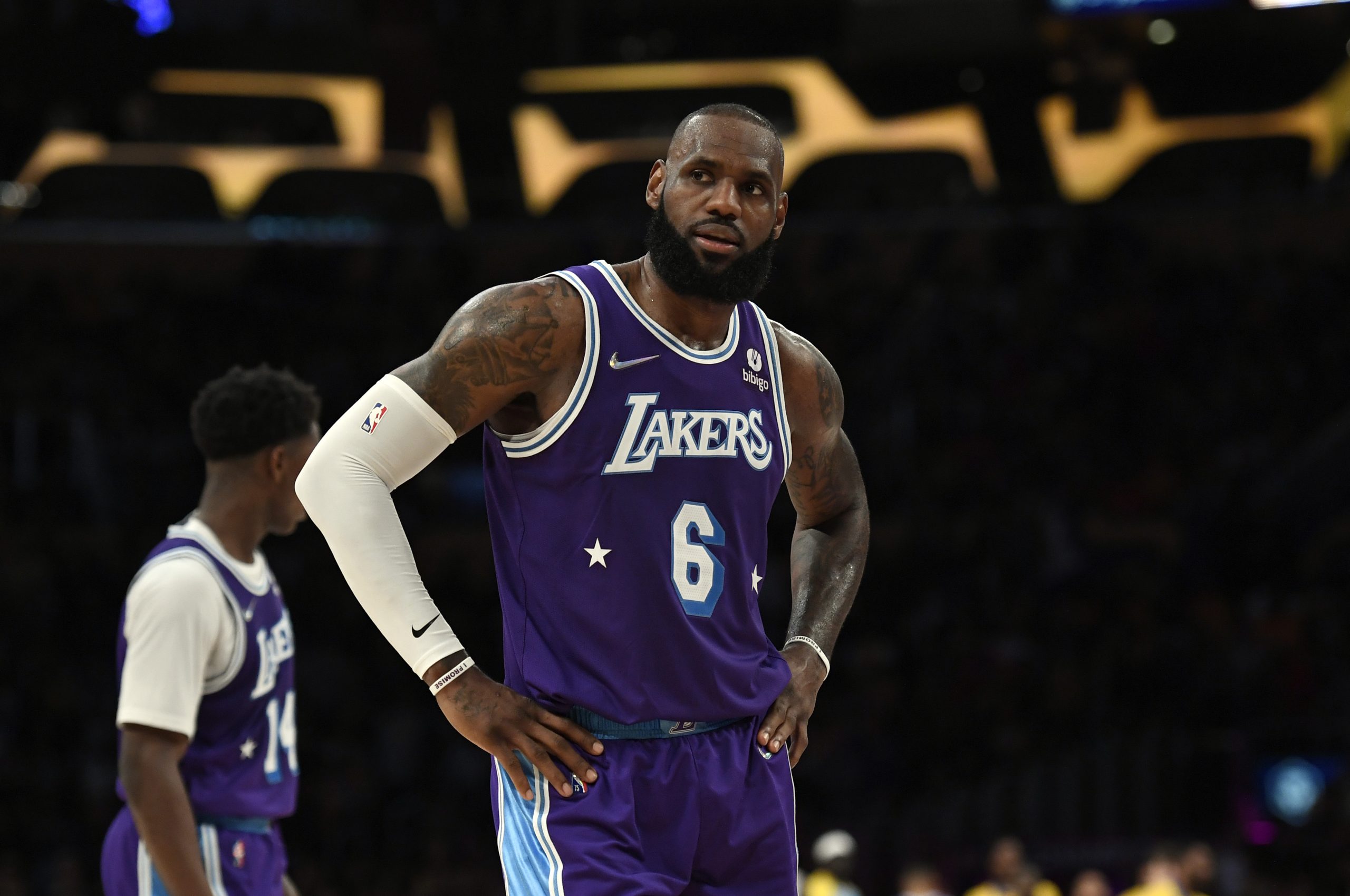 LeBron James and the Lakers Mocked on Social Media After Missing Playoffs
Fans are having fun poking fun at LeBron James and the Los Angeles Lakers after their dismal season.
Let's shelve the LeBron James NBA GOAT talk indefinitely. If you're in the conversation of being one of the best players of all time, you go out and recruit your own team, and can't even make the playoffs, you should be placed on GOAT suspension for a year.
What James and the Lakers accomplished — or failed to accomplish — this year is embarrassing. With James, Anthony Davis, and Russell Westbrook, three guys who combined for 35 NBA All-star appearances, in their starting lineup, the Lakers were officially eliminated from playoff contention with a week to go in the season. Social media had a field day as soon the little "e" showed up next to the Lakers in the NBA standings.
LeBron James and the Lakers had a season they'd love to forget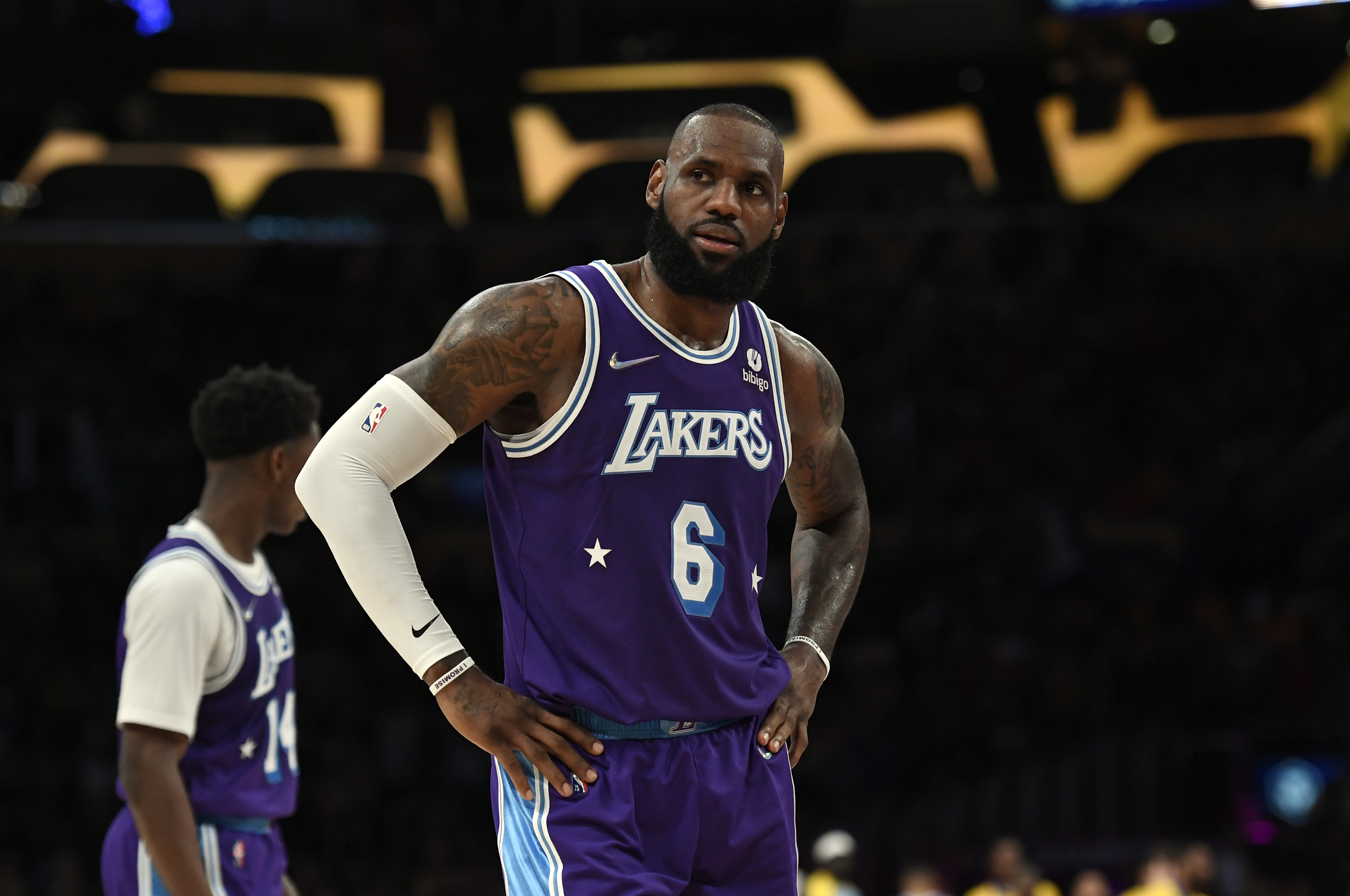 Technically, the Lakers season is still going, but they're going nowhere. The Phoenix Suns helped squash any playoff hopes the Lakers had with a 121-110 victory over LeBron & Co. on Tuesday. The Lakers, a title contender at the beginning of the year, failed to even reach the postseason.
Let that sink in. A squad with James, Davis, and Westbrook wasn't one of the 20 teams (play-in game included) to hold a playoff spot.
"Extremely disappointed," Lakers coach Frank Vogel said after the loss to the Suns, per The Ringer. "Disappointed for our fan base. Disappointed for the Buss family, who gave us all this opportunity, and we want to play our part in bringing success to Laker basketball, and we fell short."
Yes, the Lakers were bitten by the injury bug this season. As usual, Davis spent his share of time on the sideline, playing in just 40 games. James, too, was hurt, appearing in 56 games, but 56 games with James in the lineup should be enough to be one of the top 20 teams in the league.
The Lakers were an embarrassment. James is the leader of that embarrassment. That's not to say his on-court performance was poor. Say what you want, but James is also the acting GM of the Lakers. He played a role in luring Davis to LA. This year, he and Davis brought in Westbrook, who played 78 games this season.
Social media has a field day with LeBron James and the Lakers
The Lakers are the laughingstock of the NBA right now. Before the embarrassment officially began, fans mocked the Lakers after James attempted to put together another superteam by adding Westbrook. They also brought in Carmelo Anthony and Dwight Howard. Many believed the team was over the hill. James used all that talk as motivation in a since-deleted tweet.
"Keep talking about my squad, our personnel ages, the way they play, we're past our time in this league, etc etc etc!!" James wrote on Aug. 4, 2021. "Do me one favor PLEASE!!!! And I mean PLEASE!!!! Keep that same narrative ENERGY when it's begins. That's all I ask. #ThankYou."
While James was busy deleting tweets, many were posting them, poking fun at the team. Former Boston Celtics center Kendrick Perkins, now an outspoken basketball analyst, said this Lakers team is one of the biggest disappointments in league history.
"This Lakers team not making the playoffs is one the Biggest Disappointments in NBA HISTORY!!!," Perkins tweeted. 'It's one thing to underachieve in the Playoffs but to not make it at all is RIDICULOUS. Carry on…."
One Twitter user showed a picture of an empty chair at a Lakers press conference and had fun with it, saying, "The Lakers' playoff hopes are now talking to the media."
What's next for James and the Lakers?
The good news for the Lakers is they now have some extra time to figure out what the heck to do next season. James helped create this mess, but will he now bail out and try to form another Big Three somewhere else?
What about Westbrook? Would any team trade for the aging nine-time All-Star? He has a $47 million player option next season. According to CBS Sports, he plans to return.
"That's the plan," Westbrook said.. "But nothing is promised. You kind of have to take it one day at a time each day. Like I've said all season long, you've got to play the cards you're dealt. Yes, we want to be able to see what that looks like, what that entails over the course of an 82-game season, but we're not sure if that's guaranteed, either. So I just hope that we have a chance to be able to do something."
The Lakers will also likely be in the market for a new coach. Frank Vogel was the least of their problems, but when change is needed, the coach is usually the first to go.
Much will depend on what James does. The man who refers to himself as King James has a lot of influence on personnel decisions. For now, though, he can be called the King of Disappointment.