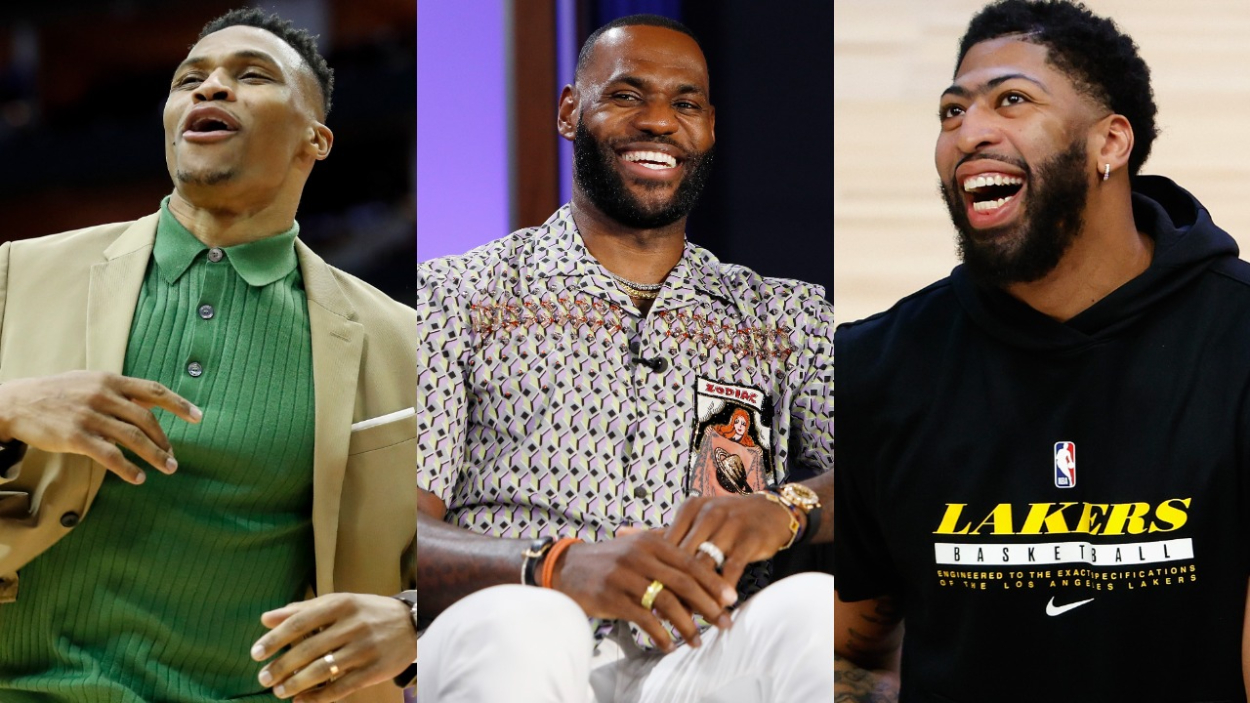 LeBron James, Russell Westbrook, and Anthony Davis Reportedly Hatched Their Lakers Plan at LeBron's Home Weeks Ago
LeBron James, Anthony Davis, and Russell Westbrook are the NBA's newest Big Three, as the trio looks to win a title on the Los Angeles Lakers. However, the deal didn't just come to fruition on the night of the NBA Draft, but the three superstars reportedly hatched their Lakers plan weeks ago at LeBron's home.
LeBron James finally has his second superstar running mate on the Los Angeles Lakers, as LA has reportedly formed a Big Three with him, Anthony Davis, and Russell Westbrook. Some fans may wonder why LA pulled this move off since the team needs shooters, and Westbrook has never been the greatest at shooting the ball, but it appears James knew who he wanted.
In fact, according to a report, James, Davis, and Westbrook hatched their Lakers plan at The King's house weeks ago.
The Lakers have a Big Three with LeBron James, Anthony Davis, and Russell Westbrook
LeBron James and Anthony Davis may have won a championship in their first season together, but the Lakers' loss in the first round of the playoffs this season proved that the dynamic duo needed some help.
LA ultimately got them that assistance on July 29 when the team reportedly acquired Russell Westbrook from the Washington Wizards for Kyle Kuzma, Kentavious Caldwell-Pope, Montrezl Harrell, and the Lakers' No. 22 pick in the 2021 NBA Draft, per ESPN. Washington also sent the Lakers two future second-round picks.
Westbrook averaged a triple-double for the fourth time in his career in 2020-21. He recorded career-highs in rebounds with 11.5 per game and assists with 11.7. The 2016-17 NBA MVP also scored 22.2 points per game in Washington last season.
LeBron James, Anthony Davis, and Russell Westbrook reportedly met at LeBron's home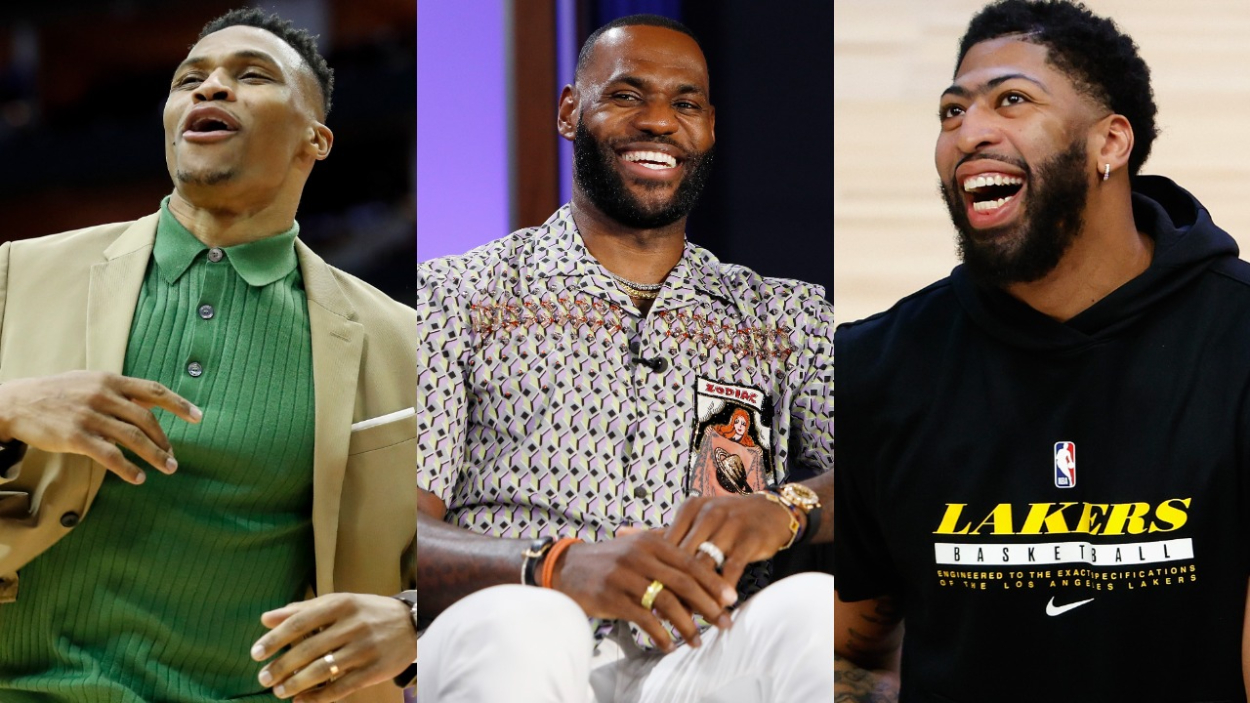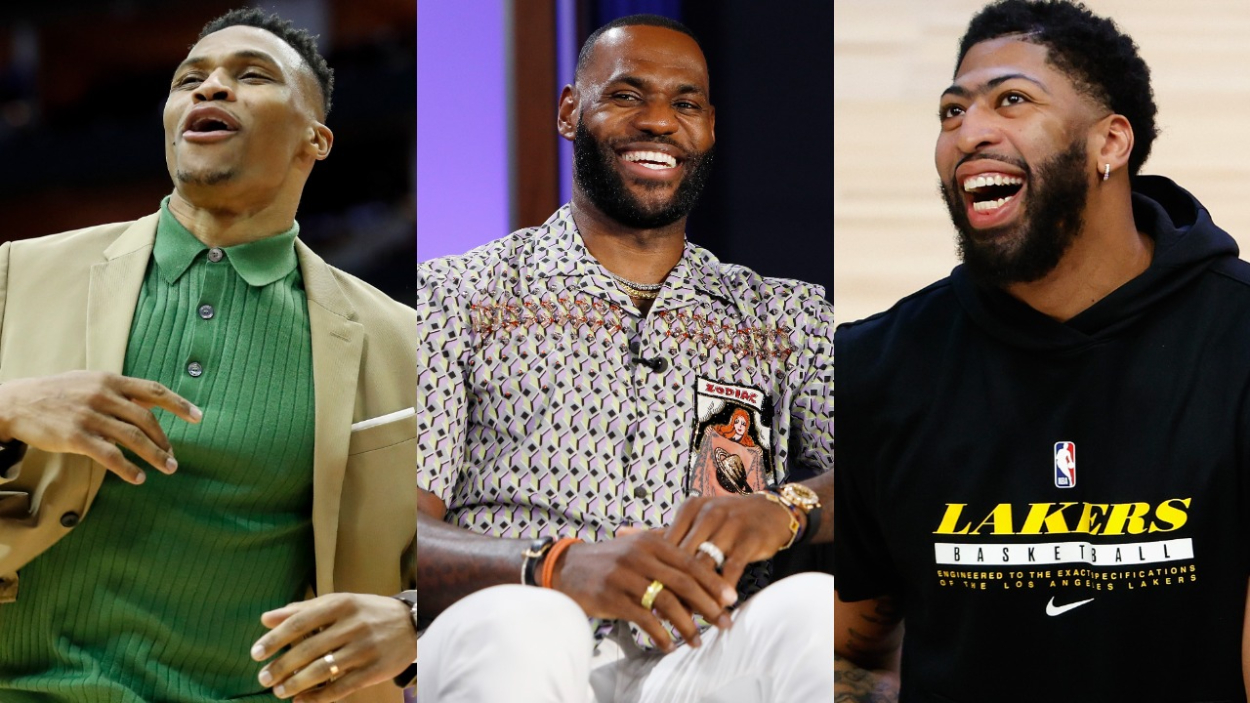 The trade may have happened on draft night, but everything started coming to fruition a couple of weeks ago.
According to the Los Angeles Times, Russell Westbrook, LeBron James, and Anthony Davis reportedly met at James' home about two weeks ago to discuss teaming up on the Lakers.
"They talked about putting their egos aside and playing as one in their quest to bring the Lakers another NBA championship. Westbrook talked about how his only intention was winning and coming back home to Los Angeles to become a champion," Broderick Turner wrote in the LA Times.
Turner also reported that James and Davis discussed moving to the four and five positions, respectively, while Westbrook said he's OK playing off the ball whenever James is running the team's offense.
So, it appears James got his man, and now the Lakers' new Big Three will try to bring a second championship to LA in three seasons.
But will it work?
Will the Lakers' new Big Three work?
LA's Big Three is certainly one of the most talented trios in the NBA. While Westbrook is a walking triple-double (he's the NBA's all-time leader), James is also someone who can do a little bit of everything. He averaged 25.0 points, 7.7 rebounds, and 7.8 assists last season. Davis, on the other hand, posted 21.8 points and 7.9 rebounds per game in 36 games in 2020-21.
However, the big problem is that the Lakers need 3-point shooting. James shot a decent 36.5% from three last year, but Westbrook only made 31.5% of his 3-pointers, and Davis shot 26%. Other than those three, LA only has Marc Gasol and Alfonso McKinnie on its roster after the Westbrook deal.
If the Lakers can acquire a few shooters, this can be one of the most dominant teams in the NBA. Westbrook and James are excellent at setting their teammates up, and they can both also score at elite levels, while Davis is one of the most dominant big men in the league. 
James or Westbrook looking for the other cutting through the lane and on fast breaks will be dangerous enough, but having the ability to dump it down low to Davis could become a defense's worst nightmare — especially if there's a couple of shooters along the perimeter.
Like most Big Threes, though, there will likely be some growing pains, but if everyone can stay healthy, it's hard to imagine any scenario where the Lakers don't make the NBA Finals yet again.
Stats courtesy of Basketball Reference