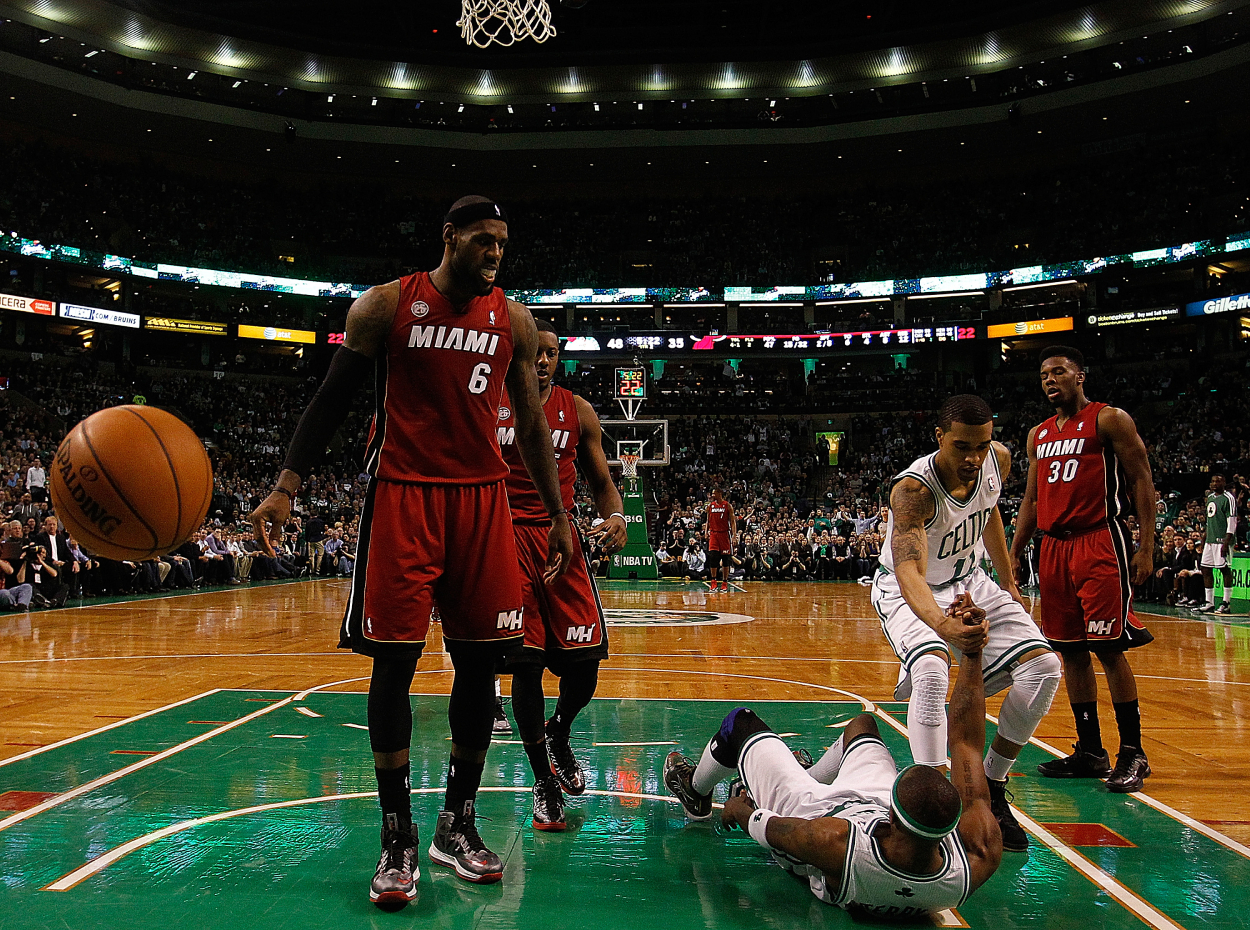 LeBron James' Embarrassing Poster Dunk Still Haunting Jason Terry 8 Years Later
Back in 2013, LeBron James, while playing for the Miami Heat, had a dunk over Jason Terry that Terry still agonizes over.
At least Jason Terry didn't give up. He probably should have. Nearly eight years ago, Terry became the talk of the town because of LeBron James. After a turnover, James embarrassed Terry by dunking over him with authority. That dunk continues to haunt Terry to this day.
LeBron James had a highlight-reel dunk over Jason Terry in 2013
At least Jason Terry hustled. Terry, a 19-year NBA veteran, was playing for the Boston Celtics in March of 2013. After a turnover in the Celtics backcourt, Terry found himself all alone in a three-on-one situation in a game against LeBron James and the Miami Heat. Terry did all he could do, but probably wishes he hadn't.
As the Heat made a couple of quick passes, Terry found himself in the paint as James took the pass. James drove the lane as Terry, all alone, made a feeble attempt to stop James. Instead, James had one of the most famous dunks in his career (and maybe NBA history) when he took the alley-oop pass and soared over Terry for the dunk.
Hubie Brooks, who was calling the game, was quite impressed with the dunk. "It looked like (James) jumped out of the mezzanine," Brooks said during the telecast. James just looked down at Terry, who was helped up by teammates.
Terry had a very impressive NBA career
Jason Terry was a 6-foot-2, 185-pound guard who lasted 19 years in the NBA. After playing his college basketball at Arizona, he was selected in the first round of the 1999 NBA draft. The Atlanta Hawks took Terry with the 10th overall pick.
He spent the first five years of his professional career in Atlanta, averaging 16.2 points and 5.5 assists per game. In August of 2004, Terry was traded to the Dallas Mavericks, where he spent eight years. With the Mavericks, Terry averaged 16.1 points and 4.1 assists per game.
Terry played for four other teams during his nearly two decades in the league. He played two seasons each with the Milwaukee Bucks and Houston Rockets. He also played one season each with the Boston Celtics and Brooklyn Nets. For his career, Terry averaged 13.4 points.
Terry still struggling with the LeBron James dunk
Jason Terry spent 19 seasons in the NBA. He was never an All-Star. He was just a very solid player, who just happens to be remembered for getting dunked on by LeBron James in March of 2013. Eight years later, Terry is still trying to figure out what he was thinking when he challenged LeBron James on his now-famous dunk.
"What made me jump is what I'm trying to figure out!" Terry said to Master Tesfatsion on Bleacher Report's Untold Stories. "There's no… like even if you did jump! And I jumped, man, and he lifted me on his knee and I was still going up with him. I elevated. I was in the rim."
Terry said for weeks after the dunk, his phone was blowing up with people checking in on him. "For three weeks, I was checking my phone and people were sending me messages — man, you okay? — like numbers I haven't heard from in eight years," Terry said. "They even said that Wikipedia, they said that was my death day and had the date and everything on it."
All stats courtesy of Basketball Reference.