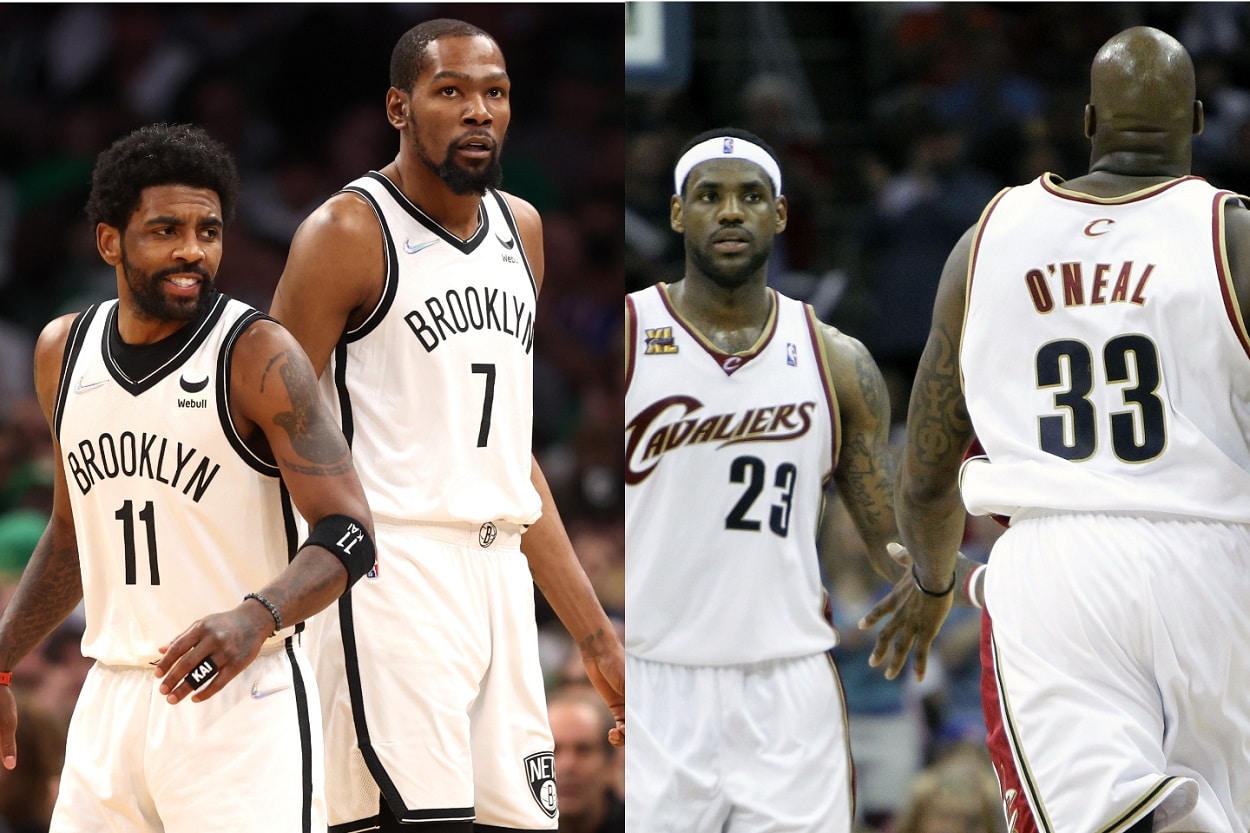 LeBron James & Shaquille O'Neal Headline a Group of 5 Forgotten NBA Duos Who Played More Games Together Than Kevin Durant & Kyrie Irving Have With the Brooklyn Nets
A look at forgotten NBA duos who played more games together than Kevin Durant and Kyrie Irving did with the Brooklyn Nets.
When Kevin Durant and Kyrie Irving joined forces in 2019, the Brooklyn Nets were primed to be title contenders for years. And as the franchise hasn't won a championship since the ABA days in the mid-1970s, that was obviously exciting for Brooklyn fans.
Now, both have put up fantastic numbers while wearing a Nets uniform. Durant has averaged 28.7 points per game, his highest scoring average with any team for whom he's played, and has added 7.3 rebounds and 6.1 assists. And Irving has scored 27.1 points per game, also the highest average of any team he's played with, adding 6.0 assists, 4.7 rebounds, and 1.4 steals.
But getting KD and Kyrie on the court at the same time has been a problem. In the three seasons since they signed in Brooklyn, Durant and Irving have played just 44 regular-season games together. Yes, that number is a bit deceiving as we all knew KD would miss the entire 2019-20 campaign with an Achilles injury.
But let's not pretend 44 games over two seasons is a good thing. But due to various injuries and Irving's unexcused absence and COVID-19 issues, that's the number. And that might be the final number. While Kyrie has opted into his contract for the upcoming 2022-23 season, Durant has requested a trade.
There are reports that the two still want to play together, just not in Brooklyn. But the Nets have to do what's best for them. So there's a strong chance the two will be split up, which is wild to think about, given the hype surrounding the dynamic duo and what it was supposed to mean for Brooklyn and the NBA as a whole three years ago.
After all that hoopla, KD and Kyrie played just over half of a regular season together. Ridiculous, right? So with all that, I thought it might be fun to look at some odd NBA duos who played more games with another than did Kevin Durant and Kyrie Irving, duos you may have forgotten were ever even a thing.
Vince Carter and Hakeem Olajuwon (47 games)
After 17 seasons with the Houston Rockets, with whom he won two NBA titles, two NBA Finals MVPs, and an NBA MVP award, Hakeem Olajuwon played the final season of his career with the Toronto Raptors in 2001-02. The star of that Raptors team, of course, was Vince Carter, who was selected to the NBA All-Star Game for the third consecutive year that season but couldn't participate in the game due to injury.
Oddly enough, Olajuwon appeared in 61 games while Carter, who celebrated his 25th birthday five days after Hakeem turned 39 in January 2002, played just 60. The duo shared the court on 47 occasions, three more than KD and Kyrie.
Kobe Bryant & Steve Nash (48 games)
While Steve Nash certainly wasn't the same player he was when he won back-to-back NBA MVP trophies in the mid-2000s, he was still expected to help Kobe Bryant win a sixth championship when he joined the Los Angeles Lakers ahead of the 2012-13 season.
But injuries to both during Nash's short stint in Hollywood kept that from happening. Nevertheless, the duo played 48 games together over two regular seasons, four more than Durant and Irving. Nash officially retired in 2015, and Bryant left the NBA just over a year later.
Shaquille O'Neal & LeBron James (53 games)
Shaquille O'Neal jumped around the league a bit at the end of his career, and one of those stops was with the Cleveland Cavaliers in 2009-10, his penultimate season in the NBA. That was also the final year of LeBron James' first stint with the Cavs, as well as the year in which he won his second NBA MVP trophy.
LeBron and Shaq played 53 regular-season games together that season before O'Neal went down with a severe right thumb injury, which kept him out of action until the postseason, where Cleveland ultimately lost to the Boston Celtics in the Eastern Conference semis. Shaq went to Beantown the following season while James, of course, took his talents to South Beach.
Patrick Ewing and Gary Payton (76 games)
Naturally, Patrick Ewing is best remembered for his 15-year run with the New York Knicks, whom he twice led to the NBA Finals, losing both. But it's often easy to forget that the 11-time NBA All-Star played for a pair of other teams in the final two years of his career.
As he played for the Orlando Magic in his final season, I could have gone with the duo of Ewing and Tracy McGrady here. But as Ewing only started four of the 65 games in which he appeared in Orlando, I instead chose to focus on his stint with the Seattle Supersonics in 2000-01.
Only a few years earlier, Gary Payton had led the Sonics to the NBA Finals, where they lost to Michael Jordan's Bulls, a feeling Ewing knew well. But the big man was brought in to give Seattle one last real run at a championship. Of course, it wasn't to be, but Ewing and Payton, who would have been so dangerous in the early-to-mid '90s, still played 76 games together.
Carmelo Anthony and Allen Iverson (113 games)
Rounding out our list of forgotten NBA duos is the tandem of Carmelo Anthony and Allen Iverson. As Iverson will always be best remembered for his days with the Philadelphia 76ers, it's certainly sometimes forgotten that he played parts of three seasons with the Denver Nuggets.
Anthony, of course, was drafted by the Nuggets in 2003 (he was robbed of Rookie of the Year) and played the first seven and a half years of his career in the Mile High City before being traded to the New York Knicks in February 2011. Iverson was traded from Philly to Denver in December 2006 and was shipped to Detroit only a few games into the 2008-09 season.
When A.I. was traded to the Nuggets, he was the NBA's second-leading scorer, trailing only Anthony. The two shared the court 113 times in the regular season but never got Denver past the first round of the NBA Playoffs. However, the year Iverson was traded away, Anthony led the team to the Western Conference Finals, losing to Kobe Bryant's Lakers.
At the rate they're at now — if they stay together, of course — Kevin Durant and Kyrie Irving would need another three years or so to hit the 113-game mark.
Hey, at least I didn't add James Harden to the mix for this piece, right? The trio of KD, Kyrie, and "The Beard" played just 16 regular-season games together in Brooklyn before Harden whined his way to Philly. Imagine the possibilities there, am I right?
Stats courtesy of Basketball Reference
Like Sportscasting on Facebook. Follow us on Twitter @sportscasting19 and subscribe to our YouTube channel.