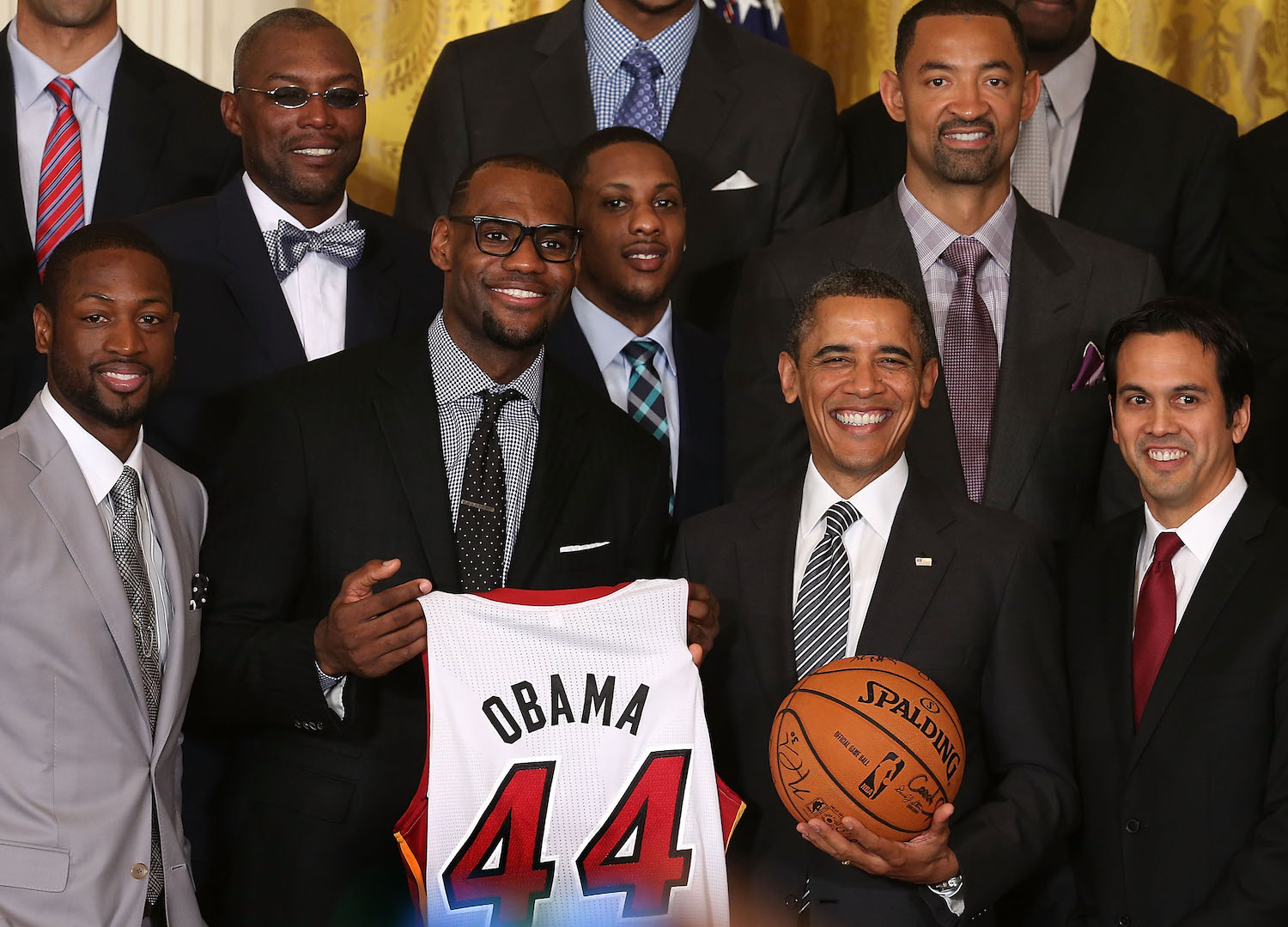 LeBron James Teams with 'My President' Barack Obama in Special Election Edition of HBO's 'The Shop'
LeBron James just won his fourth NBA title. Now he's focused on winning the next presidential election and teamed up with Barack Obama in a new episode of 'The Shop' to get out the vote.
LeBron James has had one of the most challenging yet fulfilling years of his legendary career in 2020. Like the rest of the world, he had to deal with the pandemic and subsequent shutdown of basketball for months. He was also very outspoken on the racial injustice issues facing the nation following the death of George Floyd. 
And last, but certainly not least, LeBron James spearheaded an effort that created an organization to engage the Black community on voting issues. Now, just days before the 2020 presidential election, James is using his platform for one last push of voters during an in-depth interview with former president Barack Obama.
More Than a Vote launched by LeBron James
LeBron James has never been shy about sharing his opinion on sensitive topics like race-related issues. Following the death of George Floyd, James did just that on his various social media accounts, expressing frustration with the treatment of the Black community by law enforcement. But James didn't stop there. 
In June, he and childhood friend and business partner Maverick Carter created More Than a Vote. This new organization is designed to work with and inform the Black community on various voter-related topics, including voter suppression and voter turnout. 
Many of the biggest names in sports joined with the organization, including Trae Young, Patrick Mahomes, Odell Beckham Jr., Damian Lillard, and Deandre Hopkins. One of the organization's earliest missions focused on Florida as it donated $100,000 to the Florida Rights Restoration Coalition, a key group behind a 2018 amendment passed by voters that restored felons' rights to vote. 
LeBron James consults Barack Obama for advice on NBA boycott
In late August, following the shooting of Jacob Blake in Wisconsin, LeBron James expressed outrage that police had shot another Black man. That anger only escalated when the Milwaukee Bucks boycotted their playoff game against the Orlando Magic in protest of the shooting. 
"F–K THIS MAN!!!! WE DEMAND CHANGE. SICK OF IT," James wrote on Twitter. 
As all NBA teams boycotted the playoffs, James and other players gathered behind the scenes to develop a plan of action. It was during those discussions James turned to his friend Barack Obama.
Obama consulted with the players and instructed them to resume playing, but only after providing the NBA with a list of action items. The next day players met with league officials and presented their action items. A day later, the league and players union released a joint statement announcing the resumption of play, and several initiatives to promote voting access, combat social injustice and racial inequality, and advocate for police reform.
Obama visits 'The Shop' to talk hoops and politics
With the presidential election just days away, LeBron James is making one last push to get out the vote, and he's doing so in a big way. James sat down with Obama and had a detailed conversation on basketball and politics in a special episode of James' show "The Shop" on HBO, which airs on Friday at 9PM (ET).
Obama tweeted about the appearance.
"In Miami this weekend, I dropped by The Shop to talk with [LeBron] and [Maverick Carter] about the NBA bubble, the racial justice movement, and what's at stake over these next seven days," he wrote.
James responded with a tweet of his own about the president's upcoming appearance.
"It was such an honor. My President giving us the perspective and motivation we need right now. GO VOTE!!!"
LeBron James just won his fourth NBA title after navigating one of the most bizarre seasons in NBA history, but is still clearly not satisfied. He gets it. He understands winning in basketball is one thing; winning an election is altogether something different and way more important.