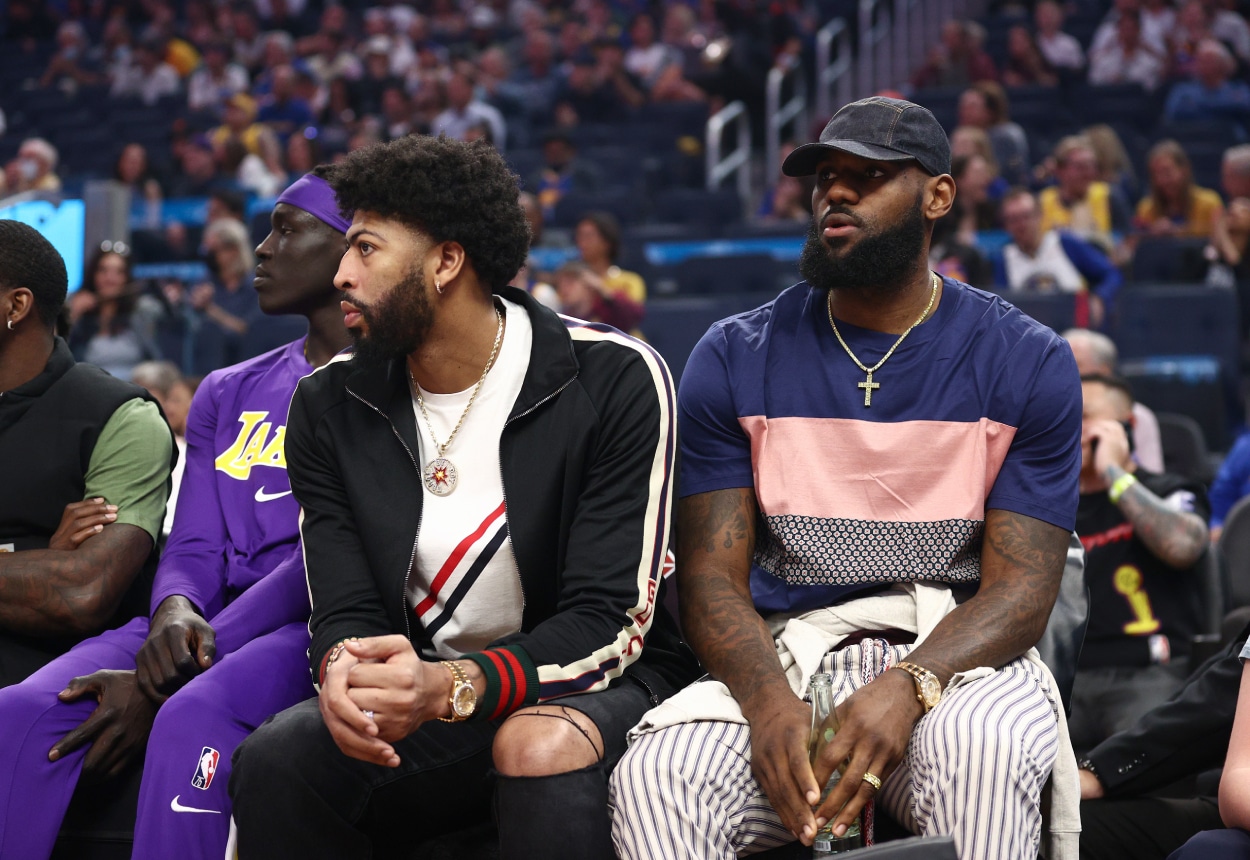 LeBron James Unleashes on Anthony Davis Haters, but His Comment Is Probably Just Wishful Thinking
Anthony Davis has rarely been healthy the last two years for the Los Angeles Lakers. But while LeBron James recently unleashed on AD's haters, James' comment might be wishful thinking.
It has been a disappointing couple of seasons for LeBron James and the Los Angeles Lakers. After winning a championship during the 2019-20 campaign, the Lakers lost in the first round in 2021 and didn't qualify for the NBA Play-In Tournament in 2022.
But LA's cataclysmic failures shouldn't fall on LeBron's shoulders … unless you want to blame him for teaming up with the wrong superstar in Anthony Davis.
Davis helped James win his fourth championship, but he hasn't been healthy longer than three minutes each of the last two seasons. So, considering the massive heat he has taken for not being on the court (as well as his latest admission about not shooting a basketball in over two months), AD's teammate recently came to his defense.
The King unleashed on Davis' haters. However, his comment might be wishful thinking.
LeBron James unleashed on Anthony Davis haters
Many critics have doubted Anthony Davis throughout the past several months. He missed half the season due to injury for the second year in a row, resulting in the Lakers having an atrocious 33-49 record.
LeBron James had a great year, nearly winning the league scoring title, but he could only do so much with an AD-less supporting cast.
The unified criticism of Davis among various basketball aficionados has only gotten louder in recent days after he said he hadn't shot a basketball since April 5 during a now viral video clip.
But James had a stern message for those haters: Anthony Davis will be back.
"Get It Twisted if you want too! In due time he'll remind you once again why he's HIM!!! And I can't wait for it to be unleashed," James posted on Instagram, along with a highlight reel of Davis' greatest plays with the Lakers.
It may seem like a nice defense of his fellow Purple and Gold star, and James likely believes what he wrote.
However, you may remember when LeBron stood up for his teammates prior to last season, and he later deleted the post due to LA's struggles. Like that tweet, his recent comment might just be wishful thinking.
AD's 2020 run might have been an outlier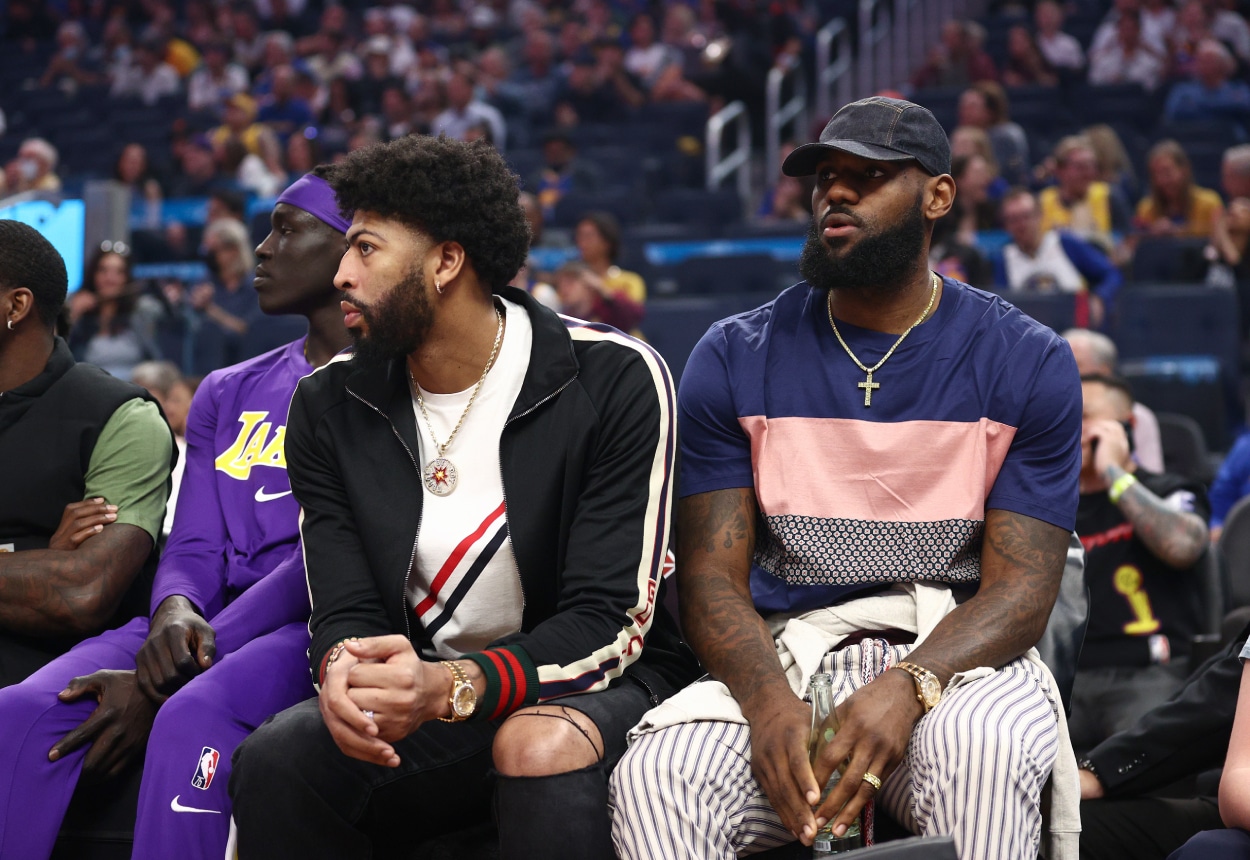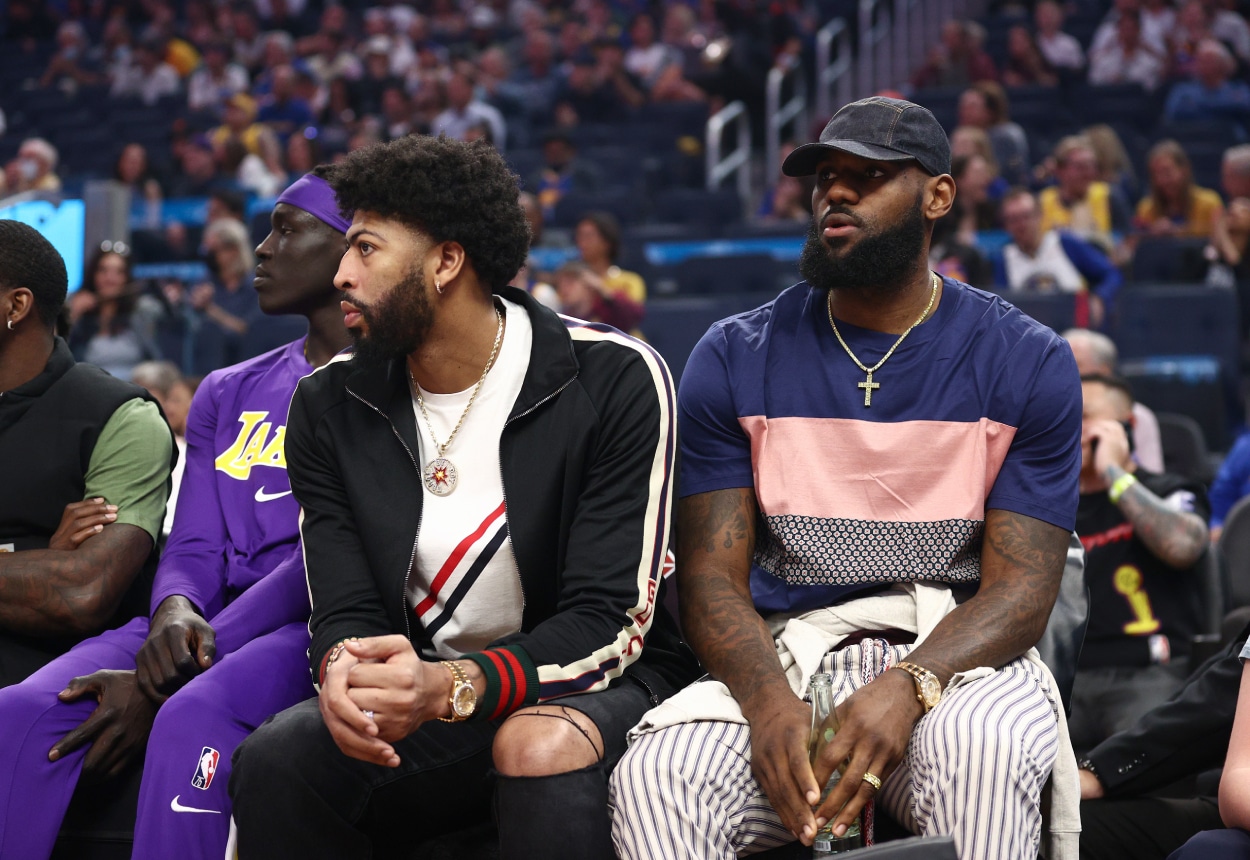 Anthony Davis was remarkable for LeBron James and the Lakers during their 2020 championship run. He averaged 26.1 points and 9.3 rebounds during the regular season and shot 50.3% from the field and 33.0% from long range. Davis also appeared in 62 of 71 regular-season games.
The Kentucky product then dominated in the playoffs, playing in all 21 games and recording 27.7 points and 9.7 rebounds per game. He also made an efficient 57.1% of his field-goal attempts and 38.3% of his three-pointers.
Perhaps that season was actually an outlier.
Davis is rarely that healthy. He has never played 82 games in his career and has only appeared in 70-plus twice. Since that 2019-20 season, the 29-year-old has competed in a combined 76 regular-season games, and his stats haven't been nearly as impressive.
Davis averaged just 21.8 points and 7.9 rebounds in 2020-21. Those numbers dropped to 17.4 points and 6.6 rebounds in the postseason. This past year, The Brow recorded 23.2 points and 9.9 rebounds per game, and he made 53.2% of his shots. But his perimeter shooting declined tremendously. Davis has become one of the worst outside shooters in the league, making only 18.6% of his three-point attempts this season. He also went from sinking 84.6% of his free throws in 2019-20 to only 71.3% in 2021-22.
To summarize all of this: Davis is rarely as healthy as he was in 2019-20. And when he has been on the court the past two seasons, he hasn't been nearly as effective.
Is he still a great player? Yes. But 2020 Anthony Davis probably isn't returning to Hollywood anytime soon.
Stats courtesy of Basketball Reference