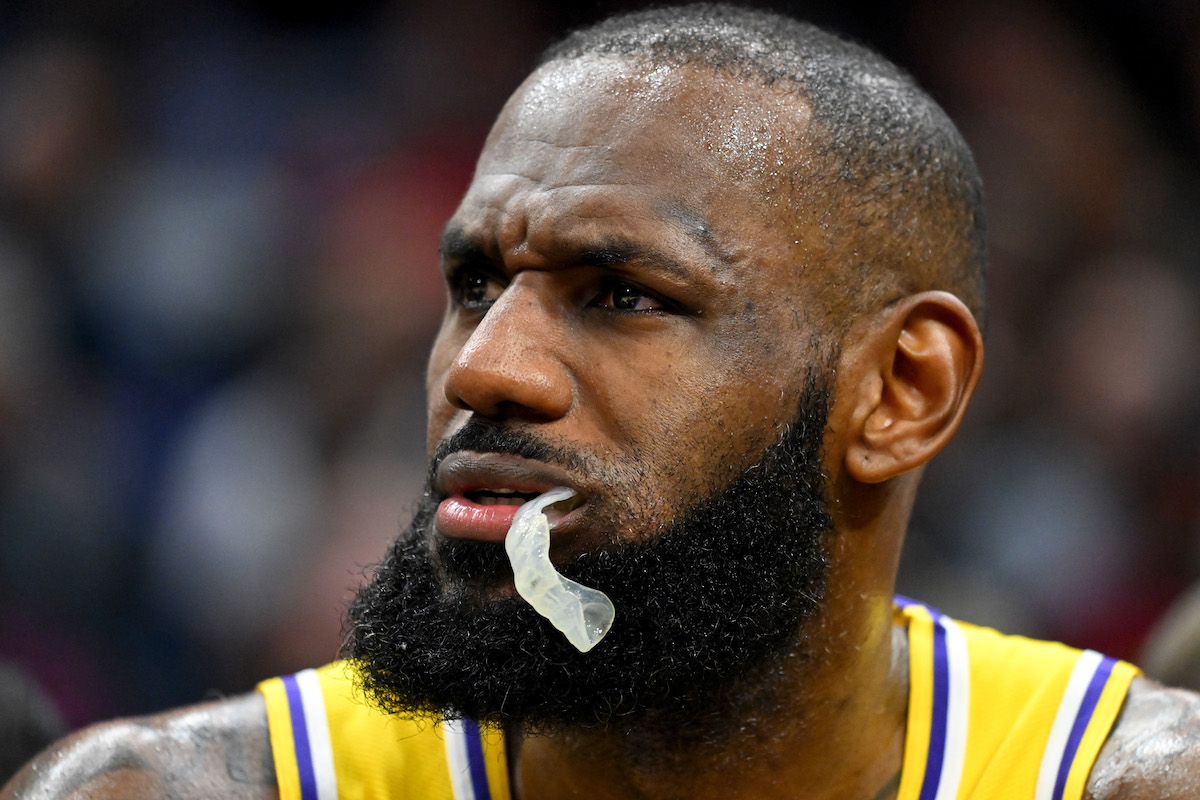 LeBron James Can Win the NBA Scoring Title Without Technically Qualifying for the NBA Scoring Title
LeBron James could win the 2021-22 NBA scoring title even without actually qualifying for the 2021-22 NBA scoring title. Wait, what?
Winning an NBA scoring title is always an awe-inspiring achievement, and the proof is in the remarkable list of talents who have claimed the individual honor. Max Zaslofsky (1947-48) is the only retired winner who doesn't enjoy Hall of Fame representation, and though LeBron James, Dwyane Wade, Kevin Durant, Carmelo Anthony, Russell Westbrook, Stephen Curry, and James Harden aren't yet eligible for induction, they'll all make it one day.
James already has one scoring title, earned for the Cleveland Cavaliers back in 2007-08 when he averaged an even 30.0 points. Now, he has a distinct chance to claim a second with only a handful of games left during a disappointing Los Angeles Lakers season that is almost sure to end without a playoff appearance.
And though a persistent ankle injury is making it rather difficult for him to meet the minimum-games threshold, a workaround could actually set him up as the rare official winner who doesn't meet the traditional qualifications.
The easier path for LeBron James to win a scoring title
With LeBron James ruled out for Tuesday night's contest against the Phoenix Suns, he'll have played in just two of the last seven Lakers outings. He's thrived as an individual during those appearances, which resulted in a combined 77 points, 17 rebounds, nine assists, and two losses against the New Orleans Pelicans, but his availability has continued to remain up in the air.
Still, he's done enough to continue pacing the NBA in points per game:
LeBron James, Los Angeles Lakers: 30.3
Joel Embiid, Philadelphia 76ers: 30.2
Giannis Antetokounmpo, Milwaukee Bucks: 30.1
Luka Doncic, Dallas Mavericks: 28.3
Trae Young, Atlanta Hawks: 28.3
(As a side note: What a scoring race! This is the first time since 2005-06 three players have been north of 30 points per game, and we're not even including Kevin Durant's 30.1 per contest because he's only at 51 appearances for the Brooklyn Nets.)
The issue for James isn't the volume of the points but rather the volume of games played. NBA rules dictate that a player must appear in at least 58 contests during an 82-game season (70% of a team's games) to qualify for the scoring title, and James has played in only 56 of 78 for the Lakers thus far — 56 of 79 following the clash with the Suns.
Health pending, the easier route would be to suit up twice more, and he could do so on the road against the Golden State Warriors (Thursday, April 7), at home against the Oklahoma City Thunder (Friday, April 8), or on the road against the Denver Nuggets (Sunday, April 10).
Confounding variables exist, of course.
If the San Antonio Spurs win once more and the Lakers lose against the Suns, the Purple and Gold would be eliminated from play-in consideration, which would make it more difficult to justify having a hobbled James on the floor for a meaningless game. Well, meaningless except for the scoring title. He's reached 36 points in each of his last five outings, so he could theoretically gut out another two high-scoring performances.
But even if he couldn't suit up twice more, once might be enough to exploit a workaround.
LeBron James could fail to qualify for the scoring title but still win the scoring title
The NBA itself provides the loophole:
The only exception to this rule will be if, at the end of the season, the player would have led the league in the category had he played the required number of games with his current category total.

For example, if Player A played 56 games and scored 1,590 points (28.4 ppg), Player A could still qualify for the league lead if his average (27.4) with that same point total (1,590) over 58 games was higher than any other player.

A past example: Gerald Wallace collected 138 steals in 55 games (2.51 spg) during the 2005-06 season. Wallace would have still led the league in steals because his average with 58 games (2.38 spg) would have been greater than the 2.28 spg of Brevin Knight, the leader among players who met the 58-game qualifier.

NBA.com
This could technically apply to Kevin Durant as well, but maxing out at 55 games would still leave him with too large a deficit when his current average trails the numbers posted by both LeBron James and Joel Embiid.
It'll be difficult enough for James himself.
Per that same methodology, James, if he doesn't suit up again this season, would finish with an effective scoring average of 29.2 (1,695 total points in 56 games, plus two hypothetical appearances without scoring a point). That's not going to get the job done since neither Embiid nor Giannis Antetokounmpo is just going to post scoreless outings of his own.
But what if he plays once more?
James could theoretically throw on a jersey in a meaningless game against a tanktastic Oklahoma City Thunder squad that has given starting nods to Jaylen Hoard, Vit Krejci, Theo Maledon, Isaiah Roby, Aaron Wiggins, and Aleksey Pokusevski during April and absolutely obliterate the overmatched competition. He still wouldn't meet the 58-game threshold, but a true evisceration of OKC could potentially give him the scoring title nonetheless.
If he scored 30 points — again, six fewer than he's posted in any of his last five appearances — he'd have an effective scoring average of 29.7. A 40-point outing would yield 29.9. Fifty? Then he's looking at 30.1.
But this is LeBron James we're talking about. What if he pulled a David Robinson and scored 70 in his final appearance, shamelessly calling his own number and making it clear how much he prioritized the second scoring title of his career? It's entirely feasible given the scoring numbers he's posted this season, and that would give him an effective average of 30.4 points per game.
Embiid and Antetokounmpo could both make this irrelevant by upping their scoring numbers, but they have way more to play for this season — and, really, this postseason.
The King, on the contrary, could just be seeking his own crown.