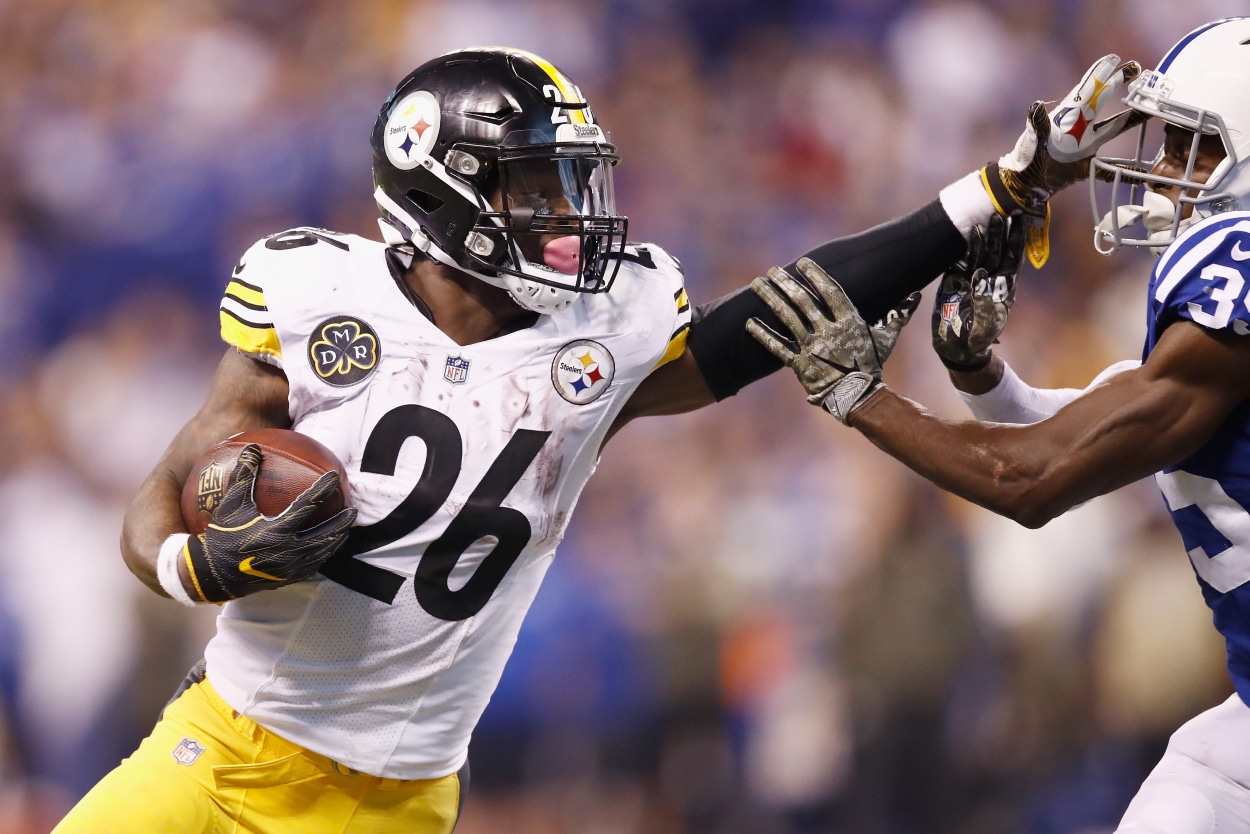 Le'Veon Bell Insists He Doesn't Want to Blast Daniel Jones but Rips Him Anyway
Le'Veon Bell had no problem bashing New York Giants quarterback Daniel Jones while supporting running back Saquon Barkley.
Former Pittsburgh Steelers running back Le'Veon Bell is out of the NFL, but he's still fired up. Bell, who missed the entire 2018 season because of a contract dispute and never was the same player again, is still fighting for running backs to get paid. Bell jumped in the corner of New York Giants back Saquon Barkley, who recently signed a one-year, franchise-tag deal after failing to come to a long-term agreement. While Bell stuck up for his position mate, he blasted New York Giants quarterback Daniel Jones.
Le'Veon Bell learned the hard way that running backs don't hold as much value as other offensive stars
Le'Veon Bell tried to make a point in 2018. He did, but it didn't go the way he planned.
Bell played five seasons with the Steelers, rushing for 1,000-plus yards three times. After a 2017 season in which he was the backfield workhorse with 321 carries, 1,291 rushing yards, and nine touchdowns, he felt he was underpaid. He held out in a contract dispute that lasted throughout the 2018 season.
In 2018, the Steelers used James Conner as Bell's replacement. In 12 starts, Conner rushed for 973 yards and 12 touchdowns. He also caught 55 passes for 497 yards and a touchdown and made the Pro Bowl. Although the Steelers faded down the stretch after a 7-2-1 start to finish 9-6-1, Conner more than helped ease the pain of playing without Bell. With Conner at running back, the Steelers were No. 1 in the league in red-zone touchdown percentage at 73.1%.
Bell never played for the Steelers again. He played 15 games for the New York Jets in 2019, rushing for three touchdowns and 789 yards. After that, he had 121 rushing attempts with three different teams for the next two seasons.
Bell blasts Jones while sticking up for Barkley
Much has been made lately about the value of running backs in the NFL. Former stars Dalvin Cook and Ezekiel Elliot are without teams. Indianapolis Colts star back Jonathan Taylor requested a trade after failing to come to a contract extension. The truth is the NFL is a quarterback league.
That's something Bell fails to realize. That was evident when he ripped Jones, who recently signed a four-year deal worth $160 million.
"You do your sports broadcasting thing, so you can't say it, but I will," Bell said during an interview with Rob Maaddi of The Associated Press. "Daniel Jones is the bottom tier. He's the bottom tier of quarterbacks, the bottom tier. He's not mediocre. There are average quarterbacks. He's the bottom tier.
"I'm not here trying to talk bad about Daniel Jones. I'm just trying to be real for everybody who's hearing it. He's in the bottom tier. Saquon is in the top tier. How does that make sense?"
For those counting at home, that's five "bottom tiers" from Bell regarding Jones. Whether Jones, who helped guide the Giants to a playoff win over the Minnesota Vikings last year, is at the bottom level of today's QB crop, he's still a quarterback, and quarterbacks get paid.
When healthy, Barkley is a top-tier running back, but if you replace him with James Conner, the Giants probably don't miss a beat.