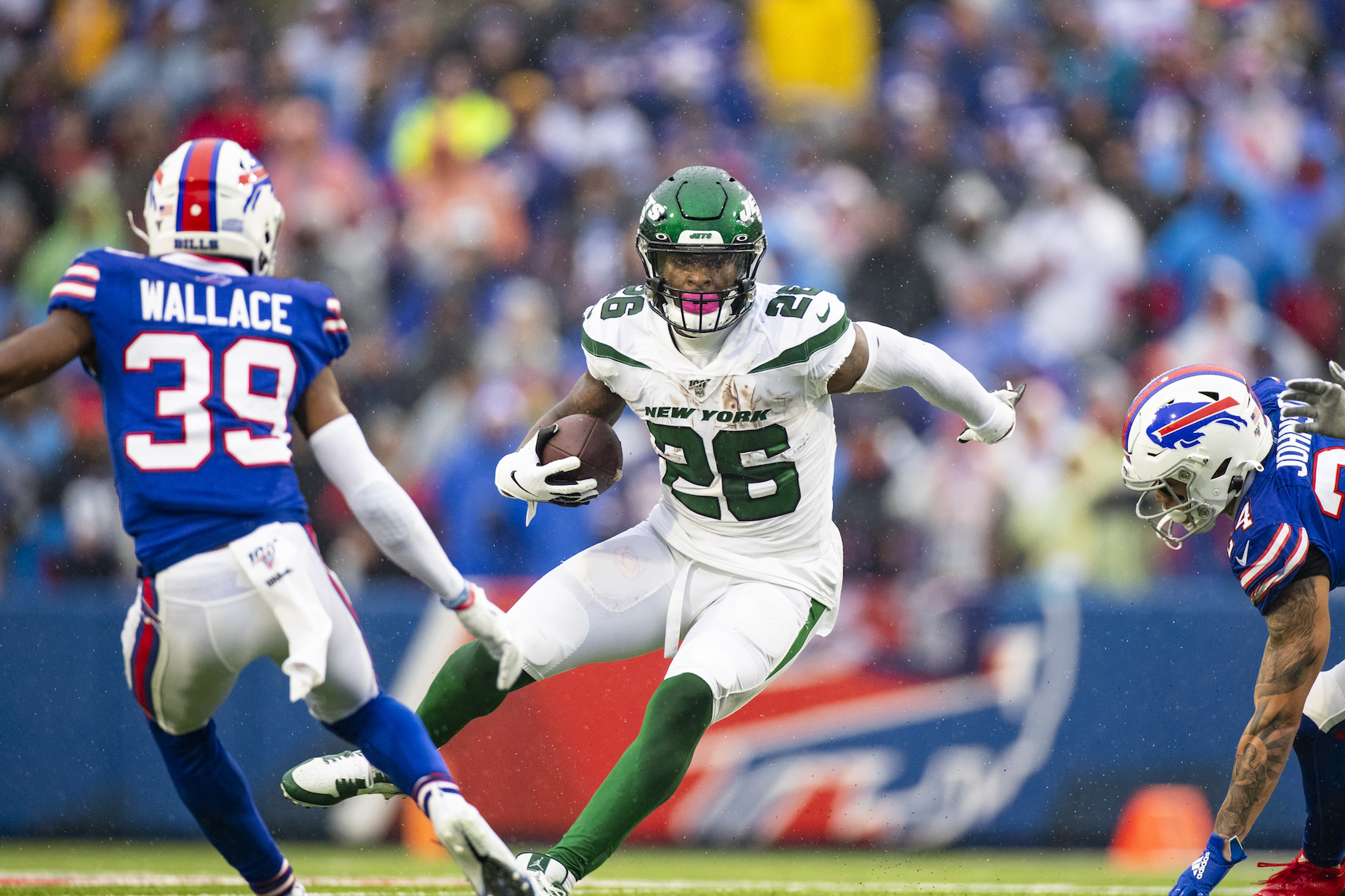 The New York Jets Paid Le'Veon Bell More Than $9 Million per Rushing Touchdown Before Cutting Him
On Tuesday night, the New York Jets finally bit the bullet and released running back Le'Veon Bell. That decision, however, did not come cheap.
When the New York Jets signed Le'Veon Bell in March 2019, it seemed like a coup. Gang Green had been stuck on the tarmac for what seemed like an eternity; landing Bell gave them a legitimate talent who could take some of the burden off of Sam Darnold as he adjusted to like in the NFL. That plan, however, never came together, and, on Tuesday night, the Jets released Le'Veon Bell.
While everyone, including NFL general managers, makes mistakes, this one didn't come cheap. Since 2019, the New York Jets paid Le'Veon Bell more than $9 million per rushing touchdown.
Le'Veon Bell became a star in Pittsburgh
In the modern NFL, most teams don't view a running back as an irreplaceable key to offensive success. During his time with the Pittsburgh Steelers, however, Le'Veon Bell looked like he could be an exception to that rule.
After three seasons at Michigan State, Bell entered the 2013 NFL draft. He joined the Steelers as the 48th-overall pick and headed to Pittsburgh to start his professional career. The running back started 13 games as a rookie, piling up 860 rushing yards, 399 receiving yards, and eight total touchdowns.
As an NFL sophomore, however, Bell took a leap forward. Fully entrenched in the starting job, he chewed up an impressive 1,361 yards of turf while adding 845 receiving yards; unsurprisingly, he earned All-Pro honors at the end of the campaign. 2015 would be a disappointment, though, as injury and suspension limited Bell to six games of action.
Bell returned to form in 2016 and earned his second First-Team All-Pro nod in 2017, but things went south after that. In March 2018, the Steelers franchise-tagged their star running back for the second-straight season; Bell refused to report and ended up sitting out the entire campaign.
Failing to take off with the New York Jets
After Le'Veon Bell sat out the entire 2018 season, the Pittsburgh Steelers deemed him a persona non grata and let the running back hit free agency. The New York Jets scooped him up, hoping to add some much-needed star power to their offense.
From the start, though, there was a key issue: head coach Adam Gase reportedly didn't want the team to add a running back, let alone a big-money one. That reality led to an unhappy marriage, with Bell getting limited use and Gase trying to convince the local media that he had no personal issue with the player.
During his first season with Gang Green, Bell rushed for 789 yards and three touchdowns; he also added 461 receiving yards and one additional score in the passing game. His second campaign in New York, however, got even worse.
After Bell carried the ball a total of 18 times through Week 5—he also missed several games with a hamstring injury—news broke that the Jets were looking for a trade partner; Bell himself also liked tweets about a potential move. No teams were apparently interested, though, as the Jets brass simply decided to cut their running back, making him a free agent.
How much did the New York Jets pay Le'Veon Bell?
While everyone, even NFL general managers, makes mistakes, they can have some pretty costly consequences. Unfortunately for the New York Jets, their brief relationship with Le'Veon Bell will cost them a sizable chunk of change.
Based on Spotrac's contract data, the Jets paid Le'Veon Bell almost $28 million during his time in New York. $27 million of that money—a signing bonus, a 2019 roster bonus, 2019's salary, a 2020 roster bonus, and 2020's salary—was guaranteed; the running back's contract also included a $31,250 per game active bonus, adding more than $500,000 to the pot.
While that number sounds painful from a big-picture perspective, it gets even worse when you break things down further. If you look at rushing touchdowns, for example, Bell only found the end zone three times; that means the New York Jets paid more than $9 million each time he ran into the end zone. Even if you want to be generous and include the running back's one receiving touchdown, he still made almost $7 million per score. Cutting Bell will also leave the club with some dead cap space, adding further insult to injury.
As any frequent flyer can confirm, airlines have no problem charging you extra for a last-minute change of plans. By cutting Le'Veon Bell, though, the New York Jets are the ones left holding the bag and paying a cancellation fee.