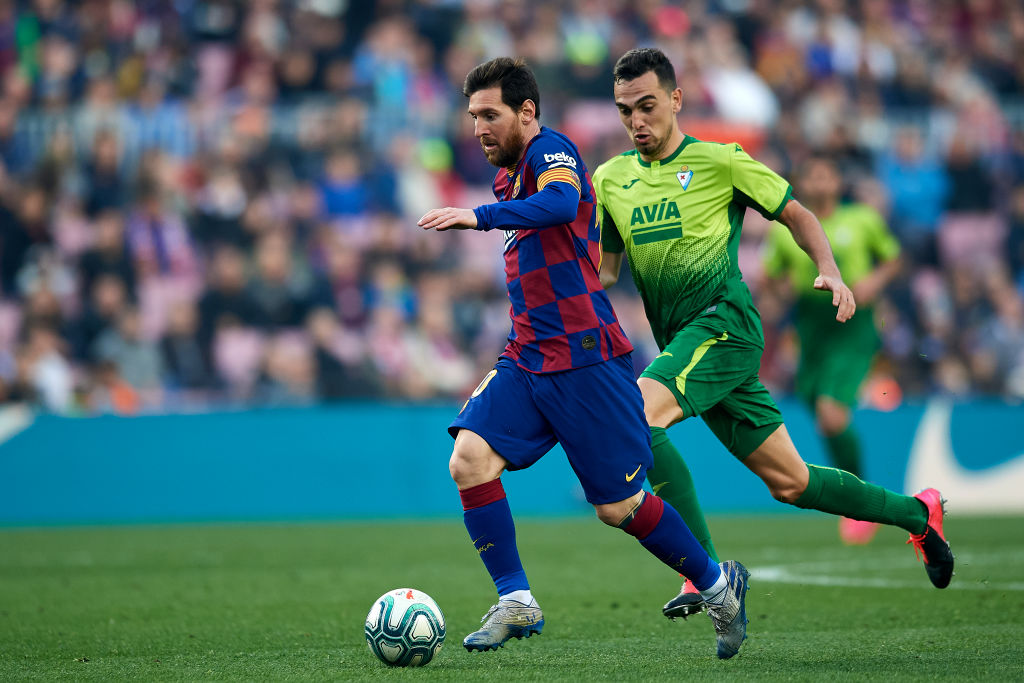 Lionel Messi Doesn't Plan on Leaving Barcelona Anytime Soon
Despite having an out-clause in his contract, Lionel Messi doesn't plan on leaving Barcelona for another club anytime soon.
While there's no "I" in team, talent eventually wins out. That's especially true in soccer, where team payroll is strongly related to team success. If you're looking for the most talented player around, it's hard to get past Barcelona's Lionel Messi.
While there's been some speculation that the forward could leave Catalonia, Barca fans can rest a bit easier. Messi, it seems, has no desire to play his club football anywhere else.
Barcelona's less than perfect season
No matter the sport, certain teams enter every season with an expectation of success. While Barcelona is one of those clubs, this season hasn't been up to their usual standards.
It's worth couching that statement, however. Barcelona is still doing pretty well; they're in the Champions League Round of 16 and are sitting at the top of La Liga with a +33 goal differential. By their own standards, though, the club is slumping. The team's defense is a nagging concern and their meticulous passing moves don't work with the same effectivity anymore. Luis Suarez is hurt, Antoine Greizmann, for all of his work off the ball, isn't lighting up the Camp Nou, and there's an above-average amount of off-field drama, even for Barcelona.
It that context, rumors about Lionel Messi's future started swirling. While the star has spent his entire career with Barcelona, the forward has an out-clause in his contract; at the end of a given campaign, he's able to leave the club on a free transfer. Given this season's comparative struggles and the forward's admission that Barca isn't a favorite to win the Champions League, some have wondered if Messi is planning to leave Catalonia for good.
Lionel Messi isn't ready to leave Barcelona just yet
Lionel Messi might have an out-clause in his contract, but there's no need for any Barcelona supporters to panic. Although the option exists, the forward doesn't intend to use it.
"I've already said many times that my idea is that [to stay at Barca], [and] as long as the club and people continue to want that from me there will never be any problem," the forward told Mundo Deportivo, via The Spanish Football Podcast. "I also said many times that I would like to be there if we are all good—the club—[and] people are happy with the team there is, that there is a winning project and that we continue to opt for all the titles as we always did at this club."
"That is my idea, to stay at this club," Messi continued. "I want to win another Champions League, I want to continue winning La Ligas and I always aspire to that."
Right now, Barcelona is probably the best spot for Messi, anyway
While Messi himself said that he wants to remain with Barcelona, it's also worth considering the logistical realities behind any potential move. Right now, the Argentine forward is probably in the best spot possible.
Messi has been linked to a potential reunion with Pep Guardiola at Manchester City, but it's unlikely any big stars would join a club facing a two-year ban from European competition. There have also been rumors that the forward could head to Juventus and link-up with Cristiano Ronaldo; that theory is primarily based on Guardiola moving to Italy, but the manager has pledged to stay with Man City through any potential downturn.
While Lionel Messi could walk into any team in the world and instantly become the best player on the roster, he's in a pretty good spot at the moment. Barcelona, despite its drama and relative struggles, is still one of Europe's elite clubs; at this point in his career, the Argentine isn't going to abandon his adopted home for a marginal upgrade.
At some point, Lionel Messi is going to leave Barcelona. That watershed moment, however, doesn't seem like an imminent possibility.