LIV Golf CEO Greg Norman Fires Back at Rory McIlroy With a Threatening Message
The nasty feud between the PGA Tour and LIV Golf isn't slowing down. In fact, it's only heating up with the rival tour kicking off its 2023 season this weekend.
Back in November, Rory McIlroy, the self-appointed spokesperson for the PGA Tour, decided to bash Greg Norman and call for him to step down from his position as LIV Golf's CEO. It took Norman a few months to properly respond to McIlroy's criticism, but Norman fired back at the Northern Irishman this week by claiming he "doesn't know anything about LIV Golf" and warning him to "watch what you say."
Yeah, this rivalry isn't going to end anytime soon.
Rory McIlroy wants Greg Norman to step down as LIV Golf's CEO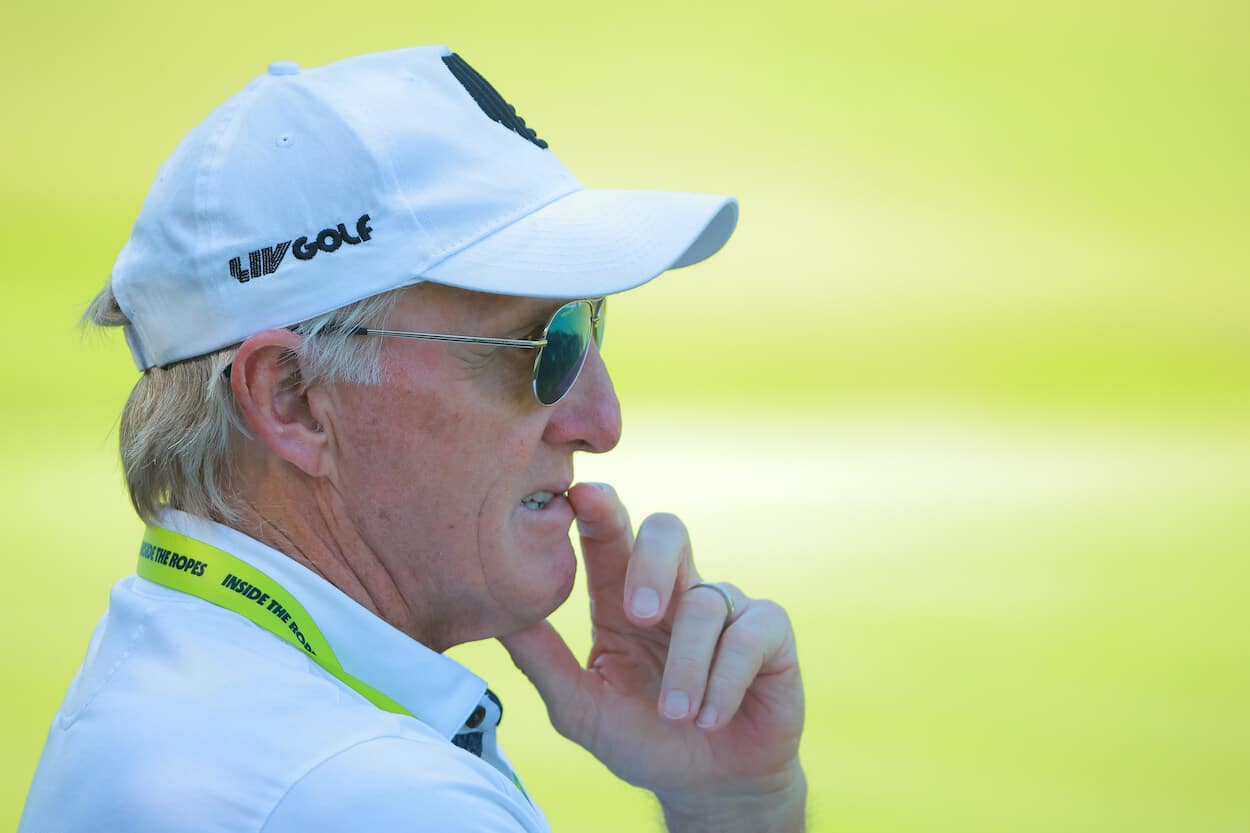 McIlroy believes the PGA Tour and LIV Golf can co-exist at some point in the future, but he doesn't see that happening as long as Norman is in charge. The LIV Golf CEO fractured the golf world as we know it by poaching some of the top players in the world with the promise of Saudi millions, so McIlroy believes the only way LIV and the PGA Tour will ever work together is if Norman steps aside.
"I think Greg needs to go. I think he just needs to exit stage left," McIlroy told reporters at the DP World Tour Championship in November, per AP. "He's made his mark, but I think now is the right time to sort of say, 'Look, you've got this thing off the ground, but no one is going to talk unless there's an adult in the room that can actually try to mend fences.'
"But right now, it's a stalemate because there can't be any other way."
Greg Norman responds to Rory McIlroy with a threatening message
Norman has been trying to ignore the hate coming his way, especially the comments coming from PGA Tour players. That's why he wasn't quick to respond to McIlroy's criticism.
Ahead of LIV Golf's first tournament of the 2023 season, though, Norman finally responded with a threatening message of his own.
"Rory doesn't know anything, right? All due respect to Rory, he doesn't know anything about LIV," Norman said in an interview with Golf.com. "He knows something about the PGA Tour. I've always been a fan of Rory McIlroy's. My advice to him is just sit back, take stock, watch what you say because in the end, there will be a situation where he'll be asked a few questions that he may not want to be answering."
"Watch what you say" surely has an evil tone to it, huh? Norman is leaning into his new villain role, but he still believes LIV Golf is a necessary evil for the growth of the sport.
"To be honest with you, when all this dust settles, the game of golf is going to be better off," Norman told Golf.com. "Because you can have both [leagues], and I'm looking forward to that day."