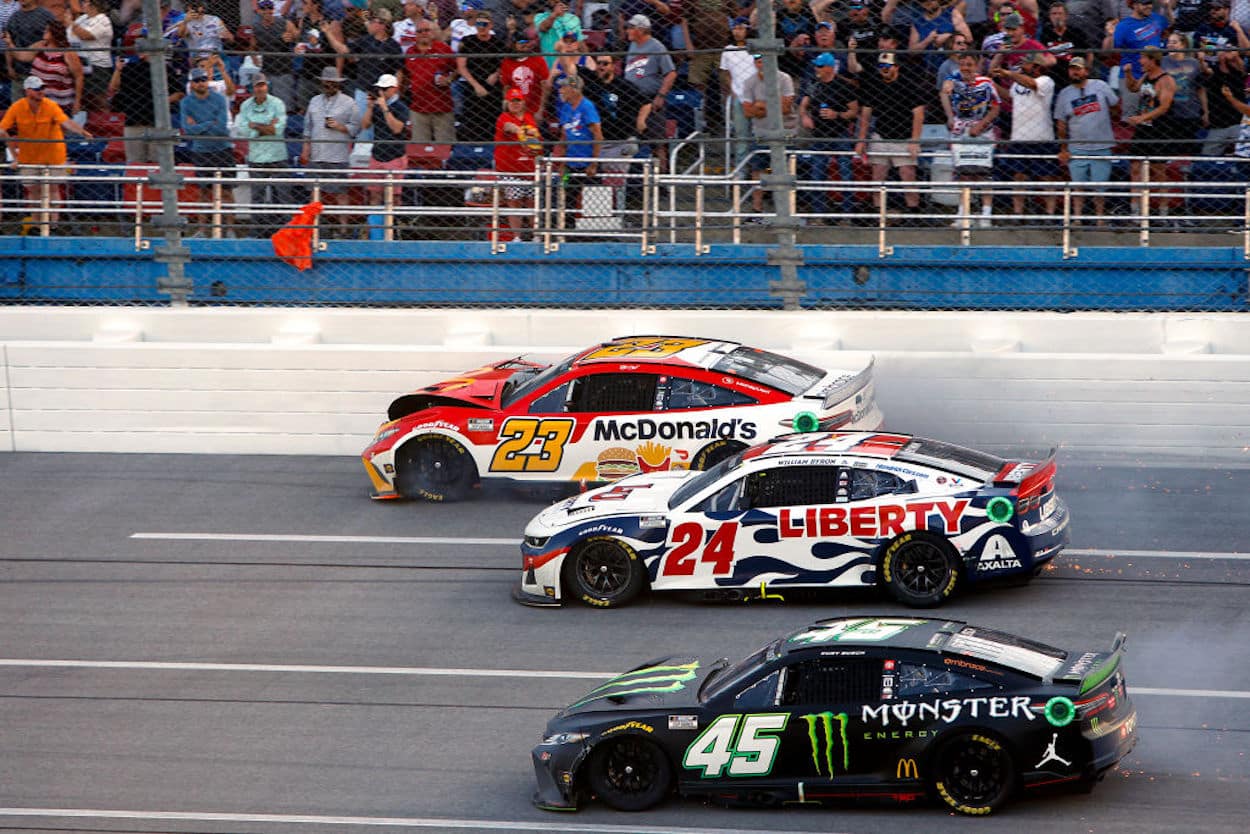 Love It or Loathe It, Talladega Should Be Part of the Cup Series Playoffs Forever
Like it or not, postseason trips to Talladega Superspeedway won't be going away anytime soon.
One of only four tracks to host a playoff race every year since NASCAR instituted a season-ending playoff format for its premier division in 2004, Talladega Superspeedway has arguably become as much a staple of the playoffs as it has the Cup Series schedule as a whole.
Although the 2.66-mile, high-banked Alabama venue has also been the site of a spring or summer Cup Series race every season except one since joining the schedule in 1969, the fall playoff race has become the track's signature event mainly because there's a lot more at stake than earlier in the year when the playoffs are still several months away.
With this in mind, Sunday's race sounds pretty cool, doesn't it? Yeah, fans almost universally think so.
As for most drivers, there's not an event on the schedule they dread more than the one coming up this weekend, simply because of all the unknowns it brings — and the fact that one slipup by one person in a big pack can cost another driver, or multiple drivers, an opportunity to advance to the next playoff round and ultimately have a chance to compete for a championship in a few weeks.
"You're going to race in a pack — three-wide at times — and you're going to get pushed and have to push at times," playoff driver and 2014 Cup Series champion Kevin Harvick said in his team's prerace news release. "You just never know what's going to happen, because Talladega is its own animal. It's hard to finish a race there."
Talladega's entertainment value sets it apart and trumps everything else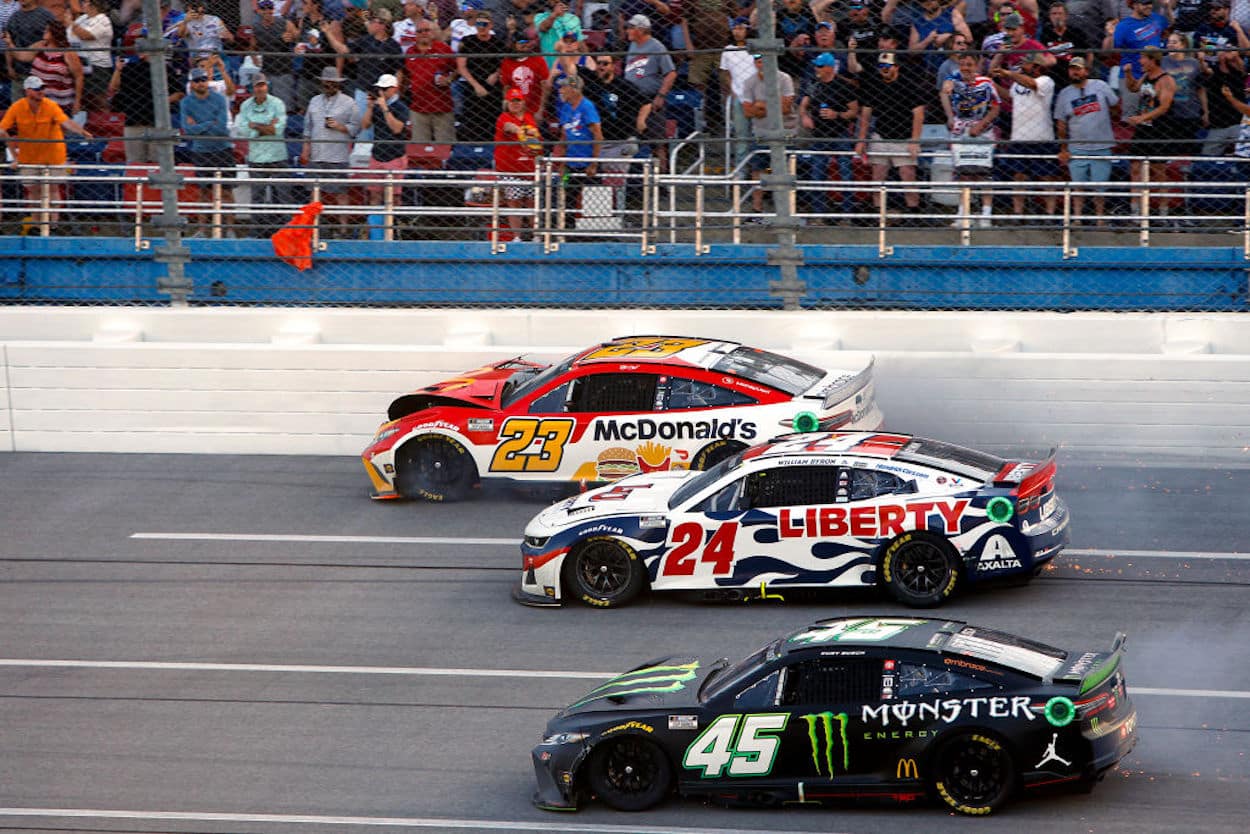 As much as drivers might bemoan the difficulty of being able to actually be around to see the checkered flag at Talladega, the good that comes from the style of racing at this track far outweighs the "bad" — if you even want to call it that. That's because, at the end of the day, NASCAR is an entertainment business, and there's no place on the schedule that offers a more entertaining on-track product than this one. 
In fact, if there's one track that should remain part of the playoffs forever, it's Talladega because there's not a snowball's chance in July that you'll witness a dull race. Worried about having to suffer through a single-file snooze-fest like the ones we've all sat through this season at NASCAR's short tracks — and the ones we've endured in season's past on the intermediates? Don't be.
On Sunday, we'll see drivers not just running three-wide but sometimes four- and even five-wide all race long. As for the finish, well, no one — not a fan, driver, crew member, NASCAR official, or random squirrel running through the infield — will have a clue who's going to prevail until the checkered flag waves.
"It's such a crapshoot there in the last 20, 30, or 40 laps that you never really know who is going to win, what's going to happen, and where the wreck is going to come from," Kyle Busch said in his team's prerace media release.
Fans love watching wrecks, too — especially the so-called Talladega "Big One"
It's fair to say — and it's more than understandable — that no driver likes wrecking and leaving a track with a torn-up race car. Who would?
That's especially true this season, when the hits drivers are taking seem to be harder than they've been in a long time. Even so, fans don't buy tickets and tune in on Sundays to watch drivers run around single file and never hit anything. 
Fans crave smoke and action and beating and banging and, yes, accidents. While, obviously, any spectator who's a remotely decent person would never want to see a driver get hurt, there's a little (or big) part of every fan that likes to see a wreck — sometimes the bigger, the better.
So it's no wonder that Talladega is so popular among the NASCAR fan base and that this is one of the few tracks where sellouts are still common in 2022. Due to the close-quarters, big-pack racing that 'Dega breeds, multicar wrecks, including the "Big One" — which sometimes collects up to 15 or 20 cars at a time — are inevitable. Especially the closer it gets to the finish.
For this reason, Ross Chastain — winner of this year's Talladega spring race — doesn't believe he has a prayer of completing the season sweep this weekend. And you can't really blame him for his pessimism, given that Jeff Gordon was the last driver to accomplish this feat. And it happened all the way back in 2007.
"I'll be very lucky if I get to finish that race," Chastain, one of 12 remaining playoff drivers, said in a prelease news release from Team Chevy PR. "If I can just stay on the bottom again, and they move out of my way, and I take the checkered flag in first, that would be great. Spring Talladega was wild. We'll always have good memories, but I've had a lot of wrecked race cars there."
Three-time Cup Series champion Tony Stewart — never one to be bashful in speaking his mind about any topic — once went on an extended tongue-in-check rant about all the wrecks at Talladega. In case you missed it, you can watch below starting at around the 2-minute, 20-second mark. 
While Stewart's point — as it were — is a valid one, drivers might as well save their criticism of Talladega. Because as much as they may not enjoy feeling like they have no control over their destiny here, it's the uncertainty and unpredictable nature of this track — and the playoff race, in particular — that makes millions of people want to buy a ticket or tune in.
Many of these people won't watch a race the rest of the season, by the way. They will, however, be entertained.
Like Sportscasting on Facebook. Follow us on Twitter @sportscasting19 and subscribe to our YouTube channel.