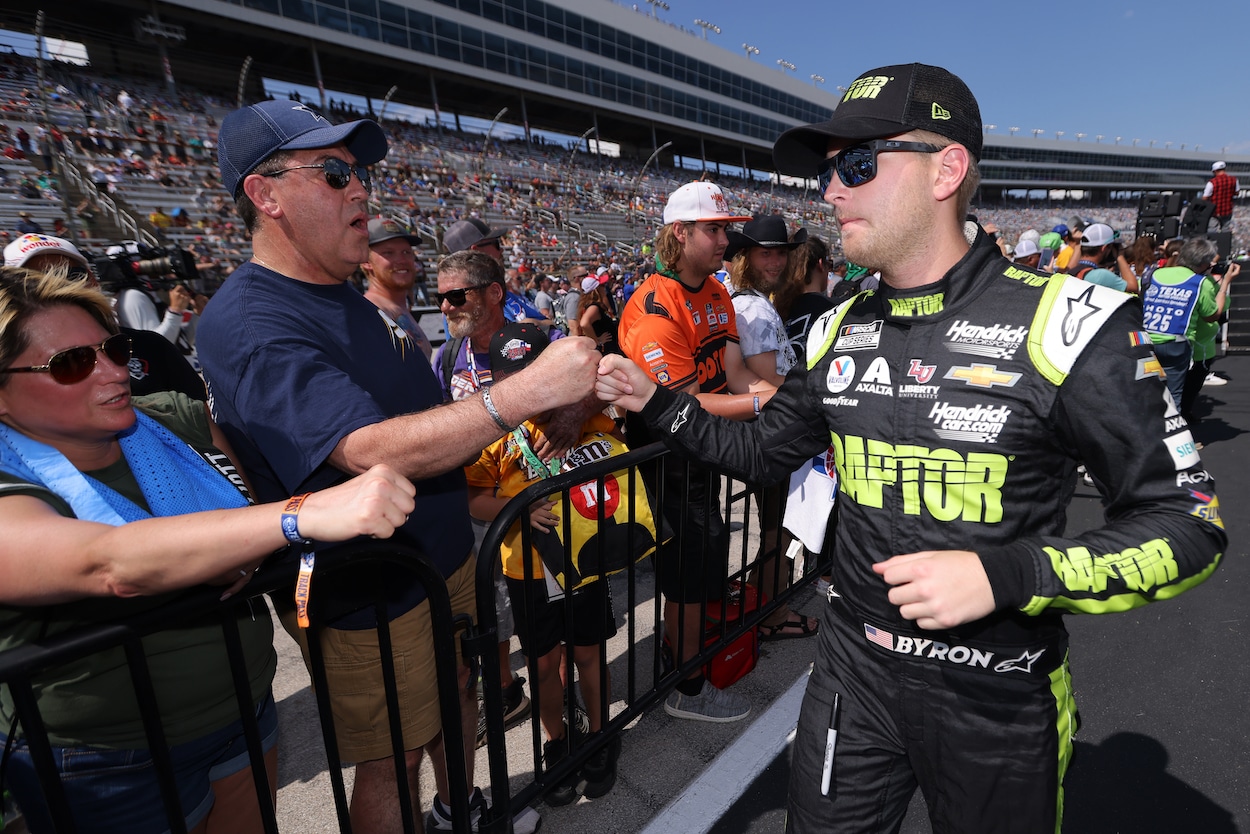 NASCAR Got It Right on William Byron, Ty Gibbs Penalties, but What About the Other Issues Plaguing the Sport?
NASCAR may have gotten some penalties right, but it has bigger issues to worry about.
Better late than never, NASCAR levied stiff penalties Tuesday evening against William Byron and Ty Gibbs for unrelated but equally egregious transgressions the two drivers committed during Sunday's Cup Series playoff race at Texas Motor Speedway.
After apparently failing to see either driver's misdeed in real-time, NASCAR ultimately made the right call in both instances — and, hopefully, both drivers will learn an important lesson as a result.  
While some might criticize NASCAR for its failure to recognize both drivers' actions as they occurred, there's no point in casting blame over the timing of the penalties.
What happened is what happened, and — at least in the case of Byron, who spun Denny Hamlin under caution — NASCAR admitted its initial oversight. Far more bothersome than this or anything, frankly, related to the Texas penalties are the issues NASCAR has still not addressed. 
The time for NASCAR to deal with safety concerns is now
Ever since Kurt Busch suffered a season-ending concussion in an innocuous-looking qualifying crash at Pocono Raceway on July 23, NASCAR has come under increased scrutiny for its widely perceived lack of attention to safety concerns related to the Next Generation Cup Series car that made its formal debut in February's Daytona 500.
Specifically, numerous drivers don't feel like their voices are being heard with regard to how the car absorbs impact when a driver hits the wall. In a nutshell, drivers say that they — rather than the car itself — are absorbing most of the impact when they crash, putting them at increased risk of serious injury. 
Among the loudest and most notable critics of the Next Gen vehicle are veterans Kevin Harvick and Denny Hamlin, who both say they've dealt with lingering soreness from recent accidents they contend wouldn't have hurt nearly as bad in the old Generation 6 car Cup Series drivers raced the previous nine years.
To hear Harvick tell it, NASCAR is in denial over the car's safety issues and — as a result — is reluctant to make any major changes, at least in the short term.
"I don't know what the solution is, but I know it needs to be way faster," Harvick said during a media availability at Kansas Speedway on Sept. 10. "And if you start in the offseason, it's going to be a complete cluster to try to get it done before the [season]. So where are we headed here? Like, what's the plan?
"Every driver in here is tired of hitting the wall and having been hurt. … Denny has talked about this before, and you look at how quick the hits come up and how fast everything accelerates. I think it's very apparent that it's not the same [as the old car]. The total g-force might be the same, but the quickness that you get there is very different. 
"I can't tell you how many guys have talked about the side impacts and how bad they hurt at low speeds. It's just time to listen to the drivers and stop worrying about the data."
The latest victim of the car's seemingly compromised safety features was Alex Bowman, who revealed Thursday that he'll miss Sunday's race at Talladega because of concussion-like symptoms he's experienced following a crash this past weekend at Texas.
If NASCAR isn't willing to take immediate action based on the cry for help from Kevin Harvick — a guy who has been a full-time Cup Series driver since 2001, won a Cup Series championship, and been to Victory Lane 60 times in the sport's premier series — then who is it really going to listen to?
It's high time that NASCAR, at the very least, unveils a plan to make the cars safer — even if that plan can't be implemented until 2023. Doing this would show the drivers that NASCAR's top brass is paying attention, hasn't turned a deaf ear to them, and has their best interests at heart. But the longer NASCAR waits to address these concerns head-on, the more irritable and outspoken drivers are going to be — and the greater the chance of someone being hurt, or far worse.
NASCAR must take responsibility for tire woes, avoid Texas repeat
Sunday's race at Texas bore shades of the infamous 2008 dire debacle at Indianapolis Motor Speedway when drivers were hard-pressed to run even 15 green-flag laps without a blowout.
This past weekend's event wasn't that bad, but it was pretty darn close as driver after driver lost control and hit the wall as a result of a tire coming apart. Predictably, Goodyear took little responsibility, and neither did NASCAR, with the latter choosing to instead put on the onus on teams for pushing the proverbial envelope too far with their tire pressures.
"Goodyear is working through that with the teams, working through what the setups were, what the air pressures were, to try to get to the bottom of it," NASCAR senior vice president of competition Scott Miller said after the race via comments distributed to all NASCAR media. "There was a lot of teams that reported no problems to us postrace, and they did admit to being a little bit on the conservative side air pressure and being closer to the suggested minimums that Goodyear recommended."
That's a rather poor excuse given the record 16 cautions for a race at the 1.5-mile track. Naturally, teams are going to push the limits on tire pressures; it's the playoffs, for crying out loud. But teams should be able to do this without having to worry about a blowout every 35 laps or so, as they did Sunday.
Chase Elliott, who entered the race as the points leader but left Texas eighth in the standings due to a DNF from a tire-inflicted crash, offered a compelling perspective on the situation during his postrace interviews.

"I'm not sure that Goodyear is at fault," NASCAR's perennial Most Popular Driver said in a media transcript from Team Chevy PR. "Goodyear always takes the black eye, but they're put in a really tough position by NASCAR to build a tire that can survive these types of race tracks with this car. I wouldn't blame Goodyear."
With a race coming up at Las Vegas Motor Speedway — a track very similar to Texas — in just a couple of weekends, NASCAR simply can't afford to be passive in making sure we don't witness a repeat of the fiasco that went down Sunday in the Lone Star State. And this can't, under any circumstances, be an issue that persists into next season.
The Next Gen car is killing the once beloved short-track racing
Normally, short tracks are one of the big highlights of the NASCAR Cup Series calendar because of the close-quarters, bare-knuckles, ultra-aggressive style of racing they create.
Unfortunately, this year's short-track races — at least the ones on pavement — have been more akin to funeral processions than fun-filled throwdowns for all the marbles. Instead of beating and banging and widespread action from one end of the track to the other, drivers have struggled to catch each other — much less pass each other — making for a rather disappointing experience for both competitors and viewers alike.
The Bristol night race held a couple of weekends ago resembled the kind of humdrum affair normally reserved for a place like Pocono, which, beginning this year, not surprisingly lost one of its two dates on the Cup Series schedule. Not only did the race at Bristol produce an anticlimactic finish, but a grand total of six drivers spent time out front.
And if you think this is just a Bristol problem, think again.
This year's races at Martinsville and Richmond have been no better. So it's clear that the issue is the Next Generation car, which has seemed to improve the quality of the racing a bit on the intermediate tracks all while hurting the product on the short tracks.
The good news? There's only one short track race left on the 2022 Cup Series schedule — the Round of 8 elimination race at Martinsville. Maybe, just maybe, it will be surprisingly competitive, but based on the Martinsville spring race and a recent test held at the 0.526-mile paperclip, don't hold your breath.
Hopefully, NASCAR can go back to the drawing board during the offseason and figure out a way to fix the short-track issue and the other issues plaguing the sport right now. Anything less will not only be detrimental to the health of the sport — it'll be downright unacceptable.
Like Sportscasting on Facebook. Follow us on Twitter @sportscasting19 and subscribe to our YouTube channel.