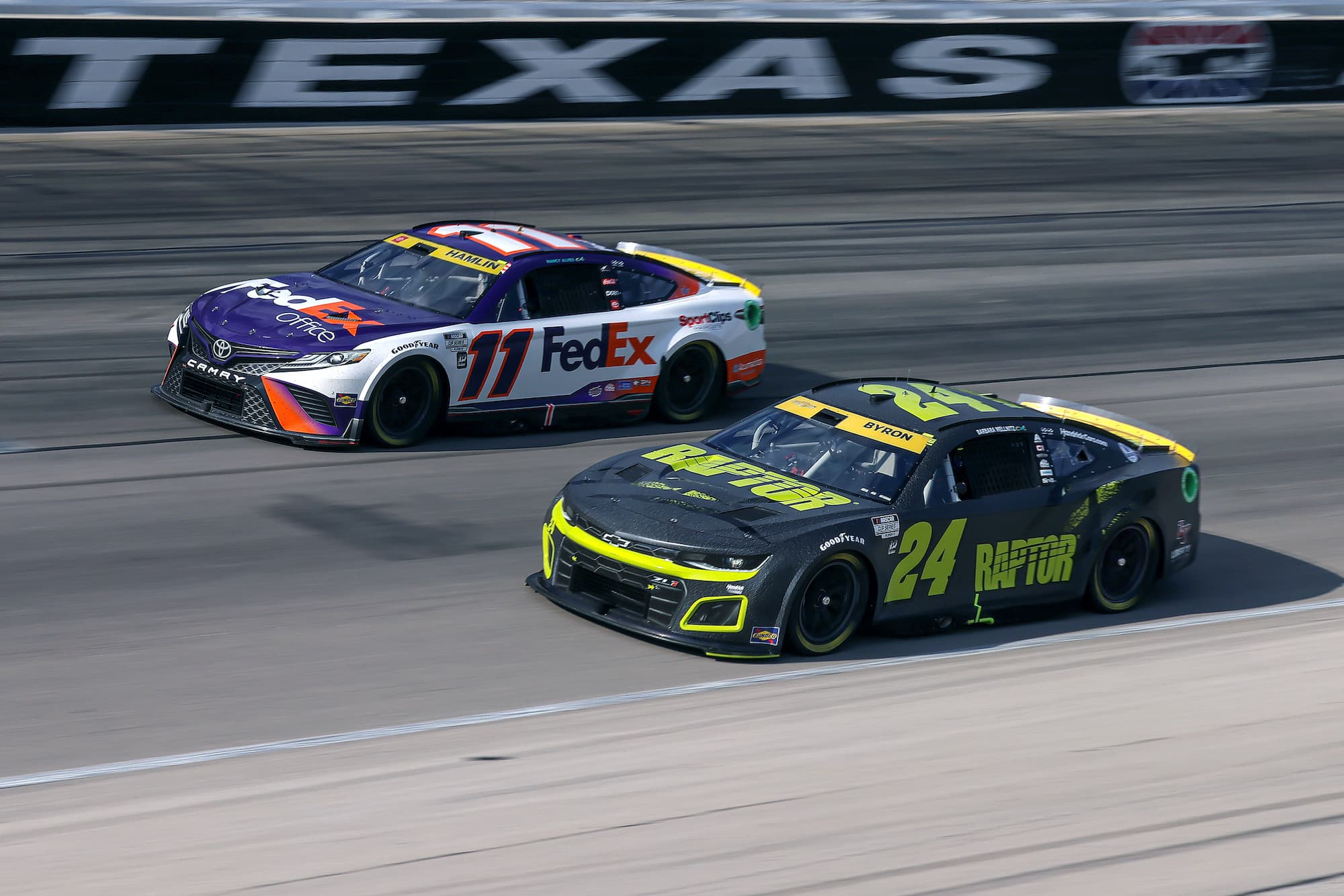 NASCAR Needs to Red Flag Itself After Embarrassing Texas-Sized Blunder During Playoff Race and Completely Unacceptable Explanation That Should Make Fans as Outraged as Denny Hamlin
Denny Hamlin was understandably upset after Texas because William Byron deliberately wrecked him late in the race under caution and NASCAR did nothing about it.
The first playoff race in the NASCAR Cup Series Round of 12 at Texas Motor Speedway will go down as a memorable race for a lot of reasons. For starters, it was historic, lasting a record time of 4 hours and 21 minutes because of a record 16 cautions. Oh yeah, and it was the hottest-ever race in the Lone Star State with the temperature at 96 degrees at the drop of the green flag.
Those record-setting cautions were the result of massive tire issues that were unfortunately reminiscent of NASCAR's disastrous 2008 race at Indianapolis. That issue is one that NASCAR and Goodyear both agreed will be addressed. However, the tires weren't the only issue on the night. 
Incredibly, the governing body produced its own controversy late in the race as officials didn't spot an incident when William Byron blatantly dumped Denny Hamlin under caution. The Joe Gibbs Racing driver lost valuable positions in the playoff race because of NASCAR's inaction and was understandably unhappy after it ended. The missed call was made exponentially worse later when the organization offered an absolutely unacceptable explanation of why it happened that should make fans just as outraged as Hamlin.
Denny Hamlin and William Byron make contact
In the final stage of Sunday's Cup race, with 73 laps to go at Texas Motor Speedway, Denny Hamlin and William Byron were battling hard for second place behind race leader Martin Truex Jr. Coming out of Turn 2, door-to-door with the No. 24 on the outside, the exhaust pipe of the No. 11 lit up with fire, indicating he was lifting off the gas as the cars moved up the track. 
Hamlin came up considerably short of the wall while Byron hit it. Immediately after contact, the Hendrick Motorsports driver responded, driving his car hard into Turn 3 and making it three-wide with the JGR car on his inside and Austin Dillon on his outside. That move slowed both cars, allowing the No. 3 to move into second place.
Seven laps later, Truex became the latest victim of the tire debacle coming out of Turn 4, when his right rear exploded and he went up into the outside wall. Within seconds of the spin and with yellow lights already flashing, Byron pulled up behind Hamlin with payback on his mind, made contact with the rear of the No. 11, and sent him sliding into the infield grass. 
After the incident, Hamlin tried to rejoin the field in the second position where he originally was when Byron wrecked him. NASCAR denied him and didn't penalize the HMS car. The JGR driver told his team over the radio that he would take the law into his own hands.   
"We never touched," Hamlin said. "I'll give him a penalty if he comes back to me." 
Hamlin not happy with NASCAR
After the race, Hamlin visited with reporters and was asked about the incident with Byron.
"I got spun out under caution and found the infield," Hamlin said. "We got tight off of Turn 2. We never made contact but slowed both of our momentum and that was it." 
The three-time Daytona 500 winner said his team did everything it could to make a case but to no avail. When asked where he goes from here, Hamlin said he would race Byron hard and talked about how the non-call sets a precedent. 
"I mentioned on the radio that I should just get a teammate to knock out somebody under caution in the Final Four if we ever make it," he said. "Certainly, it's a precedent, but I don't think that NASCAR cares about precedents. I think they kind of do it week to week and figure it out from there."
William Byron didn't mean to do it
The 24-year-old driver met with the media after the race and, unsurprisingly, offered a dramatically different take on the chain of events from his JGR competitor. 
"Yeah, I feel like he ran me out of race track off of two and had really hard contact with the wall," Byron said. "The car was vibrating. Felt like the toe link definitely was bent but luckily not fully broken. We were able to continue, but a lot of time that kind of damage can ruin your race, especially that hard. Totally understand like running somebody close, you know making a little bit of contact, but that was pretty massive."
A reporter then asked the driver what message he was trying to send Hamlin. That's when the HMS driver candidly admitted his intent.  
"No, I didn't mean to spin him out. That definitely wasn't what I intended to do," he said. "Just meant to bump him a little bit and show my displeasure. Unfortunately, it happened the way it did. Obviously, when he's spinning, I'm like, 'Oh, I didn't mean to do this.' But yeah, it was definitely frustrating."
NASCAR responds
In a truly unbelievable case of deja vu, NASCAR vice president of competition Scott Miller held an impromptu press conference with reporters after the race, just as he did back in May following the All-Star Race. You remember the one with Ryan Blaney's non-compliant window net?
This time, the media peppered Miller about tires and the Hamlin-Byron incident. When asked if NASCAR considered a penalty for the No. 24 car, the vice president offered a shockingly weak explanation of why it was missed.   
"So, I'll have to be honest with you, Bob. When we were in the tower we were paying more attention to the actual cause of the caution up there and dispatching our equipment. The William Byron-Denny Hamlin thing, we had no eyes on," Miller admitted. "We saw Denny go through the grass. And by the time we got to a replay that showed the incident well enough to do anything to it, we had gone back to green, but I'm not sure that that issue is completely resolved as of yet. We'll be looking at that when we get back to work."
A few minutes later, another reporter circled back and asked Miller what would be done to prevent missing such a blatantly obvious call in the future. 
"The cameras and the monitors that we've got, we dedicate them mostly to officiating and seeing like our safety vehicles and how to dispatch them and all that," he said. "By the time that we put all of those cameras up, we don't have room for all of the in-car cameras to be monitored. 
"So we're going to look at having — because we could, if we would have had immediate access to the 24 in-car camera, that would have helped us a lot being able to find that quickly. That's definitely one of the things that we're looking at."
Texas-sized embarrassment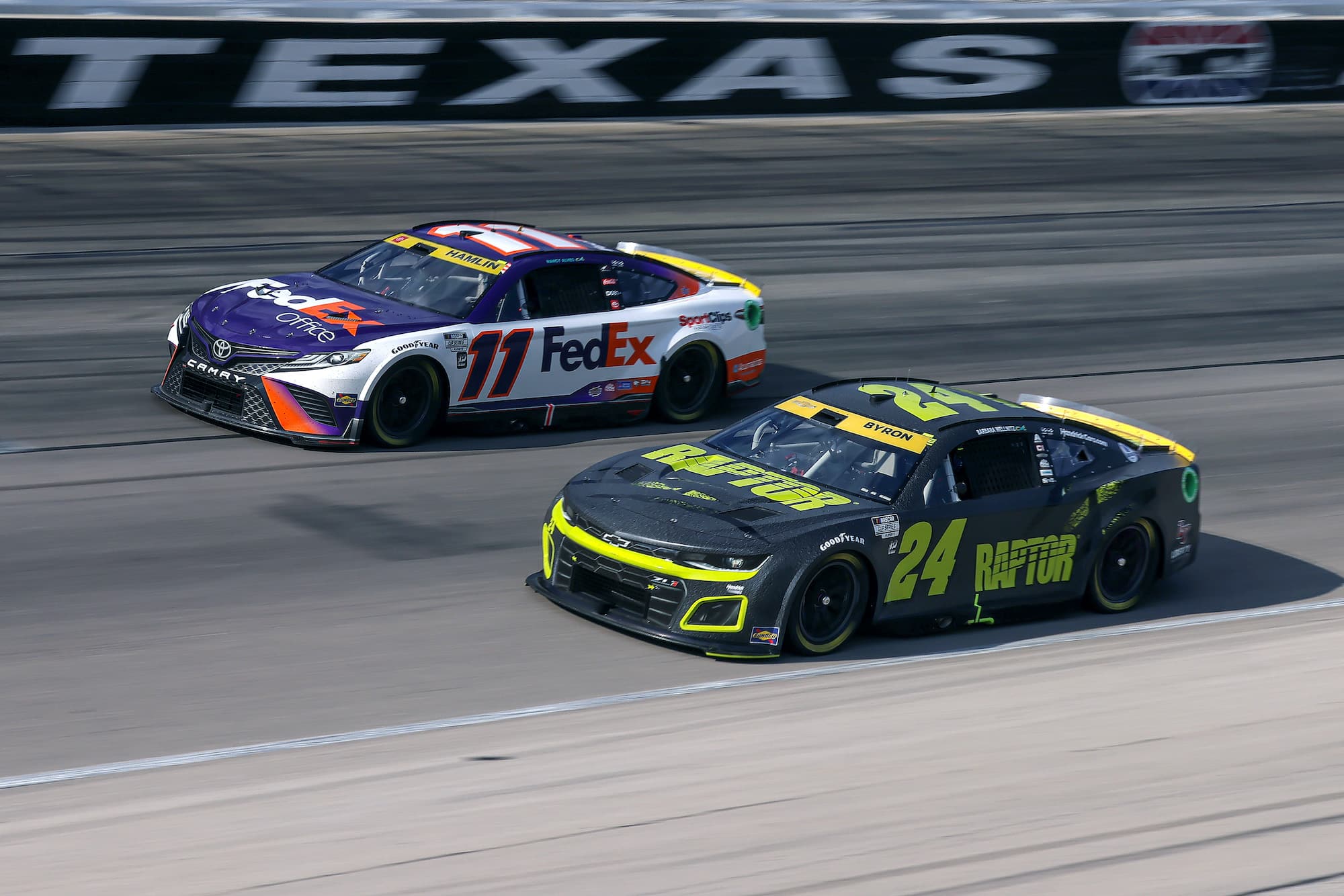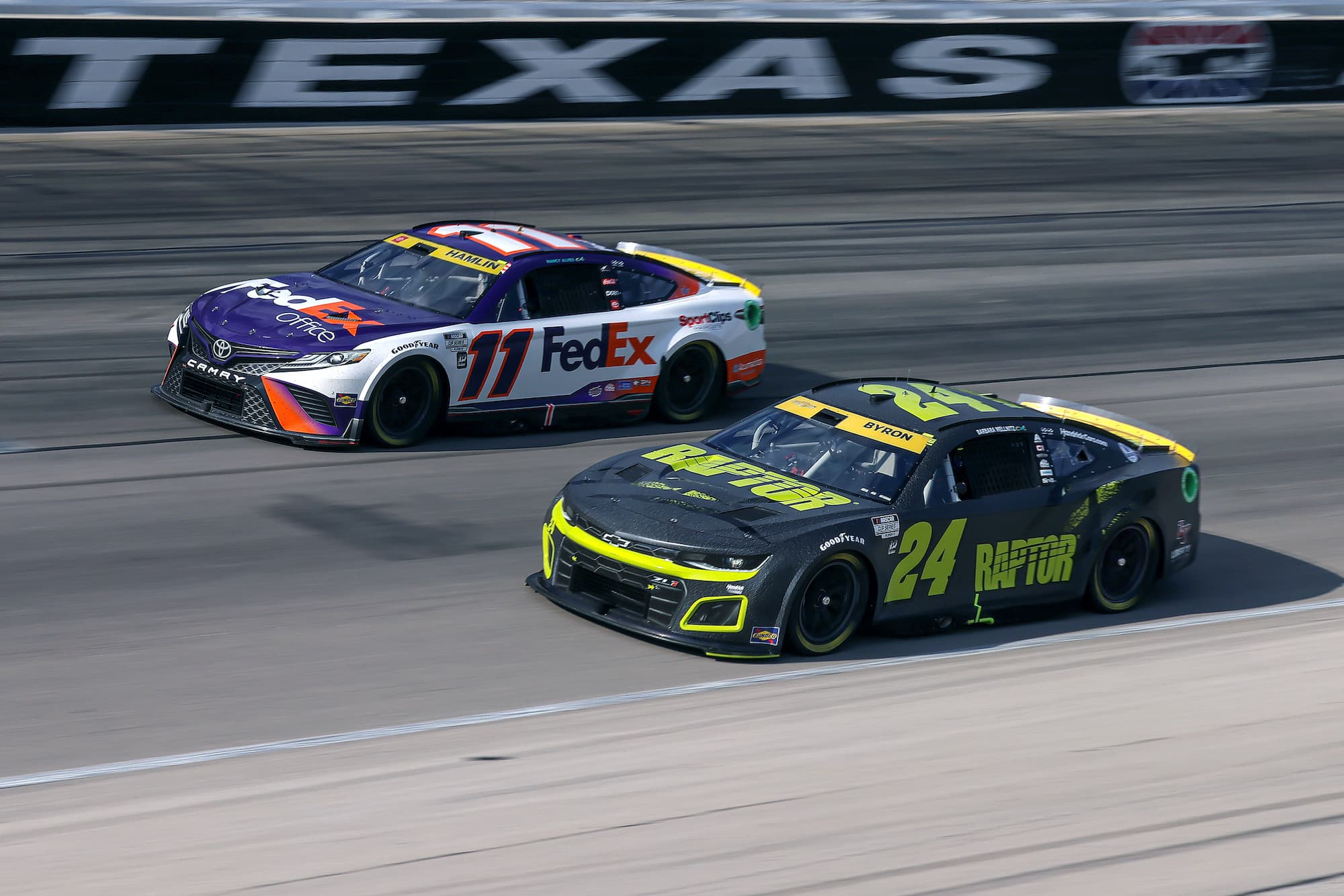 Miller suggesting that they didn't have access to Byron's in-car camera video up in the tower is downright ludicrous. It was just three weeks ago that NASCAR was touting how all cars will have in-car cameras for the rest of the season. All. Cars. And all fans have access.
And here's the kicker: NASCAR's own Twitter account posted Byron's in-car camera within minutes of the incident.  
Yet fans are now somehow expected to believe that the officials watching the race up in the tower don't have the ability to immediately access any camera at any time and review it?
The tires blowing up on Sunday was a bad enough PR nightmare. But NASCAR's inaction on the Hamlin-Byron incident and its subsequent unacceptable explanation are significantly worse because they could potentially affect the playoff battle. That sends a disturbing message that officials might not be paying attention to everything they should be. And when they don't, they're going to make up a story that no one is going to believe.   
Like Sportscasting on Facebook. Follow us on Twitter @sportscasting19 and subscribe to our YouTube channel.