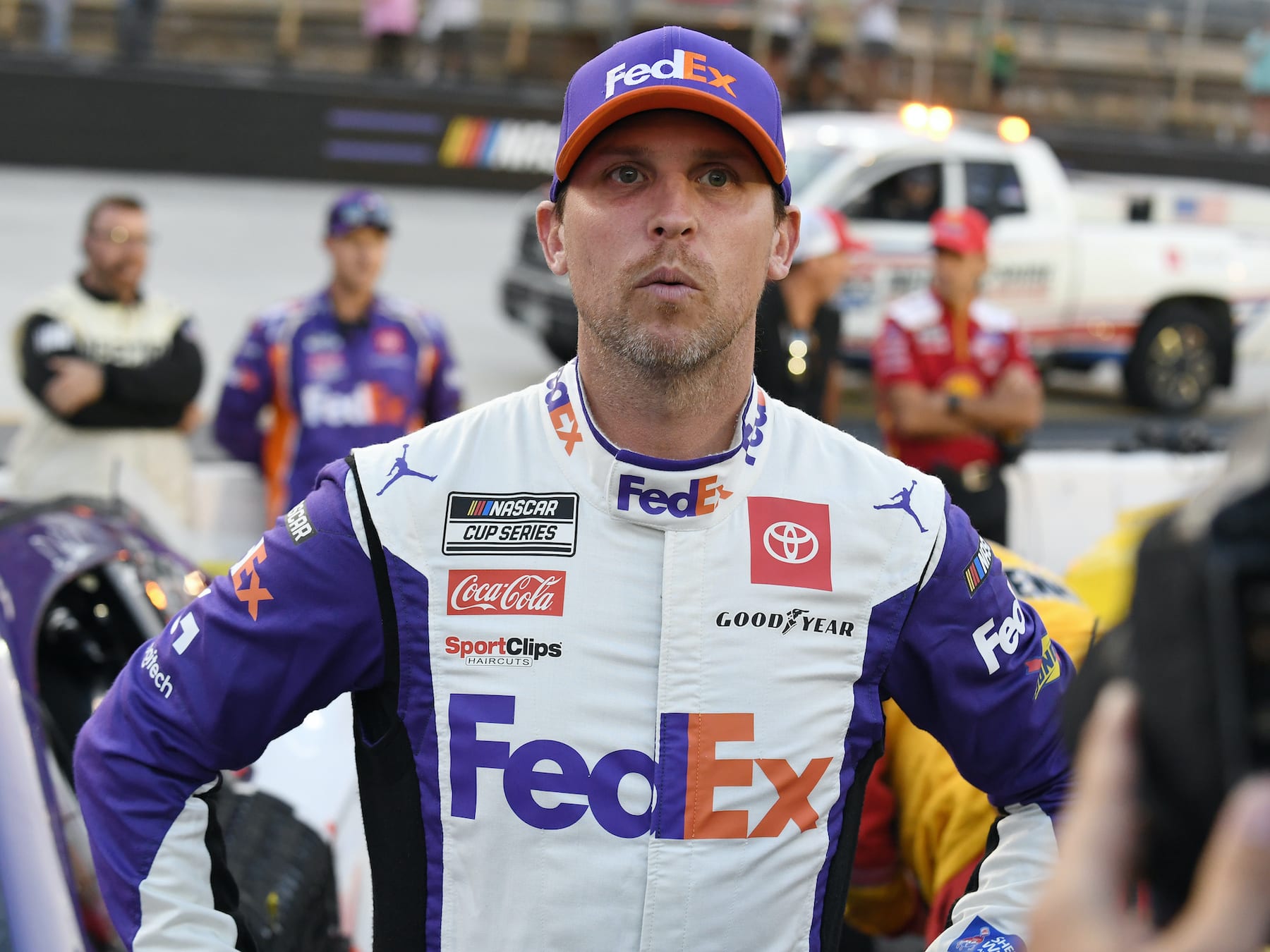 Denny Hamlin Unexpectedly Pulled Aside by Joe Gibbs After Texas for Conversation, and Driver Didn't Have Much to Say
Denny Hamlin was unexpectedly pulled away from reporters after Texas by Joe Gibbs, who had a very one-side conversation with his driver.
Denny Hamlin has been outspoken in the past when involved in some sort of conflict with another driver. Joey Logano and short-track racing comes to mind. Last year, it was Alex Bowman the hack. 
On Sunday night at Texas, the Joe Gibbs Racing driver found himself at odds with Bowman's Hendrick Motorsports teammate William Byron, who spun the No. 11 under caution but was not penalized. An agitated Hamlin voiced his displeasure over the team radio. Moments after the race, the three-time Daytona 500 winner was about to start talking with reporters about the incident when Joe Gibbs intervened, pulled him aside, and had a very one-sided conversation
Denny Hamlin spun out by William Byron at Texas
Denny Hamlin avoided tire issues at Texas, unlike many of his fellow competitors, including a couple of his teammates. However, he didn't manage to avoid trouble.
It came with 73 laps to go when he and William Byron raced hard for second place behind leader Martin Truex Jr. Coming out of Turn 2, door-to-door with the No. 24 on the outside, the exhaust pipe of the No. 11 lit up with fire, indicating he was lifting off the gas as the cars moved up the track.
Hamlin came up considerably short of the wall. Byron did not. Immediately after contact, the HMS driver responded, driving his car hard into Turn 3 and making it three-wide with the JGR car on his inside and Austin Dillon on his outside. That move slowed both cars, allowing the No. 3 to move into second place.
Seven laps later, Truex became the latest victim of the tire debacle coming out of Turn 4, when his right rear exploded and he went up into the outside wall. Within seconds of the spin and with yellow lights already flashing, Byron pulled up behind Hamlin, made contact with the rear of the No. 11, and sent him sliding into the infield grass. 
For the next several minutes, talk over the No. 11 team radio was complete disbelief about what had just happened. Crew chief Chris Gabehart noted that it was just hard racing coming off Turn 2, and his driver was even lifting off the gas. 
The driver grew increasingly frustrated when NASCAR denied his attempt to rejoin the field in the second position where he originally was when Byron wrecked him and opted not to penalize the HMS car for its action. 
"I'll give him a penalty if he comes back to me," Hamlin told his team over the radio.
Hamlin has unexpected conversation with Joe Gibbs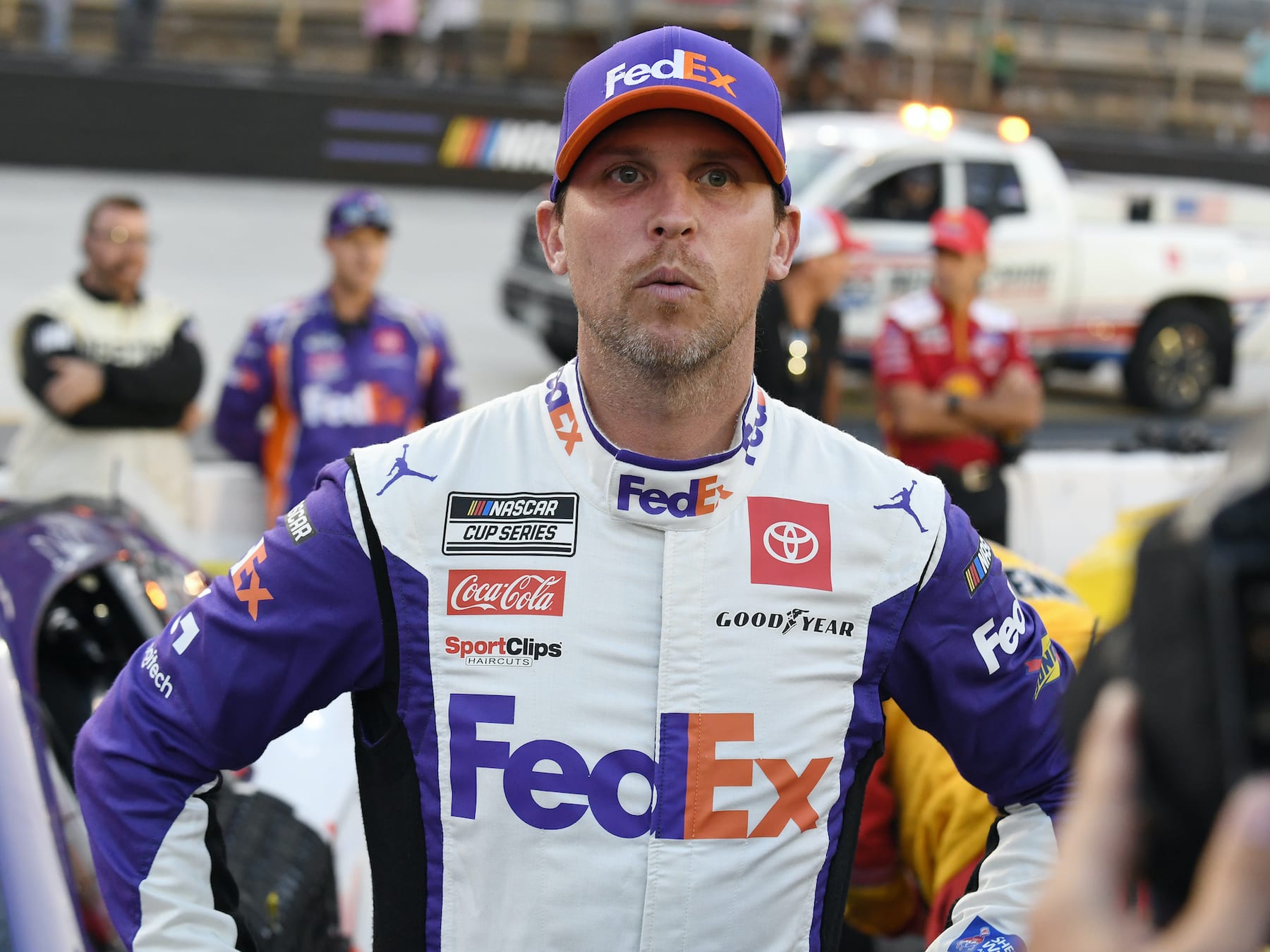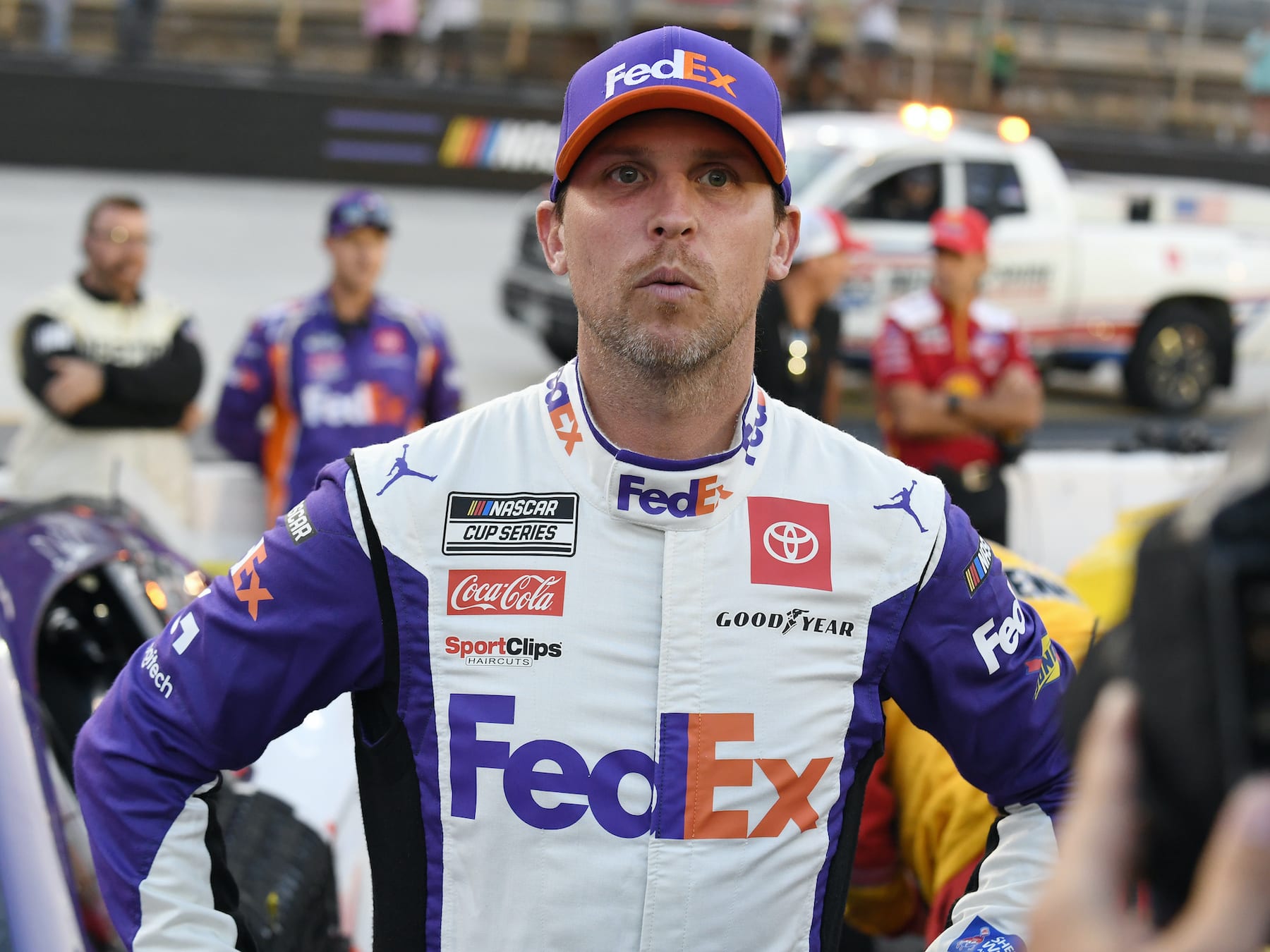 After the race, in which Hamlin finished 10th and Byron ended seventh, both drivers were made available to the media. Naturally, reporters wanted to know about the incident between the pair. 
However, just moments before Hamlin began to talk with those gathered around, Joe Gibbs walked up, grabbed his driver, and pulled him back to have what appeared to be a one-sided conversation. One team official standing nearby apparently didn't want the exchange filmed and casually walked in front to block the view of Gibbs and Hamlin. 
A minute later, Hamlin returned and talked with reporters and provided his side of the story. He was relatively calm in describing what happened. 
William Byron could have benefitted from similar meeting with team official
No one knows what was said in that conversation between Hamlin and Gibbs. Whatever it was, it was clear the driver wasn't doing a lot of talking. Byron could have probably benefitted from a similar sort of session with Rick Hendrick or Jeff Gordon after the race (see Watkins Glen).
If that happens and Byron is told to be mindful of what he says, he doesn't bluntly admit to reporters that he intentionally ran into the back of Hamlin although he didn't mean to spin him. More importantly, he's likely still third in the playoffs and not below the cutoff line, and has $50,000 in his bank account because NASCAR hasn't penalized him for his actions. 
It's an expensive and painful lesson for Byron, but at just 24 years old, he's still learning. Unfortunately, his team could have helped him out in this situation, didn't, and it proved costly.
Like Sportscasting on Facebook. Follow us on Twitter @sportscasting19 and subscribe to our YouTube channel.