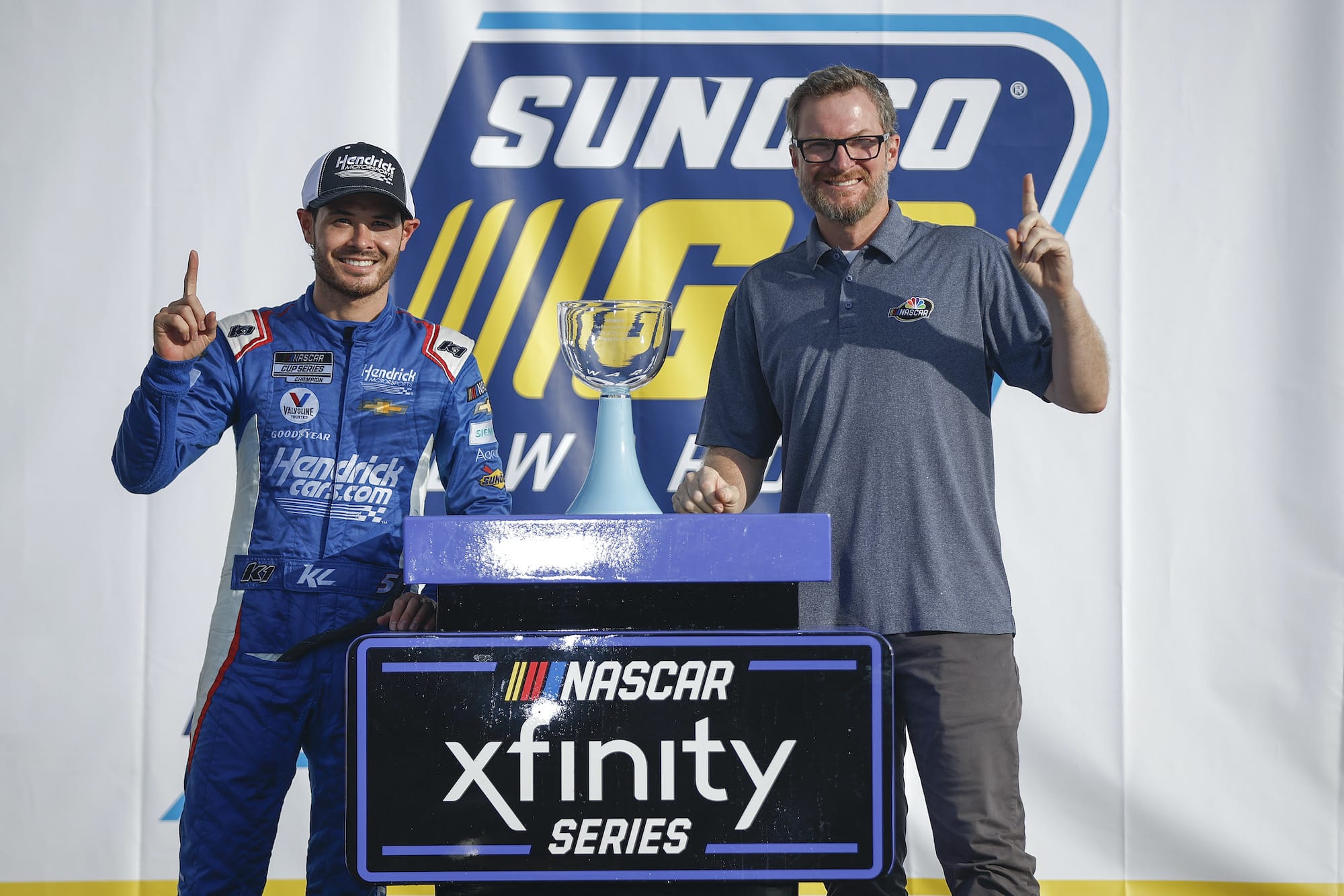 Dale Earnhardt Jr. Analyzes Kyle Larson-Chase Elliott Incident and Fans of the No. 9 Won't Be Happy With What He Had to Say
Dale Earnhardt Jr. analyzed the Kyle Larson-Chase Elliott incident at Watkins Glen, and he said one driver made a miscalculation.
Kyle Larson running Chase Elliott out wide on the final restart, which ultimately decided the winner at Watkins Glen, will be one of the more memorable stories from the 2022 Cup Series season. Since it happened, everyone has had an opinion on the situation.
Dale Earnhardt Jr. joined the conversation this week when he offered his take on the incident in the latest episode of his podcast. In typical Earnhardt fashion, he didn't sugarcoat his answer and called it as he saw it on Sunday. It's a foregone conclusion, many fans of the No. 9 team won't be happy with what Junior had to say.  
Kyle Larson moves Chase Elliott late at Watkins Glen
Chase Elliott had been the dominant car most of the day at Watkins Glen, leading a race-high 29 laps. But as all race fans know, there's only one lap that matters. With the laps winding down, Kyle Larson, Michael McDowell, and several other drivers were in the hunt. 
It all came down to a final restart with five laps remaining, when Larson and Elliott started on the front row side-by-side, with the No. 9 on the outside. The reigning Cup champion drove it hard into Turn 1, locked up his brakes, and went out wide, escorting his teammate with him. 
When the cars cleared the turn, Larson was in front with AJ Allmendinger right behind him. Elliott had dropped back to third. Several laps later, the No. 5 car took the checkered flag for his second win of the season while his teammate finished three spots behind in fourth.  
Dale Earnhardt Jr. suggested Elliott expected too much from his teammate
This week on the latest Dale Jr. Download, Dale Earnhardt Jr. talked about what happened on that final restart between the HMS teammates. 
"As we're starting to come down the back straightaway and cars are double-filing up, I see AJ (Allmendinger) is lined up on the inside for Turn 1," Earnhardt recalled. "I thought Larson is going to have to overdrive the entry. He cannot go into this corner with the intent to make the middle and hit the apex. He's going to have to overdrive it because if you don't, AJ is going to be on the inside of him. 
"It was interesting that Chase took that outside. I think that Chase may have expected too much from Larson in terms of, 'Hey, take care of me. I'm going to start over here, so don't use me up.' I think that maybe Chase was expecting a little too much help from a teammate in that moment. With AJ on on his heels, and everything around him, late in the race, downhill braking zone, it's a lot to ask from Larson to line up on his left side."
Earnhardt said it was out of Larson's control once he locked up the tire. However, once he regained control of his car, he didn't cause any unnecessary harm to his teammate. 
"I think that once he got the tire unlocked, he made the corner the best he could without giving up any momentum, and he also gave Chase enough room on the outside of him to do some work," Junior said. "He didn't make Chase have to lift and miss the fence like maybe Denny and Ross. Chase did have to run way wider than he probably wanted to run, but he did have room out there to operate. To me, it's racing. It's hard racing. It's the end of the race. It's the last restart. The guy is your teammate. There is some level of responsibility not to wreck your teammate. You've got to race for the win."
Earnhardt excited to have Larson win in Xfinity Series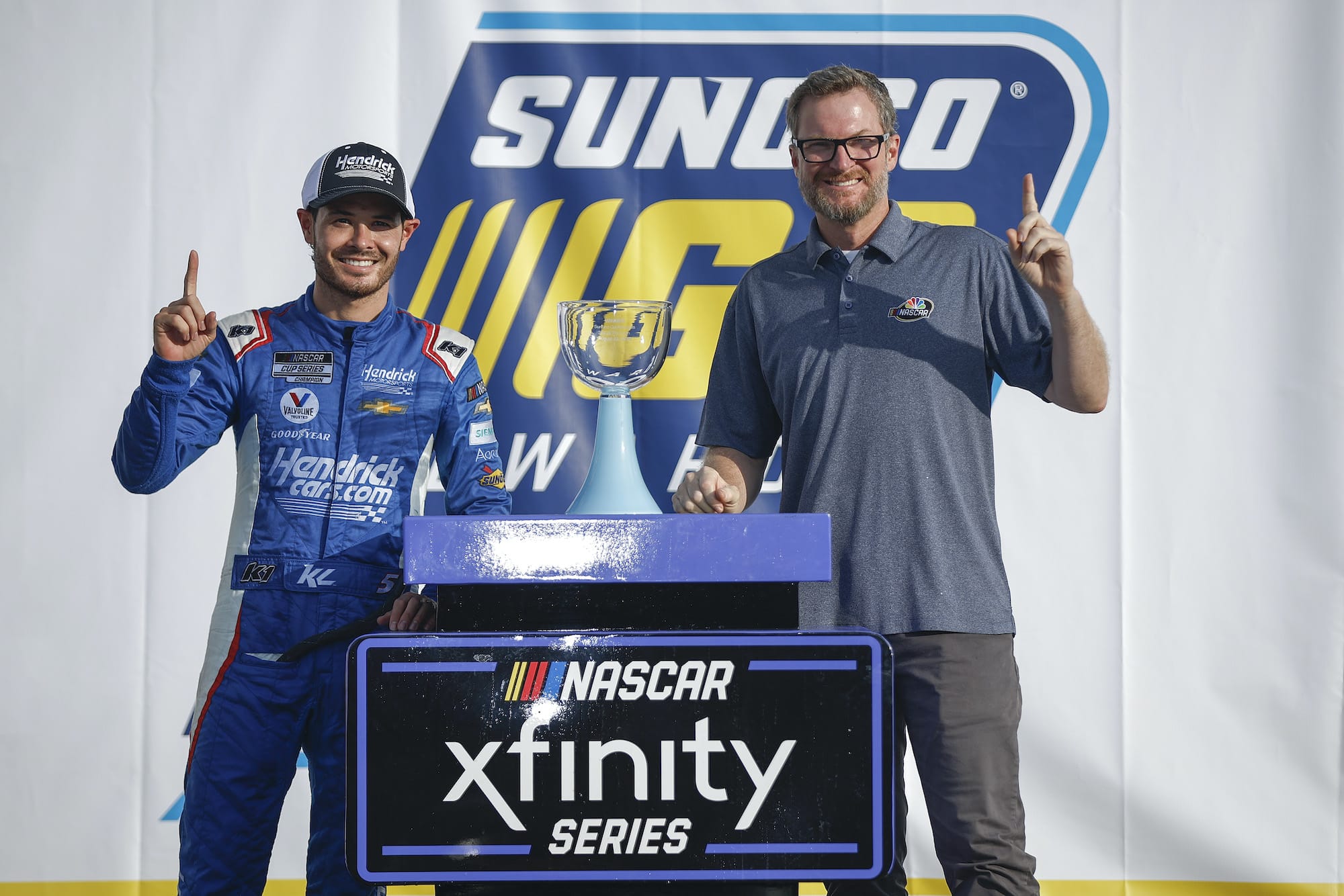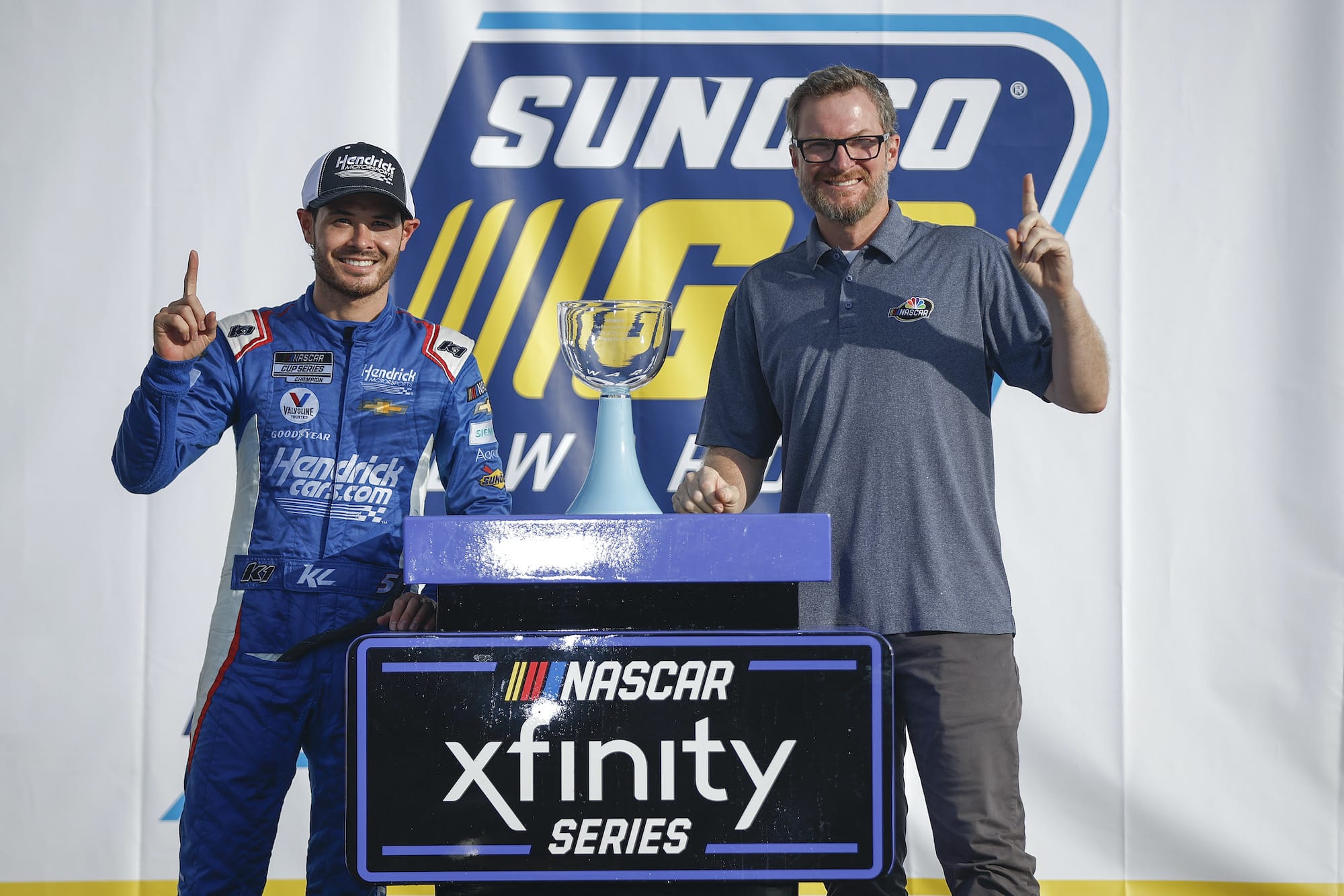 Earnhardt's view on what happened between the two HMS teammates isn't unique. Most fans consider it a racing incident. However, the NASCAR Hall of Famer had a reason to be biased after Larson won for JR Motorsports the day before in the Xfinity Series race. Junior said that was a great experience to have the current Cup champion drive one of his cars.
"There's so many guys that have raced our cars," he said. "It's just awesome to have, like Clint Bowyer and Cup guys come down and they're freaking Cup guys. They're elite. They're awesome. It's amazing for our company to have them. I'm very proud of it.
"Kyle's one of the greatest drivers in the sport, in motorsports, globally. One of the best at it right now. I never thought that we were ever going to have the opportunity where it would align to have him in our cars. Every time he suits up and gets in a car he's got a shot to win because of who he is. It didn't look like we were going to win that day." 
After Ty Gibbs and William Byron were involved in a late-race incident that took both cars out of contention, Larson, who was running third, was the beneficiary and went on to win. Earnhardt celebrated the moment with the driver, albeit briefly in Victory Lane.
"He was just wrapping up, taking the final few pictures, so I jumped up there. I said, 'Man, I need a picture of this. I want to take a quick photo of him and the trophy.' He's like, 'Oh yeah.' He's driving the car again this year at Darlington. And he's like, 'We're going to get a win there.'"
A win at Darlington for Larson is possible in both the Xfinity and Cup races. And who knows, maybe it will also provide some late-race fireworks. His HMS teammate William Byron knows a little something about that.
Like Sportscasting on Facebook. Follow us on Twitter @sportscasting19 and subscribe to our YouTube channel.