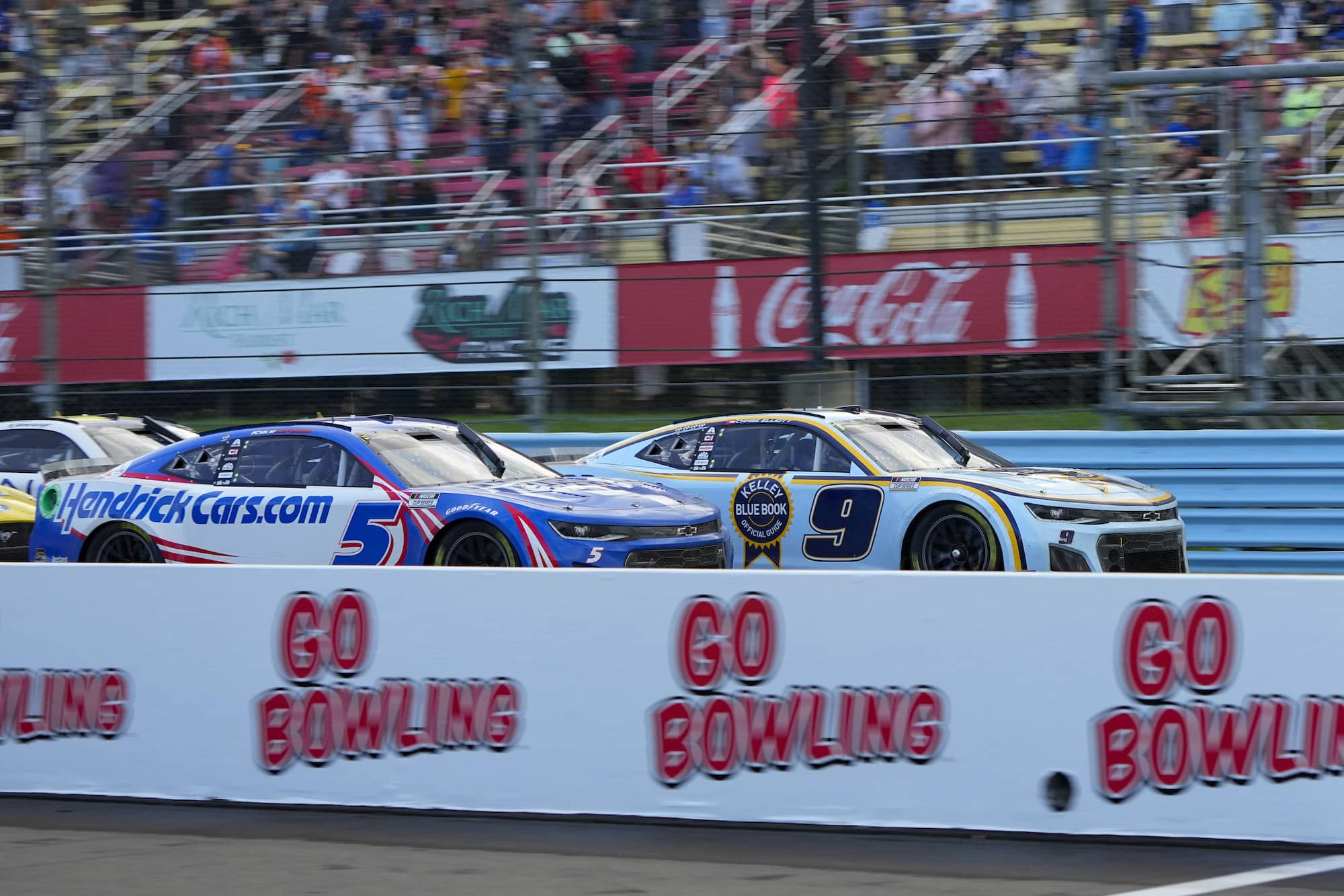 Kyle Larson Moving Chase Elliott at Watkins Glen Shouldn't Surprise Anyone Because He Did the Same Thing a Year Ago and Won 
What Kyle Larson did to Chase Elliott at Watkins Glen should have surprised no one. He pulled off the same move a year earlier and went on to victory.
Kyle Larson is the reigning Cup Series champ. However, this season has been considerably different compared to last, when he won nine times en route to capturing his first title. By this same point on the schedule in 2021, the No. 5 car had made five trips to Victory Lane. 
On Sunday, the Hendrick Motorsports driver won at Watkins Glen, his second victory of the season. While it's a fun fact that was the 30-year-old's second consecutive win on the road course, what's even more interesting is he made the same type of aggressive late move in both races that upset another driver.
Kyle Larson drives in hard, locks up, and sends Chase Elliott wide
Kyle Larson was chasing Chase Elliott at Watkins Glen like every other car in the field. The No. 9 car was the class of the field from the drop of the green flag, starting from the pole and ultimately leading a race-high 29 laps. 
With nine laps remaining, Elliott could have been challenged on a late restart by his HMS teammate, who started on the inside of the front row, but the 2020 Cup champion beat the No. 5 car out of Turn 1, surging back into the lead before another yellow came out. 
On the subsequent restart, the pair of HMS cars started from the same positions. However, this time around, it was a very different result when Larson drove it hard into the first turn, locked up his brakes, and went off track into the runoff area, his teammate helplessly going along for the ride with him. 
After the race, Larson admitted he wasn't particularly fond of the move but realized he had to do it to have any chance of winning. 
"Yeah, and I knew that was kind of my only opportunity. I'm not proud of it," he said. "But being in the inside lane, the right lane, being the leader, choosing the left lane, it definitely wins out. But when it gets to late in the race, it's definitely risky."
Larson made same move with Christopher Bell last year
Rewind to last year's race at The Glen. There was a battle up front in the final stage between a pair of Joe Gibbs Racing cars in Martin Truex Jr. and Christopher Bell, with Larson right behind. 
Heading down the long straightaway into Turn 1, Truex was out front of the Nos. 5 and 20 cars battling side by side, with Larson on the inside. Similar to what happened on Sunday, the HMS car locked up the brakes, drove up the track and into the side of Bell, who went for a spin. 
Unlike what happened on Sunday, Larson apologized to the JGR driver after the race. 
"I want to say a big apology to Christopher Bell," he said. "I was inside, but I wasn't inside enough, and I needed to have a nose a few feet further ahead, and the angle, I was just caught there in the middle, and I ended up turning him. I hate that. I race with him a lot. He's probably the one guy that I race with the most in all of my racing. I hate to turn him like that. We've had incredible races together."
Bell was understandably frustrated.  
"(Larson) didn't have a run on me coming off of (Turn) 7 whenever he charged Turn 1," Bell said. "I'm focused on trying to set up (Truex), and (Larson) is dive-bombing me from whatever it was, three car lengths back at the flagstand. Just extremely frustrating that I was equal to him – probably better than him – and he won the race. We had an opportunity taken away from us."
What happens between the two HMS teammates?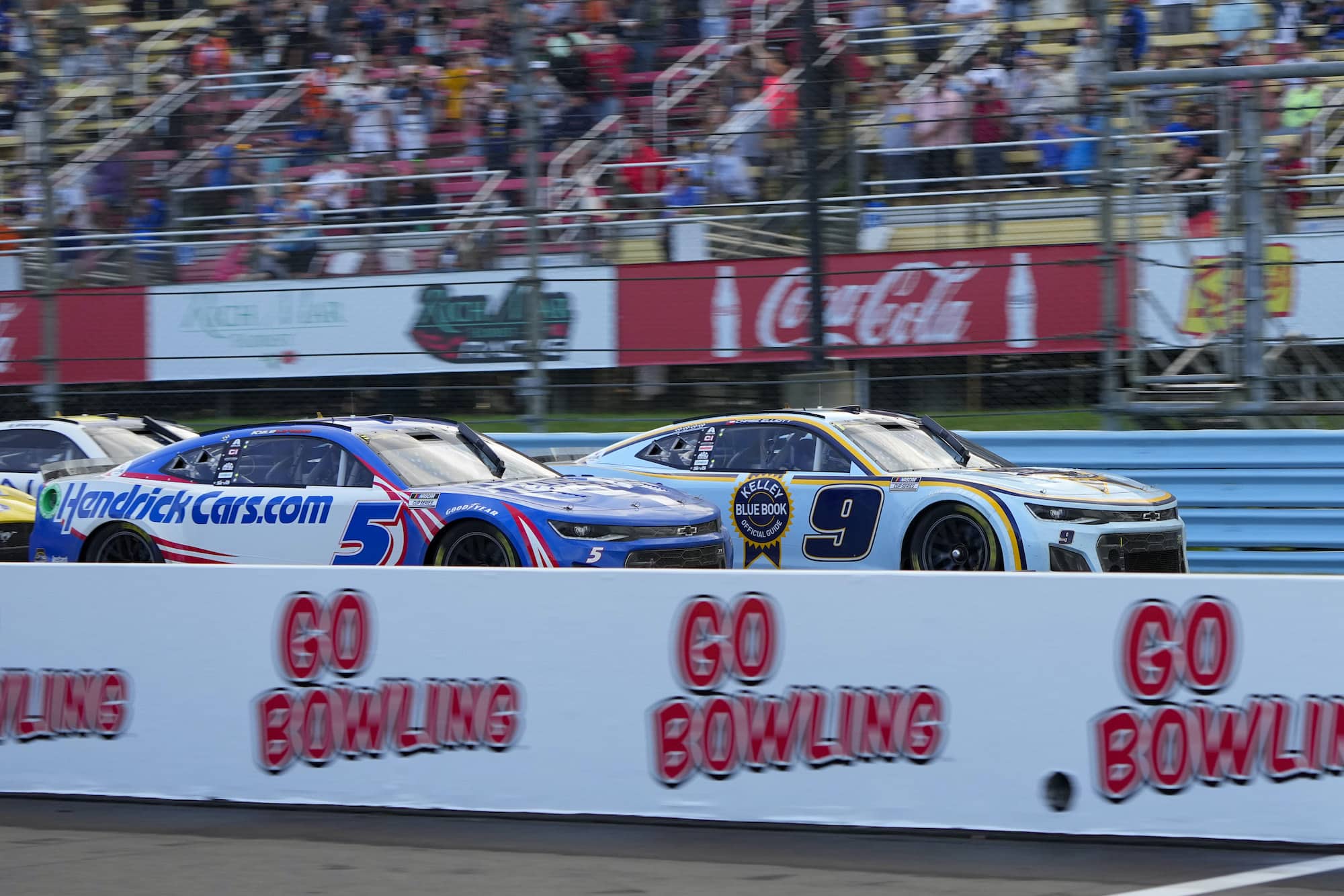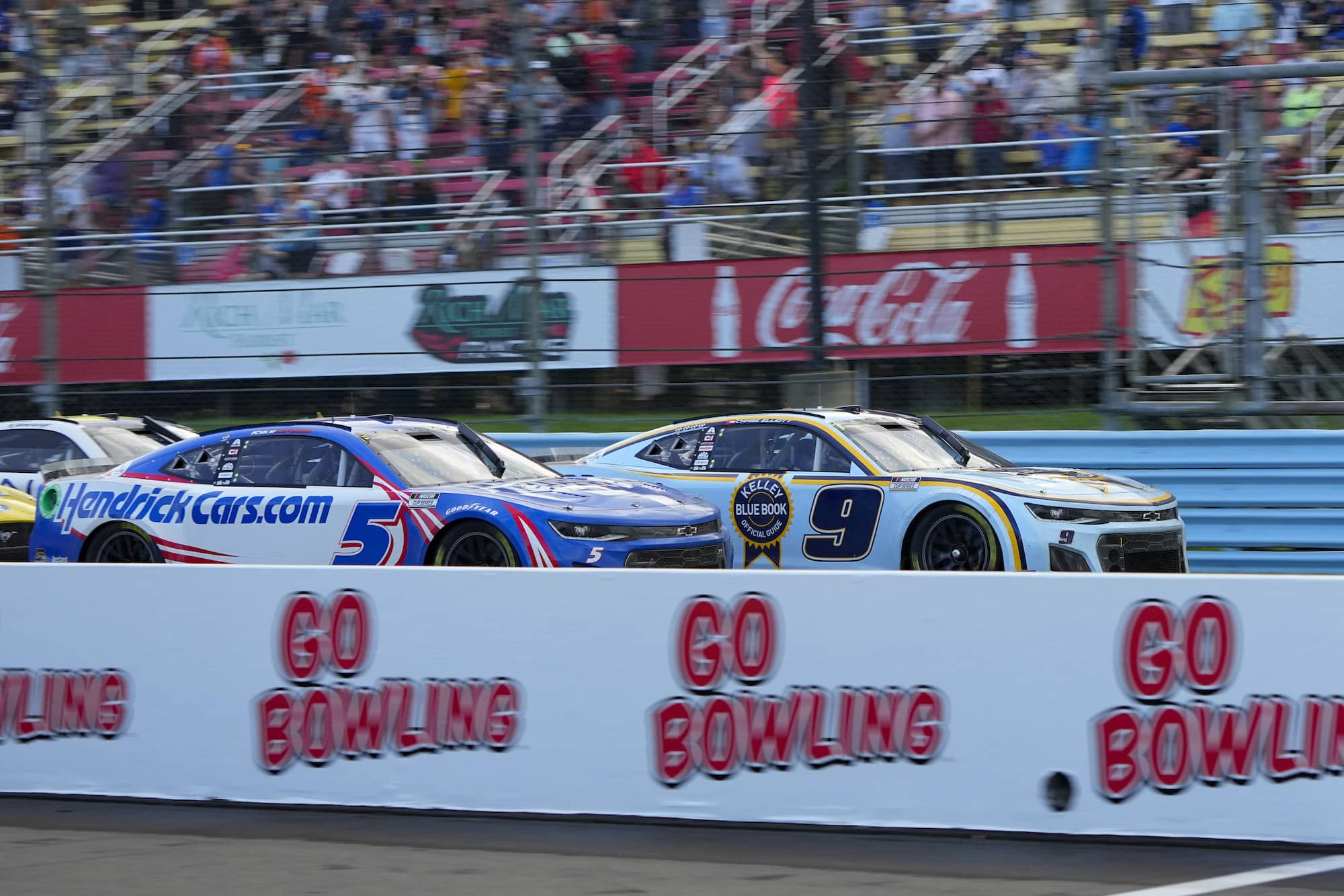 Chase Elliott could have echoed Bell's remarks on Sunday about the opportunity being taken away by Larson. He didn't. Instead, he played the role of a good team player and toed the company line, suggesting how happy he was for HMS to get the win. 
Last year, Larson appeared on SiriusXM NASCAR Radio, backtracked on accepting full responsibility for the incident with Bell, and called out the JGR driver for refusing to talk to him about it. 
"I reached out and tried. But I guess he's not willing to talk to me, which is kind of, whatever," Larson said. "Any other adult in the field would at least have a conversation with you. But he doesn't care to. We'll move on from it and if he wants to get me back, that's fine. The quicker, the whatever. I'm not going to worry about it. If it makes him sleep better at night to ignore me and then want to crash me or whatever, so be it."
Returning to the present, there was no ignoring the situation between the two HMS teammates. They met on Monday, and Larson admitted what came from it is that he must show more respect going forward. Should he be worried that Elliott might retaliate and crash him after their second incident this season? Time will tell.
Like Sportscasting on Facebook. Follow us on Twitter @sportscasting19 and subscribe to our YouTube channel.