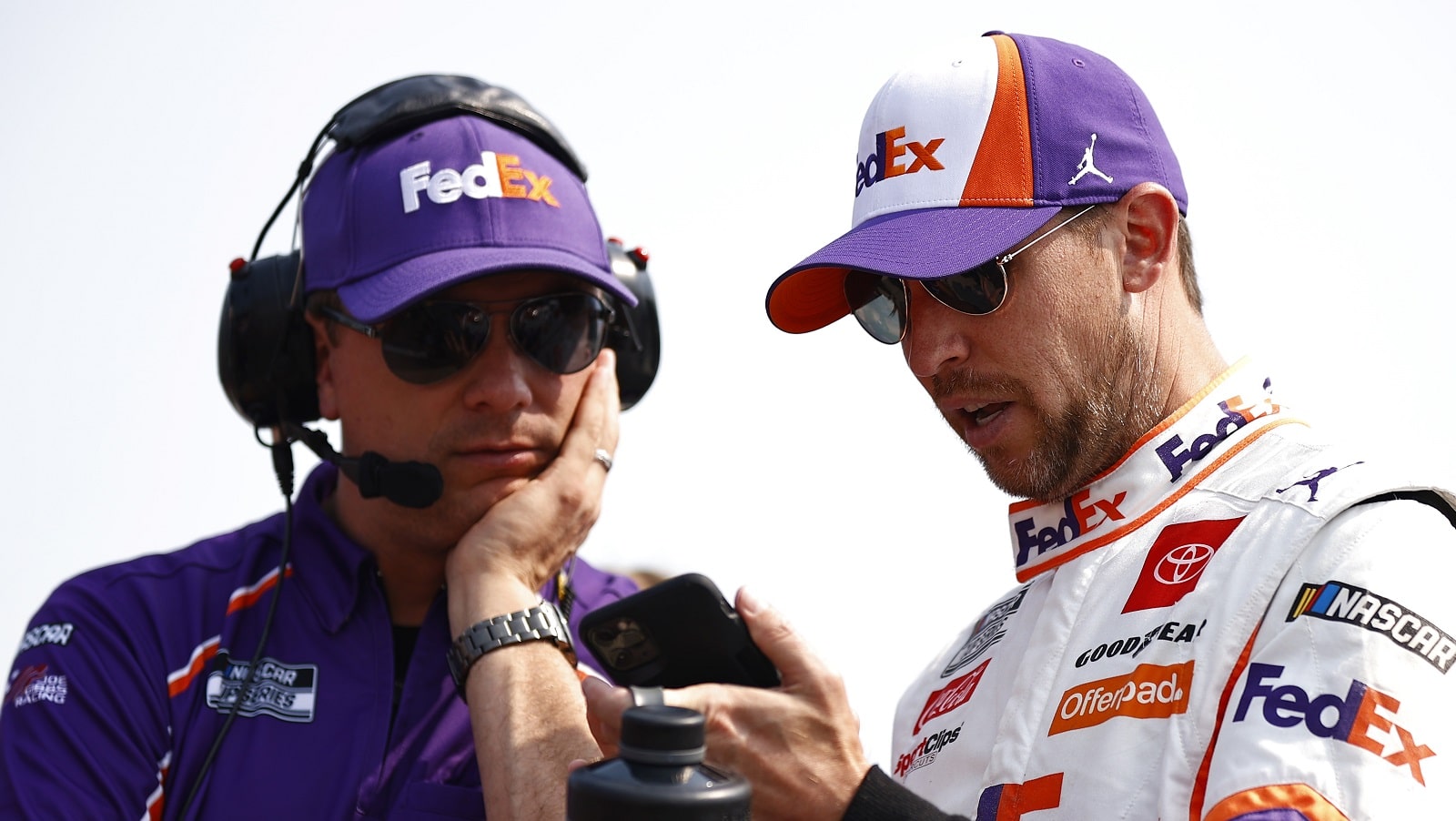 Denny Hamlin's Crew Chief Is Delusional in Thinking the No. 11 Toyota Is a NASCAR Cup Series Threat
Crew chief Chris Gabehart is more optimistic about Denny Hamlin and the No. 11 Toyota than the facts support.
Winning a race, which generally guarantees making the playoffs, justifies some confidence. However, Denny Hamlin's crew chief sounds borderline cocky. It's tougher to back that up when your team stands 22nd in the NASCAR Cup Series standings.
Then again, you need something to keep you going when the No. 11 Toyota hasn't finished better than 18th since the end of March and you're heading for a four-week suspension.
Chris Gabehart says Denny Hamlin's team is more than a little 'dangerous'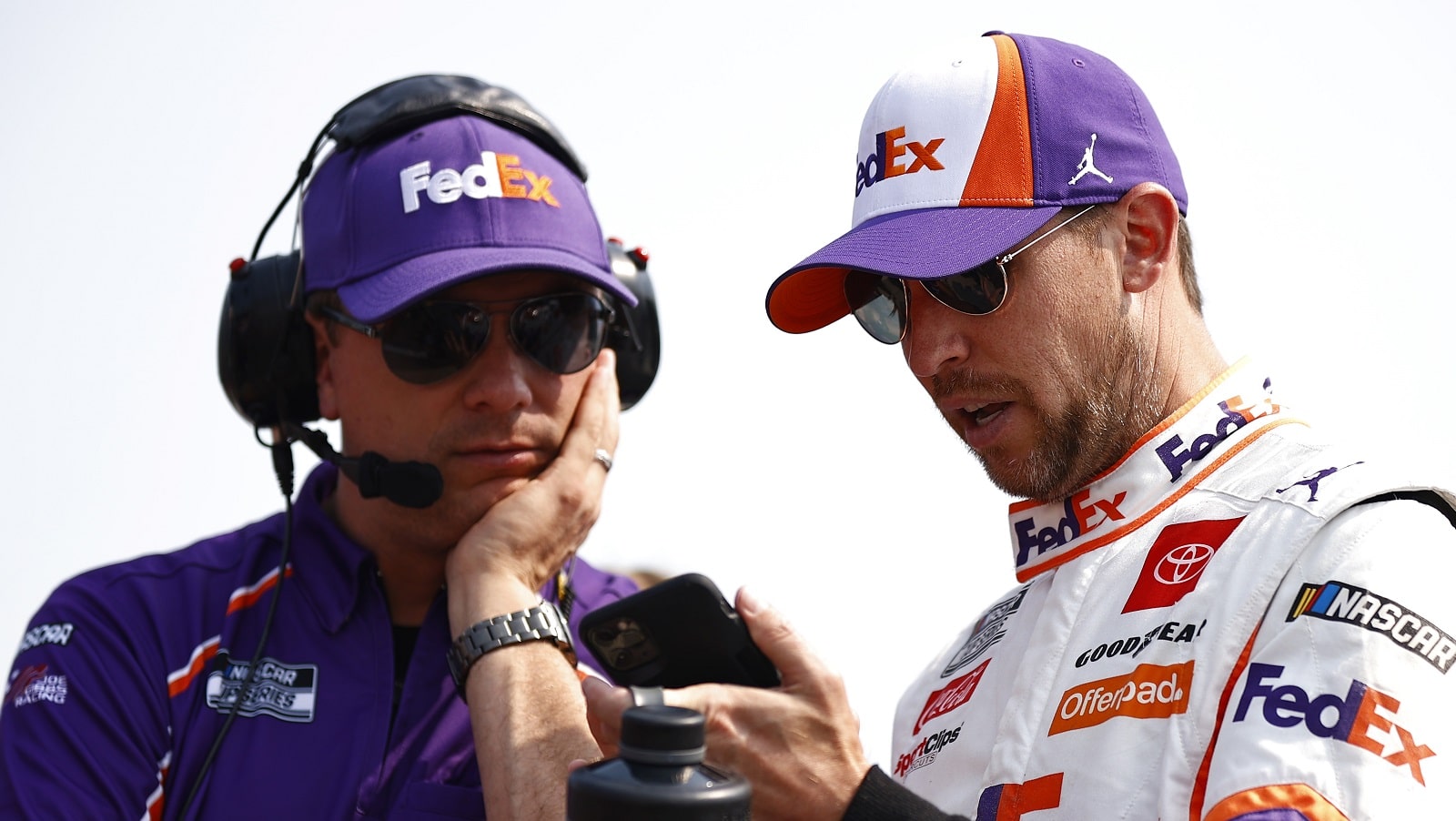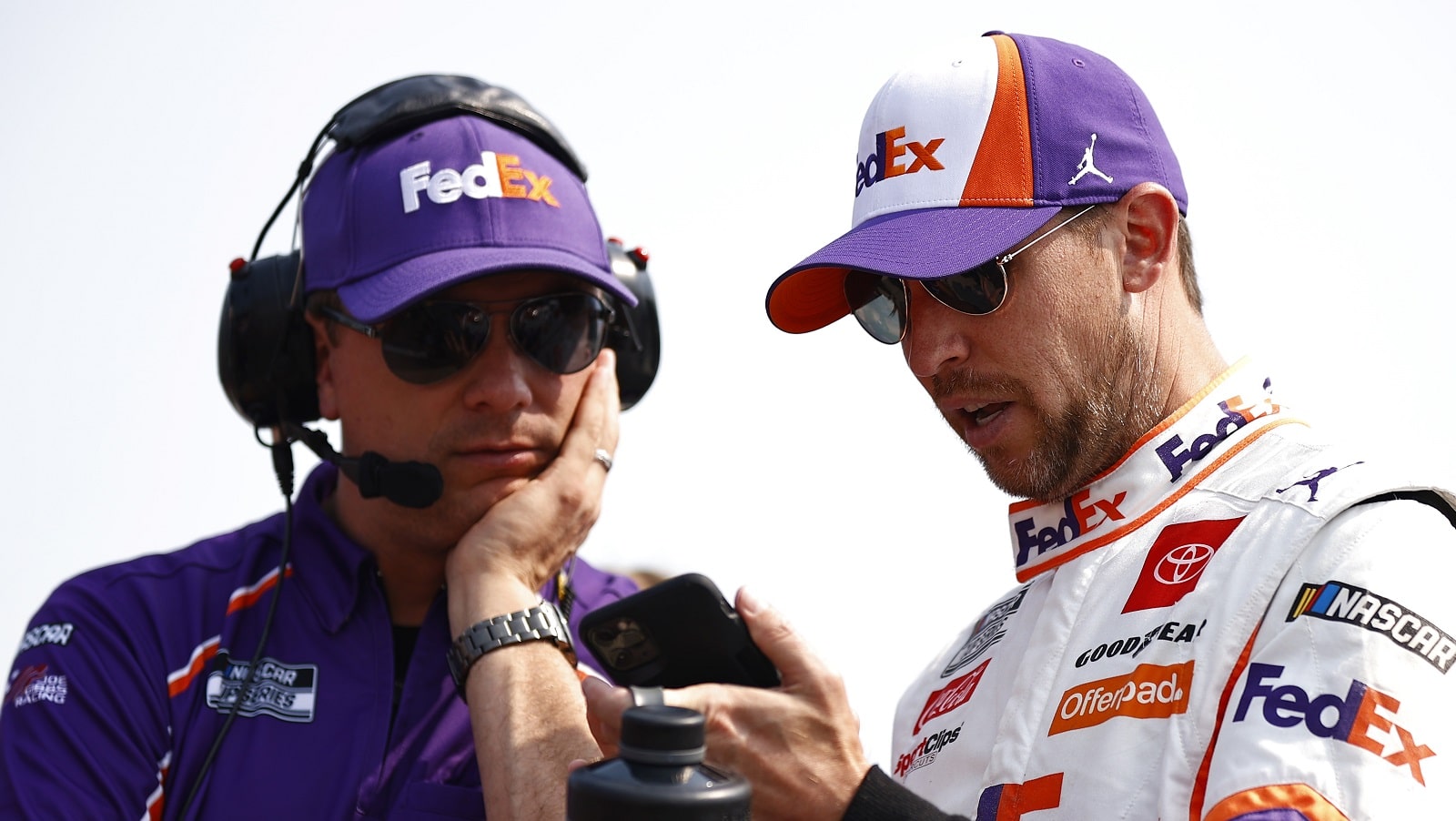 We'd normally give crew chief Chris Gabehart the benefit of the doubt. After all, the No. 11 Toyota finished fourth, fourth, and third in the NASCAR Cup Series the previous three seasons with Gabehart atop the box. Danny Hamlin's victory at Richmond this season gave the tandem 16 wins in 117 starts together.
That being said, this season has been awful. Hamlin didn't score any top-10 finishes before winning at Richmond, nor has he done so since. While Hamlin has indisputably had bad luck, including consecutive 21st-place showings at Dover and Darlington, the FedEx car has mostly been delivering as U.S. Postal Service levels in 2022.
That isn't keeping the crew chief from exuding confidence, however.
"I am convinced that we are the most dangerous … 22nd-place points team in the history of the sport," Gabehart said, according to NBC Sports. "I am convinced that we are the most venomous snake laying in the grass.
"Any week we can jump up and turn this thing on its ear."
The facts strongly suggest otherwise
Yes, Denny Hamlin has made some strong runs. The past two outings illustrate that. At Dover, Hamlin won the opening stage only to have a wheel fall off following the subsequent pit stop. He worked his way back to fourth place before Cody Ware's wreck collected him.
At Darlington, overnight repairs sent Hamlin to the back of the field. He worked his way back into stage points and even led early in the third stage. From there, though, he cost himself places by brushing the wall on Lap 243 and slipped to 18th place when a bulky air gun slowed a tire change. Finally, the nine-car wreck 37 laps short of the finish inflicted enough damage on the Toyota to assure also-ran status.
Hence, 22nd place in the latest points standings.
If crew chief Chris Gabehart wants to play the what-if game, he could check in with 16th-place driver Erik Jones about the costly wrecks that weren't his fault. If he wants to discuss shortcomings in the pits, talk to Ryan Blaney, third in points despite losing countless places while pitting at Fontana and Phoenix.
As for dangerous any time? Bubba Wallace is two spots behind Hamlin in points with the same number of top-five and top-10 finishes; no one thinks of Wallace as particularly dangerous these days. Two spots ahead of Hamlin, Justin Haley also has a single top-five finish and is coming off a solid month of results, but the No. 31 Chevy is not the most dangerous 20th-place car in the history of the sport.
Denny Hamlin lacks consistency in the Next Gen car
When assessing Denny Hamlin, also consider Kyle Larson. The defending NASCAR Cup Series champion has registered four DNFs, matching Hamlin misfortune for misfortune, and also owns a single victory. Yet, Larson is ninth in points.
Crew chief Chris Gabehart will be going out soon on a four-week suspension once the appeal of the loose wheel at Dover is heard and rejected. When he returns, it will be a different sort of season. Hamlin can't climb high enough in the standings to snare extra playoff points, so the team really can only gun for victories.
"It's no longer a season that is defined by 36 races, it's not," Gabehart said in the NBC Sports interview. "It's defined at getting hot at the right time and dominating when it's time to dominate, and this team has the ability to do that. That's the message. The message is try to gain some more playoff points and get hot when it's time."
The No. 11 Toyota isn't going anywhere without consistency. A year ago, Larson had one bad playoff race (37th at Talladega) en route to the title. Hamlin was remarkably consistent, too, with 24th at Martinsville his only showing worse than 11th.
Each stage leading up to the Championship 4 is a three-race battle to survive. Hamlin's team does not have the look of one that can string together three consecutive solid performances. Maybe Hamlin skates by the first time and transfers into the final 12 drivers after the third playoff race, but one slip-up in the next round and hope goes out the window.
Like Sportscasting on Facebook. Follow us on Twitter @sportscasting19 and subscribe to our YouTube channel.