Brad Keselowski Admits He's Been Part of Escalating Problem and Thinks NASCAR Sent a Clear Message With Penalties to William Byron and Ty Gibbs
Brad Keselowski candidly admitted on NASCAR Race Hub that he's been part of an escalating problem of drivers taking the law into their own hands and NASCAR sent a clear message with its latest penalties.
Brad Keselowski knows what it feels like to be on the receiving end of a NASCAR penalty. NASCAR made an example of his Roush Fenway Keselowski team earlier this year, docking the No. 6 driver 100 points for modifying a single-sourced part. It effectively ended any chance for the 2012 Cup Series champion to make the playoffs on points. 
On Tuesday, NASCAR was at it again, imposing stiff penalties to William Byron and Ty Gibbs for infractions committed at Texas. Within minutes of the news, Keselowski appeared as a guest on NASCAR Race Hub, where he said NASCAR sent all the teams a message with the punishments for an escalating problem that he admitted he's been a part of in the recent past.  
William Byron fined for incident with Denny Hamlin
William Byron didn't like how Denny Hamlin raced him coming out of Turn 2 in the final stage at Texas. The Hendrick Motorsports driver immediately showed his displeasure by running Hamlin shallow on the next turn and making it three-wide with Austin Dillon. However, that was just the warning shot. 
Seven laps later, after the caution came out for a spinning Martin Truex Jr., Byron dispensed his full retaliation when he ran into the back of the No. 11, sending the JGR car spinning into the infield grass. 
After the race, Byron surprisingly admitted that he deliberately ran into Hamlin but said spinning him wasn't part of the plan.
"I didn't mean to spin him out," Byron told reporters. "That definitely wasn't what I intended to do. Just meant to bump him a little bit and show my displeasure." 
On Tuesday, NASCAR showed Byron its displeasure with his move, docking him 25 driver points and handing down a $50,000 fine. The points loss drops him from third in the playoff standings to below the cutline before Sunday's race at Talladega.
The sanctioning body also fined Ty Gibbs $75,000 and docked him 25 points for door-slamming Ty Dillon on pit road and putting NASCAR officials in danger.  
Brad Keselowski addresses penalties and offers surprising take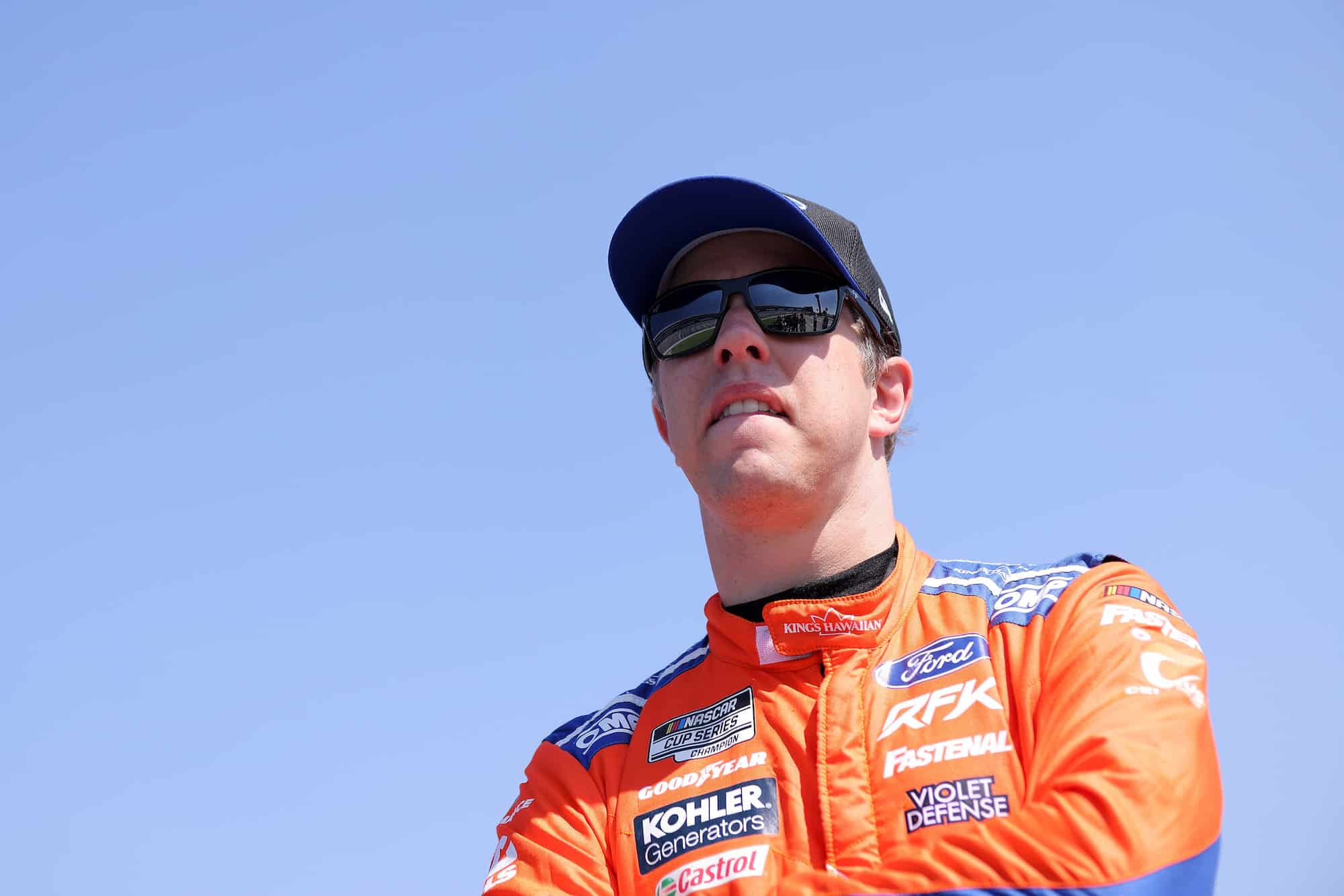 Brad Keselowski made one of his regular guest appearances on NASCAR Race Hub this week, and producers couldn't have selected a more perfect show for the driver-owner to be a part of, considering the day's news. 
While Keselowski is certainly familiar with feeling the wrath of NASCAR's penalty system, he offered an interesting perspective on the punishment, suggesting the sanctioning body had run out of options with driver conflicts on the rise. 
"This is a really harsh penalty," Keselowski admitted. "At first glance, I'm kind of not so sure about this one. But I also put myself in NASCAR's shoes. What I really see them doing here with both of these penalties is trying to get control back over the garage. The drivers over probably the last year or so, it's escalating.
"We saw the Denny Hamlin-Alex Bowman thing after the race at Martinsville. I've had an incident with Austin Dillon in New Hampshire. It's escalating. If they don't put their foot down, it's going to keep going."
Keselowski and Austin Dillon tangle at New Hampshire
Keselowski referenced his run-in with Austin Dillon back in July at New Hampshire. That's when just past the midway point of the race and during a caution, Dillon was driving on the inside of Keselowski and unexpectedly moved up the track and swerved his Richard Childress Racing car into the side of the No. 6 car.
The RFK driver immediately responded, veering to his left and slamming hard into the No. 3 car, smoke billowing out from both sides of the cars. The pair continued to make contact with each other down the straightaway until Dillon ended up on the infield grass. Moments later the RFK car pitted to replace a flat left-front tire. Neither team was penalized for the incident. 
Months later, Keselowski agrees that his aggressive driving was part of a growing trend among drivers taking the law into their own hands. With this latest penalty, NASCAR is hoping to quell it from happening in the future. According to the RFK driver-owner, the message has been received loud and clear.
Like Sportscasting on Facebook. Follow us on Twitter @sportscasting19 and subscribe to our YouTube channel.