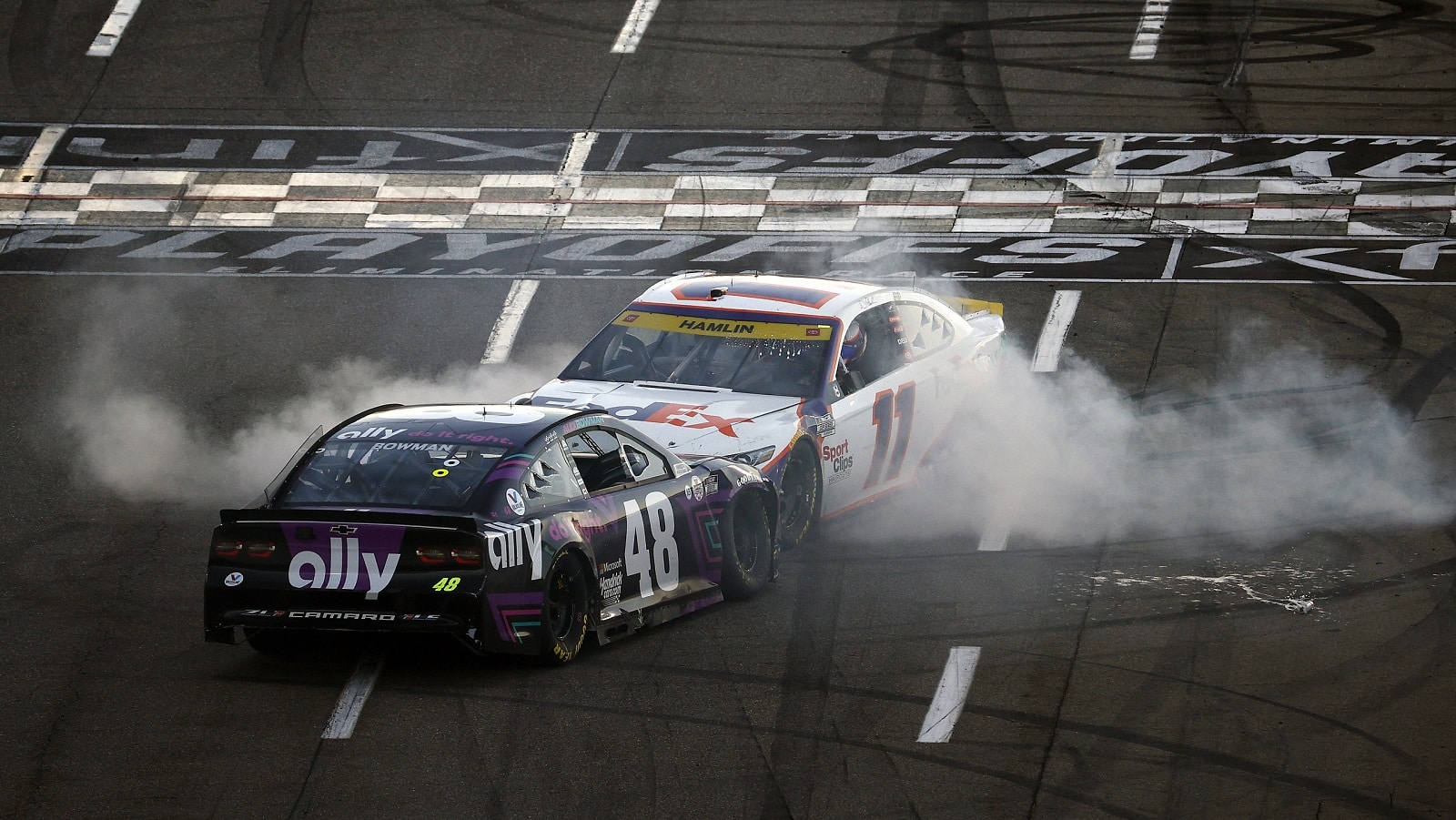 Alex Bowman Reveals Denny Hamlin Unwittingly Helped Him Move Past the Mistake Leading to Martinsville Confrontation
Alex Bowman says Denny Hamlin's past-race insults at Martinsville last fall made it easier to put a mistake behind him.
Alex Bowman has won seven races in NASCAR's top series. Unless he wins the Daytona 500 or the Championship 4 with a Cup Series title on the line, the wicked trick or treat surprise he dealt Denny Hamlin in the 2021 playoffs will be the victory everyone remembers.
Even then, most racing fans will recall Oct. 31, 2021, for what Hamlin did to Bowman rather than vice versa.
A shove took Denny Hamlin out of contention at Martinsville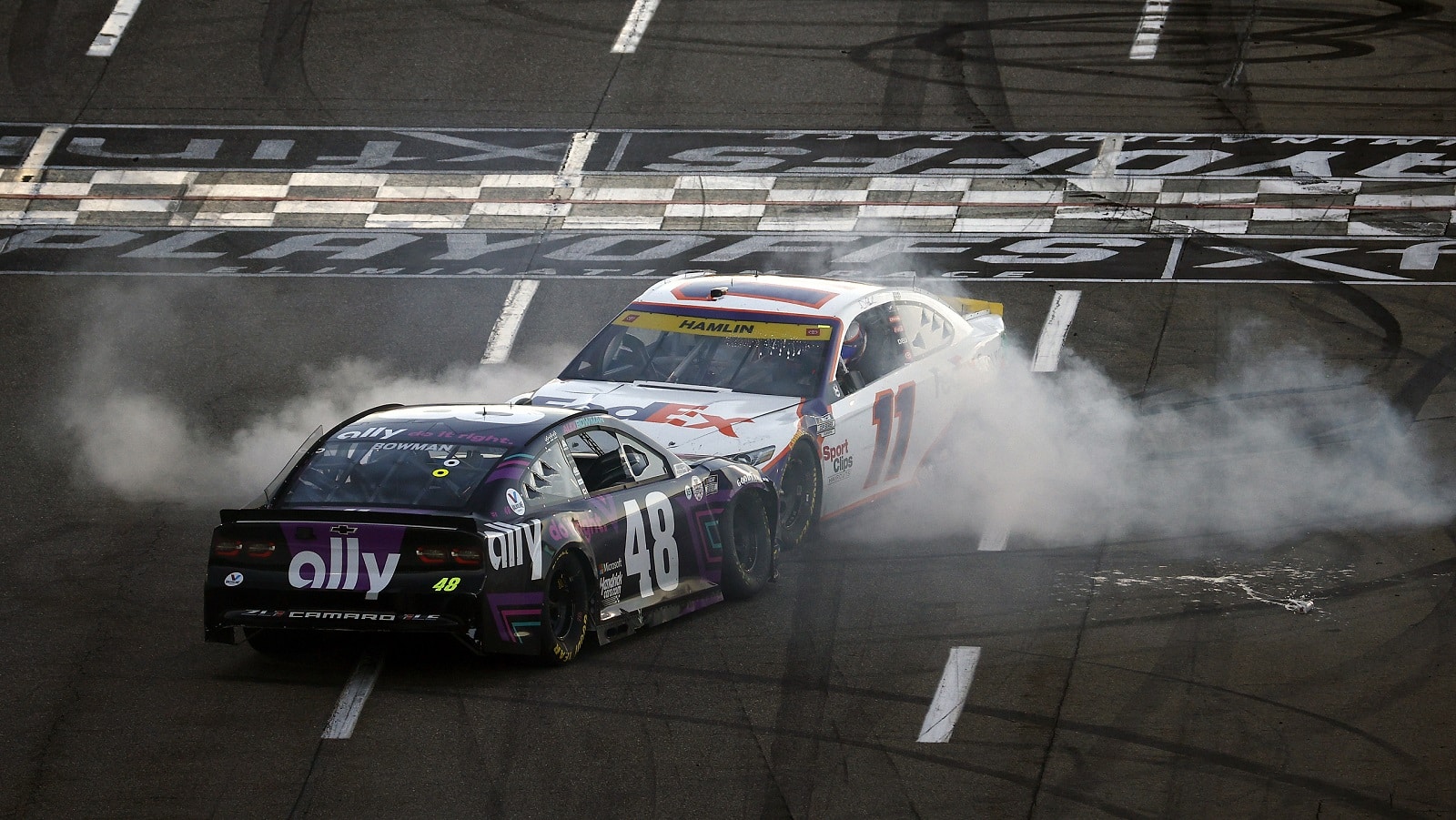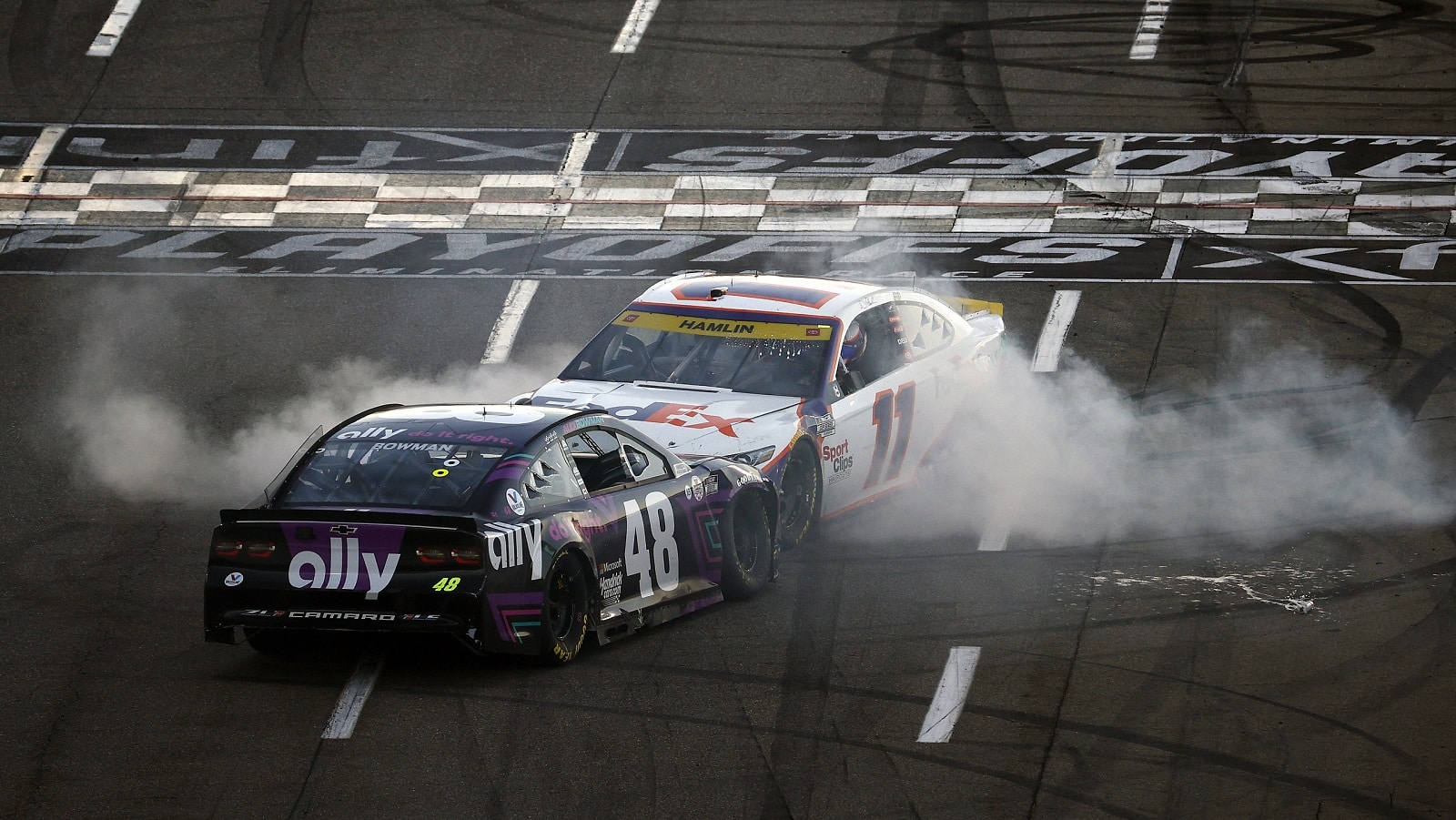 A three-win regular season earned Alex Bowman a playoff position last fall and helped him advance through the first transfer. However, 22nd place at Las Vegas and 38th at Talladega all but eliminated him from reaching the semifinals.
A month later, Bowman eked out a consolation prize by winning at Martinsville in the race setting the field for the Championship 4 the following week at Phoenix. In doing so, Bowman nudged Denny Hamlin into a spin that dropped the No. 11 far out of the lead with seven laps to go.
The incident cost Hamlin a victory, but not his place in the Championship 4. Still, he was furious and drove onto the frontstretch after the No. 48 Chevy took the checkered flag to block what everyone assumed would be Bowman's celebratory burnout.
With his team warning him over their radio to be careful not to risk a penalty for the following week's race, Hamlin relented. However, that was not the end of it.
Alex Bowman: 'I didn't feel nearly as terrible anymore'
During his on-track interview with NBC's Marty Snider after the Martinsville victory, Alex Bowman said his contact with Denny Hamlin's car was unintentional and the result of his No. 48 Chevy getting loose.
"I hate doing it. Obviously, it's not — I don't want to crash somebody. I just got in, got loose underneath him and spun him out," Bowman said.
Moments later, Hamlin was anything but understanding during his own on-track interview.
"He's just a hack. He's just an absolute hack. He gets his a** kicked by his teammates every week and just, he's f****** terrible," Hamlin said as boos rained down from fans listening over the loudspeaker.
The subject of Martinsville came up this week in Bowman's interview with The Athletic's Jeff Gluck, and it wasn't an especially pleasant memory.
"I knew I messed up and got loose under him and crashed him," Bowman said. "I was mad at myself for that. So, I was just going to pull up to the start/finish line and I wasn't going to do a burnout. I wasn't going to do anything."
Hamlin backed his car out after the confrontation, avoiding what Bowman worried could have been a fight, but then came the back-to-back interviews.
"All of a sudden, everybody is booing. I'm like, 'What is going on? They're all mad at me,'" Bowman said. "And then I look (at the video board) and he is talking. I'm like, 'Why are they mad at him?! I crashed him.'"
With all sorts of emotion running through him, Bowman stood there still upset about the controversy he caused. Hamlin unwittingly resolved that issue for him.
"And then I watched his interview," Bowman said, "and I didn't feel nearly as terrible anymore, with how far he went with things."
Alex Bowman got the last laugh
Rather than all the attention going to the Championship 4 participants (Denny Hamlin, Kyle Larson, Chase Elliott, and Martin Truex Jr.), many of the next-day stories focused on Bowman vs. Hamlin.
There was nothing Bowman could do to head off the talk, so he did the next best thing: He had his marketing team produce a "Hack" T-shirt to be sold online within 24 hours of the incident, with part of the proceeds going to animal shelters. A line of additional merchandise, including hoodies and hats, followed.
Like Sportscasting on Facebook. Follow us on Twitter @sportscasting19 and subscribe to our YouTube channel.
Got a question or observation about racing? Sportscasting's John Moriello does a mailbag column each Friday. Write to him at [email protected].