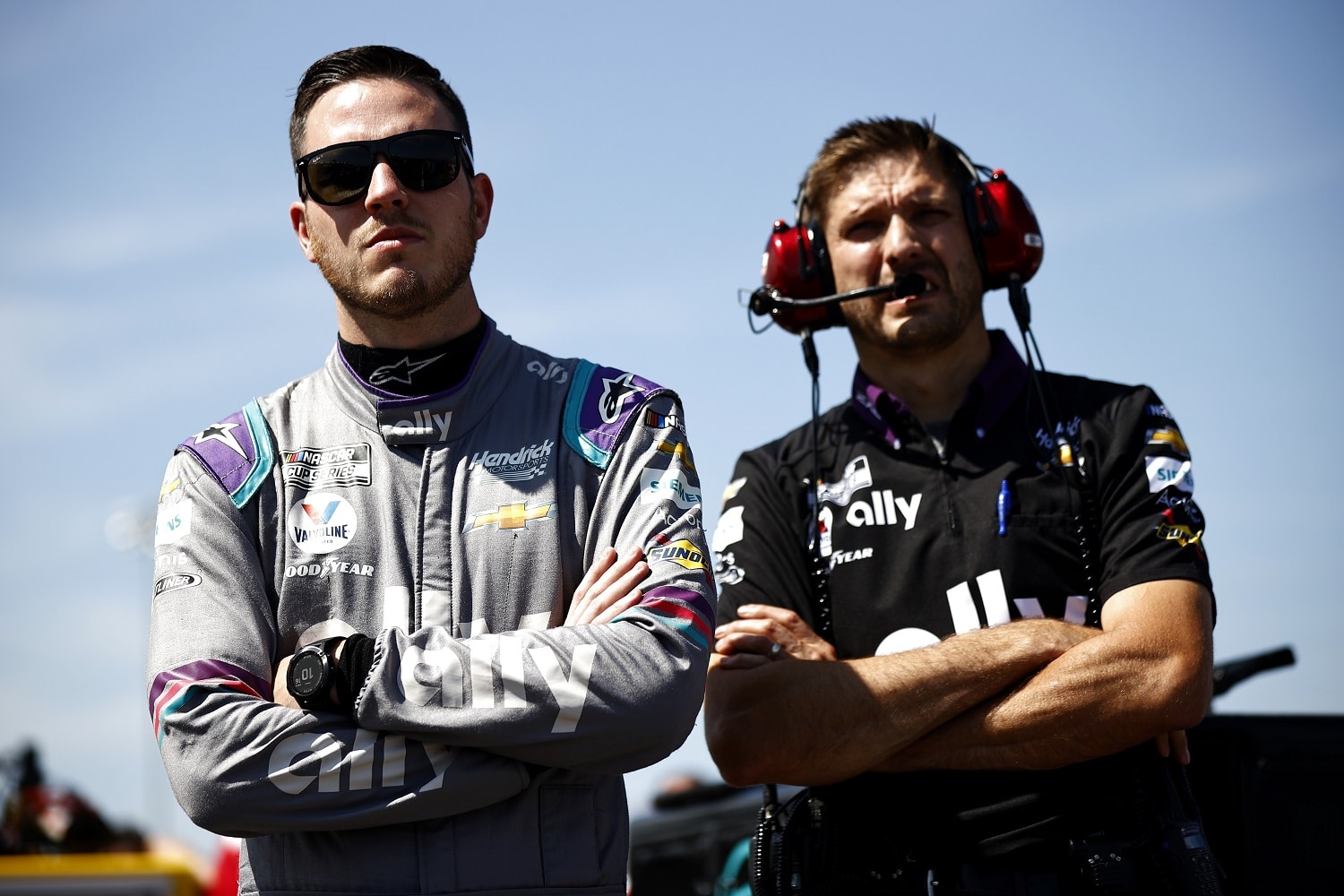 Alex Bowman Fans Learn the News They've Been Waiting on All Year
Alex Bowman won three regular-season races in 2021 but has struggled somewhat since. Now, there's a new crew chief in his future.
Let's cut to the bottom line regarding Friday's news out of the Hendrick Motorsports camp: Alex Bowman's contract with the most successful organization in NASCAR Cup Series history does not extend beyond next year.
With last season's playoff appearance having ended with a thud and this season's campaign a mixed bag at best, fans wonder if Greg Ives isn't the only short-timer associated with the No. 48 Chevy.
Greg Ives will step down as Alex Bowman's crew chief after the season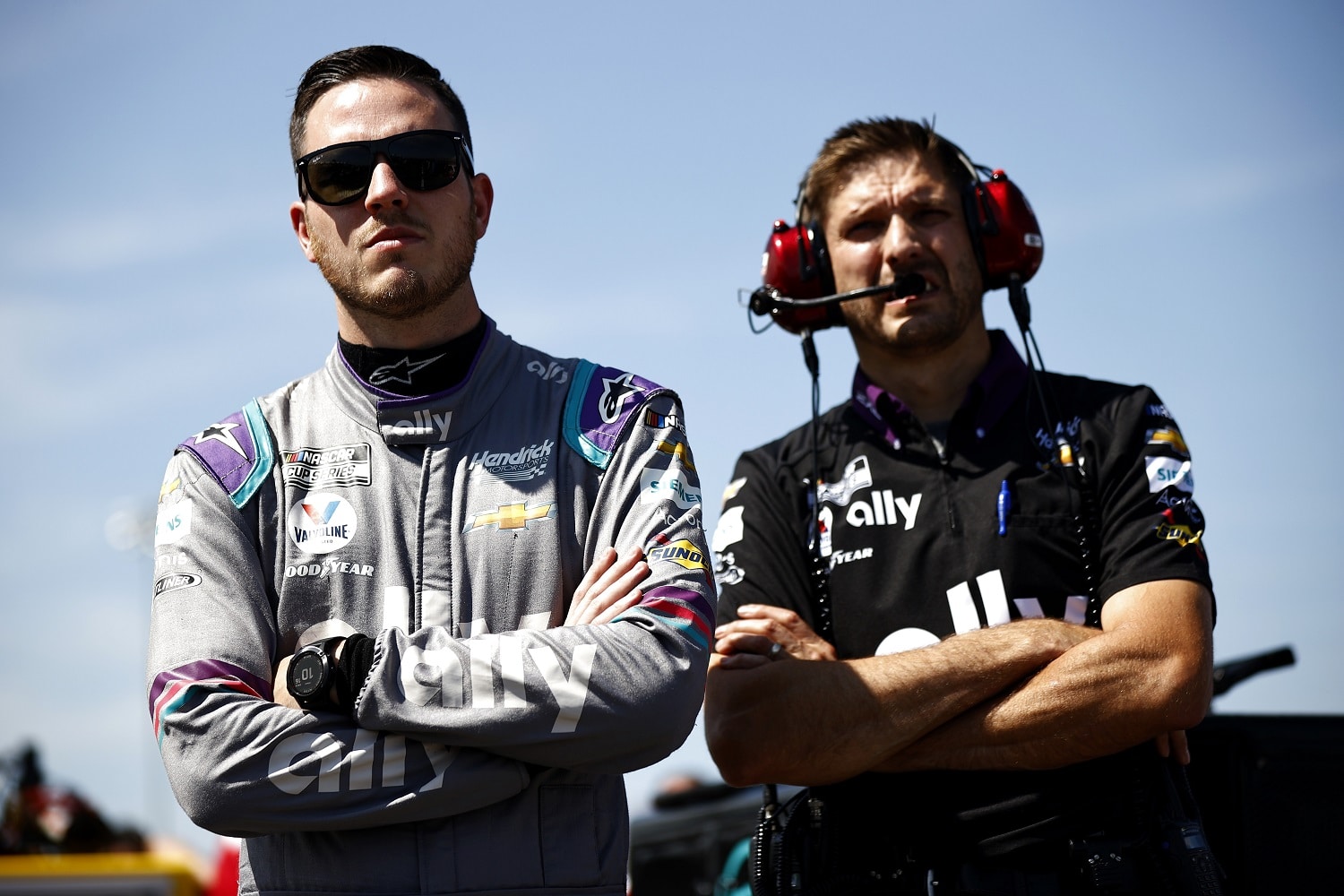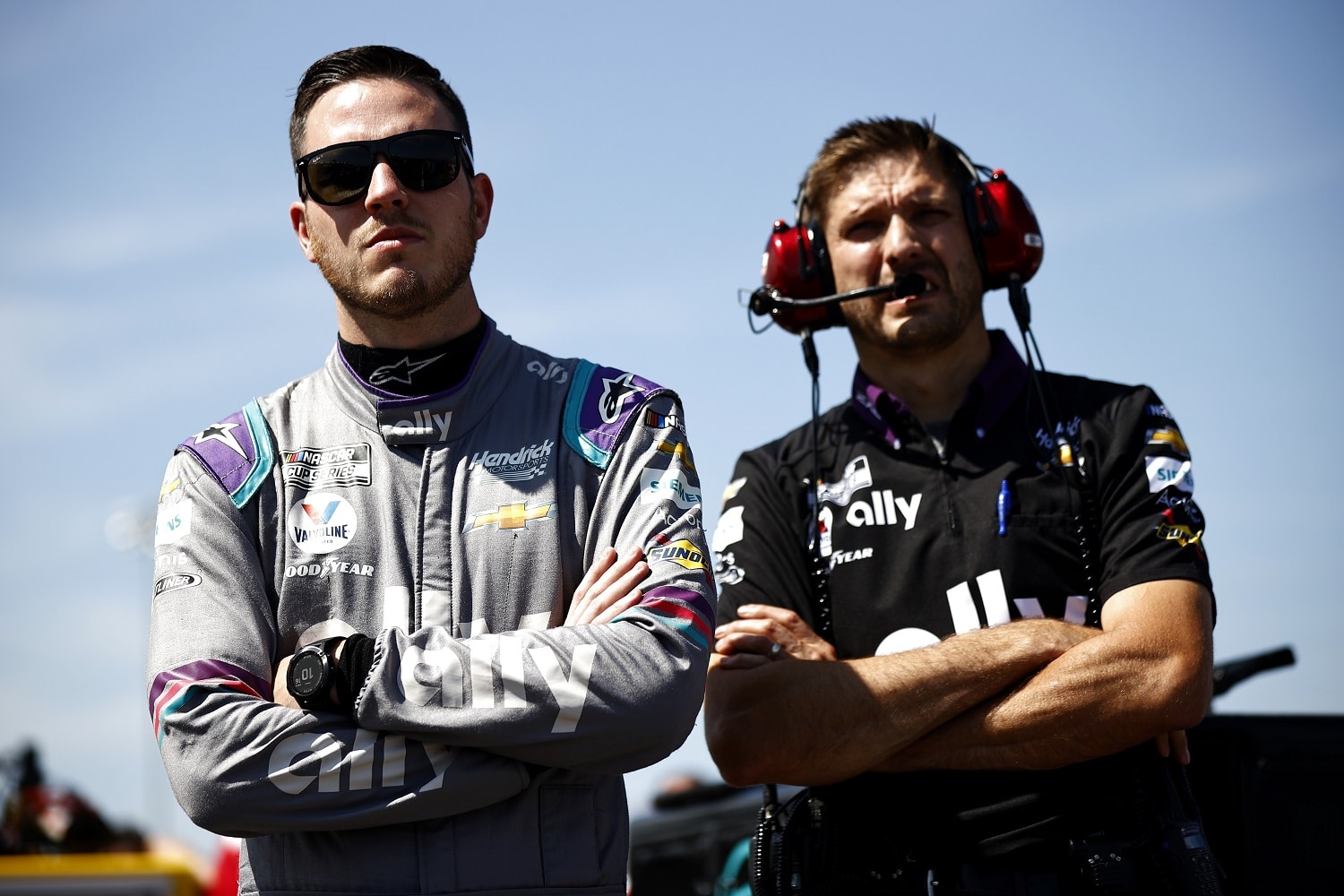 Though just 42 years old, Greg Ives has been the crew chief for several big NASCAR names, but his time atop the box is now winding down. He revealed on social media on Friday that he will step down from overseeing Alex Bowman's No. 48 Chevy after this season.
"There are many reasons, but the most important one is the chance to focus on my family and spend more time with our kids as they grow up," Ives said in his statement.
Ives indicated that he is remaining in the Hendrick Motorsports organization, and there's undoubtedly room for a meaningful assignment. HMS is spearheading the effort to run a Garage 56 entry at Le Mans next season, and there is speculation the company will expand its Xfinity Series presence beyond the part-time car its Cup Series drivers used this summer.
If the latter is the case, Ives could play a role in developing the next great HMS driver. Already, he has been the crew chief on Chase Elliott's championship team in the 2014 Xfinity Series and been a crew chief at the top level since 2015 with Dale Earnhardt Jr., Jeff Gordon, and Alex Bowman.
Alex Bowman is looking to get into the Championship 4 mix
If Greg Ives is to leave his role as crew chief of the No. 48 Chevy on a positive note, then Alex Bowman must regain the magic that led to four of his seven career victories last season.
Bowman finished sixth in the 2020 standings, creating anticipation over what 2021 might bring. He never broke into the top 10 in points until the reset at the end of the regular season, where wins at Richmond, Dover, and Pocono translated into big playoff bonus points.
However, 26th place at Darlington to open the playoffs put Bowman in immediate trouble. He survived the first transfer by finishing fifth at Bristol. Then, 22nd place at Las Vegas put Jimmie Johnson's old car in another hole. This time, Bowman didn't climb out of it. Instead, he wrecked late at Talladega, all but ending his title hopes. Bowman did win at Martinsville in the penultimate race, but it was meaningless in the big picture.
If it felt as though there was a malaise over the final three months, it's carried over to this season. Bowman won at Las Vegas in the first month and climbed to as high as fourth in points. Since, however, he has slid steadily and comes to Daytona in 11th place.
Absolutely no one is talking about the "48" as a Championship 4 contender, and fans have been speculating for months whether the issue is the driver, the crew chief, or another factor.
A somewhat telling quote from the driver of the No. 48 Chevy
It was only natural for reporters to seek out Alex Bowman at Daytona after news broke on Friday that Greg Ives was stepping down as his crew chief at the end of the NASCAR Cup Series season.
All 179 of Bowman's starts at Hendrick Motorsports since 2016, when he filled in for Dale Earnhardt Jr., have been with Ives calling the shots. Seven wins and 20 other top-five results would qualify as overwhelming success for 75% of the Cup Series field, but the expectations run high at Hendrick Motorsports.
Bowman understands as much. A tiny snippet of one interview capturing his reaction to the Ives news was telling.
"It's kind of exciting but scary at the same time," he said.
Labeling it as exciting certainly seems to indicate that Bowman is looking forward to a change. Given his place in the HMS pecking order, he might not be out of line.
William Byron has signed a contract extension through 2025, and Chase Elliott's latest deal runs through 2027. Bowman and Kyle Larson are only signed through next season, but Larson is the defending series champion and a lock to reveal his new contract on the eve of the 2023 Daytona 500.
It's not as though Bowman appears in imminent danger, but 2022 probably isn't going to get any better for him. So, racing in 2023 with a new crew chief takes on significant importance for his long-term future.
All stats courtesy of Racing Reference.
Like Sportscasting on Facebook. Follow us on Twitter @sportscasting19 and subscribe to our YouTube channel.
Got a question or observation about racing? Sportscasting's John Moriello does a mailbag column each Friday. Write to him at [email protected].