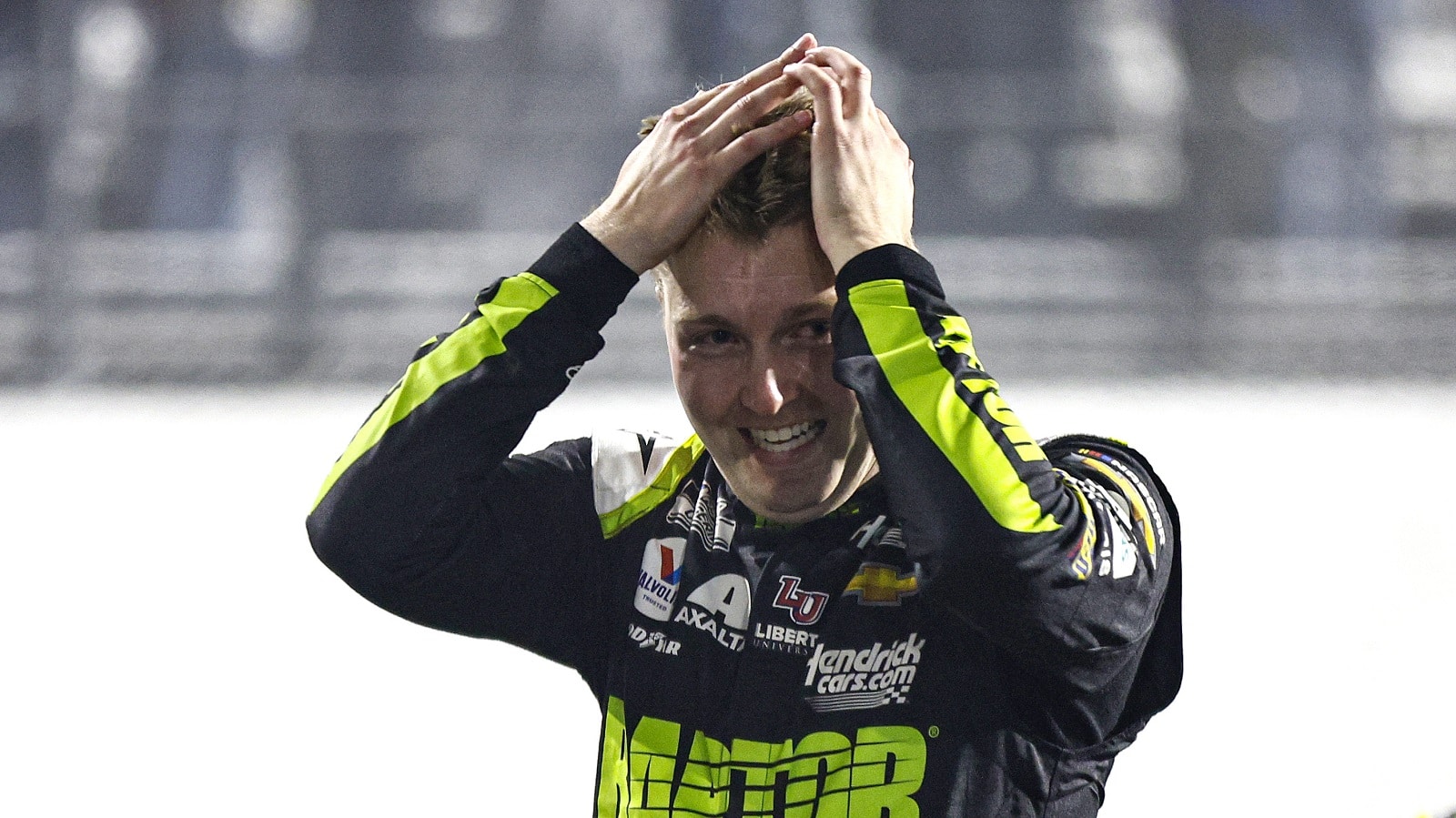 There's a Savvy Reason William Byron Didn't Try Matching Chase Elliott's Contract
William Byron's contract with Hendrick Motorsports expires around the time NASCAR Cup Series teams expect an influx of new TV money.
William Byron was about 45 seconds from a perfect week at work when Joey Logano came along and fouled up the end of the NASCAR Cup Series race at Darlington. Logano denied Byron the victory and knocked him down to 13th place by bumping the No. 24 Chevy into the outside wall at the Goodyear 400 with under two laps to go.
At least Byron could console himself with the contract extension he finalized six days earlier, locking him in with Hendrick Motorsports through 2025.
Expect great things to come from William Byron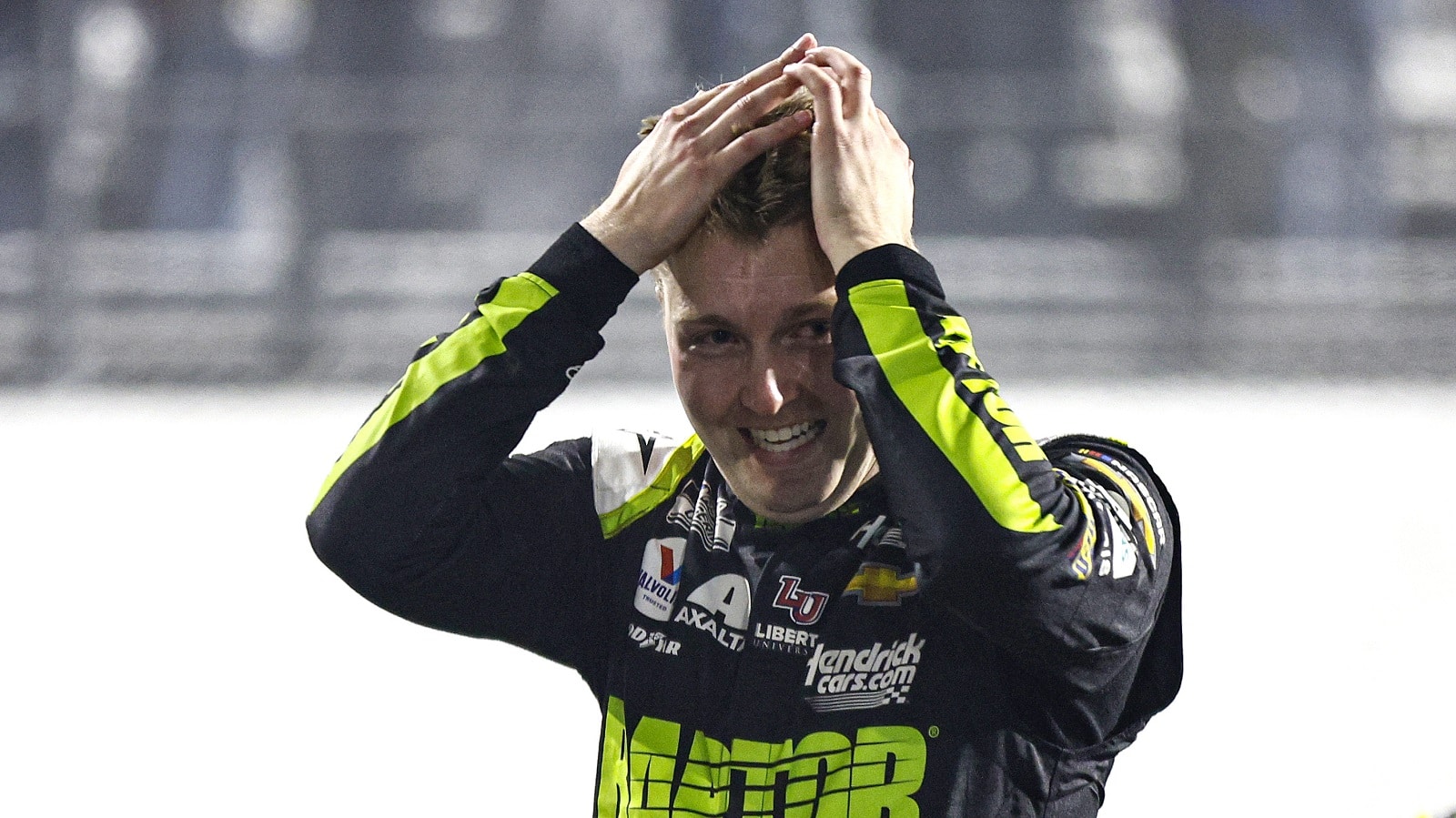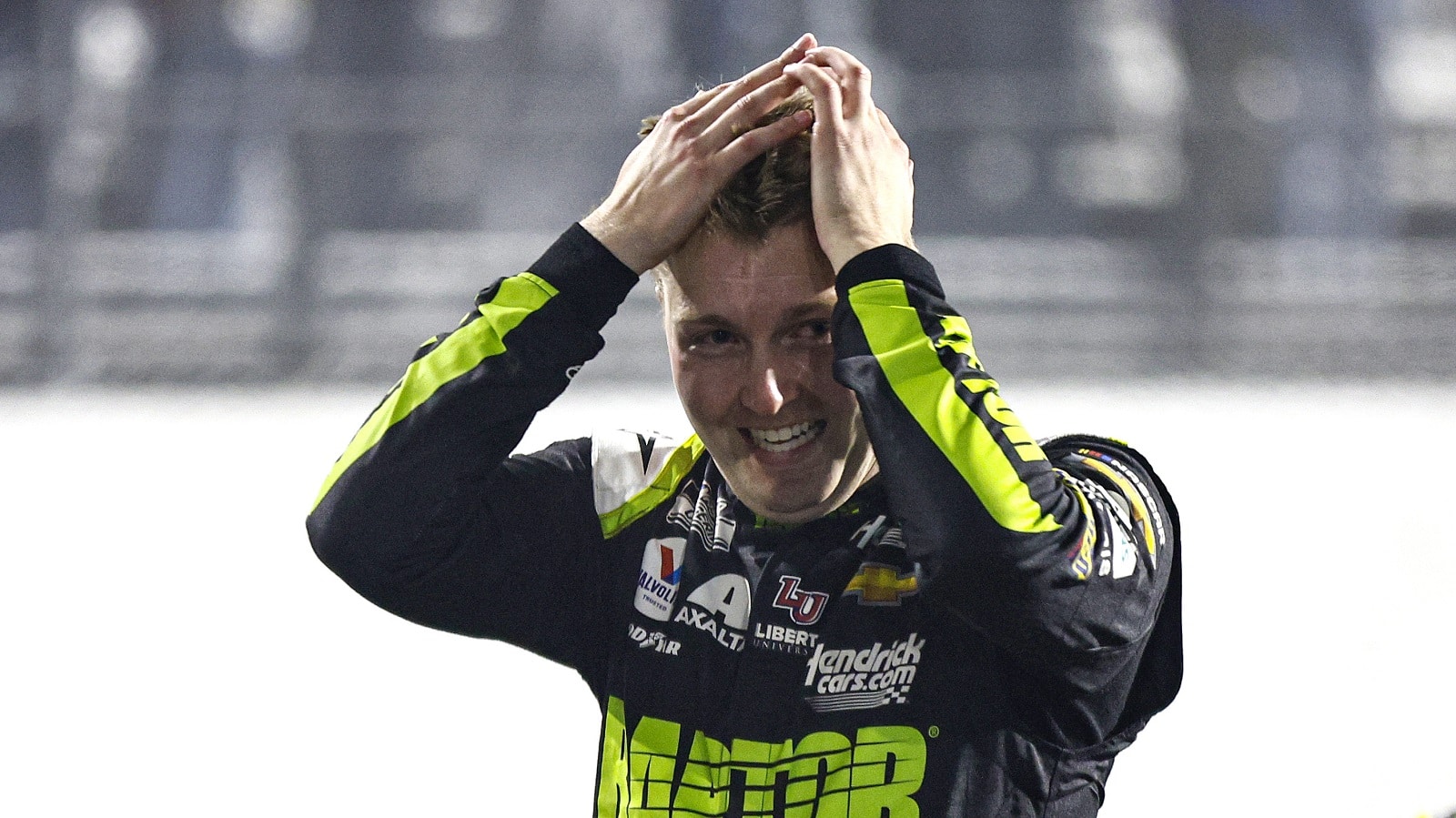 William Byron owns just four victories in 156 NASCAR Cup Series races, but he has 21 other finishes in the top five and a total of 55 showings in the top 10. More important is the trend line. Byron totaled nine top-five finishes in his first three seasons, then blossomed a season ago with 12.
Byron doesn't turn 25 until after the current season. It's inevitable that he will convert more of those near misses into trips onto Victory Lane as he continues to gather experience. That factored into Hendrick Motorsports' decision to give him the three-year contract extension, a vote of confidence that few of his peers in the sport received at the same age.
The deal undoubtedly includes a nice bump in salary for the driver while giving the organization peace of mind in knowing that a potential future Cup Series champion isn't going anywhere for a while.
Hendrick Motorsports will likely begin talks with two more drivers soon
Hendrick Motorsports drivers have rolled up 285 NASCAR Cup Series race wins and 14 season championships, including Chase Elliott in 2020 and Kyle Larson in 2021. Those two, William Byron, and Alex Bowman all arrived at Darlington holding spots in the top eight in the point standings.
Elliott signed a five-year contract extension at the start of the season, which keeps him in the fold at HMS through 2027. Larson and Bowman possess deals through 2023 and are in line for extensions, too. However, the team has time before starting those discussions.
In fact, there's a good reason for Larson and Bowman not wanting to rush into deals like Byron's three-year extension or Elliott's five-year extension. Byron may be the youngest of the quartet, but he might have shown his teammates the way to even more money.
William Byron may be eyeing some fresh NASCAR TV money
Driver William Byron said his recent contract negotiations were his first money discussions since signing his rookie deal with Hendrick Motorsports.
"I think that it's good to kind of understand the economic sense of the sport a little bit more as I've gotten older and start to understand all the moving parts and what goes into it," Byron said in a teleconference last week. "So yeah, I thought it was educational and fair and definitely left me excited and looking forward to the years ahead."
Financially speaking, 2024 will be the biggest year. NASCAR's television contracts with Fox Sports and NBC expire at the conclusion of that season. The sides will hammer out new deals by then. While NASCAR cannot command the massive money the NFL takes in from TV rights, the expectation is that the new deals (possibly including new avenues like streaming rights) will be a sizeable bump from the current annual payments.
Combined with the fact that teams will have absorbed the bulk of Next Gen retooling costs by next season, there should be more money on the table for drivers.
By the time he negotiates his next deal, Byron will be a year older than Chase Elliott (they're represented by the same agency, by the way) is right now. If he has joined Elliott and Kyle Larson as a Cup series champion by then, Byron could command both a long-term contract and a huge raise.
"Hopefully, we continue to, as drivers, benefit from the success of the sport," Byron said.
All stats courtesy of Racing Reference.