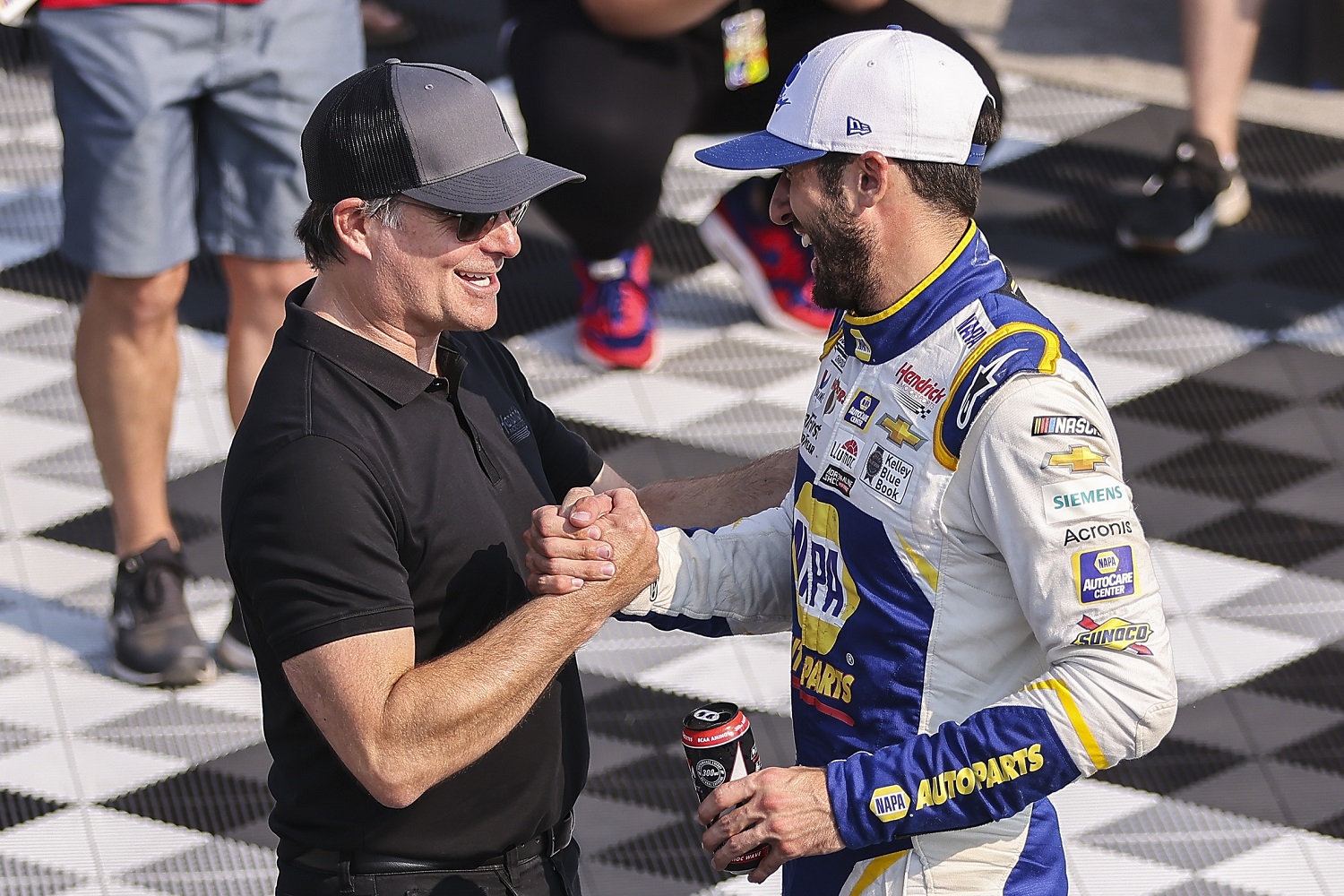 The Latest Chase Elliott News Elicits Comparisons to Jeff Gordon's Career
A longtime Chase Elliott sponsor has extended its commitment, signaling an impending announcement of a new contract between the driver and Hendrick Motorsports.
A key aspect of Jeff Gordon's driving career adds extra significance to the latest announcement from Hendrick Motorsports about sponsorships. Parallels between Gordon and Chase Elliott already existed, and they're about to become more apparent than ever.
In a sport in which top drivers typically change teams at least two or three times in their career, the signs are clearer than ever that Elliott may never leave HMS.
UniFirst extends its sponsorship of Chase Elliott's No. 9 Chevy
UniFirst Corp., which rents uniforms and protective clothing to companies across the country including Hendrick Motorsports and Hendrick Auto Group, has signed a lengthy extension with the NASCAR Cup Series team to sponsor Chase Elliott's No. 9 Chevy in races. It's the continuation of a relationship with HMS that began in 2016.
The Massachusetts-based company is already scheduled to be the primary sponsor on Elliott's car for three races in each of the next two seasons, beginning March 13 at Phoenix. The extension ups the commitment to five races annually from 2024-28.
"UniFirst has been a great partner since they moved to the No. 9 team in 2020," Elliott said in the announcement. "We've won an All-Star Race and a championship together, and I'd love to get them a points win in 2022. It's cool to see their passion for NASCAR and Hendrick Motorsports, and I'm looking forward to continuing to build our relationship with strong performances on and off the track."
The latest Chase Elliott news elicits comparisons to Jeff Gordon's career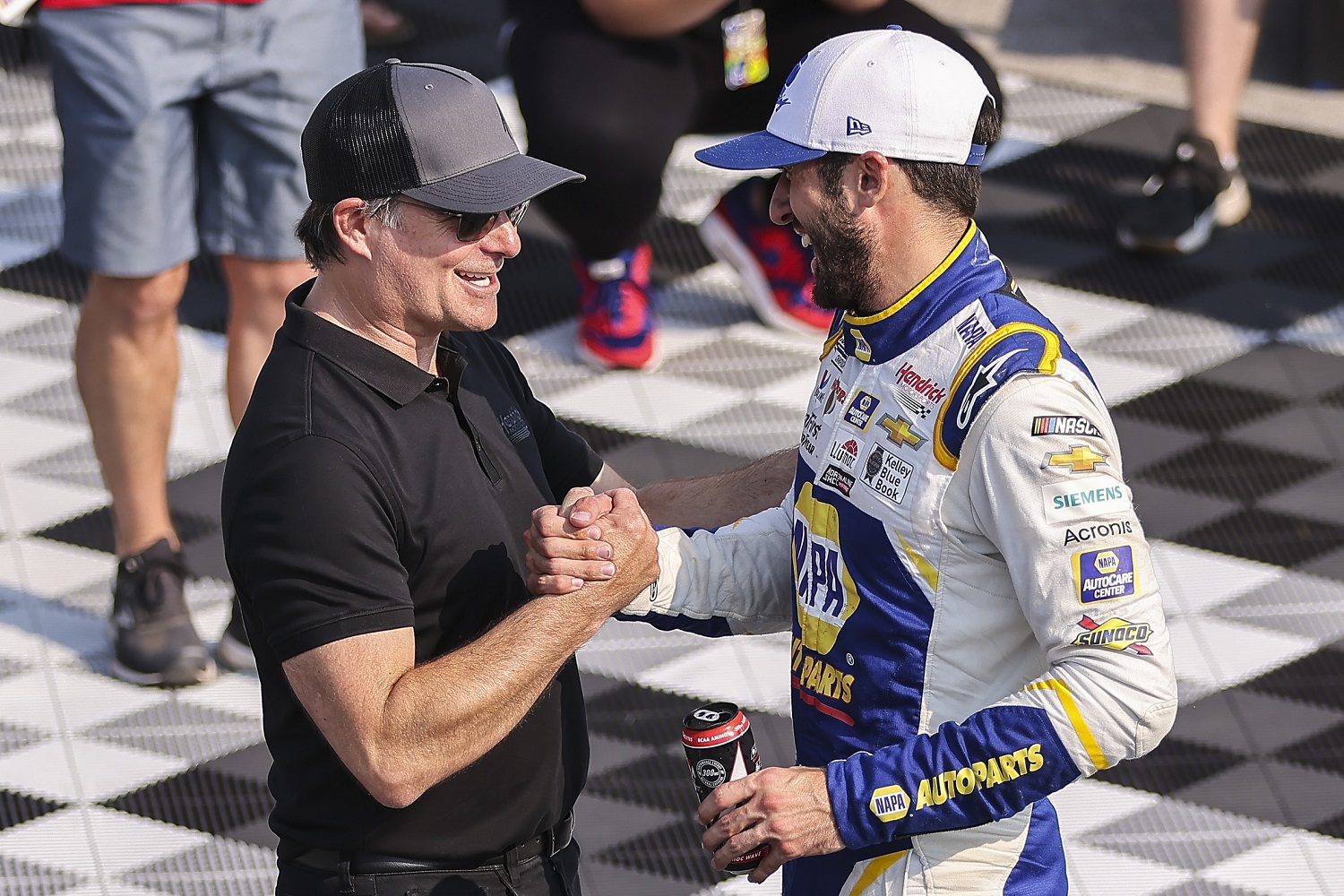 While the statement from UniFirst and Hendrick Motorsports points to continuing sponsorship of Chase Elliott and the No. 9 Chevy through 2028, it's not quite that simple. That's because there's the matter of the contract between the driver and the team.
Elliott, the 2020 NASCAR Cup Series champion, is only under contract through the end of this year. Given that he's batting 1.000 in finishing in the top 10 in the season standings since arriving as a full-time driver, Hendrick isn't going to let him get away.
The announcement of the UniFirst deal extension obviously signals that the team and the 26-year-old from Dawsonville, Georgia, are close to announcing a new deal. The only suspense relates to the length of the deal since it's impractical to think that owner Rick Hendrick and top lieutenant Jeff Gordon would commit to a contract through 2028.
On the other hand, Elliott is beginning to take on the look of a lifetime employee, which draws similarities to Gordon. All 221 Cup Series starts in Elliott's career have come with Hendrick Motorsports, including 72 in Gordon's signature No. 24 Chevy. Gordon spent his entire Cup Series with HMS, making 805 starts from 1992-2016 and winning 93 races and four season titles.
Awesome Bill's son is building an impressive resume
Chase Elliott descends from NASCAR royalty. His father, with the wonderful nickname of "Awesome Bill from Dawsonville," made 828 starts from 1976-2012 and won 44 Cup Series races. He earned the series championship in 1988, finished in the top three another five times, and was consistently among fans' favorite drivers.
Now, Chase comes to the Daytona 500 on Feb. 20 with 13 victories since 2018. Seven of his victories have come on road courses, including a marvelous bit of work last July in which he started 34th at Road America and worked his way to the lead on Lap 38.
Elliott and Jeff Gordon were both 24 years old when they won their first Cup Series championships. If Elliott triumphs at the Championship 4 this fall in Phoenix, then they will have both earned title No. 2 at 26.
All stats courtesy of Racing Reference.