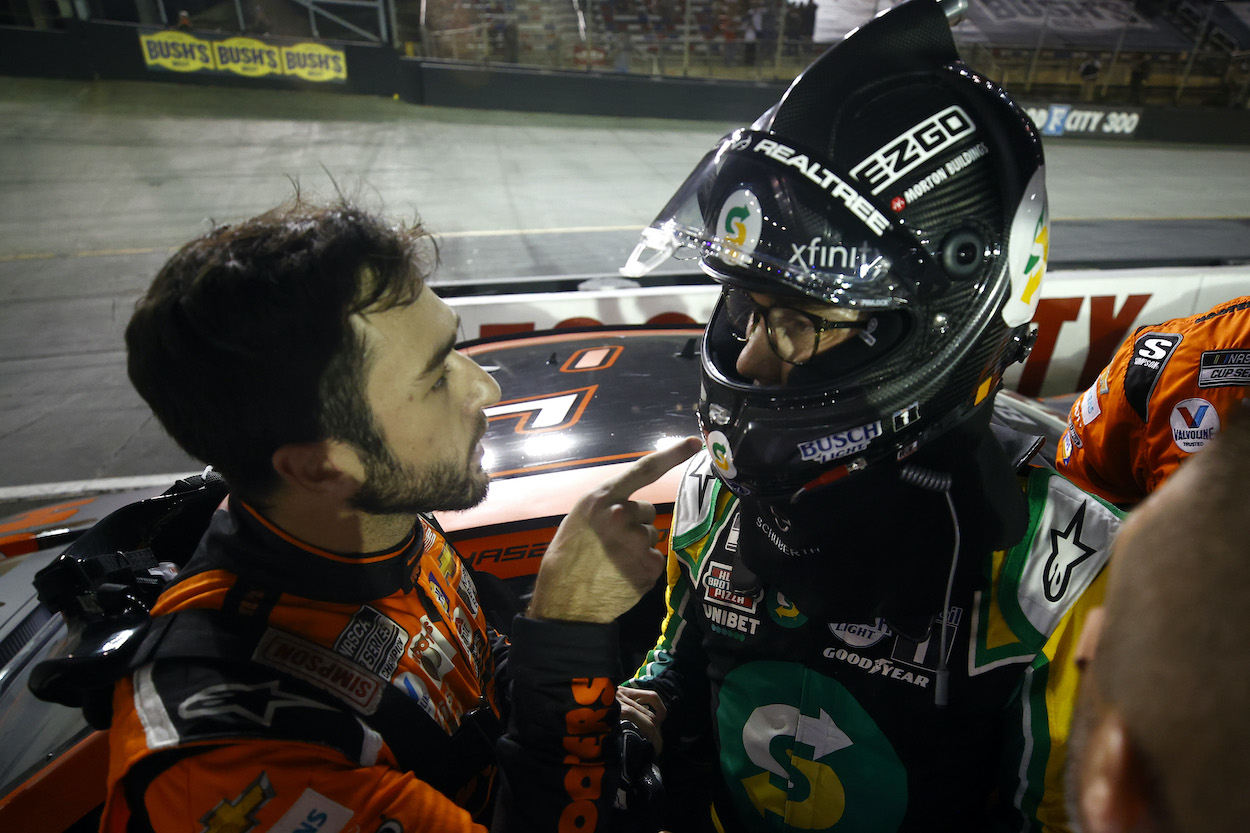 Chase Elliott and Hendrick Motorsports Team Surprisingly Fire Latest Shot at Kevin Harvick in Feud That Looks Like It Will Continue into 2022
Chase Elliott confirmed this weekend that his feud with Kevin Harvick isn't over when the driver's team fired a shot on Twitter at the Stewart-Haas Racing driver.
Since Chase Elliott and Kevin Harvick started feuding at the NASCAR Cup Series night race at Bristol in September, the Stewart-Haas Racing driver has consistently been the one to bring up the conflict and comment about it, including remarks as recently as a few weeks ago on the Dale Jr. Download. 
The Hendrick Motorsports driver has remained quiet for the most part. However, this weekend, that changed as the 2020 Cup Series champion, with a big assist from his race team, fired a shot at Harvick just in time for the holidays.
Chase Elliott and Kevin Harvick feud starts at Bristol and continues at Roval 
When Chase Elliott and Kevin Harvick made contact in the final laps of the Bristol night race back in mid-September, no one could have imagined where it would lead. Immediately following the race, the two drivers had multiple heated conversations, first on pit road, then later in the garage area, where Harvick threatened retaliation. 
Several weeks later at the Charlotte Roval, the 2014 Cup Series champion delivered on his threat when he wrecked Elliott, damaging the No. 9 car and his team's chance of advancing in the playoffs. Ironically, Harvick crashed into the wall later in the race, ending his playoff hopes while Elliott finished 12th and advanced to the Round of 8. 
After the race, a reporter asked Elliott what happened with the No. 4 car. 
"I'm not sure, but I'm really proud of our team," Elliott said. "Just proud. Our Napa team did a really good job of fixing this thing. It's destroyed. I think we finished 12th. Our team has a lot of fight, and I'm just super proud of that. As far as Kevin goes, I just want to wish them a merry offseason and a happy Christmas."
Harvick has made repeated comments about conflict
Since the Roval, Elliott has remained mum on the matter. Harvick has not. During an appearance on NASCAR Race Hub in October, the 46-year-old driver voluntarily brought up the issue, joking about his Roval accident and how the footage would be video used by Elliott's fan club for years. 
More recently, Harvick appeared on the Dale Jr. Download, where he talked extensively about the feud and how his team guys were mad because Elliott took hundreds of thousands of dollars out of their pockets. He also acknowledged there was more to discuss with the younger driver.
"There still needs to be another conversation before we start the next season," Harvick suggested. 
Elliott and Hendrick Motorsports fire latest shot
While the recent NASCAR Awards banquet in Nashville had a couple of references to Elliott's merry offseason quote, the driver has remained above the fray, not repeating his salutation or commenting on the situation with the season over. Until now. 
Over the weekend, the Hendrick Motorsports Twitter account produced a tweet for its more than 750,000 followers that featured a picture of the 2021 most popular driver giving a thumbs up while wearing a sweatshirt with his now-popular quote.
"A very merry offseason and happy Christmas from @chaseelliott and the @NAPARacing team," it read. 
Like Harvick suggested to Earnhardt on his podcast, there needs to be a conversation with Elliott. Because as the Hendrick Motorsports Twitter account confirmed this weekend, the feud isn't over. 
Like Sportscasting on Facebook. Follow us on Twitter @sportscasting19.