Hendrick Motorsports Is Vulnerable, NASCAR Championship Crew Chief Chad Knaus Warns
Article Highlights:
Chad Knaus and Jimmie Johnson formed one of the most successful collaborations in NASCAR history
Hendrick Motorsports sits atop the Cup Series but does not field cars in lower NASCAR circuits
Knaus suggests teams competing in multiple race series will hold an edge early in the Next Gen era
No championship organization can afford to rest on its laurels, and that's never been truer in NASCAR than this offseason. Kyle Larson led the way with a wildly successful year supported by Chase Elliott, William Byron, and Alex Bowman, but every Hendrick Motorsports crew chief, engineer, and pit-crew member needs to double down because the Next Gen car is coming.
In contemplating that, former crew chief Chad Knaus poses a theory why HMS risks falling behind other top Cup Series teams out of the gate in 2022.
Chad Knaus slid into a new role at Hendrick Motorsports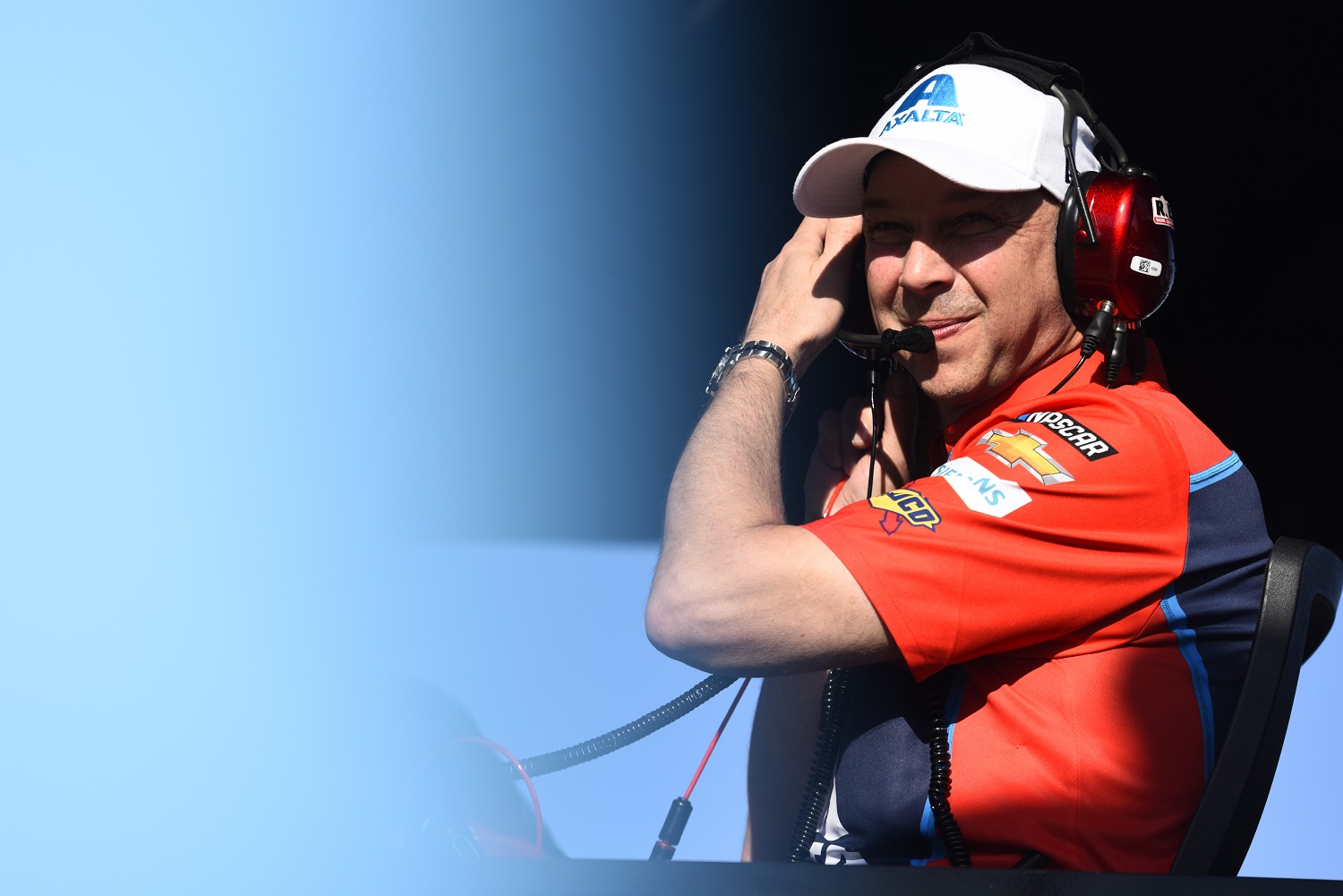 The combination of Jimmie Johnson and Chad Knaus may not have been unbeatable, but it was close. The pair logged 81 victories in 602 NASCAR Cup Series races as driver and crew chief at Hendrick Motorsports from 2002-18. Seven seasons, including five in a row beginning in 2006, culminated in series championships.
Knaus found extra speed and durability, and Johnson mastered calculating when to pounce. Johnson was still racing at the finish in all but 56 of their races together, and the pair turned Dover, Martinsville, and Charlotte into their personal playgrounds with 28 victories in 119 starts.
Knaus moved over to William Byron's car for two years beginning in 2019, and Johnson retired after the 2020 season. While Johnson dabbled in IndyCar and IMSA this year, Knaus took on a new role at Hendrick as the vice president of competition. That responsibility took him off the Cup series pit box and placed him in meeting rooms and garages for all four teams. Led by Kyle Larson's magnificent year, the quartet won 17 of 36 points races.
Hendrick Motorsports is vulnerable, Chad Knaus warns
Despite accumulating 280 NASCAR Cup Series victories and 14 driver championships, Hendrick Motorsports is a surprisingly simple organization. Rick Hendrick and Hall of Fame driver Jeff Gordon operate four cars in the top series, but the outfit does not field Xfinity or truck teams. (JR Motorsports, co-owned by Rick Hendrick, functions through a separate operational structure). They do dabble in one-offs like a collaboration with Jimmie Johnson and Action Express Racing for four IMSA endurance races this year, but there's no significant drain on resources or loss of focus on the big prize.
However, Chad Knaus suggests a potential downside to running a streamlined operation. According to The Associated Press, GTD-class cars in the IMSA races that Hendrick Motorsports has entered share some characteristics with Next Gen cars. There isn't much to be gained by poking around in those cars, but Knauss wonders if teams that are not as single-minded as HMS benefit from innovations learned while working on other NASCAR series or the IndyCar circuit.
"It's really been eye-opening. We have a very narrow focus for Hendrick Motorsports," Knaus told the AP. "We don't mess with Xfinity. We don't mess with trucks, and it's served us well. But it has left us, in my mind, a little vulnerable going into the 2022 season with the car because everybody else that we are racing against has some type of a tie to other racing. We don't have that at HMS."
Expansion probably isn't in the cards
Realistically, adjustment to the Next Gen car is a short-term problem for NASCAR Cup Series teams. NASCAR-run testing is in progress, and final specifications will follow. Manufacturers and the respective teams will develop recommendations, and some cars will run better than others at the start of the season. The tinkering will continue as the schedule takes the Cup Series to tracks of different lengths with banking of varying degrees.
In that sense, whatever edge a team might develop between now and Daytona based on knowledge developed from familiarity with Xfinity, truck series, and IMSA cars will fade over time. That's a factor in why Hendrick Motorsports doesn't seem inclined to hop into other series.
"It's really hard to deviate from the model that we've got, right?" Chad Knaus said. "It's just done well for us."
All stats courtesy of Racing Reference.