Kyle Larson Wouldn't Be Where He Is if Chip Ganassi Hadn't Made the Risky Bet That Hendrick Motorsports Rejected
Article Highlights:
Kyle Larson just captured his first NASCAR Cup Series championship
Hendrick Motorsports declined to sign Larson in 2011 after his impressive dirt-track season
Chip Ganassi Racing gave Larson his start in NASCAR but is exiting the sport at the same time Larson is ruling it
Seemingly every story written about his NASCAR Cup Series championship has referenced how Kyle Larson revived his career with Hendrick Motorsports after losing his job at Chip Ganassi Racing the previous year.
And that makes for a great story, especially because of the juxtaposition: Larson cemented his first championship on the night that the CGR era in NASCAR came to a close. What's overlooked, however, is that it was Ganassi who gave Larson his start in NASCAR after Rick Hendrick took a pass.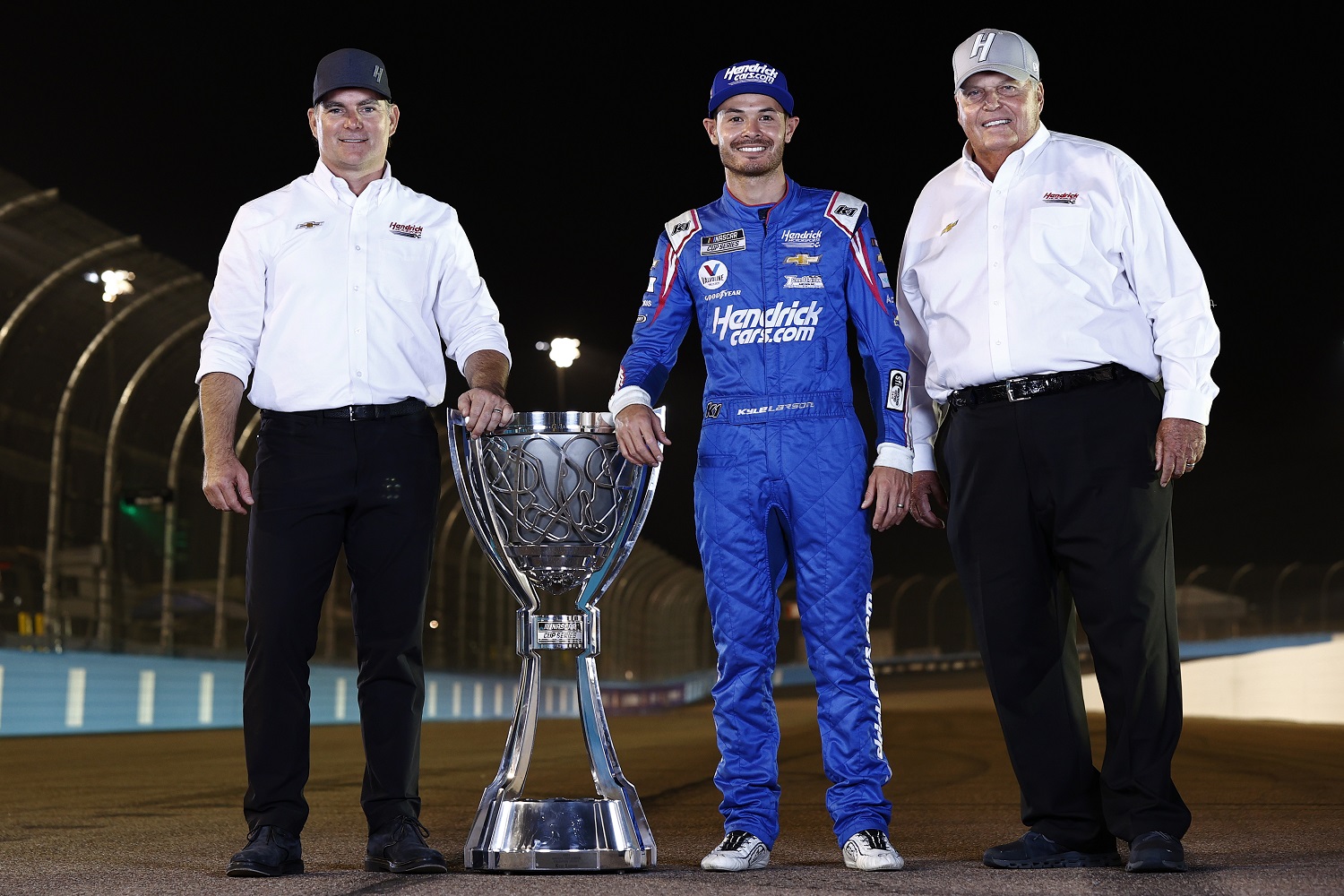 Of course, given a second chance at a time when Larson needed a second chance of his own, Hendrick and Jeff Gordon didn't have to think twice about putting Larson in the No. 5 Chevy.
The story began in 2011, when Larson was 19 years old and an accomplished dirt-track driver. The crowning achievement was winning in all three models of USAC cars on the same night at the 2011 4-Crown Nationals at Eldora Speedway in Ohio, making him the first competitor in 13 years to do so.
That qualified Larson as a big deal, and he traveled to North Carolina to make the rounds with executives of NASCAR Cup, Xfinity, and truck series teams. Despite Larson's resume, the people making the decisions were cautious because it's one thing to rule the dirt-track world and quite another to win on paved tracks.
More importantly, there was the issue of money.
Racing teams at any level expect prospective drivers to bring money to the deal. If the candidate doesn't have some sponsors lined up, then teams expect the driver to put up his or her own money or accept a hideous contract like the deal Daniel Hemric took from Joe Gibbs Racing this season to get back into the Xfinity Series.
Unfortunately, Larson didn't check the money box.
"It's like they were just going through the motions: 'Nice to meet you. You've got a cool resume. We need a few hundred thousand dollars for you to race our car next year,'" Larson told The Athletic.
Naturally, one of Larson's visits on the North Carolina tour was to Hendrick Motorsports. Jimmie Johnson was coming off a two-win season and placed sixth in Cup Series points. Gordon, already a four-time series champion, scored three wins and placed eighth. Hendrick Motorsports was strong but presumably not in a position to turn up its nose at a top prospect.
Gordon was Larson's tour guide, which was understandably exciting. His blunt advice soon dampened the mood.
"Everybody knows I love dirt racing, and he's like, 'You really need to get out of dirt cars. They're going to teach you bad habits.' I was like, 'Man, that was a terrible time there at Hendrick.'"

Kyle Larson
Discouraged but determined, Larson soldiered on with his meetings the following day. Twenty minutes with Chip Ganassi changed his life since he became the only owner to put a proposal on the table. Ganassi offered to start the young prospect off in the NASCAR K&N Pro Series East Series through the diversity program run by Max Siegel.
His first time out, Larson rode the No. 6 Toyota to ninth place, one spot ahead of future Hendrick Motorsports teammate Chase Elliott. In his sixth start, Larson won over a field that saw Corey LaJoie and Bubba Wallace finish in the top 10.
By year's end, Larson earned the series championship and a promotion to a full-time ride in the Xfinity Series as well as his first four rides in the Cup Series.
As has been documented, the marriage with the Ganassi team ended in 2020 when the driver uttered a racial slur during an online racing event. With sponsors bailing and sanctions from NASCAR inevitable, Ganassi let Larson go despite his six career victories in Cup Series racing.
Larson earned reinstatement to NASCAR after the season and signed with Hendrick, a development that has been a big part of the redemption narrative.
Hendrick and Gordon deserve credit for signing Larson the second time around when there were still character concerns, but the reality is that they probably merely nabbed him a year earlier than would have happened had Ganassi not fired Larson.
Ganassi decided this summer to sell to Trackhouse Racing, and Larson would have been a free agent with the strong resume that would have landed him a Hendrick offer anyway.
All stats courtesy of Racing Reference.