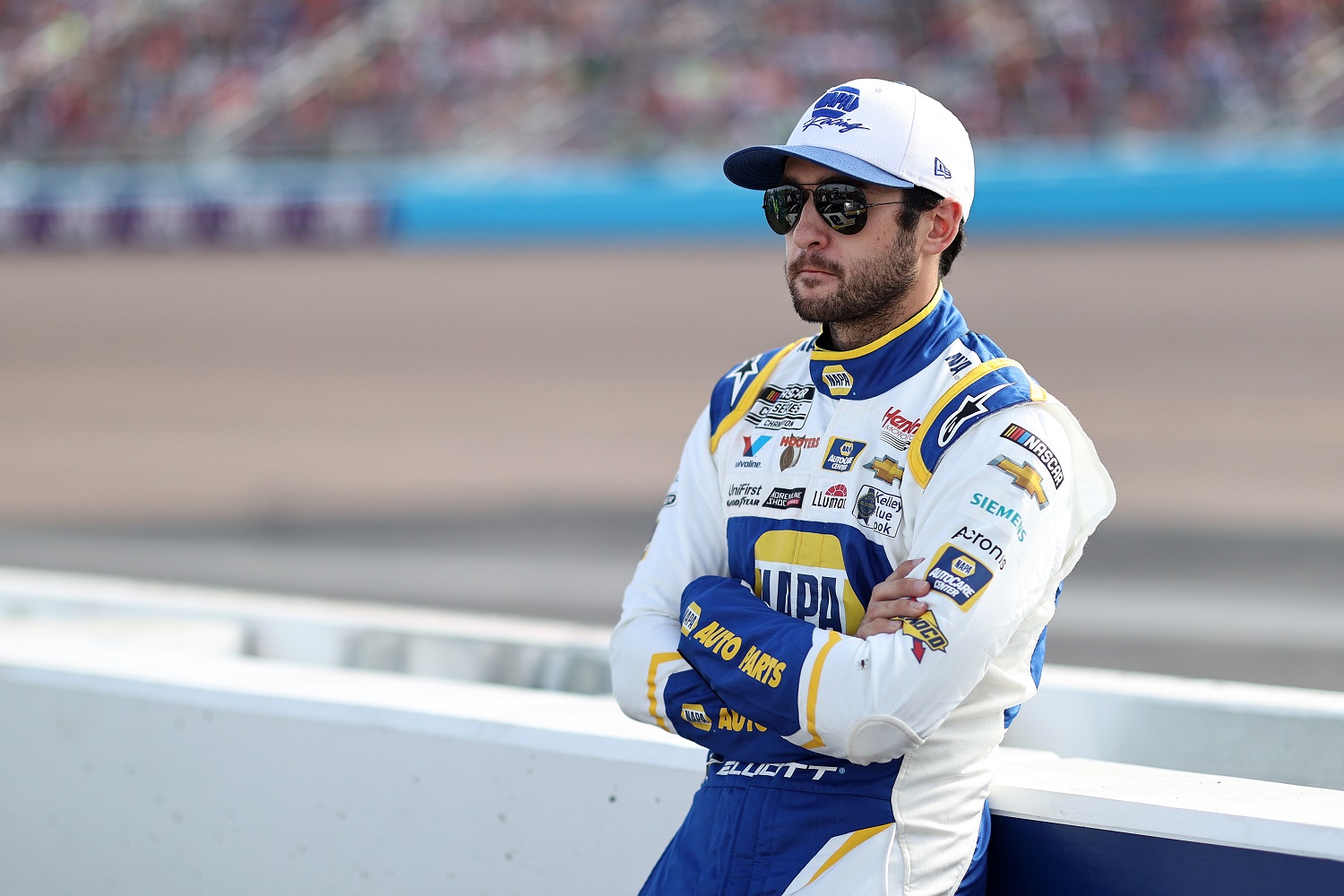 Chase Elliott Threw Out a Warning in Less Time Than It Takes to Run a Lap at Bristol or Martinsville: 'We'll Be Back Stronger Next Year'
Chase Elliott sounds eager to get back to work after finishing fifth in the NASCAR Cup Series finale and fourth in the standings in a bid to defend his championship.
The just-concluded NASCAR Cup Series season was a case of the operation being successful but the patient dying as far as Chase Elliott is concerned. Elliott did just about everything right in the course of defending his 2020 championship. But when the racing concluded Sunday at Phoenix, the seventh-year Cup Series driver had nothing to show for it.
Finishing fifth in the Championship 4 race had to sting, and placing fourth in the final series standings might have hurt a little bit more. The real obstacle to overcome in 2022, however, is that he's no longer the No. 1 guy on his own team.
Elliott sounds more than ready to address that issue beginning with next February's Daytona 500.
Chase Elliott: 'We'll be back stronger next year'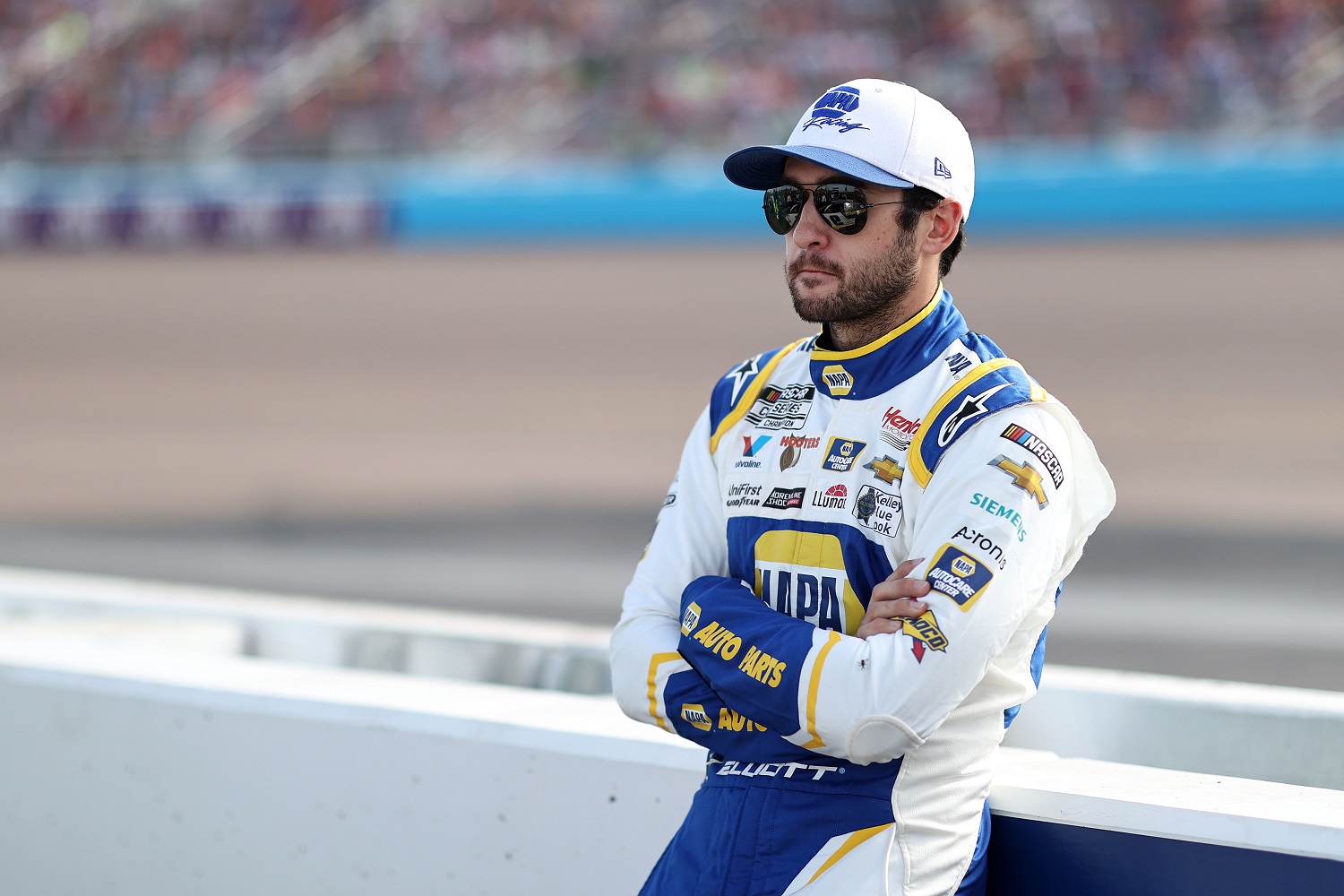 Chase Elliott led 94 of the 312 laps on Sunday at Phoenix Speedway, but it didn't translate into the desired results. He surrendered the lead to teammate Kyle Larson on lap 250 under the caution triggered by Anthony Alfredo and never ran at the front of the pack again.
On a night when the four Championship 4 cars dominated, combining to lead 273 laps, everyone understood finishing anywhere other than first meant losing. Though the series title conceivably could have gone to someone other than the race winner, that wasn't going to happen.
So, when Elliott and Martin Truex Jr. turned it into a one-on-one confrontation for the final 60 laps, Elliott didn't have the horsepower to stick with them and became a spectator at 175 mph, though he remained within striking distance.
"I thought we brought a really good car and did a lot of things that we were wanting it to do today, just didn't work out," Elliott said.
Elliott was understandably disappointed for himself and his team moments after the race. Still, he was able to take comfort in the fact that Larson's victory kept the trophy in the Hendrick Motorsports family.
"But we'll be back stronger next year and try to give them a run," he said, according to Motorsport.
Chase Elliott's season in review: He did a lot of things right
Other than falling a few victories short of his championship year, Chase Elliott was arguably better in most respects in 2021. Keep in mind, too, that winning is strangely irrelevant in the big picture; winning once in the 26-race regular season all but guarantees a spot in the NASCAR Cup Series, where the real racing begins.
Elliott won on the road courses at Circuit of the Americas and Road America. That was complemented by 13 other top-five showings and a total of 21 finishes in the top 10. Even with three fewer victories, Elliott lowered his average finish from 11.7 to 11.4 and finished on the lead lap in more races.
Translation: He did a lot of things right in the bid to defend the series championship.
Elliott's primary problems were the late-race crash at Darlington, which threw him into scramble mode for much of the remaining playoff season, and the return of Kyle Larson to racing. Four of his second-place finishes came in races the eventual series champion won.
What will it take to earn his second NASCAR Cup Series championship?
Racing fans voted Chases Elliott the most popular driver in 2020, a year in which he won the NASCAR Cup Series championship. There was no championship this year, and Elliott might not even be the most popular driver on his own team anymore because of the Kyle Larson redemption story.
Fortunately, he goes into 2022 with some positives to build on. First, the Next Gen car means everyone starts fresh. Someone will find a way to squeeze a little more speed out of their car just as Larson crew chief Cliff Daniels did, and it could just as well be Elliott.
Perhaps as significantly, Elliott will not be coming off the sort of crushing defeat that Martin Truex Jr. experienced. Truex is 41 years old and the runner-up in three of the past four seasons. While he'll enter the NASCAR Hall of Fame someday, he may have just missed out on his best chance to add to the championship he won in 2017, and that miss came by such a narrow margin.
On the other hand, Elliott won't be reliving the nightmare of knowing he lost because of an ill-timed caution flag and a lightning-fast pit stop by Larson's crew.
It's the difference between asking "What if?" and "What's next?"
All stats courtesy of Racing Reference.