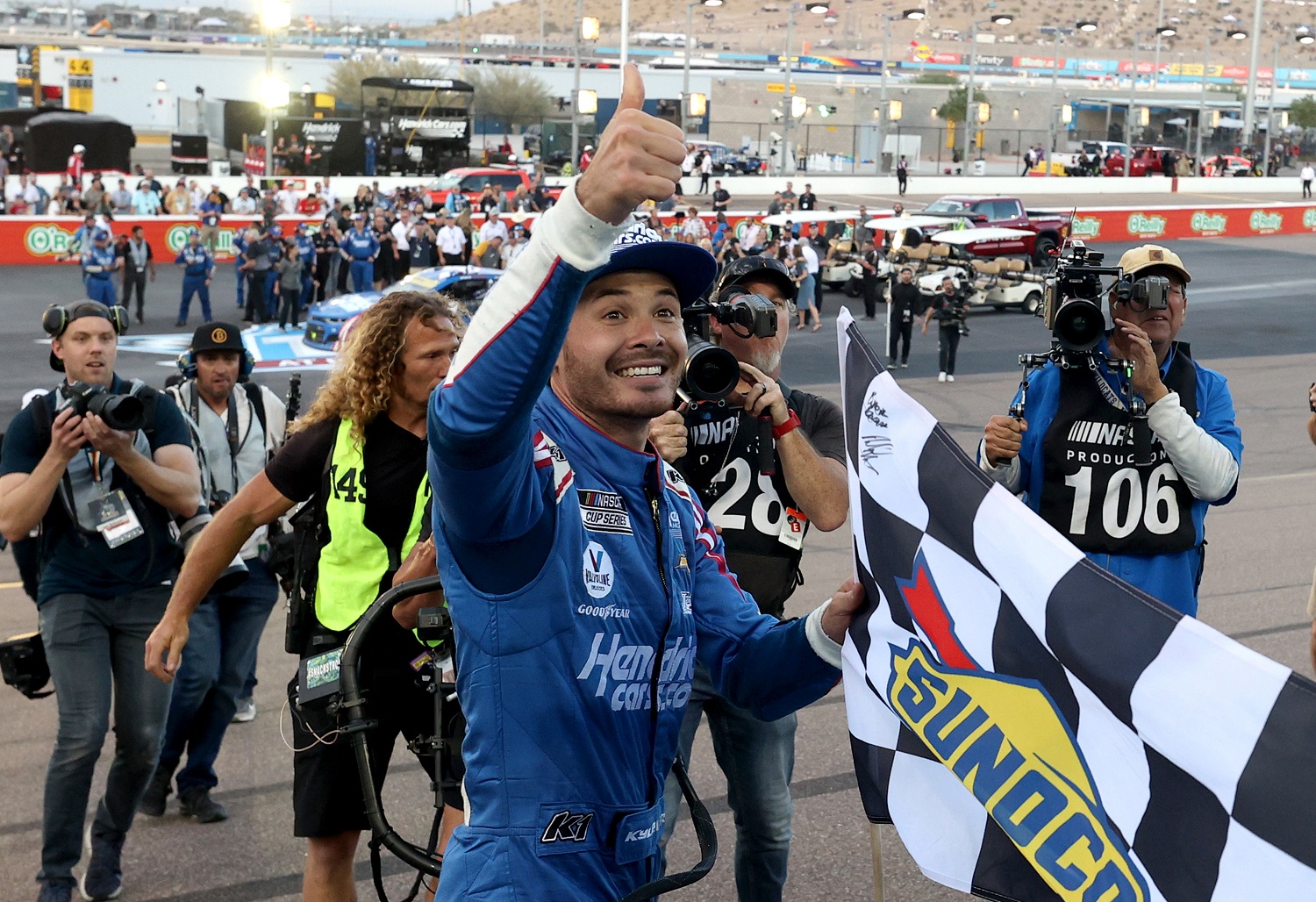 Rick Hendrick Gambled Big on Kyle Larson and Won the Ultimate NASCAR Prize, Again
Rick Hendrick had to foot almost the entire bill for Kyle Larson's No. 5 Chevy, but the driver paid him back in full Sunday by winning the NASCAR Cup Series championship.
Article Highlights:
Rick Hendrick gambled by signing Kyle Larson, following his firing and suspension in 2020
Larson completed a huge debut season at Hendrick Motorsports by winning the Cup Series championship
Hendrick is reaping a windfall from his decision to sponsor Larson through his auto dealerships
Winning while playing with house money is easy since you don't feel the losses at the table while you gamble with someone else's chips. Rick Hendrick owned no such advantage late last year when he signed Kyle Larson to drive in the NASCAR Cup Series.
Hendrick knew that just about every dollar that went into the No. 5 Chevrolet in the 2021 season was coming straight out of his pocket rather than from sponsors, but he signed Larson anyway. As gambles go, it turned out to be the equivalent of hitting on 16 at the blackjack table and having the dealer throw you the five of diamonds.
"We've always known he's a wheel man and he worked so hard off the track. And man, he deserves it," Hendrick told NBC minutes after Larson captured the Cup Series championship by winning the Championship 4 race at Phoenix.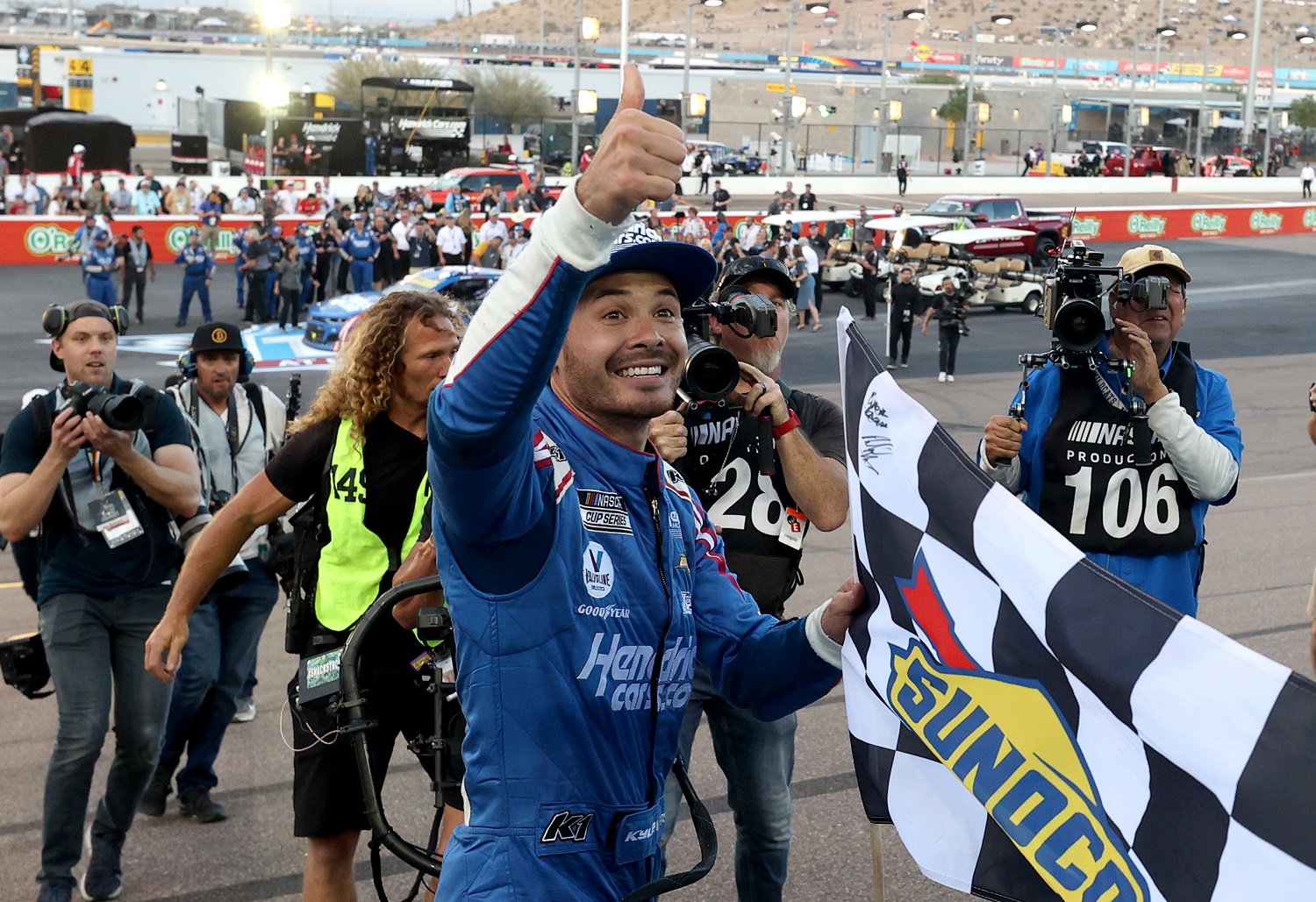 The victory was Larson's 10th in the season series to go along with his triumph in the All-Star Race. He shattered the NASCAR Cup Series record for laps led in a 36-race season and presented Hendrick Motorsports with its second consecutive season championship after Chase Elliott accomplished the feat a year ago.
Most of all, however, it completed the Kyle Larson redemption story. Barring a serious second lapse in judgment, that story is now behind the 29-year-old from Elk Grove, California. The narrative now shifts to ranking his 2021 season against the other great performances in Cup Series history and projecting how many races he might win in the next decade or longer.
Still, it was just 18 months ago that Larson lost his job at Chip Ganassi Racing for uttering a racial slur during an iRacing event that NASCAR scheduled to fill the void during the pandemic shutdown. Sponsors fled, and NASCAR suspended Larson.
Larson, who came up through NASCAR's Drive for Diversity program, regained his NASCAR eligibility after undergoing sensitivity training and volunteering with the Sanneh Foundation and the Urban Youth Racing School in Philadelphia.
However, there is a difference between being eligible and being employable. Stewart-Haas co-owner Tony Stewart, who shares Larson's love of weekend racing on dirt tracks, wanted to sign him, but Ford feared the potential public relations blowback. And no matter who signed Larson, sponsors would be in short supply.
That didn't scare Hendrick. With seven-time Cup Series champion Jimmie Johnson retiring from NASCAR to try his hand at IndyCar racing, Hendrick had a seat to fill and the deep pockets to finance the car himself if necessary. Strictly speaking, Hendrick Motorsports is a separate entity from his auto dealership empire. However, Hendrick calls the shots at both.
HendrickCars.com became the primary sponsor for most of Larson's appearances, but Valvoline jumped onboard in midseason as Larson emerged as the hottest driver in the Cup Series. Had he held out longer, the owner could have lined up new primary sponsors for all 36 races next season, but a funny thing happened: With Larson running in the lead so much and winning races, traffic on the HendrickCars.com website went through the roof.
"More website traffic generates more sales leads, which ultimately help us sell more cars," Darryl Jackson, vice president of financial services for Hendrick Automotive Group, told Forbes. "Kyle's performance on the track has delivered a measurable business return for us. The company is on pace for a record year in 2021."
Added Hendrick: "When we perform on the track on Sunday, we can feel the impact on Monday."
In mid-July, Hendrick Motorsports announced a contract extension to keep Larson on the team through 2023, with HendrickCars.com continuing as the primary sponsor for the majority of races. The dealership chain also picked up sponsorship for all of Larson's non-NASCAR racing.
At even five victories per season as NASCAR switches to the Next Gen car beginning in February, Larson could still be the No. 1 salesman for the Hendrick dealerships.
Like Sportscasting on Facebook. Follow us on Twitter @sportscasting19.