Kyle Larson Owes Some of His Success to Cliff Daniels' Calm Demeanor as Crew Chief
Article Highlights:
Driver Kyle Larson and crew chief Cliff Daniels are in their first year together
Larson has dominated the 2021 NASCAR Cup Series with nine victories
Daniels is providing to be a calm, savvy presence atop the pit box during races
The NASCAR Cup Series Championship 4 feels like a heavyweight bout motorsports fans can love: four star drivers, led by Kyle Larson, managed by big-name owners Joe Gibbs and Rick Hendrick.
Meanwhile, over on the side sits Cliff Daniels, the crew chief for the Larson team. If the others are fighters and managers, then Daniels is the cut man, the guy saving the champ's corner from having to throw in the towel.
That was never more true than three weeks ago at the Charlotte Roval when Daniels' level-headed leadership averted disaster.
Kyle Larson and Cliff Daniels have clicked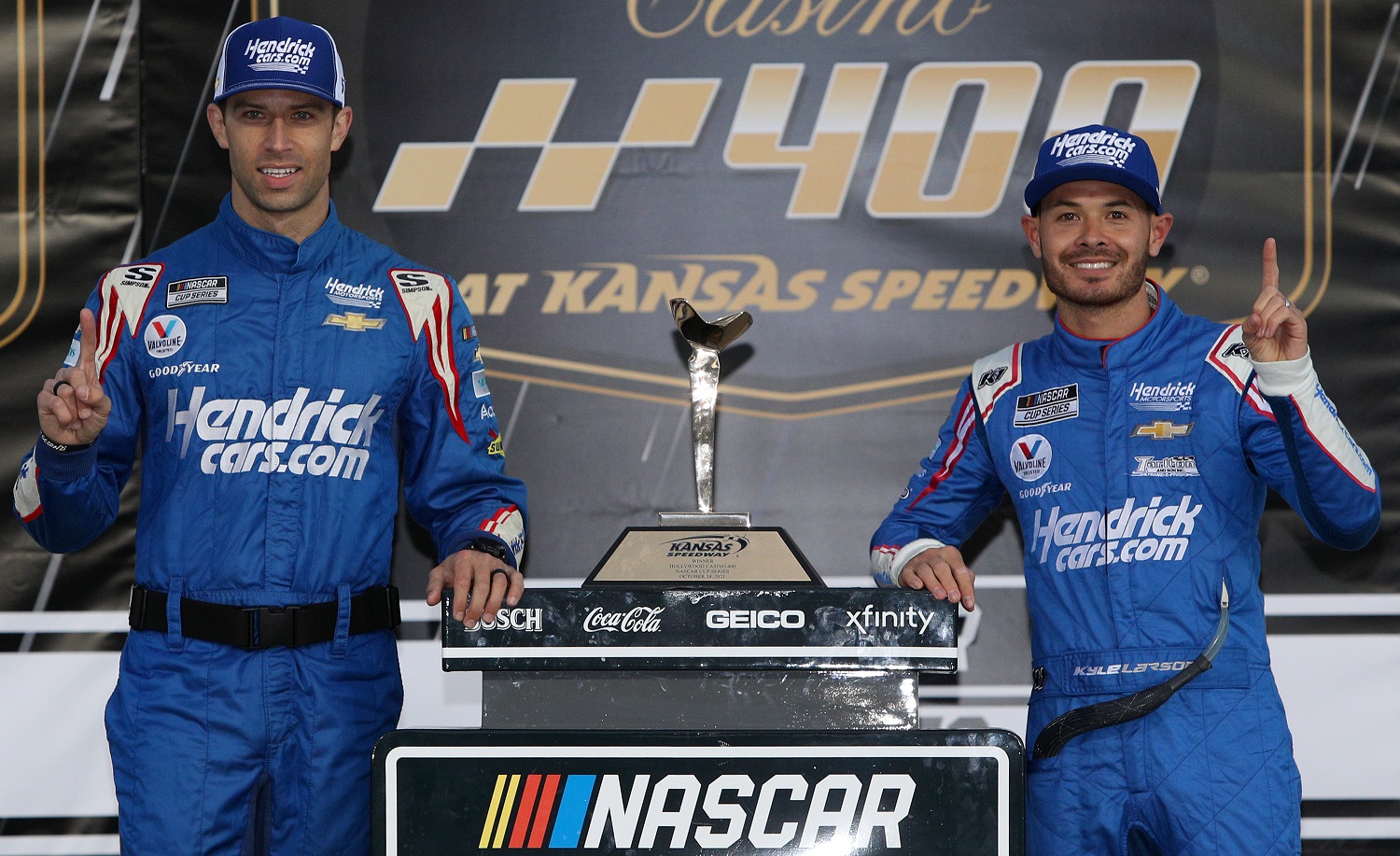 Rick Hendrick is the guy who paired crew chief Harry Hyde with driver Tim Richmond, Ray Evernham with Jeff Gordon, and then Chad Knaus with Jimmie Johnson in Hendrick Motorsports Chevys. The results spoke for themselves.
Still, the owner's offseason decision to pair Cliff Daniels and Kyle Larson in the No. 5 Chevy understandably raised eyebrows. For starters, even bringing in Larson was a dicey proposition. Given the circumstances of his suspension, most other teams considered the driver untouchable. Even Hendrick understood that sponsorship money would be close to non-existent.
But Daniels was the bigger question. People on the inside of the NASCAR Cup Series knew Larson could drive, but Daniels had just gone a season and a half without winning as the crew chief for seven-time series champion Jimmie Johnson and the No. 48 car. That didn't scare the owner, and the pairing with Daniels has been magical. Larson has won nine points races plus the All-Star Race.
"You could just watch him as he ran the team and made the team better that he was going to be in a good spot this year," Hendrick said Tuesday at a NASCAR media conference. "Did I think he could win this many races? Nobody ever expects to win that many races in a year."
Cliff Daniels came through in the clutch at Charlotte
The late-September playoff race in Las Vegas was ugly for the Hendrick Motorsports teams. The decision to keep the four cars on the track under caution early in Stage 2 on the assumption that there would be another yellow flag at some point backfired badly. Larson had to pit under the green and never recovered after leading 95 of the first 152 laps. Crew chief Cliff Daniels termed the pit decision "a blown call" after Larson finished 10th.
"I certainly own my part in that," said Daniels, who is in just his second full season as a crew chief. "We just blew it. It was terrible."
Two weeks later, Daniels came through when it looked as though Larson could stumble out of the playoffs. On the heels of 37th place at Talladega, the driver radioed early from the Charlotte road course that the No. 5 Chevy was losing voltage.
Daniels offered a calm voice atop the pit box as he, car chief Jesse Sanders, and engine tuner Steven Legendre determined what could be done if it was an issue with the alternator or the battery.
"The pit crew was 100% onboard like we spelled out behind the pit box what our game plan was going to be," Daniels said, "Made sense to do it the way we did."
A well-timed caution gave them a chance to bring the car in, the repair held up, and Larson went on to the first of what would be three consecutive victories.
"I've been amazed at his ability to call a race, keep calm, build a pit crew, do all the things that he's done this year, and doesn't get rattled," Hendrick said. "Some of the decisions he makes, you would think he's been crew chief for five or six years."
One to go for Kyle Larson in the NASCAR Cup Series battle
The NASCAR Cup Series Championship 4 comes down to Hendrick Motorsports' Kyle Larson and Chase Elliott vs. Joe Gibbs Racing's Denny Hamlin and Martin Truex Jr. Elliott is the defending champion, and Truex won in 2017. Elliott and Hamlin are looking for their first victories.
Hamlin posted a seven-win season a year ago, but he placed fourth in the finale and overall. Larson has never placed higher than sixth, but he goes to Phoenix as the favorite based on a dominating performance through 35 races.
"I've been amazed at how he can control a race," Rick Hendrick said. "I say control it for himself, can feel the race along with Cliff (Daniels) telling him what's going on.
"He doesn't mind getting coached, either. You can hear Cliff telling him somebody is driving a car-length deeper, backing off a car length before he is. He takes it and soaks it in. It's been amazing.
"I can see why he's won so many races, not just in our car but everything he gets in. He's competitive, smart. He knows how to race. I mean, a lot of people might be fast, but they don't know how to race. He knows how to race."
Like Sportscasting on Facebook. Follow us on Twitter @sportscasting19.