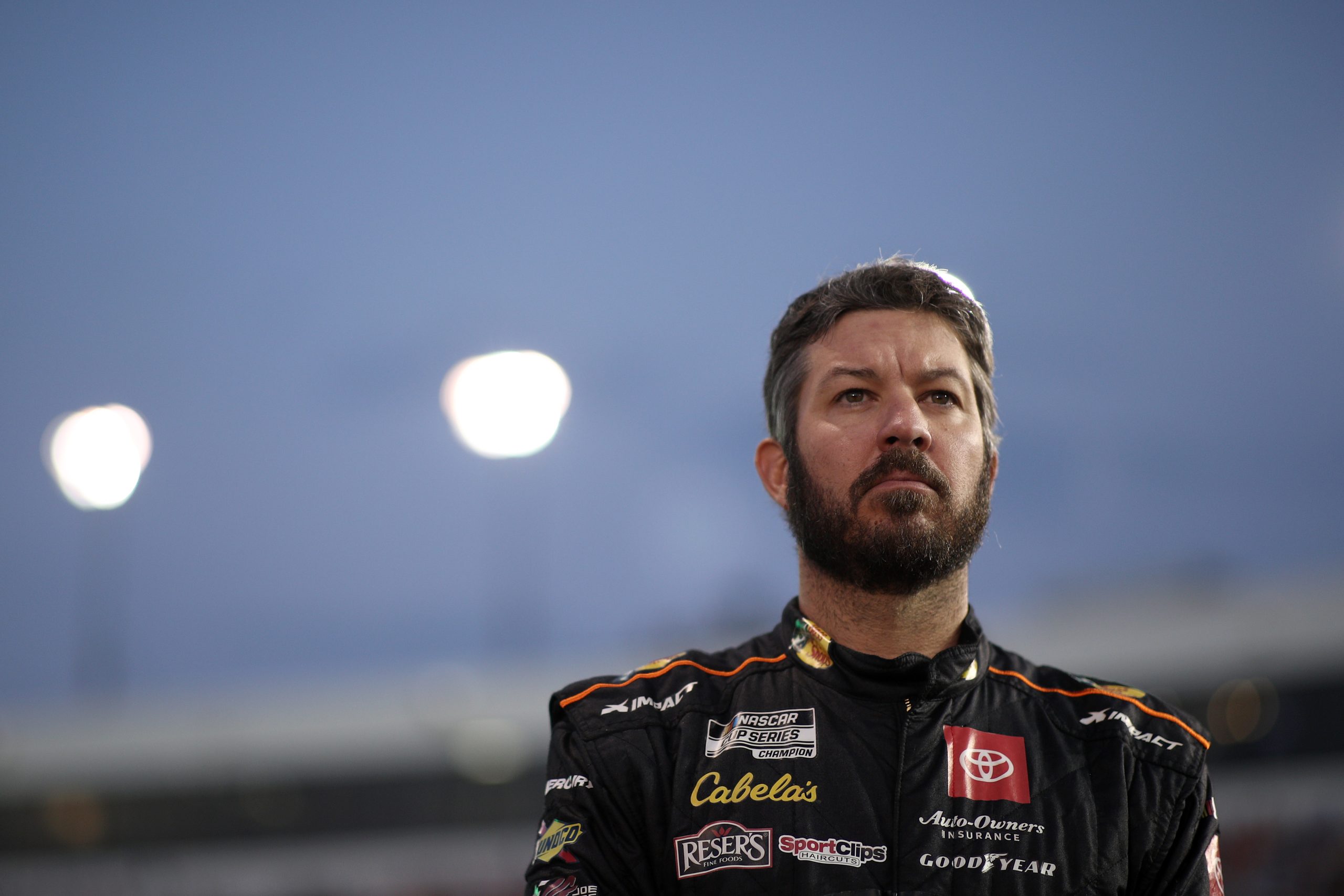 Martin Truex Jr. Couldn't Believe the Road-Course Ringer's Bonehead Move: 'I Don't Know What the Hell He Was Thinking'
Martin Truex Jr. experienced a maddening day at the Charlotte Roval, but at least he's made it through to the next round of the NASCAR Cup Series playoffs.
The way Martin Truex Jr. reacted after the NASCAR Cup Series elimination race, one might think someone ran over his dog on one of the 17 turns at the Charlotte Roval.
And that's despite his advancing to the next round of the playoffs. Imagine if he had the sort of day Kevin Harvick or William Byron had.
Martin Truex Jr. deserves more credit than he gets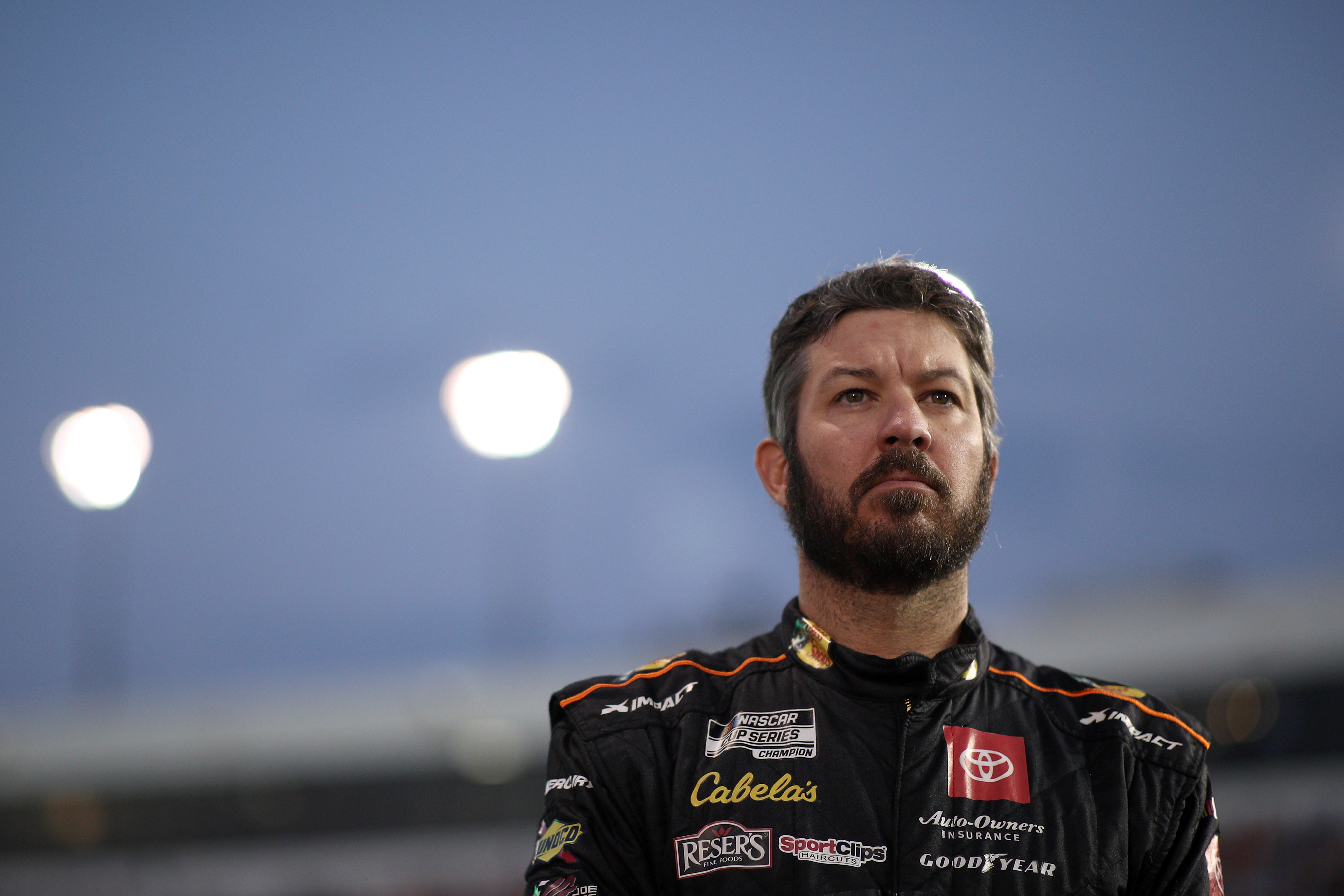 Veteran driver Martin Truex Jr. wasn't an instant success in the NASCAR Cup Series. The Xfinity season championships he won in his only two full-time seasons earned him a shot on the big circuit in 2006 with Dale Earnhardt Inc., but three victories in 369 starts didn't wow anyone.
Escaping the mess of Michael Waltrip Racing and moving to Furniture Row Racing in 2014 was the start of something big. He reached the Championship 4 the following season, a feat he's accomplished four times in six seasons.
Truex has won 28 of his last 212 starts, and that includes the race at Homestead-Miami to take home the 2017 season title.
Still, his name seldom rates as top-of-mind, even after posting four top-10 showings in the first six races of the 2021 playoffs. Considering that he's won this year at Martinsville and Phoenix, set as the final two playoff venues of the season, maybe people ought to get the jump and start paying attention now.
Martin Truex Jr. went to the Roval in great shape to advance
The Talladega playoff race, where he finished 12th, wasn't a great day for Martin Truex Jr., but he still arrived at the Charlotte Roval 20 points above the cutline. But considering Kevin Harvick's nondescript record on road courses, Truex's real worry was Christopher Bell, who began the day 39 points behind him. In other words, it was going to take a bad break for Truex to miss making the group of eight remaining contenders heading to Texas Motor Speedway next weekend.
And that's where Joey Hand entered the picture.
Hand, 42, is an accomplished road-race driver. He has competed on class-winning teams in endurance events at Le Mans, Sebring, and Daytona. He also placed in the top six of the WeatherTech SportsCar Championship four straight years beginning in 2015.
However, the Charlotte Roval playoff race was his first venture into NASCAR. He competed for Rick Ware Racing, whose existence in the Cup Series has been of a meandering nature while waiting for the Next Gen car's arrival.
Truex struggled nearly all day on the Roval, though he picked up 12 stage points. Running near the back of the field late in the day, he went into a spin with for laps to go on the backstretch chicane after Hand tapped the No. 19 Toyota. He was able to recover and finish the race.
However, Truex finished 29th and picked up just 18 points. Meanwhile, Bell only tacked on 29, Harvick rather infamously crashed out with 13, and Byron's late bid to steal a win and advance ended in a spinout.
Martin Truex Jr. couldn't believe Joey Hand's boneheaded move
The day's developments at the Charlotte Roval meant that Truex cruised into the next round with seven other championship hopefuls. He will go to Texas Motor Speedway in third place, 36 points behind leader Kyle Larson but only six above the cutline.
That's not a comfortable place to be, but at least Truex has seen the last of Joey Hand, who finished 27th in his NASCAR debut.
"I was behind two guys side-by-side getting into the bus stop," Truex said after the race. "So, we're all checked out, just trying to not get run over when we get run over (by Hand). I don't know what the hell they were thinking, you know, riding around the back all day and driving through a playoff car for no reason.
"But, luckily, we were able to come through, make it, pulled out some stage points. Really, that was the difference."
It wasn't a great day for Truex.
"Good strategy, terrible racecar. We sucked," he said. "It was awful. I have no idea what we did for past races here. where we typically been pretty decent. But it was just absolute garbage. So, glad we made it. All I can say."
Truex vows to shake it off.
"You have good days and bad, and you fight through them," he said. "And we did today. … The next three tracks should be good for us, but you never know."
With Hand gone, the odds for smoother sailing are looking up.
All stats courtesy of Racing Reference.